Paris Fashion Week was full of surprises last month, especially on the footwear front for what brands will be doing in-house and for collaborations.
We saw Virgil Abloh's first presentation under his direction at Louis Vuitton, which became a spectacle moment for menswear, as well as a hot talking point for sneakers. Kim Jones also debuted his first collection with Dior, showcasing fun and refreshing silhouettes for the brand that also drew an impressive turnout with guests like A$AP Rocky, Lenny Kravitz, David Beckham, and even Virgil himself.
As for the trends in 2019, it's everything goes. And while each brand has plenty of their own ornate details, the upcoming ranges of footwear offerings have their share of elements that overlap – the primary being the essence of collaboration.
After several seasons of not being the pinnacle talking point, Nike has shown an impressive resurgence this past year and even though these high-end brands have their own footwear lines, many of them were chomping at the bit when they got their chance to collaborate with the Swoosh for Spring/Summer 2019. Sacai, ALYX, Comme des Garcons, and Undercover also showcased their internal collections and all of them had their own rendition of one of Nike's retro classics.
The chunky sneaker trend hit hard several seasons ago and is expected to continue at full-steam through SS19 with some variation, like adding A LOT more color pop and finding unique ways to further exaggerate the design of the silhouette. Tech will also play a role in the coming seasons, adding in performance elements like rugged outsoles seen on hiking footwear, as well as similar technical lacing systems and mesh underlays that long distance running shoes utilize.
With so many ideas on the table, it makes us wonder who has the momentum to create the next hype sneaker? While hybrid silhouettes certainly have an opportunity to become the next wave in sneakers, simplicity will always have its place as it's ability to counter-hype is contested by consumer behavior of how they feel about certain trends and what its overall staying power is.
Without further ado, here are the top nine players who we think have the ability to stay at the top or step into the spotlight.
Dior
With Kim Jones at the helm, there's already hope for Dior in the regard that Jones revamped the brand's look by referencing what initially made Dior become its household namesake. While Jones factored an array of streetwear inspiration during the tail-end of his Louis Vuitton tenure, he veered to the opposite direction for his latest collection. Though this notion was obvious in the footwear presentation, it was also innovative and refreshing to see the brand debut their sneaker range that has the potential to steal a piece of the pie. Streetwear may not have been included in the presentation, but there was still a homage being paid to sportswear, which was prevalent among the new sneaker designs.
Dior's Spring/Summer 2019 footwear assortment is eclectic and showcases almost every relevant trend in footwear at the moment. But remarkably, Kim Jones unites the varied looks and presents them in a dazzling manner that skillfully ties in the Dior history. There are silhouettes that speak to the dad shoe trend and are offered in a variety of neutral swatches, while there's also an array of tech-heavy componentry that displays translucent overlays, drawcord lacing systems, and seamless mesh uppers.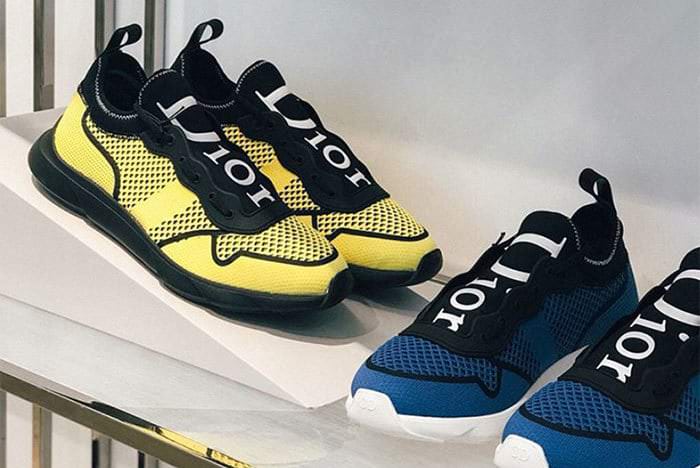 Gucci
Aside from Common Projects, Gucci has one of the more popular tennis trainers on the market right now. And to no one's surprise, it's the Ace, which continues to be reworked with a series of exotic motifs inspired by creative director, Alessandro Michele's enthusiasm for animals, extraterrestrial life, and bold lettering. Just when it seems like there isn't another way to reimagine the design, Gucci finds a way to give the silhouettes a whole new makeover like converting it into a high-top or adding faux fur around the heel collar. In terms of offerings for the upcoming seasons, it looks like the Ace will still be on the brand's radar, but it appears the Italian house label also has some new ideas in-store that align with the chunky sneaker trend, while also incorporating bright colors and prints.
Newer silhouettes like the Rhyton will continue to gain traction for the brand since the extended longevity of the chunky sneaker/dad shoe trend. And once again, Gucci's figured out how to initiate this style with a neutral design and gradually start incorporating their classic motifs that feature everything from paint swatches and an array of oversized brand labels.
Lastly, silhouettes like their new Nylon and Suede sneaker continue to saturate the brand's runway shows and interestingly enough it doesn't really follow anyone else's trend except Gucci. Faintly resembling the shape of the German Army Trainer or an adidas Samba, this shoe features a gum-colored midsole with a host of unique prints and patterns with the label's signature webbing on the quarter-panel.
Golden Goose Deluxe Brand
In a world that's jam-packed with distressed textiles and DIY applications, the timing and relevance has practically fallen into the lap of Golden Goose Deluxe Brand. Not one to jump on the bandwagon of what competitors are eyeing, the Italian sneaker and apparel brand has been perfecting their craft since they started back in 2000.
GGDB has a special talent for applying their magic touch to something that's already classic without being overwhelming. Their shoes feature artisanal craftsmanship and precise attention to design, but what really makes the consumer sprinting back for more is their top-tier selection of the finest Italian leathers and textiles. Creating something that was so ahead of its time has proven the brand's relevance, while simultaneously readying the brand for success for when the entire industry would begin to follow suit.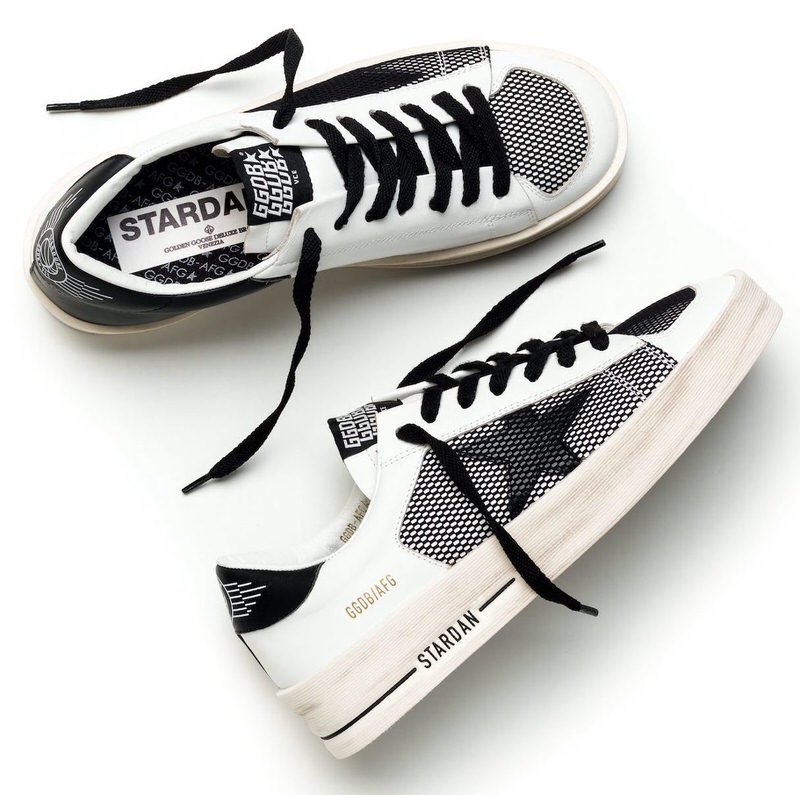 Louis Vuitton
Aside from Kim Jones' Dior debut, there wasn't a name at Paris Fashion Week that was more relevant than that of Virgil Abloh's and his presentation with Louis Vuitton. Since the announcement that Virgil was taking the reigns of the LVMH brand, the question instantly became, "Will Virgil turn LV onto its head or surprise us with a classical progression of where the brand was initially headed?" And while Virgil's colorful presentation aligns with the former idea more closely, he executed his game plan in a way that would broaden the boundaries for luxury fashion and footwear.
Recently there's been a strange shift in streetwear and sneaker influence. All of a sudden, it's as though streetwear's calling the shots of what's cool – triggering brands like Louis Vuitton to collaborate with Supreme and Nike to partner with OFF-WHITE, which Virgil is quite familiar with at this point. This movement seems to have re-inspired the idea of retro sportswear fro the footwear design approach from luxury brands. And if we look back at the recurring posts on Instagram from Don C, who was also present for Virgil's debut, we saw a series of LV silhouettes that clearly borrowed similar design details from the Jordan 3 and other sportswear icons.
Even though the chunky sneaker trend isn't dying out anytime soon, it could be possible that we'll see the wave reimagined once again. Similar to A$AP Rocky's Under Armour silhouette, Louis Vuitton's new chunky sneaker borrows a construction that's familiar to the Osiris D3 skate shoe that's also interlaced with metallic and iridescent leathers. And while there's still a debate on what's original, like his design process with Nike and OFF-WHITE, Virgil has made it clear that the direction of LV going forward will entail a degree of sportswear influence and irony.
Common Projects
Renowned for their upscale materials and dedication to minimalism, Common Projects has consistently proven they are a mainstay in almost everyone's high-end sneaker rotation. Only on the rare occasion is it that the Italian made footwear brand strays away from the low-profile tennis silhouette. And even then, it's still relatively minimal. Ever since stepping onto the scene in the early 2000s, the New York sneaker label has enabled fashion connoisseurs and minimalists alike to build their wardrobes with ease.
Their mission was to create something that wasn't consistently offered in the marketplace – the perfect all-white tennis sneaker, which became known as the Achilles. Since then, they've branched out with new silhouettes, materials, and color offerings that make it nearly impossible to find something they can't be worn with. Their strategic approach to design and distribution plan has set them up so they don't have to follow trends that are quick to burn out, while also retaining a market that's exclusively looking for minimal classics. And when minimal becomes the go-to trend again, they're still at the peak of their existence.
AMIRI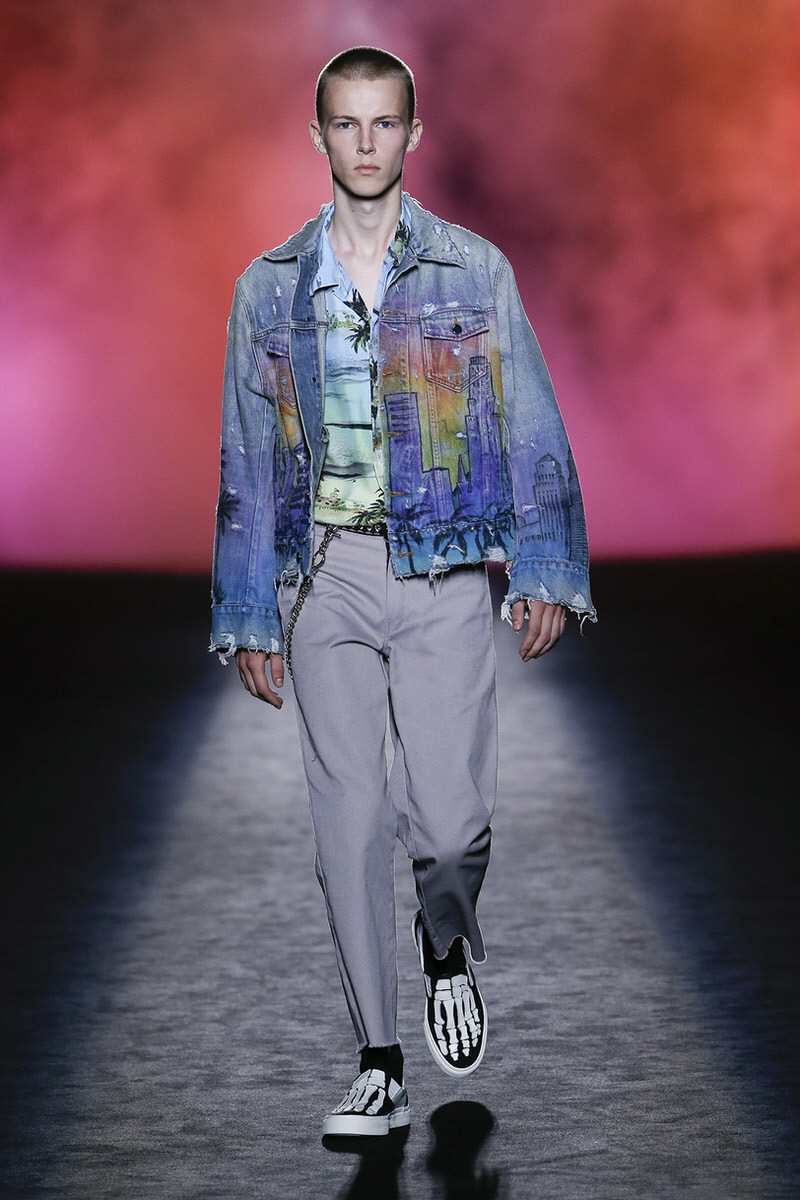 Now revered as a symbol of LA and its bordering neighborhoods, AMIRI continues to pay homage to the City of Angels with a series of thrashed skater and grunge glamour motifs. Appearing as though the collection from Mike Amiri's Spring/Summer 2019 collection was born right on Sunset Boulevard, the LA designer continues to veer away from normcore trends, only to smite them with offerings that scream California couture. Past collections of the brand's footwear line have echoed Hollywood rockstar with Chuck Taylor-esque high-tops and worn-in low-top trainers.
However for Spring 19, AMIRI's expanding the offerings by crossing to the other side of the tracks and collecting inspiration from the Venice skate scene. The new silhouettes for the upcoming seasons will feature a slip-on construction with a series of patterns like palm leaves or printed skeleton feet on the vamp. Everything about the AMIRI presentation was punk rock, but after seeing the upcoming sneaker offerings and how well they can be paired with the apparel range, it's nearly impossible to not want the entire collection – as it practically brings a past era of LA back to life in a magical way.
Saint Laurent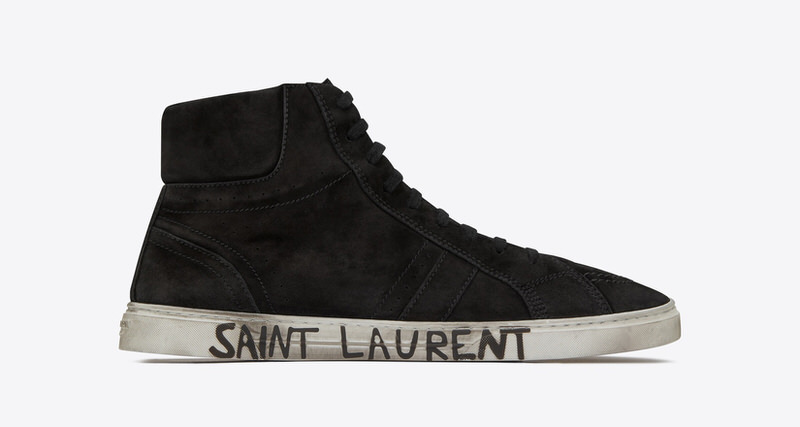 Saint Laurent was essentially left in pristine condition after Hedi Slimane's departure back in 2016. And ever since Anthony Vaccarello took over as creative director, there was virtually already a calculated roadmap for how to navigate the brand's sneaker design process with ease. Similar to the blueprints of Common Projects and AMIRI, Saint Laurent continues to bridge the gap between a minimal and sophisticated design with rockstar individuality.
For Fall/Winter 2018, the brand will offer series of silhouettes that fall on both sides of the spectrum – showcasing that tenured craftsmanship and a timeless design have the ability to stay relevant no matter what the current trends are. Revealing a series of timeless styles for the upcoming seasons, Saint Laurent will present classics like the SL/06 in both minimal and distressed versions, while newer designs like the Joe and the Bedford appear in a sportswear aesthetic that has a rockstar edge.
Balenciaga
Balenciaga was early to jump on the ugly sneaker trend and they made it their bread and butter by introducing silhouettes like the Triple-S and Speed Trainer. And now that they essentially pioneered a movement in sneaker culture, they can probably afford to take another risk and do something edgy again.
Their latest collection of sneakers were just made available for pre-order at select luxury retailers with reinterpretations of the Triple-S that feature split-toned colorways, while also offering new options like the Track sneaker, featuring inspiration that's geared towards trail running footwear with lugged outsoles, mesh underlays, and a technical midsole. And now that the brand is reported to be growing even faster than Gucci, it's almost a guarantee they have more tricks up their sleeves for the upcoming seasons.
Céline
It's no secret that Hedi Slimane was the driving force that propelled Saint Laurent to become the most sought-after fashion label in only five years time. Not only revolutionizing the brand's image, he's also the reason the rockstar t-shirt, skinny jeans, and Chelsea boots became the look for practically every guy who knows what's up in LA. Oh yeah, he also plays a role for why certain YSL sneakers are selling for north of $1,000 on Grailed.
With Kim Jones, Virgil, and Hedi all starting their newly appointed positions at almost the same time, people have been patiently waiting to see how each designer is going to shake things up. Hedi's first collection will preview in September and followers are anxiously waiting to see if his new direction carries the same impact that his reign at YSL made. At Saint Laurent, he revamped the brand's sneaker direction, creating a series of silhouettes that were clearly inspired by Hollywood rockstars and LA skate culture.
Again, it was Hedi that was putting trends into motion well before everyone else caught on. And while there's no imagery that's surfaced yet of what his sneaker collection with Céline will consist of, here's a few looks that he designed during his tenure with YSL.