When it comes to pushing the envelope and doing it well, one of the names that come to mind is Travis Scott. Whether it's finding a way to emphasize toned down basics or make evident patterns and color palettes look nonchalant, Travis is practically leading the competition when it comes to style points.
Without really having to follow trends in fashion, Travis has literally built his own style, which has since proclaimed him one of the new kings of cool. Known for combining pieces from Louis Vuitton and Supreme (not just the collaboration), Travis Scott is effortlessly becoming one of fashion's best-dressed stars, earning himself credibility as a streetwear savant.
Aside from being a renowned musician with tracks that can be put on an endless shuffle, he's also earned the title as a part-time designer himself, which would make sense, as he knows how to wear everything you could ever possibly want.
Cactus Jack Has People Jumping for Jordans, SBs and Air Force 1s
Travis Scott is clearly one of those uniquely gifted individuals that can just take every single trend that's going on at once and appropriate it into the same look.
If he had more feet, he could probably do the same with footwear just as easily.
Back when we first unveiled this edition of the Travis Scott feature a few months back, he only had the Cactus Jack Air Force 1s out, but since then he's not only introduced several of his own Cactus Jack Jordans, but he's gone on to wear plenty of grailed SB Dunks and Bespoke Air Force 1s alike.
Of course, like many of the styles he wears, it appears that he's not only bringing back certain trends, but he's also pioneering new ones. Typically a grunge wardrobe palette might've aligned with brands like Converse and Vans, but for Travis, he's intentionally breaking the mold for what's been set in place by throwing retro basketball and skate sneakers into the mix to form a new definition of punk.
And while all the menswear blogs and websites are saying that the grunge look is over, La Flame is proving once again that there's always a need for a counterculture audience in both the fashion and footwear realms.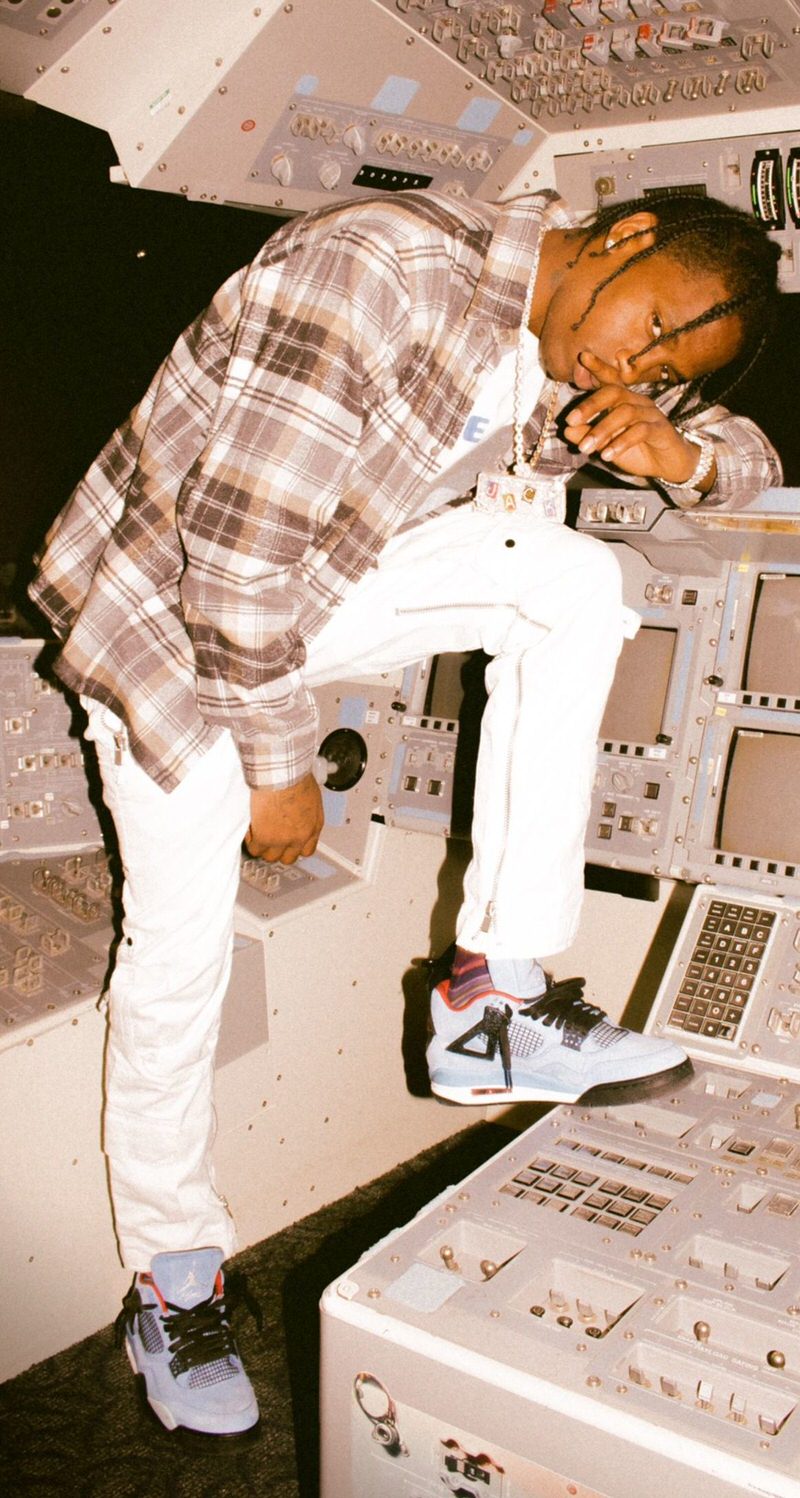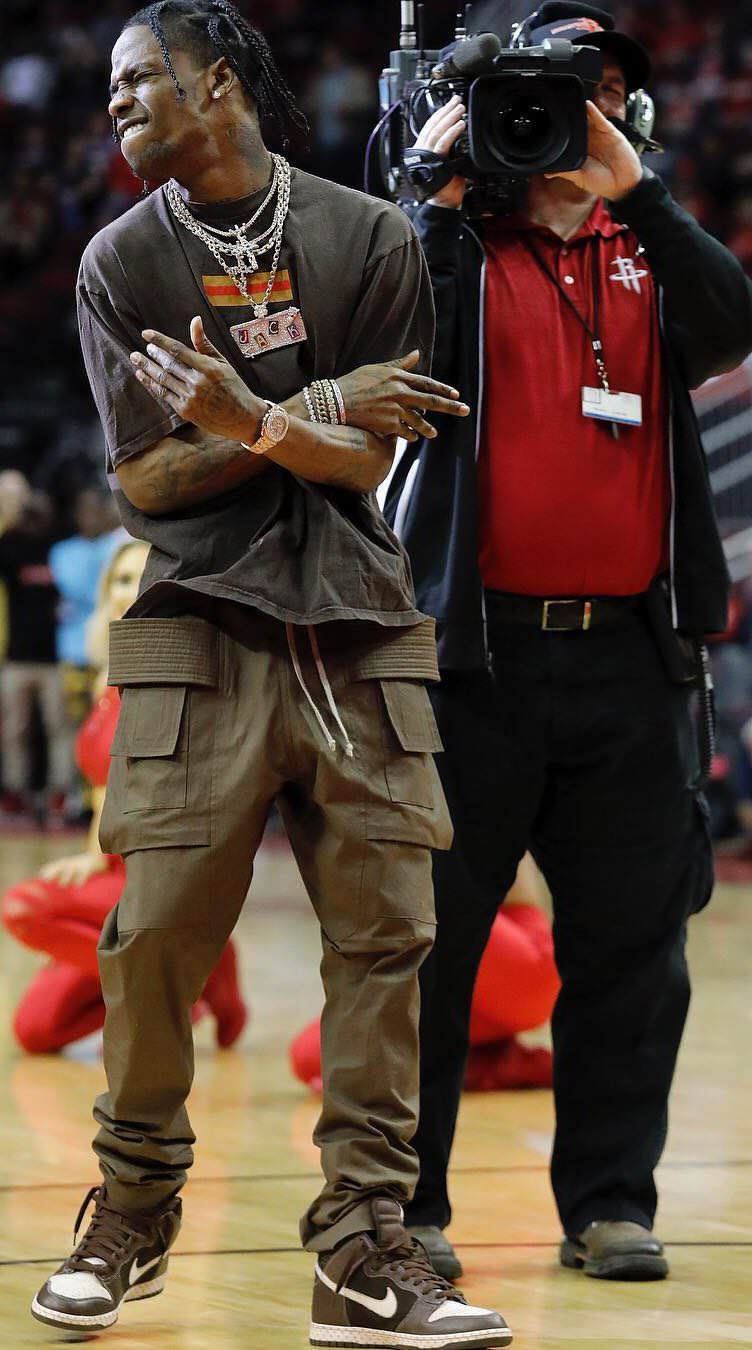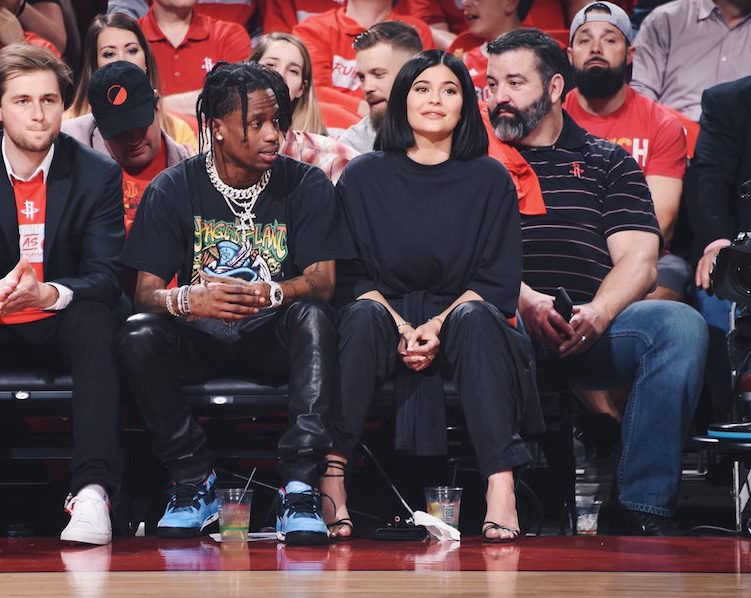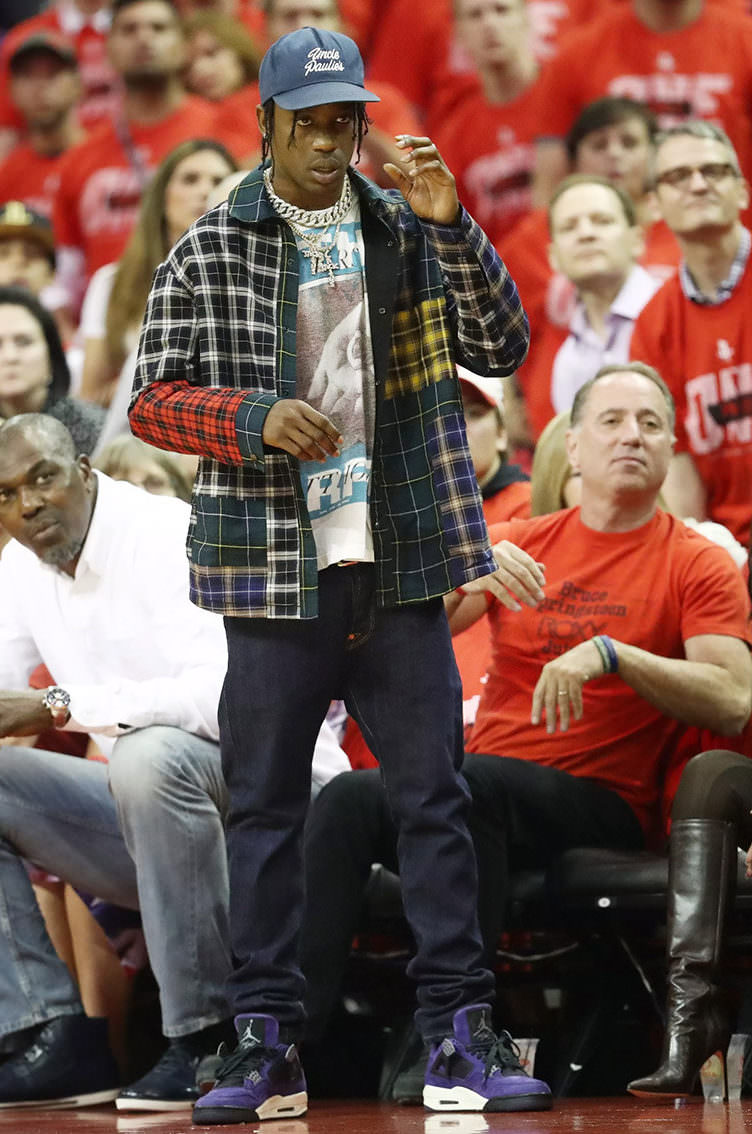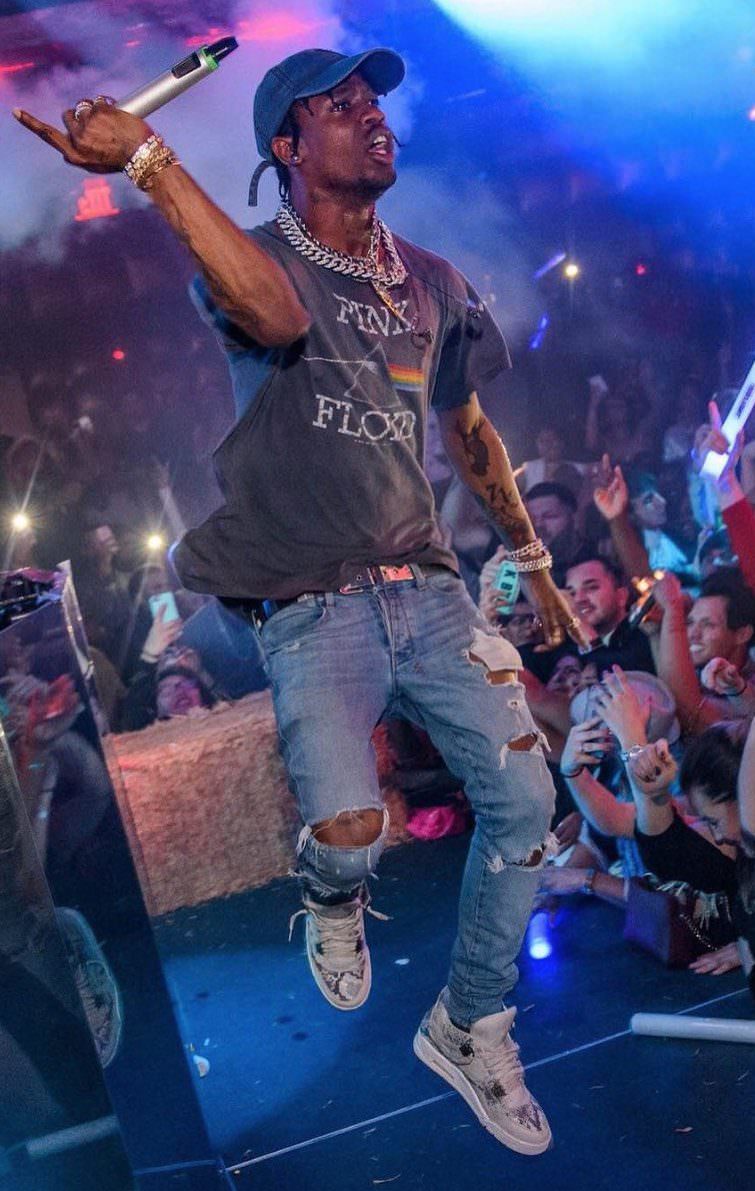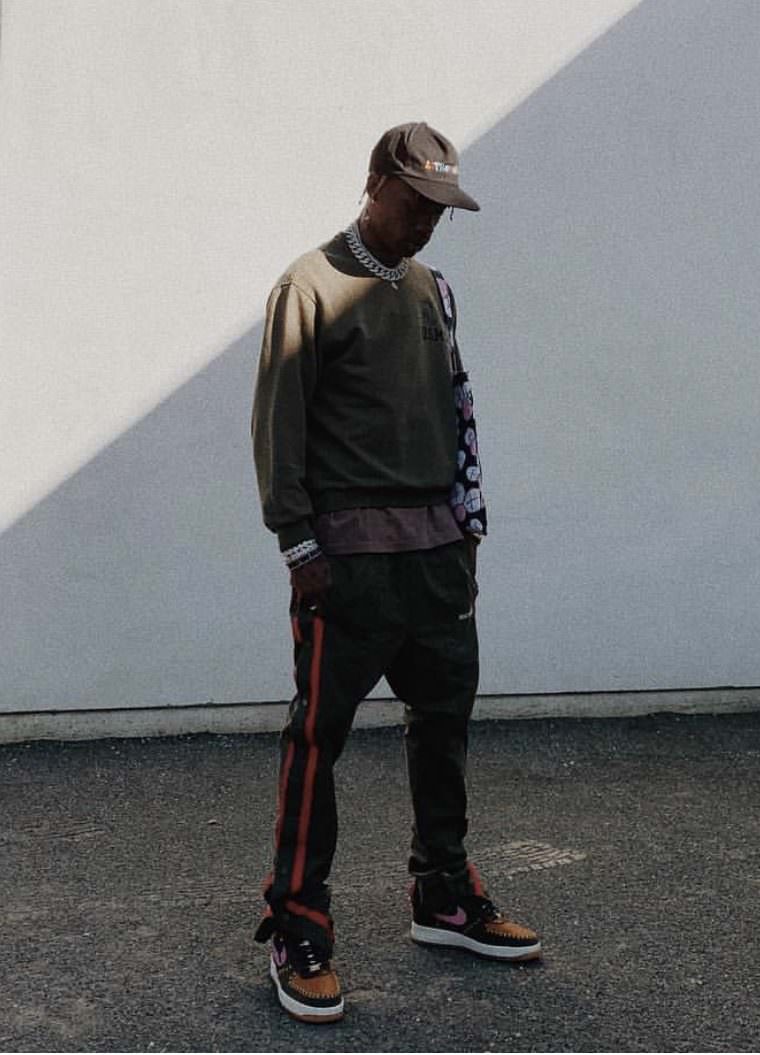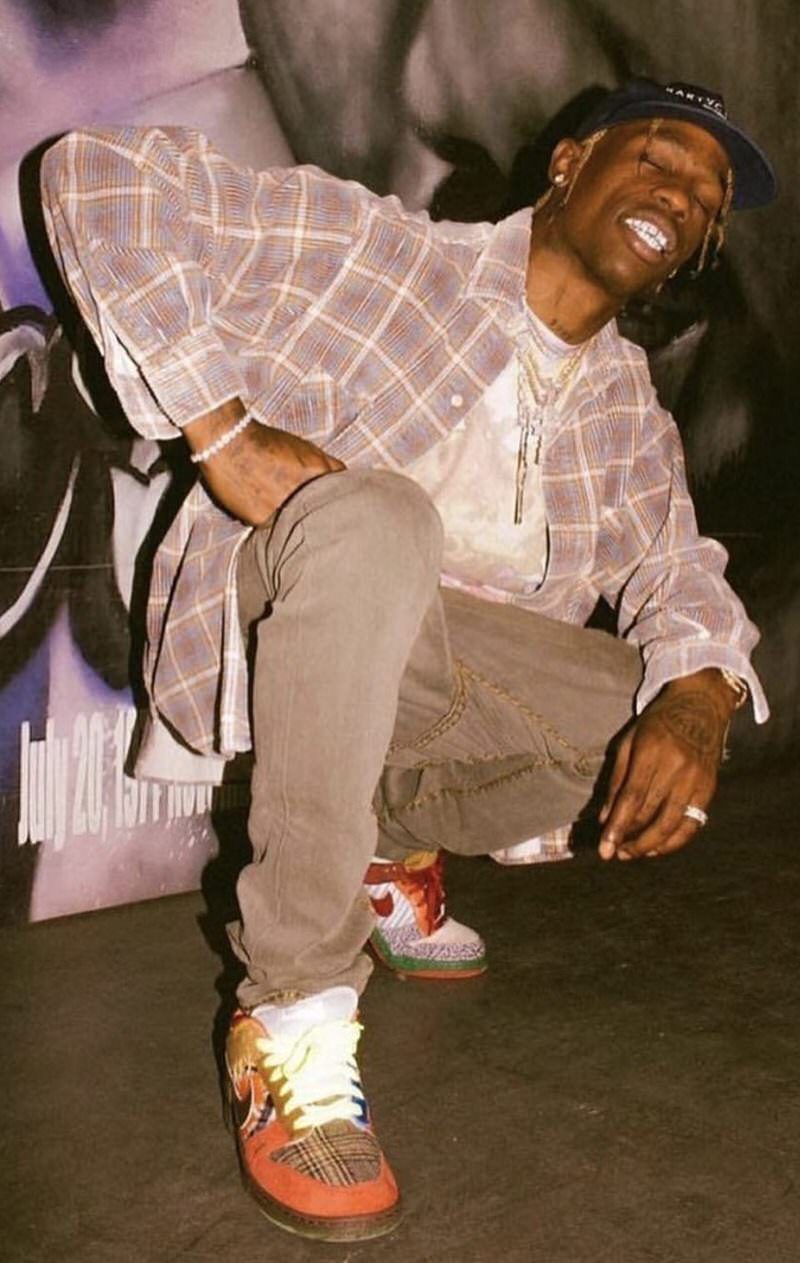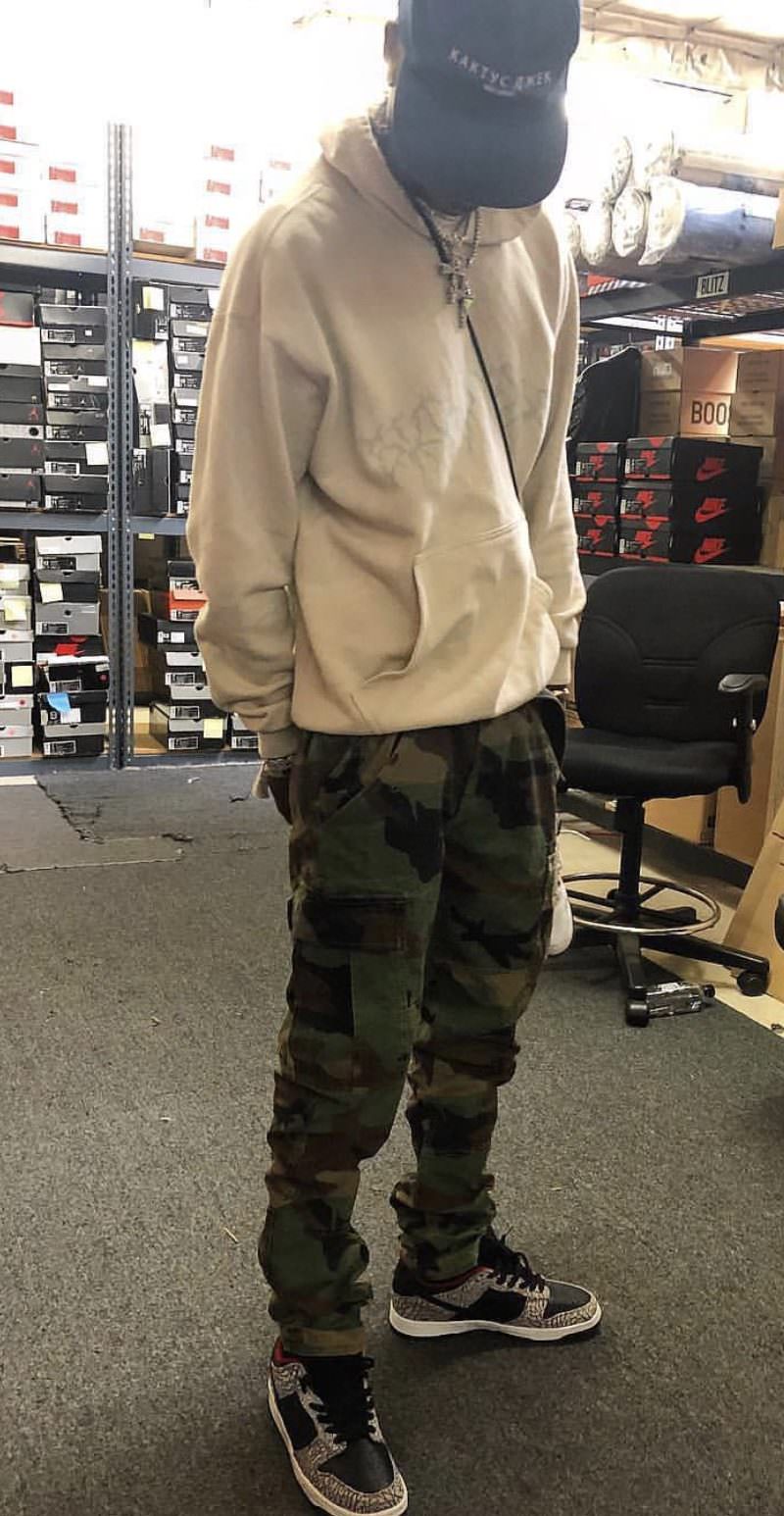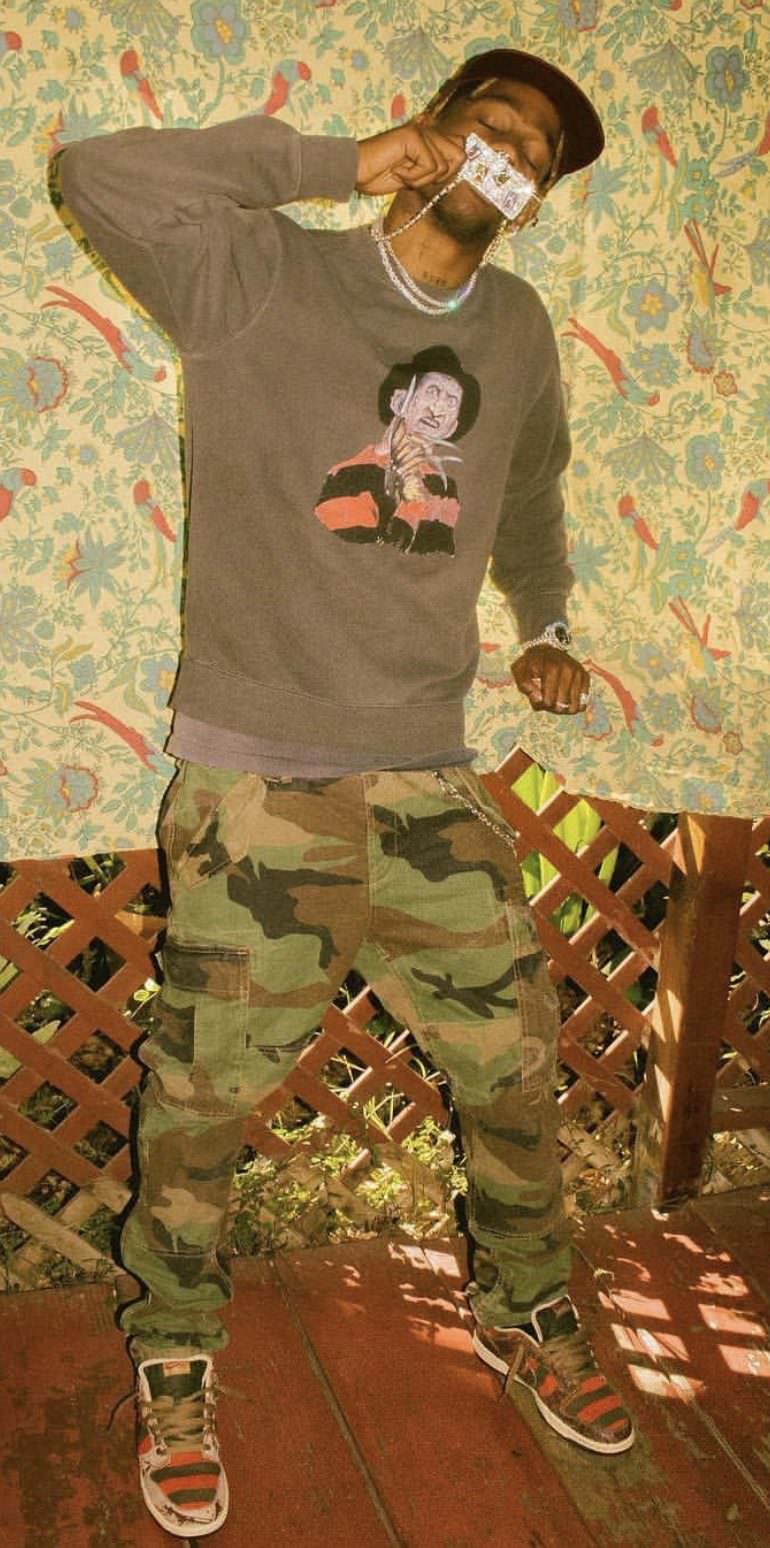 The '90s are Back
The '90s are back and so is denim on denim, which Travis Scott has indeed mastered. Travis is especially known for his double denim combinations and layering it in a way that rides nowhere near Canadian tuxedo territory. Whether it's denim shirts, jackets, or distressed jeans, he knows how to accent these pieces with graphic tees and a hard-hitting footwear arsenal. While ensuring these shades are subtle and easy going, Travis coordinates these essentials with sneaker staples like Jordan 1s and Vans Old Skools.
Aside from the denim on denim combinations he is so well known for, Travis Scott also factors in other trends from the '90s into his wardrobe, like roomier flannels layered with neutral tees underneath. Another way that Travis incorporates his genius layering tactics into his kit is throwing them over pastel-hued hoodies with boxy tees showing underneath. He'll even take it one step further by breaking out letterman style varsity jackets or even cargo pants – both of which have been tailored with a modern edge.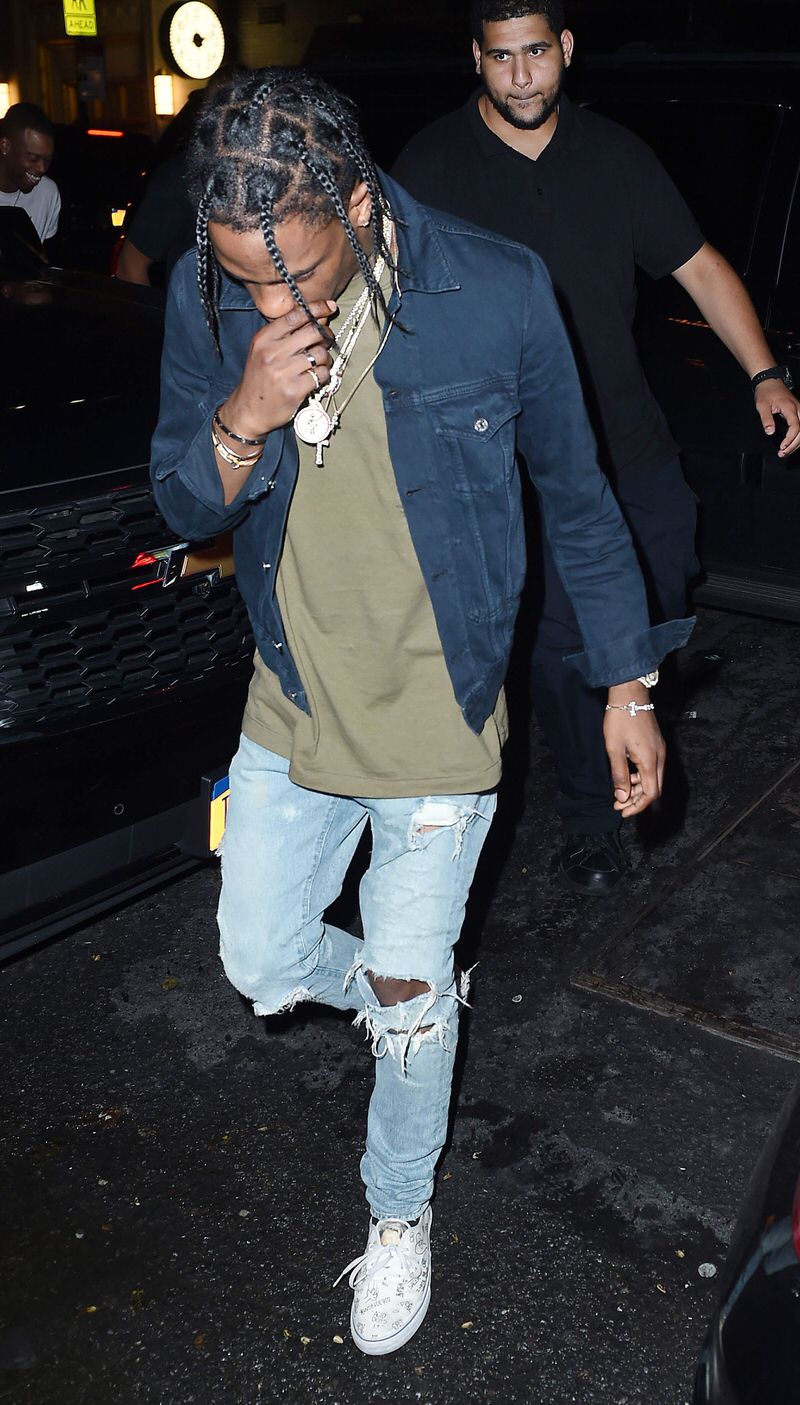 Patterns, Color Palettes, or Just All-Black
Travis Scott is a clear proponent of loud colors, outrageous camo combos, and sophisticated all-black layering methods. Camo being the most obvious, Travis has used this pattern for his "Year of the Rodeo" tour merchandise, sported iconic BAPE camo essentials, and worn mismatched camo cargo pants time and time again. And to make these looks pop even more, he'll mix in his fair share of vivid Jordan 1s, Jordan 4s, or customized Vans Sk8-His (Sharpie style).
In terms of exotic hues with vibrant ambiances, Travis Scott is no stranger to wearing bright pink Supreme sweatshirts, red pants, and overly embellished jeans – all worn in a tasteful matter of course. When wearing more obvious tones, Travis keeps it fairly minimal on the footwear side by incorporating Vans Classic Slip-Ons, Air Force 1s, and even high-end minimalist staples like Saint Laurent sneakers.
Though not a regular occurrence for Travis, some of his best-executed attire is when he keeps in neutral with a series of all-black silhouettes. This allows his footwear rotation to take most of the credit, usually highlighting his array of coveted Jordans – mostly 1s, 3s, and 4s. And as simple as the color combination, Travis recognizes that the pieces themselves can be just as easy, usually pairing them with distressed black denim oversized tees.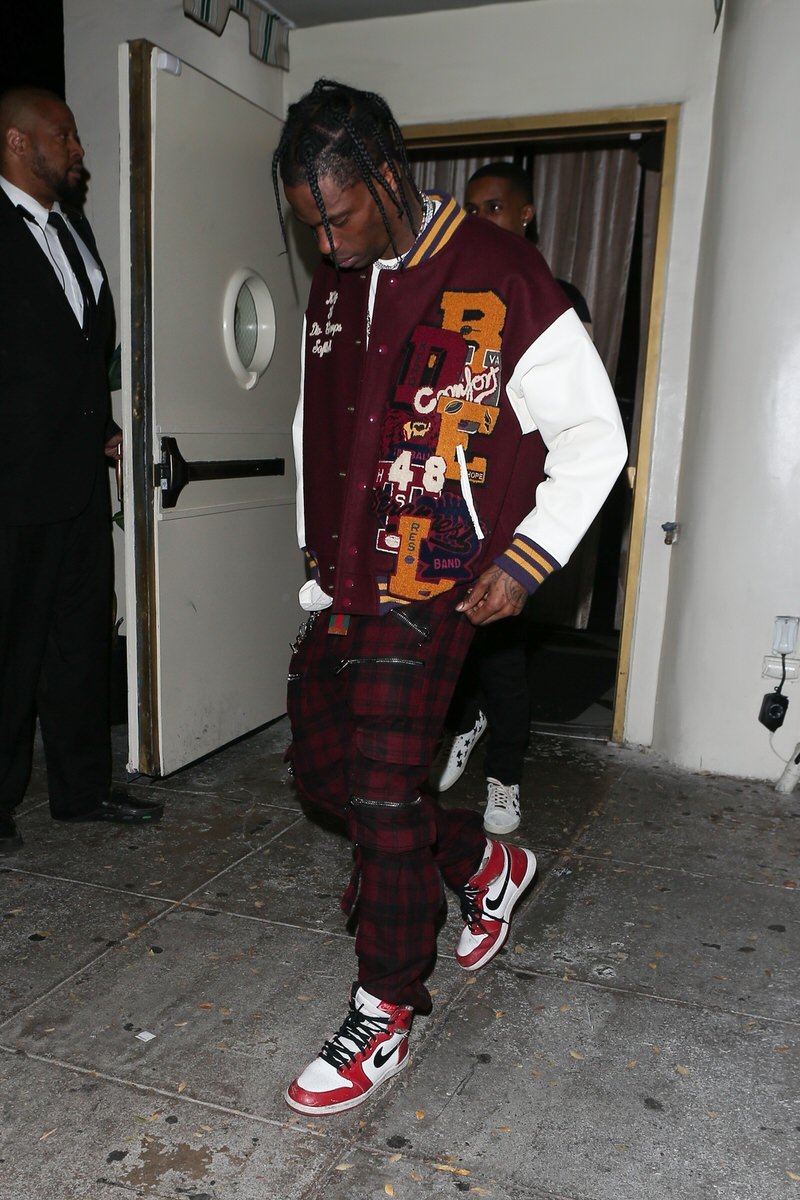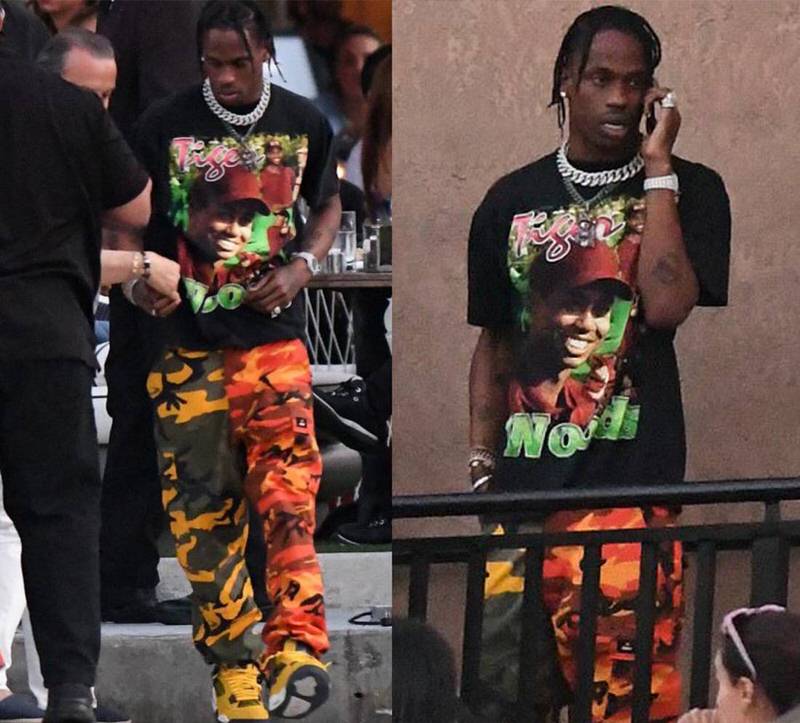 Supreme tee or those Cactus Jack AF1s?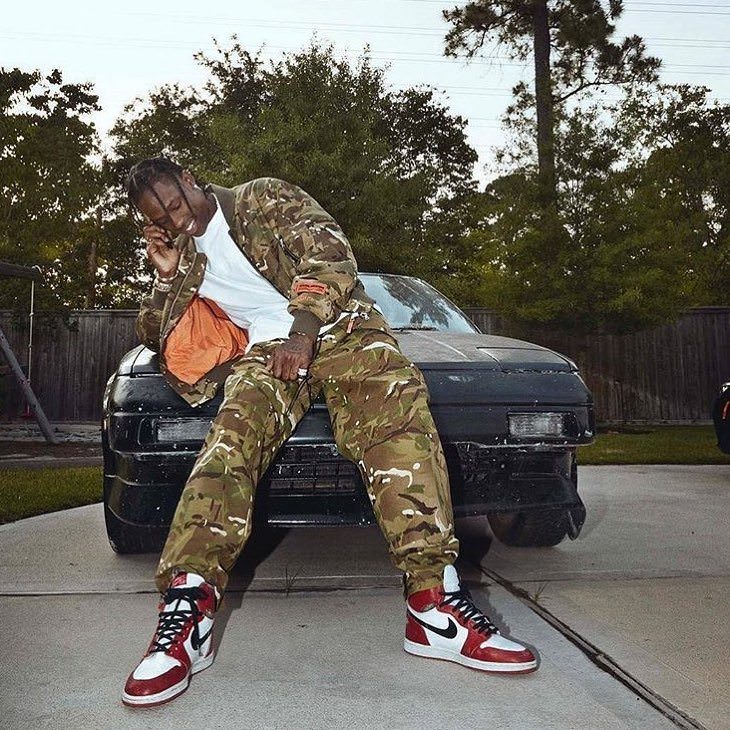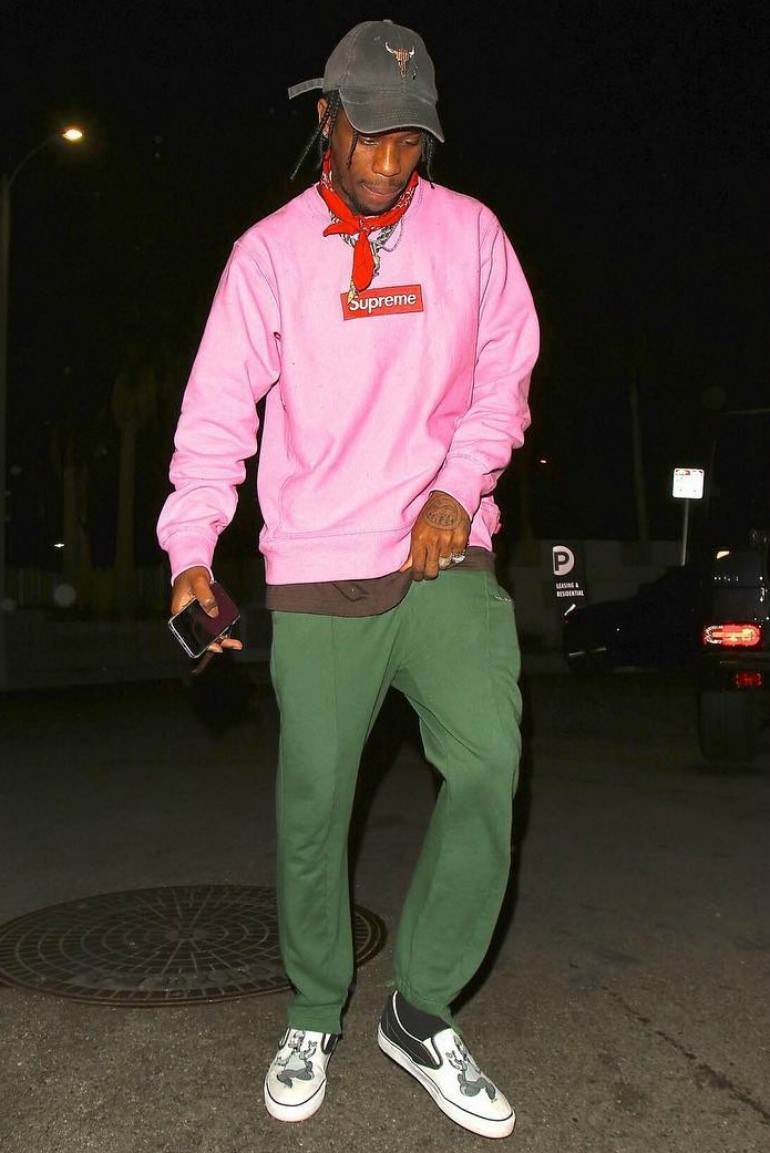 There's Outerwear and There's Oversized Outerwear
Since it's such an essential part of his wardrobe, oversized outerwear deserves its own category. One of the more prevalent trends in menswear right now, Travis Scott opts for jackets that are worn a size or two up and have a slimmer fit, so it doesn't look like he is swimming in fabric. Travis is also a major advocate of Stone Island apparel and incorporates the brand's exotic color palettes with a range of outerwear and jackets.
There's certainly a compromise when it comes to buying oversize, as just sizing up for the sake of it will not make you look more stylish. It will just make you look like you buy large clothes.
The key is to nail the fit, generally taking something that fits slimmer in the first place and sizing up so that it still hangs the same way, but exaggerates the sleeve and hem dimensions. And just because you oversize your jacket, doesn't mean you need to wear oversized pants, nor would that be practical. Travis usually wears slimmer cargo pants or distressed skinny jeans with simple silhouettes like Old Skools or AF1s.