With the NFL season now in full stride, we thought we'd kick this week of What's in Their Wardrobe off with one of the best-dressed players off the field, who also happens to have an insane collection of sneakers: Odell Beckham Jr., of course.
Being a Nike athlete helps, but he's even wearing some silhouettes that are considered Holy Grails, which he also happens to pair with some wardrobe essentials that are also considered grails – most of which happen to feature a classic red box logo across the front.
For those wondering how to achieve a similar look as OBJ, it's not as complicated as it might seem, but when you stick to having a few versatile essentials in your wardrobe, picking out sneakers is a walk in the park.
Two things to keep in mind with this strategy are to make sure your kicks look cohesive with your overall look and that if you invest in a few quality pieces up front, they'll last several years instead of a few seasons. What does that mean for you? More money for sneakers and spending less money on clothes.
Jumpman of the NFL
The easiest way to describe OBJ's style is classic and for the most part, timeless. To match this degree of simplicity, he needs something that will match a straightforward wardrobe while still being able to incorporate some color for subtle contrast.
Mainly, Odell Beckham Jr. relies on classics, like an array of Jordan 1s that range from the iconic renditions that MJ used to wear on court to coveted offerings like all the OFF-WHITE iterations. The rising football star compliments his classic footwear pairings with usually distressed skinny jeans, oversized hoodies from OFF-WHITE and Supreme, and boxy fitting flannels.
Aside from Jordan 1s, OBJ is definitely incorporating plenty of 3s, 4s, and 5s into the mix in an assortment of classics, Player Exclusives and even some of the most sought-after collaborations. And the 3s and 4s are certainly heavy in his rotation of wardrobe looks, he's been known to wear the 5s as much or even more than the aforementioned silhouettes. It's a unique shoe that allows him to stack his skinny jeans and pair an array of coveted sweatshirts that go along with it.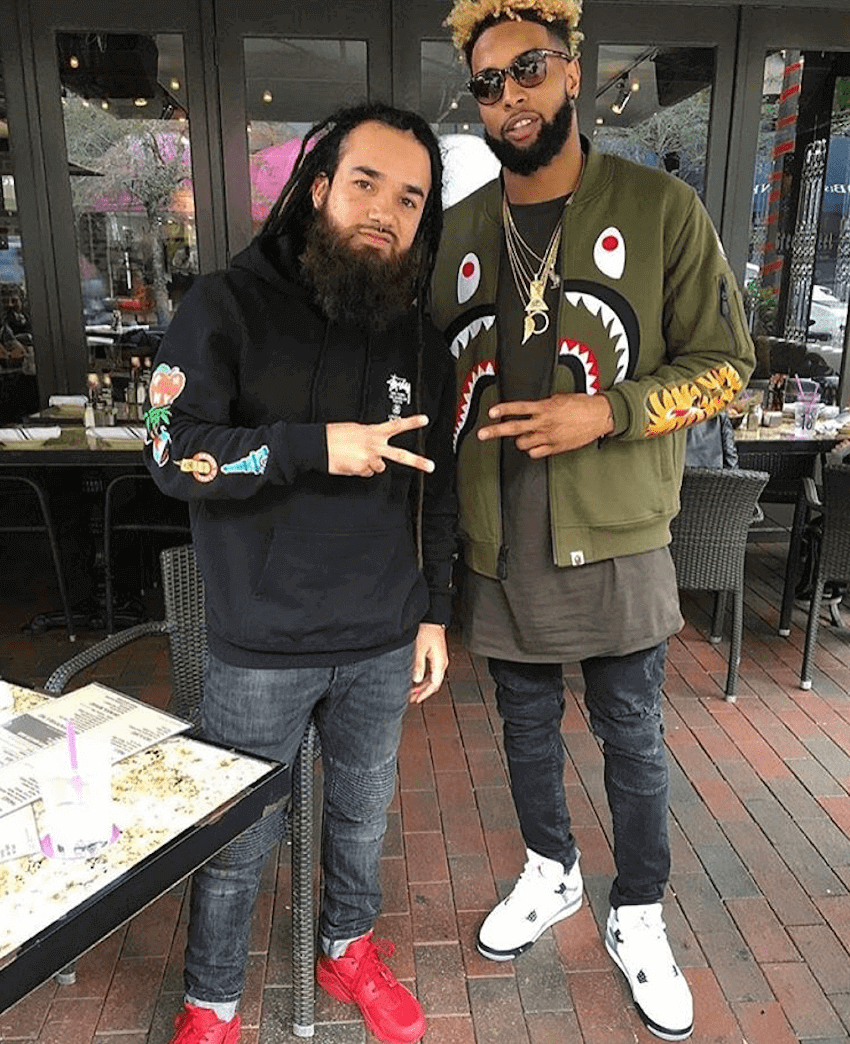 Rockstar of the Gridiron
OBJ has certainly defined his style in both an obvious and specific manner. The first is that he wears a lot of Supreme, ranging from the basic box logo hoodie to the almost impossible to get pieces from the Louis Vuitton collaboration.
The second way he's defining his style is by wearing almost head to toe AMIRI, which has emerged over the past few years with their cult LA rockstar like offerings, featuring heavily distressed skinny jeans, hand painted jackets, and a range of tops that were actually shot with shotguns to get the flea-bitten look from products you might find at the Rose Bowl. For the most part, he's usually wearing Jordans with this kind of gear, but he's also rocking plenty of Air Force 1s and even Kanye's all-red Louis Vuitton Jasper, which can easily surpass the $6,000 mark on the resale market.
Odell Beckham Jr. also works the grunge look into his wardrobe by wearing plenty of Fear of God merchandise. With a range of flannels and jackets, he's also incorporating the brand's various footwear offerings into the mix by wearing silhouettes like the Hiking, Basketball, and Jungle iterations, which not only add the LA rockstar look into the mix, but also have a military and sportswear aesthetic as well.