With the Warriors leading the series in the 2018 NBA Finals, we thought we'd hand the ball over to one of the players who's on the winning side of things this week.
And not just basketball.
We're talking about Nick Young, aka "Swaggy P", who has been on a tear as of late from a fashion and footwear perspective. This week we delve into the wardrobe of the newly acclaimed Warriors member and break down what he's wearing and identify some of the key trends that make up his style right now.
After his classic Twitter reaction, "Whoever pay me more" for which footwear brand he was going to sign with (Nike and adidas) several years back, the now adidas member has worn some of the Three Stripes' most coveted releases both on and off the court. And especially these past few weeks leading up to the NBA Finals, Swaggy P has worn some of the wildest looks that embody all kinds of nostalgia, while staying completely swaggy, to say the least.
Making It Look Easy With Yeezys
Known for drawing attention on the court by wearing multiple colorways of the Yeezy 750 Boost in-game, Swaggy P has most recently followed up his perplexing on court footwear choice with the Blush Yeezy 500s earlier this season. And while he puzzlingly wears these while playing, it's no secret that Nick Young has a thing for Yeezys off the court as well.
Whether it's flexing his icy Yeezy 350s with Supreme x The North Face jackets or taking the current popularity of the Yeezy Wave Runners out for a spin with dusty pink jackets, Swaggy P has demonstrated that it's not only the loud colors on your footwear that makes them more noticeable, it's everything that you're wearing in general.
Without properly matching his shirt to his pants to his shoes and making everything matchy-matchy, Nick Young knows how to break up the colors in his palette so that every color on each garment compliments one another. Even if the color pairings do seem a bit absurd at first.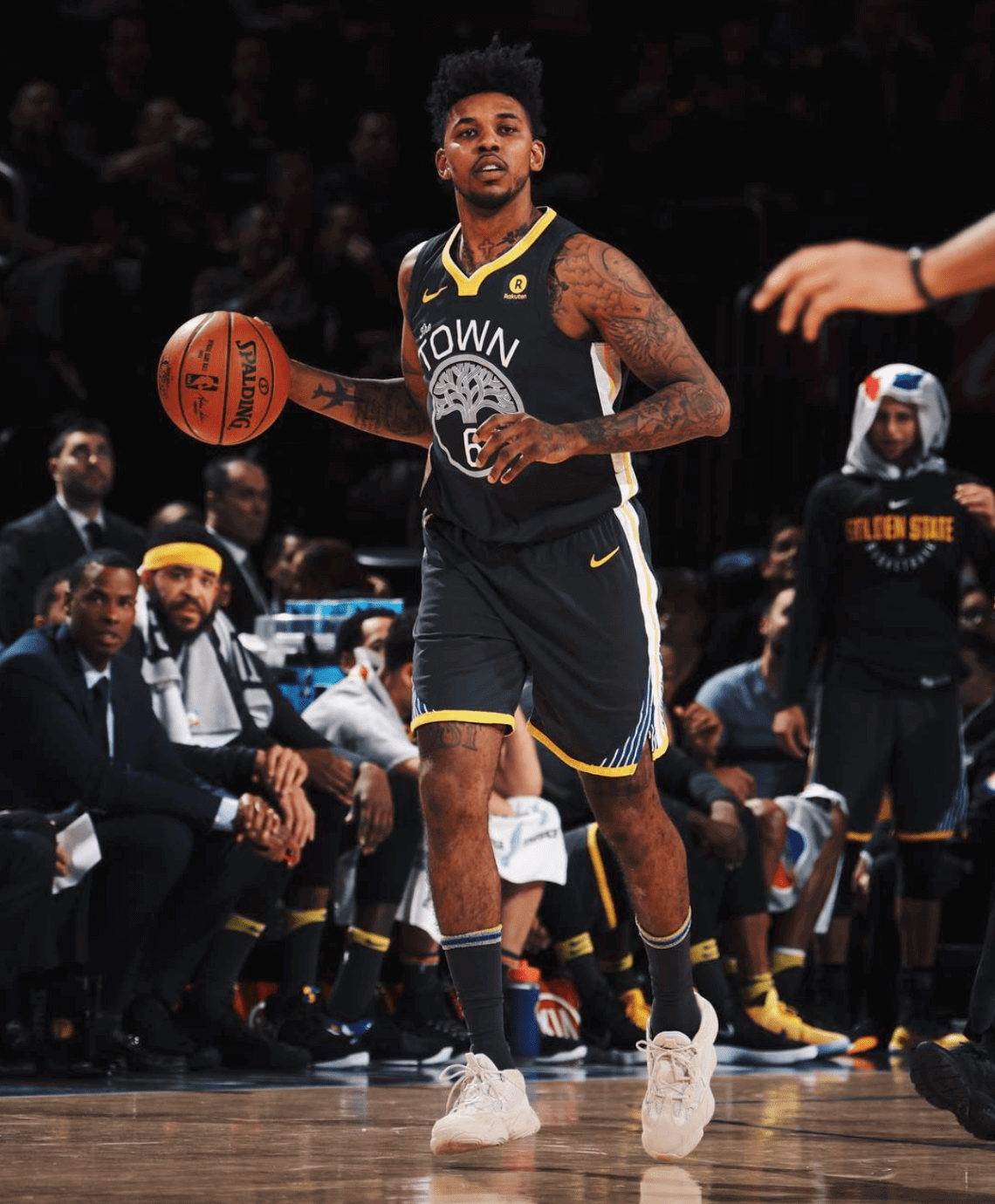 There's Grunge And Then There's LA Grunge
Nick Young isn't afraid to try out new trends in fashion, which is certainly one of the ways he lives up to his nickname as Swaggy P. While he is clearly known for wearing rockstar essentials like Vans Old Skools and Authentics, Swaggy P is upgrading these silhouettes with iconic labels like Raf Simons and Calvin Klein. Whether that's oversized tees and cropped trousers, Nick Young has a way of incorporating all the trends into one look and somehow making it look impeccable.
And while this somewhat crosses over into the following section, Swaggy P's sweatshirt game is unstoppable. We'll save the details on the basic ones for the next paragraph, but we'll just go ahead and talk about the ones with all the loud designs here.
Known for wearing some of the most graphic heavy sweatshirts on the market, Nick Young has a crafty way to somehow neutralize their flamboyancy by paring them with track pants, high-end designer trousers, or the right pair of skinny jeans. But what's really most impressive about his style is the fact that it's all him – no stylists. And the fact that he can throw so many colors into one look with so many different silhouettes is only a move that Swaggy P is capable of.
Back To The Basics
Swaggy P doesn't necessarily need to have the wildest look in the NBA to be the most fashionable. He can still wear the most minimal wardrobe out there and still look swaggy. That just proves it doesn't take a lot of pieces to build a solid wardrobe. Take a skinny pair of John Elliott jeans and a simple, but elegant fitting tee from the same label and pair them with Stan Smiths – that's a solid daily kit for summer. And you don't have to break the bank to do it. You just have to make the investment up front as opposed to constantly refreshing your wardrobe.
While you don't have to necessarily opt in for the same brands mentioned about, mirroring essentials with a similar look and fit will start putting your style into the timeless category. Today, we're seeing a shift in sneaker culture that Swaggy P has, of course, caught on to. People of this era are investing more into streetwear labels like OFF-WHITE, Supreme, Rhude, etc., but need a sneaker that goes with everything. Cue Vans Old Skools, Chuck Taylor 70s, and adidas Stan Smiths to get more leverage out of what's already in your wardrobe.