With the World Cup going on, it only makes sense that we highlight one of the most stylish to ever play the game – Neymar Jr.
The Brazilian football phenomena succeeded over 80 million followers on Instagram, posting content that evokes a lavish lifestyle and a hard-hitting wardrobe. His passion for clothing stems beyond apparel, it's clothing and music, too. All of which encompass and accent each category.
Being on the Nike roster, you can only assume that Neymar's Nike collection is massive – and it really is. An advocate for both current and retro silhouettes, we've seen the footballer flawlessly pair both into his rotation. And if there's one way to describe the combinations of what his style evokes no matter the occasion it's simplicity. Neymar is never dressed too flashy. An expert as some would say in paying attention to the importance of fit and silhouette, he doesn't need to flaunt trendy graphic and labels just to do it. He can wow the audience with styles that just so happen to be from well-made and affluent labels.
Footballer Flashin'
Being one of the chosen advocates for Nike's Tech Fleece program, it seems like an obvious fit that Neymar would be one of the main faces of this campaign, as he's constantly wearing it as part of his off-duty uniform. Whether that be jogger sweats or Tech Fleece shorts with plain fitted zip-up sweatshirts, this casual pairing makes it even easier for that day's footwear selection to shine just a little bit brighter. Proving that he is a sneaker aficionado of al makes and genres, one of his brightest moments was busting out the gold Supreme x Nike Air More Uptempos.
As basketball has paralleled soccer for some time now, it would be appropriate that Neymar Jr. would have his own Jordan collaboration. Having the iconic Jordan 5 cut down to a low gives them a more versatile feel that speaks beyond basketball, while exuding more of a lifestyle appeal. Now that we've seen the basketball trend start to develop within his footwear selection, we could also see why it makes sense that he'd incorporate AF1s into the mix — of course we're speaking of the Supreme ones, this is Neymar we're talking about here…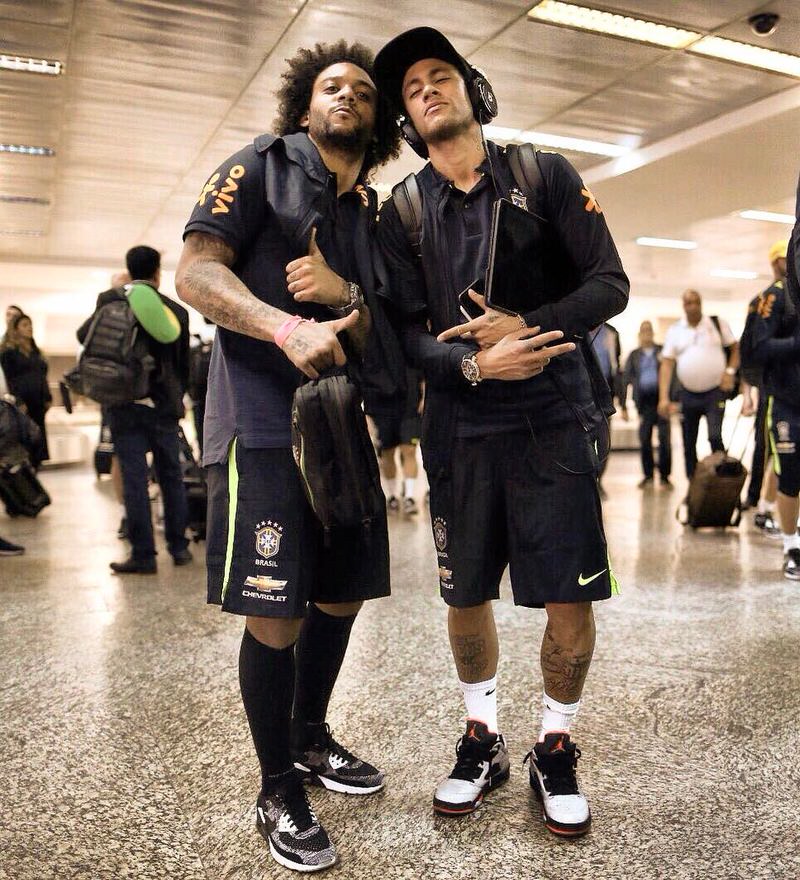 Die Hard for Denim
Neymar is a master of the Canadian tuxedo and it's a regular styling move for him, whether it's pair with retro or modern kicks. Not only does he have one of the best Canadian tuxedos in the game, he also has some of the most expensive taste for it. Known for flashing brands like AMIRI, which pays homage to LA's classic rock scene, Neymar makes it look like it's jeans that people need to match their sneakers to instead of the vice versa.
An interesting choice for footwear when it comes to the double-denim look but one of Neymar's go-to's in his footwear rotation is the VaporMax. He wears them with everything else too, but it's the way he puts his combinations together with a roomy t-shirt and skinny jeans that turn a look like this from a bit of a head-scratcher to an applaud worthy possibility. And yes, it is his favorite Nike to date, but the photos would have us believe that the black OFF-WHITE rendition would be the move to easily pull a fit like this off.
Focused on Silhouette
While Neymar certainly has his assortment of Supreme essentials, especially on the footwear side, he's also more than qualified when it comes to picking out minimal brands that produce some of the best fitting silhouettes out there. It doesn't matter if it's a simple bomber and jeans combo or a full-on suit, Neymar's looking for ways that will make the entire look pop even more than it already does by adding in a pair of sneakers that none of us even had a chance at on release day.
Another hack that Neymar makes a habit out of is pairing different shades of black together, while letting a knockout classic like the Jordan 3 steal the show. His style has also come a long way in recent years when before his choice of proportions weren't quite as spot on as they are today, but it seems like the soccer sensation is equaling the exclusivity of his footwear with his apparel selection.