Perhaps the most well-known musician on the planet right now, J Balvin's making moves beyond the pop charts, appearing on practically every style feed out there. His streetwear selection is eclectic and he makes the house label silhouettes pop even more with a newfound edge. Accredited for saying influencers like Pharrell inspire his own style, Balvin is constantly bringing a revamped perspective to the scene, while making it look like he's always one step ahead of the trends. A proponent of mastering the details, he realizes it's the sneakers, clothes, accessories, and confidence all tied together that separates the notions of something standard vs. raising the standards.
One of the crucial components of J Balvin's style over the years is the element of taking risks where the reward is a higher payout. Whether that's wearing an assortment of patterns, colors that don't necessarily go together, or blurring the lines between casual and upscale, he recognizes that in today's fashion scene – anything's fair game.
Patterns Perfected
An advocate for sporting some of the wildest patterns on the scene right now, J Balvin is wearing everything from two-toned jeans, obvious camouflage prints, and plenty of plaid shirts that enhance his Reggaeton inspiration with a rockstar twist. Similar to previous features like Travis Scott, there's an element of personalization that has become so relevant in today's streetwear scene. For J Balvin, that might be wearing Air Jordan 1 "Quai 54s" with black skinny jeans from AMIRI that have been patched with leather, checkerboard, and bandana prints – sometimes all at the same time. Additionally, J had also been known to wear checkered leather jackets, rasta striped shirts with green track pants, or pairing paisley jackets with three hues of plaid on one shirt.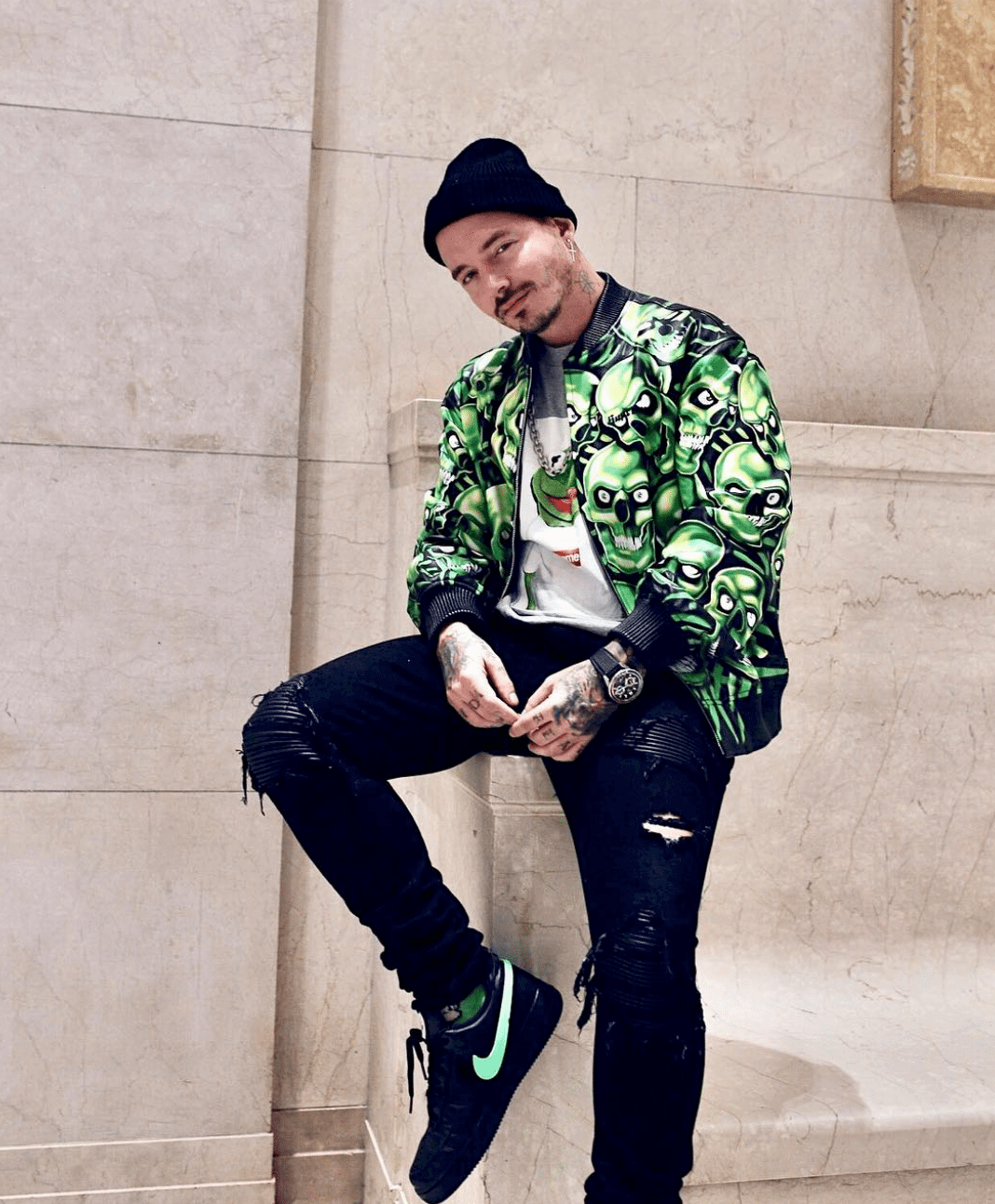 Finding the Fit
Claimed to have stated that he enjoys fashion as much as music, J Balvin has been seen at an assortment of fashion shows throughout the past few seasons and it would appear as if he had learned a few things to incorporate into his own style – like the way his wardrobe fits. Attending shows like Chanel and John Elliott, who both focus on the fit of their silhouettes, J has adopted a chameleon-like persona in his fashion sense that allows him to execute a number of trending looks that significantly differ from each other with ease. Some days that might entail and oversized VETEMENTS sweatshirt that's just the right size of oversize, while on others, he's demonstrating the proper way to nail the double-denim look without crossing into Canadian tuxedo territory.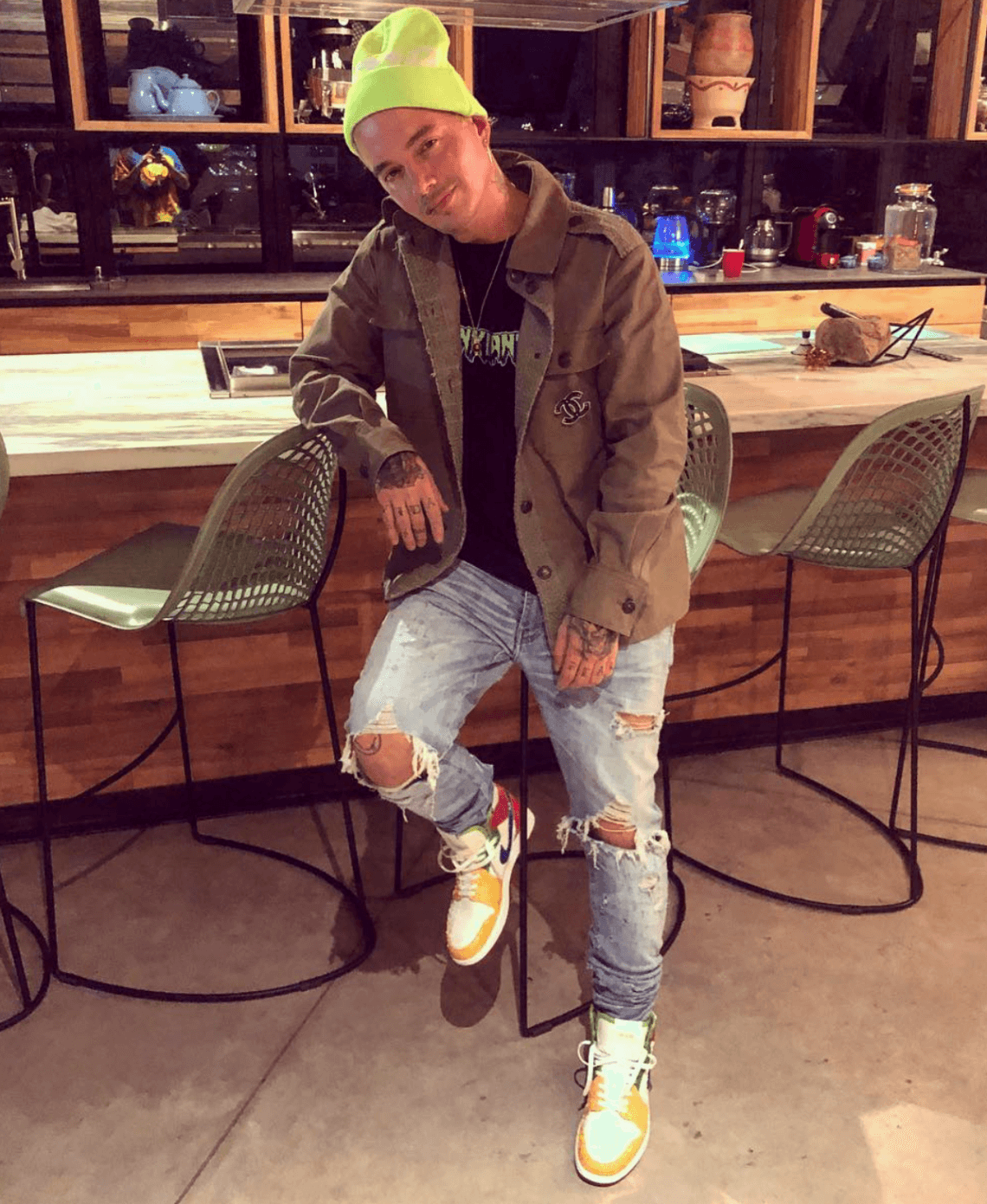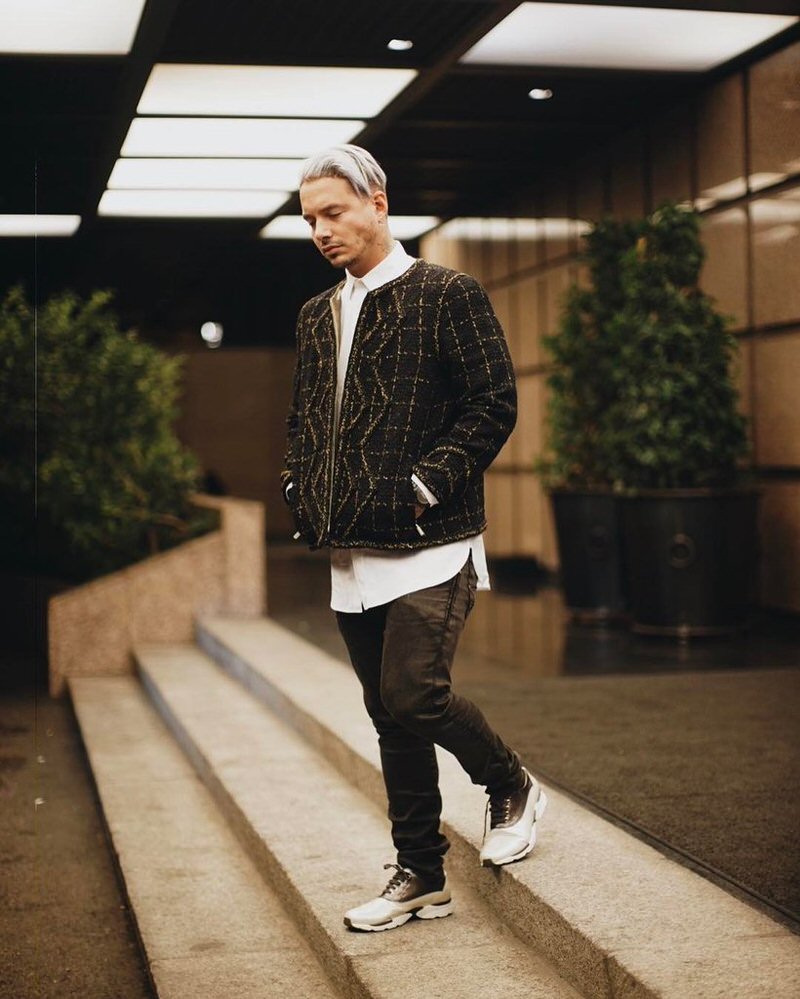 Summer Safari
Wild in his fashion sense, J Balvin is constantly switching up his summer style by wearing exotic silk Hawaiian shirts, souvenir embossed bombers, and even leopard print jackets that don't go unnoticed when venturing the concrete jungle. Along with the color of his hair that varies from green, yellow, and even tie-dye, J's wardrobe is adopting anything from tastefully vibrant to timeless and bold. He's also into wearing the upscale t-shirt and basketball shorts look that consist of OFF-WHITE basics with Balenciaga Speed Trainers to Fear of God's floral shorts and Vans. Either way, it says that he knows how to wear casual without being lazy.