words by CeeJay Carroll
I believe as a basketball culture we had a collective "What in the entire fuck…" moment when we got news DeMarcus Cousins was joining the Warriors — the most unexpected move of the offseason if you ask me. On top of that, it doesn't help to know that Steph could pay Boogie's contract himself. $5.3 million for another ring? That's pocket change in The Bay.
Other than the Warriors collecting all the infinity stones and assembling what may be the greatest starting five since the 04-05 Pistons, this may be the first time Nike has had three active All-Stars on one team simultaneously.
Bringing in DeMarcus Cousins doesn't only add to the team's dominance but also leads to huge implications and opportunities for the Swoosh to recapture a market they lost when they turned over Steph to Under Armour.
The Golden Market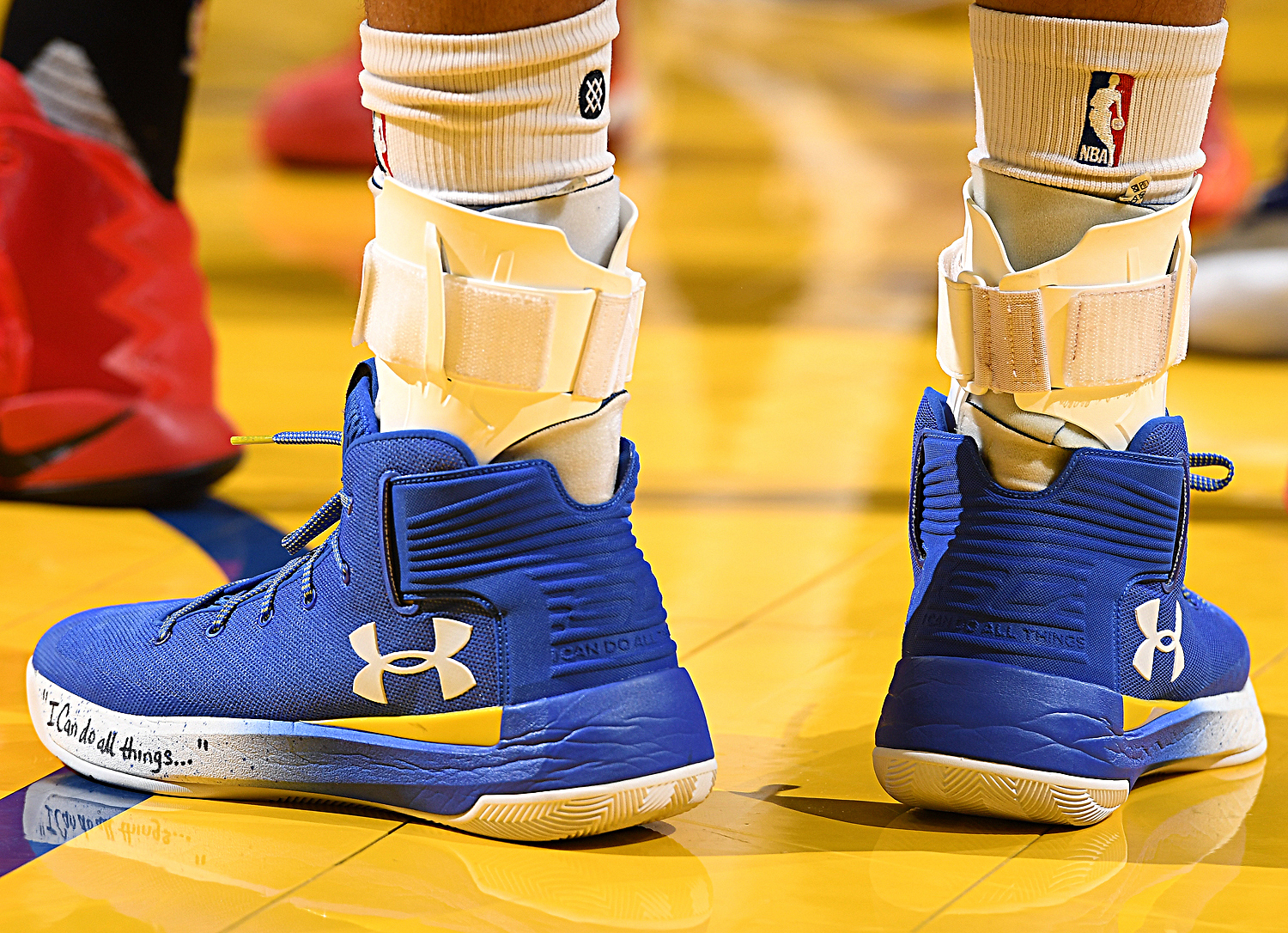 Steph has done more than make a name for himself, he's created a brand for himself along with Under Armour in one of the best markets and has been a thorn in Nike's side ever since.
As much as Nike says "Nike competes with Nike" and though the numbers may agree that is true, we can all admit that losing Steph Curry was one of their biggest L's to date. Nike hasn't been able to own the Golden market ever since Wardell started knocking down buzzer beater 35-foot 3s and as long as he does he will continue to protect this house.
A countermove of sorts, Kevin Durant signing with the Dubs in 2016 was huge for the Swoosh because Steph was collecting clout like Mario coins on the Internet and on National TV. Draymond was there with a few PEs but most kids dream of dunking in a signature rather than hustling in a Hyperdunk.
Boogie for the first time in his career is in a big market. This isn't SacTown or NOLA. This is the Bay Area where going dumb isn't the norm but practically mandatory. Now with the new edition of DeMarcus Cousins Nike has the opportunity to take that market by storm.
But just exactly how?
Nike's Foil to Swaggy P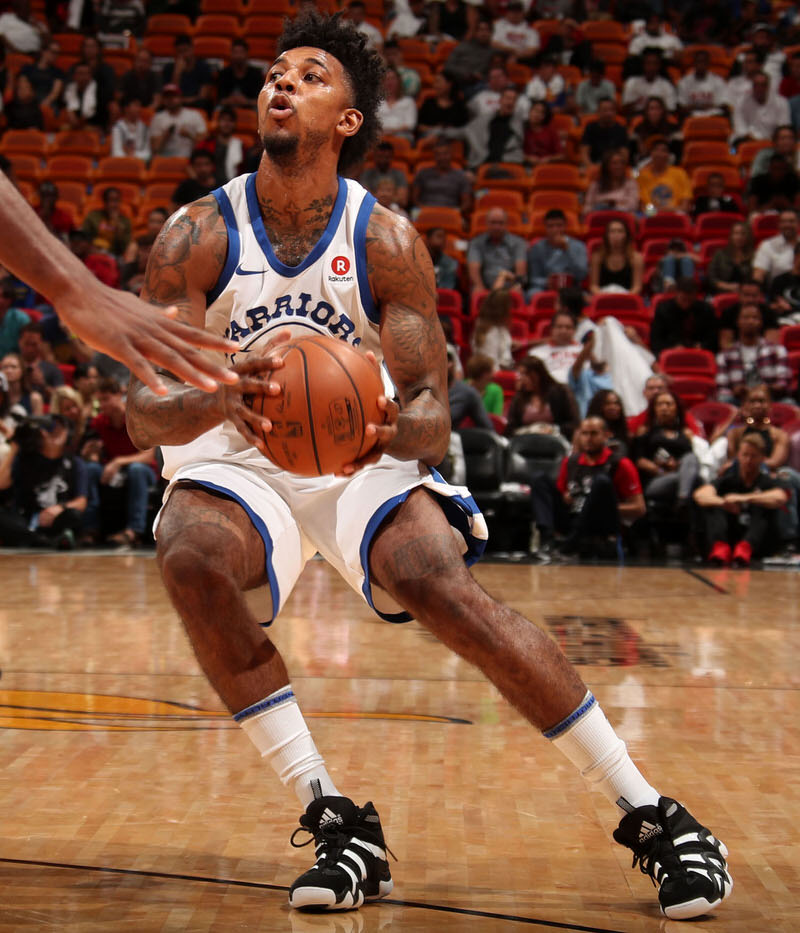 From Nike's standpoint, there's a story to be told through the product. Boogie isn't getting a signature sneaker anytime soon but does have dope Player Exclusives and sneaker moments on and off the court.
Recording triple-doubles in OVO 10s, Cool Grey 11s, What The Lebrons — and who could forget the time he threw the rock at CP3 in Varsity Red 10s? — Boogie is a certified sneakerhead on the hardwood. Just the same, he's rocking Balenciagas for dinner at NoBu, with Foams and Fire Red 5s also in off-court rotation. It's obvious this guy is a sneakerhead.
Nike could easily capitalize on his presence on the court by simply opening up the Nike archive to him in a similar fashion that the Three Stripes have done for Swaggy P or better known now as Swaggy Champ.
Stealing the thunder from a sneaker standpoint, the Three Stripes has done a great job of opening up the archive to Nick and owning the Kicks On Court headlines. Everything from Benihana collabs to the Pro Model PEs, Yeezys, and TMacs, there's been no shortage of heat or surprises. Nike could take this same approach — and the KOC headlines — by opening up their archive to Boogie.
We could see Cousins in a wide breathe of sneakers on court in The Bay, pulling out everything from old Barkleys to maybe even some Amare Stoudamire Huarache PEs. It's Nike hoops so the archive is literally endless.
The Plague & Missed Opportunities
Historically speaking, Nike has plagued Boogie with terrible silhouettes throughout his career. This ranges from the Air Max Dominate to the Air Audacity, which in my best Stephen A voice I can't believe they had the audacity to make in the first place.
As alluded to earlier, it's incredibly easy to put Boogie in good sneaks. Though the team takes previously loathed may be trash as silhouettes, the colorways have at least been decent.
Utilizing better models — maybe even other signatures on the market — there are multiple PEs that could be made for him to tell his story.
The story and the colorways are there, the models just have to be better.
Bad Boys Club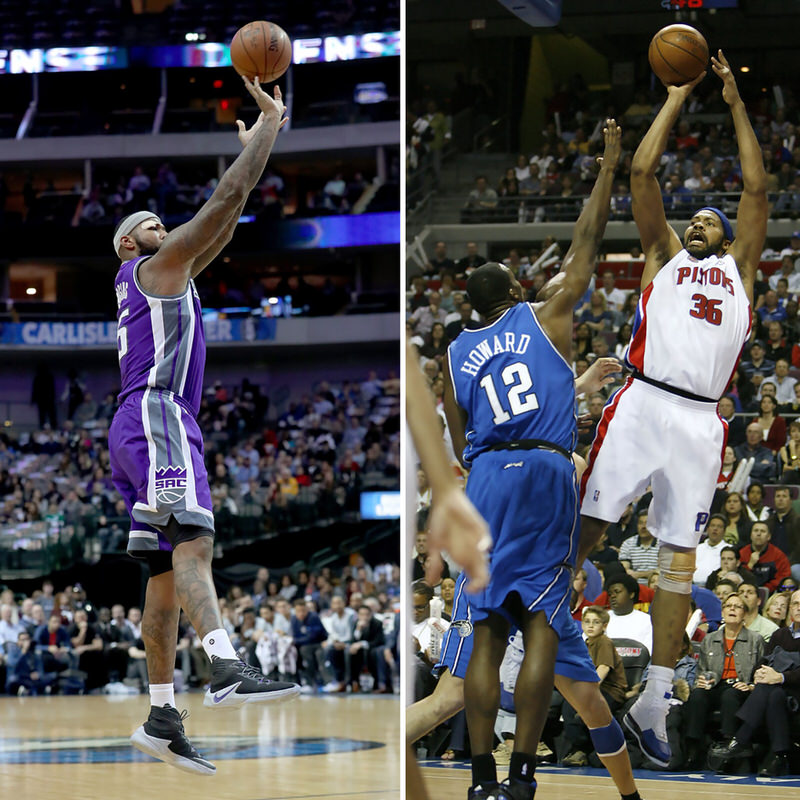 Boogie is undoubtedly a part of the Bad Boys Club, though some would say he's just passionate about the game. He is this generation's version of Rasheed Wallace and he's only a few techs away from taking the crown. He probably would be leading the Bad Boys Club if he punched Steven Adams that one time. Sorry Bill Lamber, but Boogie needs that black hat of yours.
As versatile as he is volatile, Boogie has handles, a jumper with range and he's fluent in trash talk — all shared characteristics with Sheed. I mean, he even rocks the headband just like Roscoe. The only thing missing is a pair of AF1s with the hanging strap.
On top of that, he'll fit right in with Draymond and KD who are documented for not being nice. Even the good guys in Golden State have to go heal to sell the same story, right?
The Triplets
Nike now has the opportunity to strike its competition in a way that hasn't been done before. The NBA for the first time has Triplets, and no I'm not referring to those three guys from the Cowboys golden era.
The combination of Draymond, Boogie and KD could be something to watch. All three of them at the same time rocking aligned themes and colorways across their respective models to tell a story would be like a three-part movie on court. The original, sequel and follow-up for the extra bag.
This much star power on one squad almost never happens. You may see these types of super teams in the sponsored AAU space, but very rarely do you get stars to align like this at the professional level.
It's easy to get kids on a paid AAU team to all wear the same sneaker but it is rare to happen on a platform like the NBA. So if you're Nike, why wouldn't you take this opportunity to cast a huge shadow on Under Armour and adidas?
From holiday PEs to telling KD color stories across the models Draymond and Boogie rock, The Triplets could sell out sneakers while they sell out arenas across the country.
*****
Boogie has all the tools to be one of the most dominant big men not only in the league but potentially of this generation of basketball if he has the right mindset. But, at this moment he's a high risk, high reward liability.
It's all one step at a time, but ultimately Nike has the opportunity to seize back some control over what they lost in The Bay and gain ground Under Armour.
Hopefully, Nike does something with this opportunity that is before them and makes the most of the inter-squad competition led by Chef Curry and Swaggy P.
Afterall, if both the Warriors and Nike are competing against themesleves they might as well have some fun, right?