Yesterday, the Florida Gators were announced as the newest NCAA program to join the esteemed Club Jordan Brand. This fraternity has grown vastly in the past few years, featuring programs like UNC and Michigan that sport the Jumpman on both basketball and football while the likes of Marquette and Georgetown do so exclusively on the hardwood.
While JB has been active in college hoops since the late '90s, schools that see both their basketball and football programs ink deals with Jordan Brand are truly rarified air as bolstered by the impending Gators signing. This all began in the summer of 2015 when Michigan choose not to renew an existing deal with adidas to pursue a more lucrative opportunity with Jordan Brand – one worth $169 million through the 2027 season with a team option to extend it through 2031.
Jordan Brand x Michigan Football
Other all-encompassing programs include the recent signing of the Big 12's Oklahoma Sooners and, of course, Michael Jordan's alma mater, the University of North Carolina in the Atlantic Coast Conference (ACC).
The Gators now represent Jordan Brand's sole visibility in the Southeastern Conference (SEC), a towering football union that also maintains a rich basketball heritage — mostly recently bolstered by Florida's back-to-back national championships in 2006 and 2007. But with the ACC, Big-12 and now the SEC all enriched with Jordan Brand's presence on both the hardwood and turf, it's clear what conference appears as the logical next move:
The Pac-12.
Considering Jordan Brand calls the Pacific Coast home in that it's headquartered in Beaverton, Oregon, snagging a prominent program in that region is certainly anticipated. Many would assume Oregon would be that institution, given the school's proximity and historical context where Bill Bowerman and Phil Knight are concerned. And while those factors alongside many others weigh heavily in Oregon's favor, there are boundless opportunities that will steer the Swoosh to Southern California.
With 11 national championships in football, six Heisman trophy winners, a dozen NFL Hall of Fame players and a basketball program that has featured an abundance of Nike athletes, one would bet that Jordan Brand will swing for the fences next by inking a deal with the USC Trojans.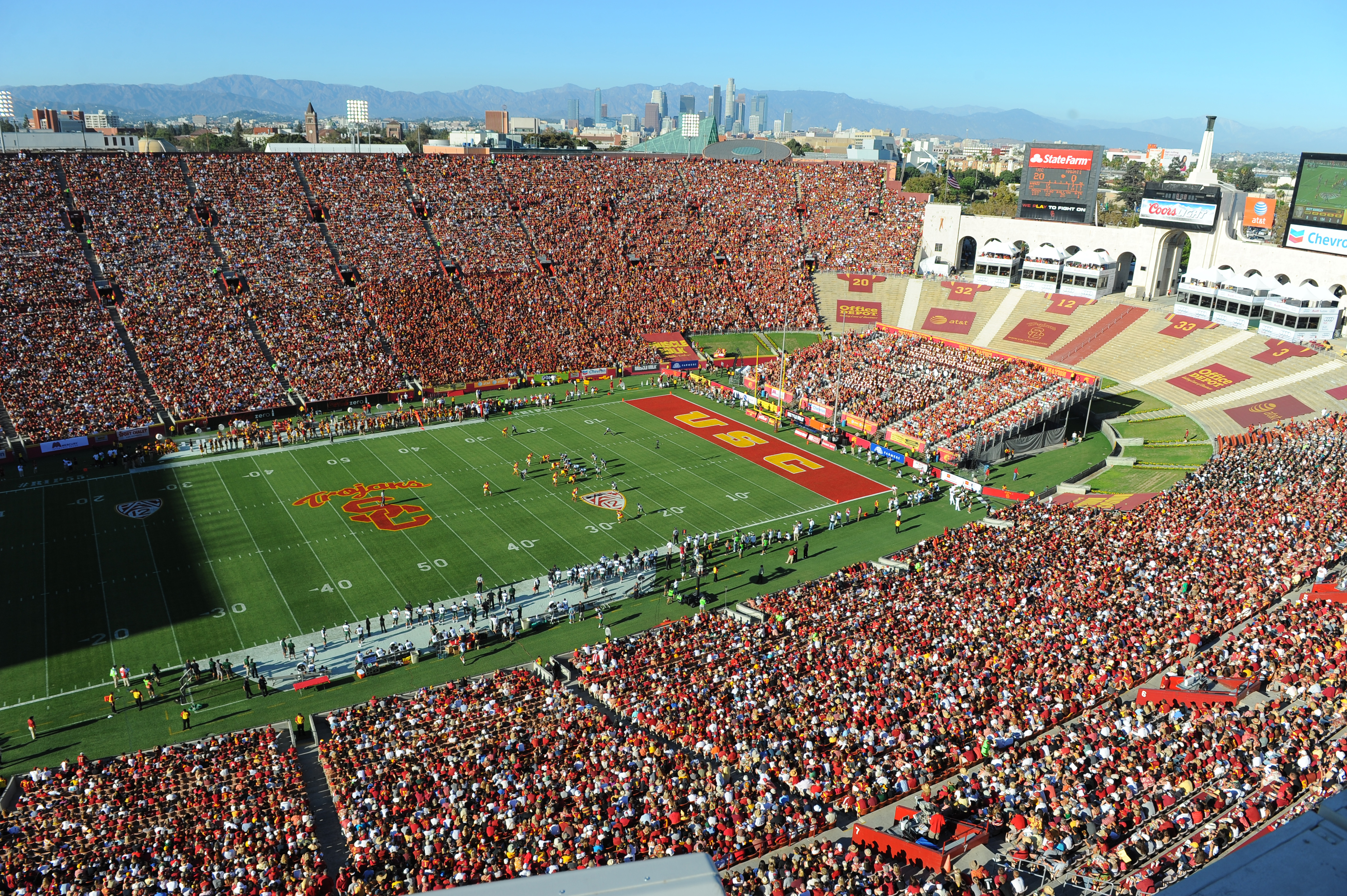 On its face, and given the history between USC and Oregon, this would seem far-fetched. More often than not, however, business and commerce outweigh sentiment and assumed logic. Phil Knight, sometimes referred to as the benevolent owner of the Oregon program, would in essence benefit largely from greater visibility in Southern California, alongside having a one-up on one of the Ducks' biggest in-conference rivals. Adversely, Nike, through Jordan Brand, would be paying USC, not only to wear its footwear and apparel but to also have a place in Los Angeles were the company does much of its business, has retail locations and houses many of its consumer activations. It's reported that a Jordan Brand flagship store on LA's historic Broadway corridor is currently in the works.
The business of doing business in Los Angeles is unrivaled in its proven success. Sure, there's New York City, but without a stellar twofold program in that region, all signs point towards the west coast. Nike also has legs in other Pac-12 schools, most notably the Arizona Wildcats. Yet without much in terms of football success, and a much smaller market in Tucson and its surrounding areas, Zona simply doesn't offer enough to sweeten the deal for Jordan Brand. Westwood centered UCLA, once a tenured adidas school, now has a long-term deal in place with Under Armour.
Aside from historic success in football and basketball, and potential retail triumphs outside of USC's Silver Star Merchandise (SSM) partnership, the Trojans are the most popular program in the Pac-12. Their star-studded football sidelines are that of legend. They even have celebrities like Kendrick Lamar attend practices. Alumni including Keyshawn Johnson, Reggie Bush, DeMar DeRozan, Nick Young – who's now with adidas Basketball – and many others tell the tale of the Trojans adoring popularity in Los Angeles, something Nike needs given the aforementioned allegiance of UCLA.
Simply stated, Jordan Brand has the most to gain from this deal as opposed to any other in the Pac-12. Nike already maintains a huge presence within the Oregon program. Thus, for Jordan Brand to get involved is by any measure a redundancy. They need to plant their flag elsewhere; in the biggest market in the region. Sure, it doesn't appear easy cementing a relationship with a rivaling program, especially USC. Which is exactly why this bold maneuver is critical to Jordan Brand's continued success.
Will they have to shell out a ridiculous sum to entice the Trojans to extend their relationship? Absolutely. But will it be worth its weight in gold for Jordan Brand in the years, decades to come? Well, sure. All of this is. UNC, Florida, Oklahoma, Michigan; it's all working towards the same goal: dominating new verticals/markets that don't include depending on Air Jordan retros for sustainability.