Collaborations have become a mainstay in sneakers. Brands work with their star-level partners ranging from boutiques to artists to create a moment through a silhouette or even a colorway. From motifs to messaging, sneaker collaborations touch on certain moments and intersections.
"For a store owner it's nearly impossible to get a collaboration with a footwear brand," Philip Lipschutz, owner of Cincinnati's UNheardof, said.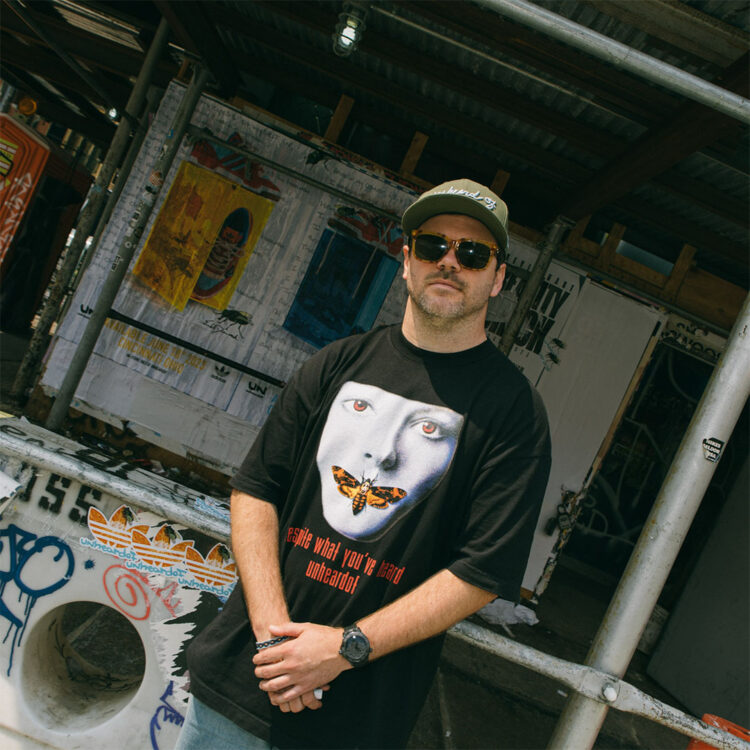 Lipschutz's introduction into sneakers took place in the late 90's and early 2000s as skate culture and sneaker culture entered their respective golden eras.
Eventually, Philip would skate around the Midwest with the aspirations to get a deal with a brand. While that dream fell short, his passion for sneakers and skating led him to Anonymous, a staple skate shop in Cincinnati that closed its doors in 2016.
In 2008, Philip opened UNheardof, an ode to his sister.
"The reason I called it UNheardof was because it's the little sister of Anonymous. My little sister was my baby."
As UNheardof celebrates its 15th anniversary, his collaborative adidas Rivalry Low is more than just a moment but rather a celebration of his late-sister, Erika, while raising awareness to suicide and mental health.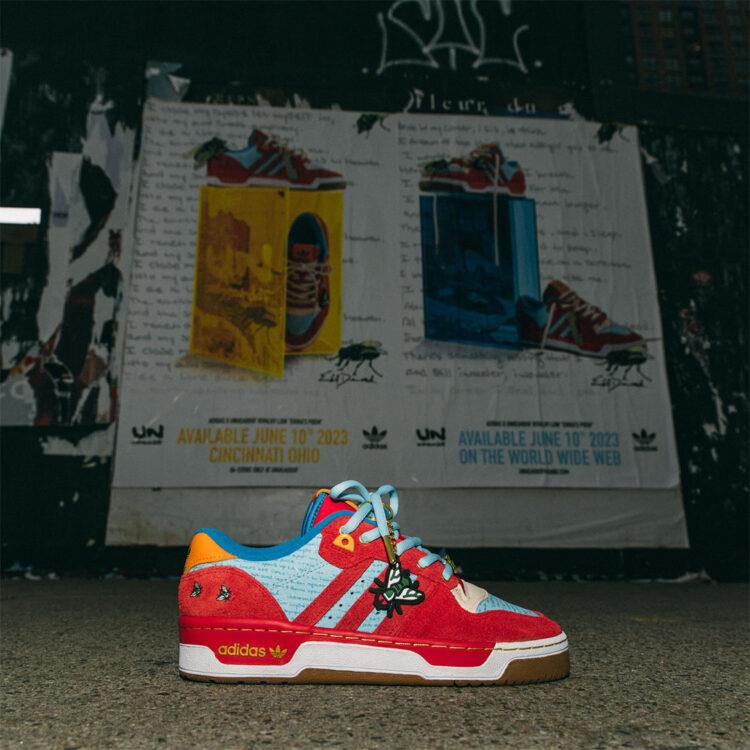 The Story
Philip and Erika grew up in what Lipschutz described as "white trash hoarders." Smell of burnt cigarettes clouded the air. A herd of cats littered the floors. Flies, roaches, fleas and more made the house their own.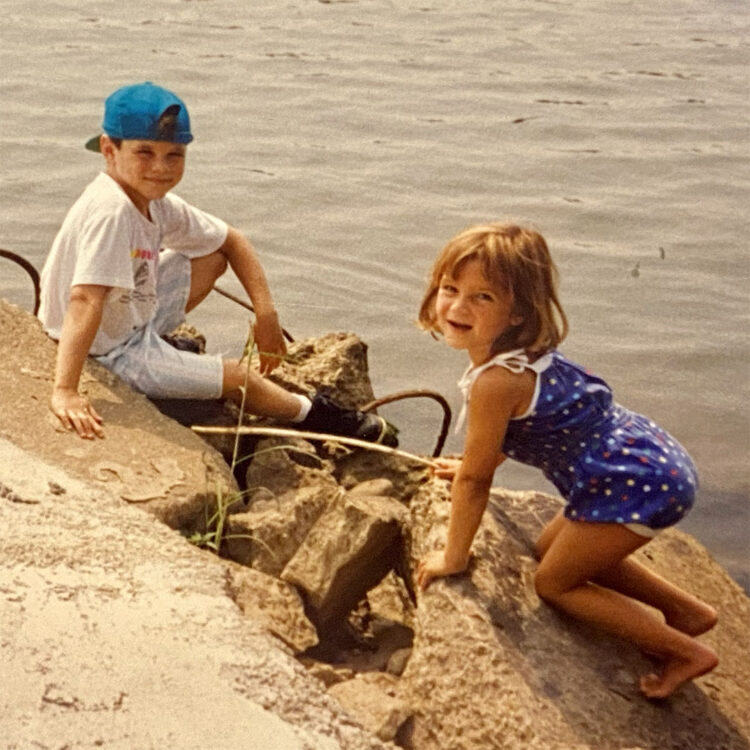 Rural Midwest America has been plagued by heroin, meth, fentanyl, and other hard narcotics in the last few decades.
"Nobody made it off our street. People are stuck. Their whole families are stuck in the same rut and never leave their house."
Philip, who started working at a skate shop as an early teen, promised his little sister, Erika, that she would always come with. A promise he kept with UNheardof's collaboration with adidas.
Each component of the UNheardof x adidas Rivalry Low "Erika's Poem" holds significance. Each material, color, and detail are tied to Philip and Erika.
The shoe's hairy red suede tells three stories: a nod to skate shoes and their signature hairy suede details; for Erika, his blood sister; and paying homage to UNheardof and Cincinnati's affinity for red.
The use of baby blue is a direct tie to Erika, Philip's baby sister, and the sky that she referenced throughout her poetry.
The orange and green are draw from their only Christmas present growing up — oranges. Though, they would rot and become infested with maggots, which inspires the artwork in the insole. The fly artwork found throughout the shoe and its packaging also reference their bug-infested home.
The gum outsole completes the pair with its obvious ties to skate shoes and their pervasive use of a gum bottom.
But perhaps the most important detail is Erika's poetry found throughout the shoe and the packaging.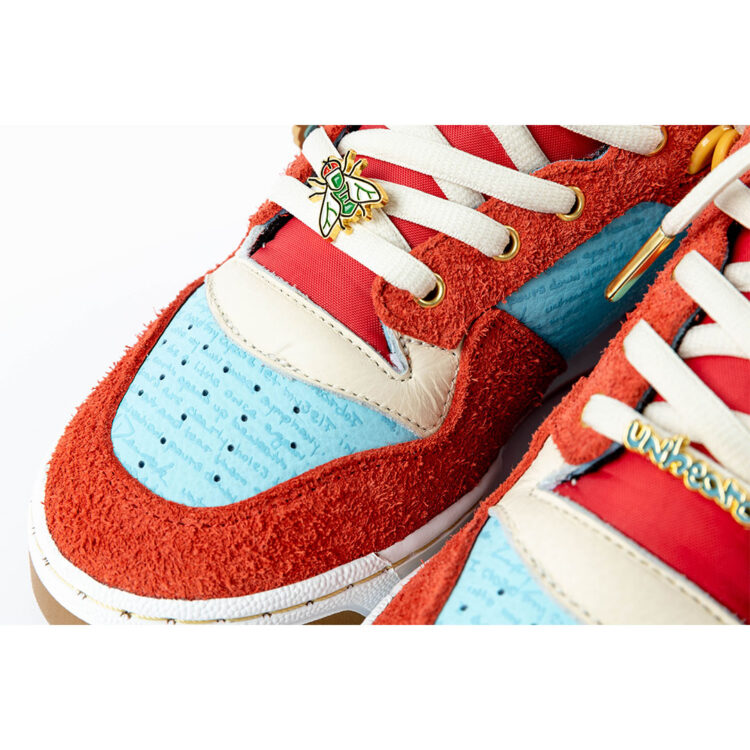 Philip recalls that the journal filled with Erika's poetry was found the day after the tragedy.
"That's when I found out for the first time that she was a poet," he said. "My grandfather and my mother took the poem out of her notebook and had it made for her memorial on her grave site."
Philip made his way to her headstone and took a picture of it to retrace her poem in her own handwriting.
"That's her real handwriting from her notebook that was on the memorial that's all over the shoe. Erika never got to see UNheardof," he stated. "It's her handwriting spelling UNheardof on the shoe. We don't have our standard Unheardof logo anywhere on the shoe."
Philip didn't want the standard UNheardof logo on the shoe, he wanted to ensure that his little sister was present on the pair.
"I really wanted to tell something with a meaningful story," he said. "Taking the letters from her poetry and recreating the UNheardof logo has been the best thing for me."
Additionally, Philip and the Unheardof team went the extra mile for the packaging, emphasizing the story's significance. Instead of the standard blue & white adidas Originals boxes that the pairs came in, Lipschutz designed, source, and manufactured clear acrylic boxes that open like a cassette tape (he notes that CD covers would've been more accurate but its functionality with the shoe would not have been the same).
With 1,500 pairs created, three sets of different colored boxes were designed, each telling a different story: blue, orange, and red.
The blue box, which released at UNheardof, drew inspiration from what her bedroom looked like and what it meant to her. The orange box, which released at the brand's larger activation with the Cincinnati's Contemporary Arts Center, is a nod to Erika's love for music, especially No Doubt — Erika's own interpretation of Philip's curated music taste. Finally, the red friends & family box has photos that she took of the skate rats back in the day and photos of herself.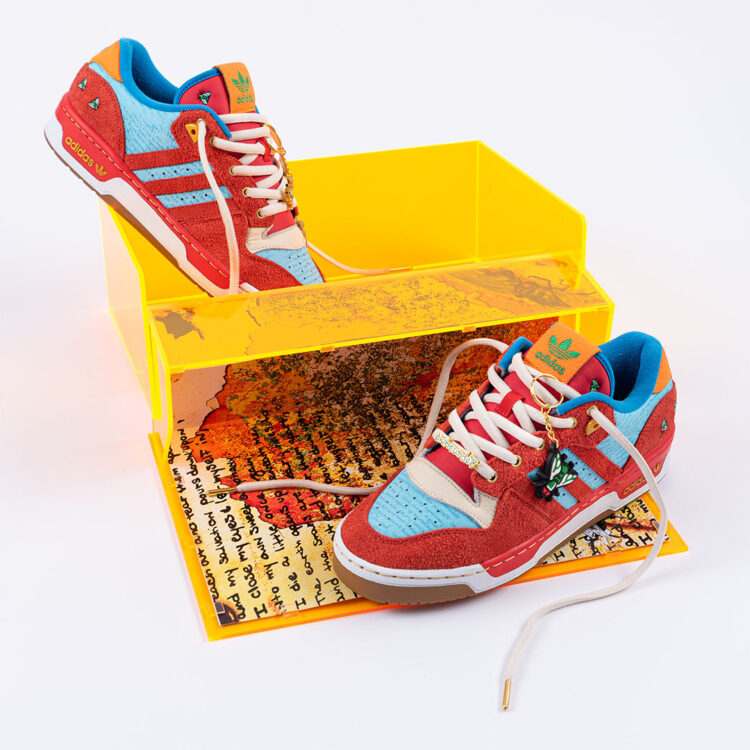 All three boxes, throughout all 1,500 pairs, contain a silk screen poem, that Philip retraced a-la Andy Warhol.
Philip was adamant in ensuring every detail into the shoe was symbolic to their story, but most important his sister's memory. In doing so, he pushed through seven rounds of samples and elevating the adidas Rivalry from her handwriting to the padded tongue and even its oval laces.
Even the rollout was well-calculated.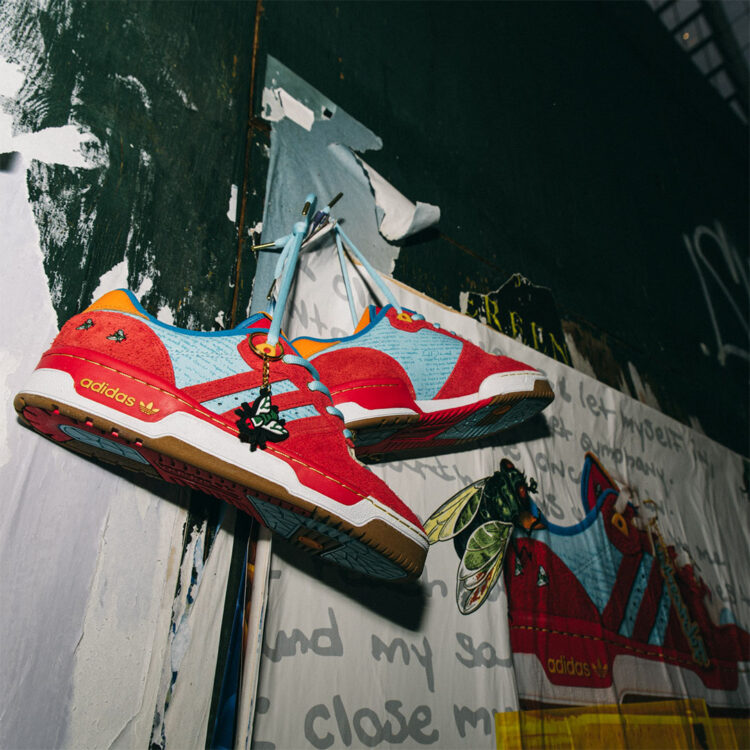 Ahead of its, release, Philip made his way to the New York City to promote the sneaker and, most importantly, share his sister's story for all to see, including Erika.
"The lights stay on 24/7 out there, so I know she'll see her poetry," he said. "I want you all to read it, to see it, to feel it. I'd rather have that feeling than sell 1,500 pairs of shoes."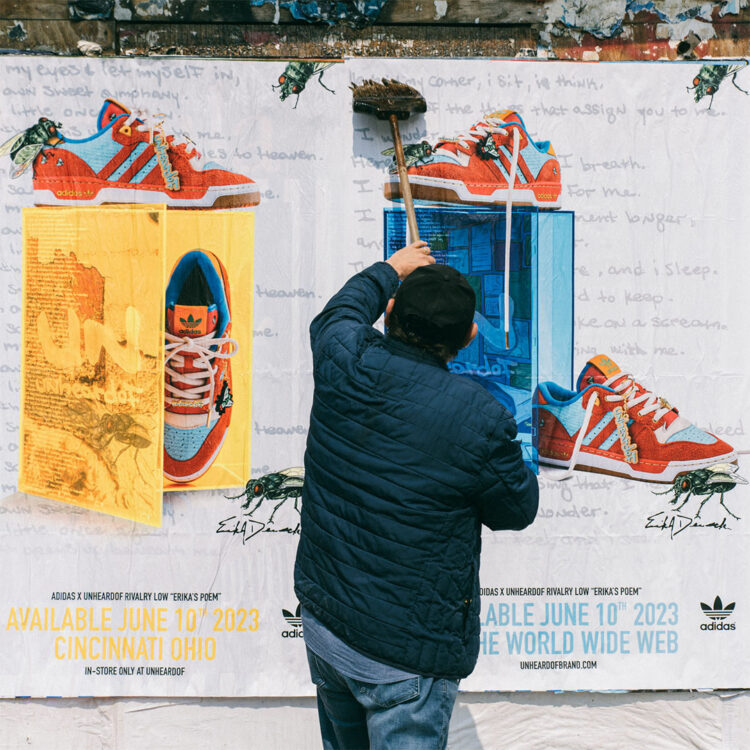 The Challenges
At the beginning of the pandemic, adidas reached out to Philip about a collaboration. The Three Stripes approached him with a deck of silhouettes they were choosing to focus on North America for the coming years – the Forum, the Gazelle, and the Samba.
But Philip stayed true to Rivalry to preserve the authenticity and integrity of the story as well as his relationship with his sister.
"The reason I chose the Rivalry, before I started working at a skateboard and got hooked up with free skate shoes, I could get them at a mom & pop store in downtown Cincinnati for $20 to $30," he recalled.
Purposely buying the all-white ones, he would color them up with paint markers and make them his own.
"The Rivalry to me always symbolized what I grew up in the streets with basketball, hip-hop music, punk rock music, skateboarding, and graffiti."
As the collab conversations continued, Philip wrestled with the ethics and morals of the shoe. At first, he received pushback from their half-siblings.
"In the beginning, two out of the three were unsure because, in their eyes, I'm using her poetry to make a profit. After a while, they came around because they knew I'd do it right."
But most importantly, Philip looked to his grandparents for their blessing on going through with the collab.
"The only person I asked permission for was my grandmother and my grandfather. They did their best to get me and my little sister out of our situation that we grew up in. They gave me their blessings immediately," he said.
"They knew she wanted to work with her big brother."
With the collab in motion, more challenges arose.
Typically, a brand would fly in its collaborator to its headquarters with first-class treatment from the flight to the hotel.
"You go to the studio with this team at adidas who are PLMs (product line managers), graphic designers, colorists, all the people in marketing, you tell them your ideas and inspirations and they're taking notes and your shoe is done in two weeks."
But with the pandemic, Philip and the adidas team were subjected to Zoom calls and direct conversations with the factory. Despite the logistical hurdle, he wasted no time as he sourced 30 pairs of Rivalry's from retailers all over the world as the shoe's presence was minimal in the States. He would draw the shoe over and over again until it met a nearly 1-to-1 mirror of an actual pair. He then took it to Illustrator and started coloring the pair in.
"Going into designing the shoe and trying to get materials and all that stuff was hard. There's no factory, there's no team," he said.
In the early stages of the pandemic, the major brand's factories repeatedly faced closures due to China's COVID-19 restrictions, delaying the process even further.
"The first samples came in and all the materials were synthetic. It was just the materials that the factory had on hand at the moment."
Not only were the materials off, but the colors were also wrong, and Erika's poem went from her handwriting to a Helvetica-style font.
"Originally, the poem was supposed to be embroidered but because of the materials, the embroidery didn't come out clean and didn't go into sampling," he said.
Once the final sample was cleared and set to production, another obstacle got in the way.
Initially set to release during Mental Health Awareness month, the shoes and the acrylic boxes sat out in the middle of the ocean for nine months, delaying the entire process.
In addition to the delay in the release, the venue for the shoe's release became a setback as well.
Philip was set on set on releasing the shoe in a museum in Erika's honor.
"She never had an art show. She never was in a museum," he said.
At first, two local museums declined on working with Unheardof due to the conversation of suicide was "too dark of a story" and "were uncomfortable with the situation" Philip recalled. However, the Contemporary Arts Museum was ecstatic to be a part of the moment, the story.
"Now she's going to be in the Contemporary Arts Museum which is one of the most prized contemporary art museums in the country. It's one of our prized possessions in Cincinnati."
The Significance
Days before the release, the boutique hosted a workshop at the CAC with the children's homes from the community that includes a sneaker drawing session with Philip in attendance.
"After that whole experience is done, we're going to pick a winner and make a shoe together," he said. "Either that kid will get their own shoe pair through adidas or we'll make it and release it with proceeds going to the children's home and community or use the funds to help them with their college fund."
All 200 kids in attendance received a free pair of Erika's shoes, backpacks, and socks from adidas. All 200 kids with reassurance that they aren't alone.
"I think a lot of kids that are going through similar situations that Erika went through are going to be moved and feel a real connection to it," he said.
"The most important thing is, even if it's one kid that I give a pair of shoes to, I know I'm going to impact and change their life forever. To me, it's not about the allocation and how many pairs, I did my sister justice," Philip stated.
Additionally, during the art show, Erika's poem will be enlarged, printed, and on display. Her entire bedroom will be recreated for the buildout as well.
After all the back and forth and the setbacks, Philip can a sense of relief with the project.
"To me, it's my greatest achievement. It all came full circle," he said. I always wanted to do collaborations with footwear brands and tell stories; not tell a story that everybody else tells," he adds. "This project is a success because I represented my sister to the fullest degree, and I didn't miss out or skip any little part and went the extra mile over and over again."
Throughout the process, memories, depression, grief, and a plethora of other emotions came and went.
"I've got more closure now than I did before, but I would've loved to done this with her standing next to me physically instead of spiritually and emotionally," Philip said.
While he'll never have closure, Philip can find solace in that his little sister and her poetry will live forever.
The End