The Clarks Wallabee is a staple in the fabric and DNA of New York. From Wu-Tang to Kith, the Wallabee is an icon in every sense of the word.
To celebrate the silhouette, Clarks partnered with ONE School, an advertising school for Black creatives (the first of its kind) to give an opportunity to its students to pitch, design, and rollout their own iteration of the Wallabee to reflect New York.
Tola Oseni (@cocat0la), designer and art director, completed the 16-week course which led to a live brief that led to the creation of the NYC-inspired & dedicated Clarks Wallabee.
We spoke to Tola about the process, her inspiration, and what it means to add to the Wallabee's already rich legacy.
---
Nice Kicks: What was the creative process like? How did your mind gravitate to the five boroughs theme?
Tola Oseni: We got the brief midway through the semester. We were learning how to craft advertisements at ONE school. We started with a universal truth or an insight. For me, it was hard because New York is such an amazing city.
It's hard to capture the essence of it in just a shoe. It took a bit of time. I had to think through why I love New York City so much. I realized people always have this love/hate relationship with the city emdash they're always very proud to say where they're from and they'll have some complaints. But what overpowers it every time is the love relationship that they have.
With that, I wanted to make a very bold & vibrant shoe. I wanted to make sure that this was a New York shoe that said "I'm from New York." 
NK: Were there any challenges? Or was it easy once you had that breakthrough? 
TO: It was easy after I came up with the concept — that was the hardest part. Trying to hone in on something emblematic of New York. I didn't want to touch on things like the subway system or the bodegas because I feel like it doesn't truly get to the essence. It's about the people and their feelings towards the city that make it different than other places. 
The main element is the pattern. Each borough has a different color tag.
On the white, there's a subtle New York script paying home to Clarks' roots.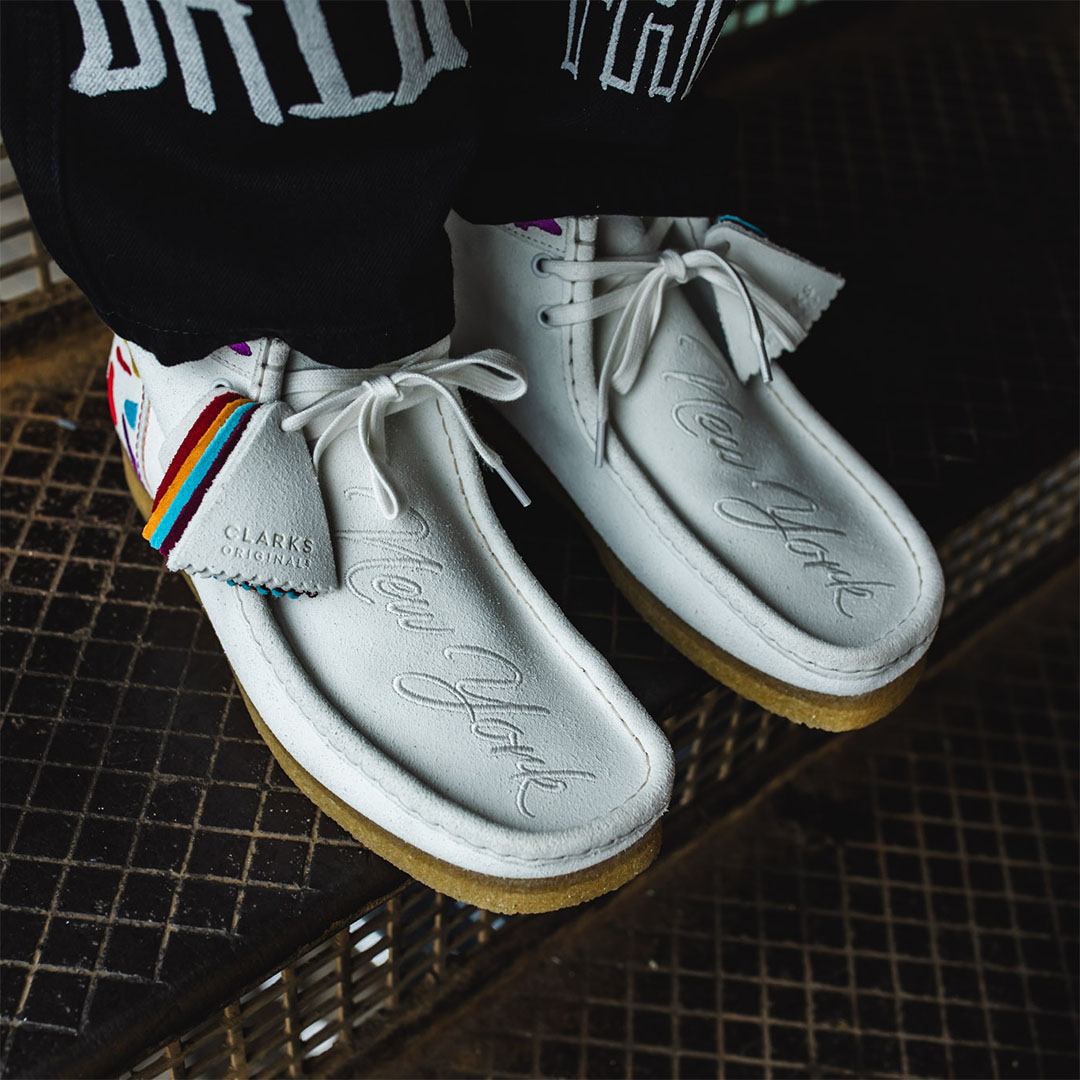 On the black, it says "only in NYC" in the back. The front has a golden outline of the city.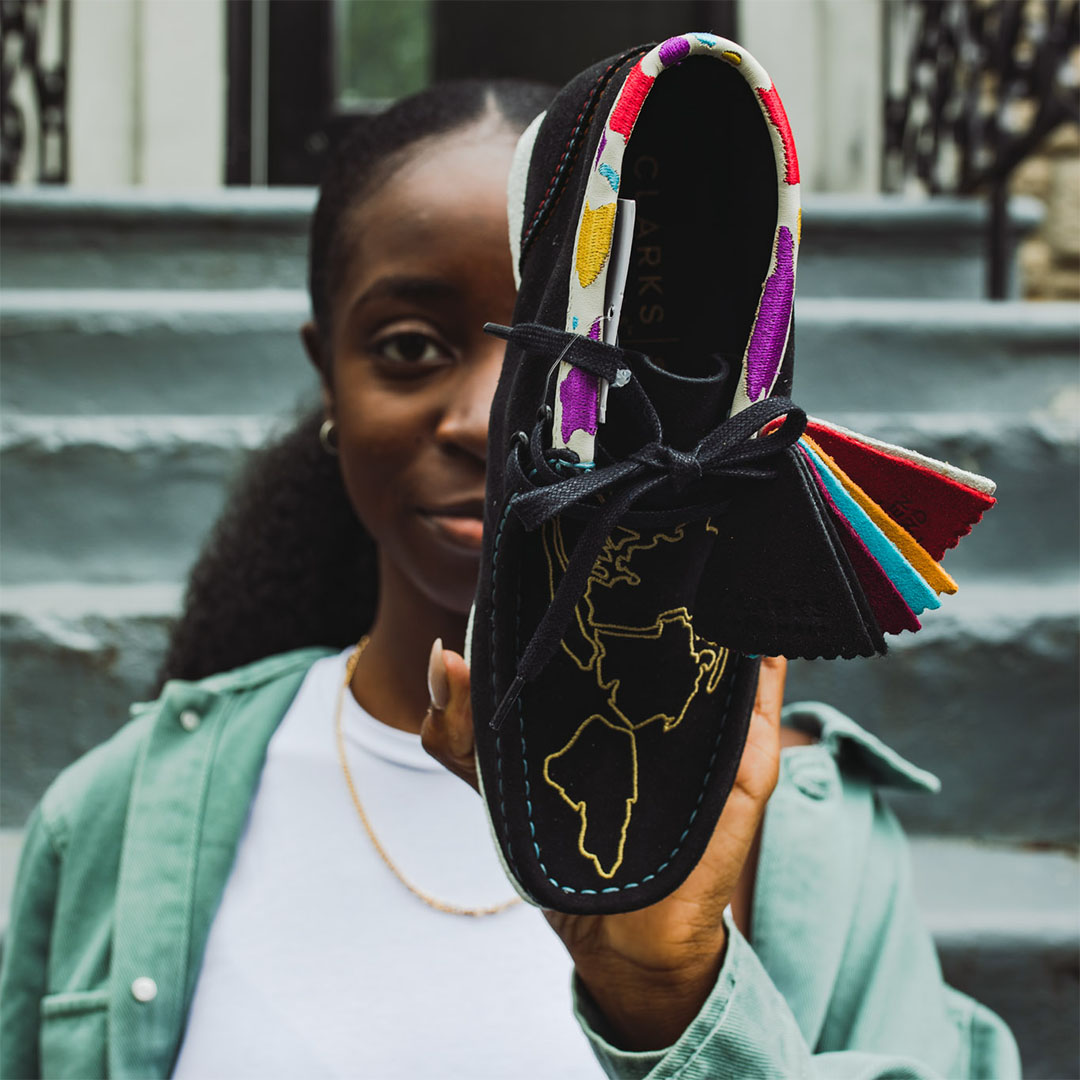 There are some nuggets on the inside. "5 boroughs, 1 city" in one shoe and "Only in NYC" in the other. 
NK: What inspired the color choices for the five boroughs? 
TO: I was inspired by my favorite Black movies that had to do with New York, trips to the city, and trips to Bed-Stuy. 
NK: The Wallabee is an East Coast staple but especially in New York. What was it like to not only design your own Wallabee but pay homage to New York at the same time? 
TO: It was a huge task to take on.
In designing the shoe, I wanted to pay the right respects to the people of the city. Not only just have the ability to design a shoe about New York, but to have such an iconic canvas to work on was mind-blowing. It was the best thing that could happen.
In a lot of my work, I say that I want to make experiences tangible, artwork accessible, and the past present. This collaboration hits on all three of those things. I see them as a wearable piece of art as much as they are a shoe.
With that, people don't have to go to an art gallery, which has been seen as exclusive and elitist,  to see this artwork. They can just be walking around in the city or anywhere in the world.
It was a great experience. So appreciative of the opportunity.
NK: How's the response been?
TO: It's been insane. The day before they got released and Clarks started posting them, my friend called me crying (she recently broke up with her boyfriend, so I thought she was going through it) and she said "I'm so proud of you" and then I started bawling. 
I've had people DM me from different countries saying that they can't get the shoes, but they want the shoes badly. 
It's been amazing to see so many people around the world love the shoe and all the comments and reshares. It's been such an uplifter. I'm so happy that this happened, that people love the shoe, and that they're excited to get their hands on it. 
It's been great seeing it in general.
What's OneSchool. How did you get involved?
OneSchool is an advertising school for Black creatives, the first of its kind. I found out about it because I worked at spotify didnt apply the first time around. I creative director 16 week process answer diff brief every week – clarks live brief – set up with an advertising book to pitch yourself
NK: Where do you go from here? What's next?
TO: I want to work on more projects as an art director. I like these collaborations that hit on culture, I want to see myself doing more stuff like that.
I'm working on a musical short film with a mystery element right now. I'm trying to work on my own projects. Heading more so in that art direction very firmly is what I want to do.
Tola Oseni's Clarks Wallabee is available online now at select retailers and ClarksUSA.com in black (here) & white (here). Keep it locked on Nice Kicks and the Sneaker Release Dates page for more information on upcoming releases.