words & interview // Nick DePaula:
Dramatically bold, iconically confident, yet still rooted in performance.
When Michael Johnson took the track in Atlanta at Centennial Olympic Stadium for the 1996 Summer Games, there was an instant feel buzzing through the 85,000 capacity crowd and the global audience of millions watching on TV that a new bar had just been set.
Not only did Johnson go on to a blazingly fast sprint to a Gold Medal win in both the 200 and 400-meter races — the first man ever to win both events in the same year — but the bar had also been set with his spikes, a gleaming all-gold personification of athletic arrogance in cleat form.
Leading up to the Olympics, Johnson's initial request was simple.
"The idea behind [the gold spikes] was to develop a shoe to my specifications: I wanted it extremely lightweight, I wanted it to be extremely stable, I wanted it to work with my foot. Specifically, with how my foot was interacting with the track in the 200 meters as well as the 400 meters, around the bend and down the straight," Johnson outlines. "And I wanted it to look very cool."
To execute against Johnson's insights, Nike assigned an up and coming innovation designer in Tobie Hatfield to the project. It was his first high level task since joining the brand in 1990 — create the lightest cleat possible for Johnson to win Olympic Gold — no pressure.
"I'm so very fortunate and blessed to have Michael as really my first high profile elite athlete to work with," Hatfield beams now, twenty years later. "He kind of taught me how to understand and ask the right questions, for the athletes that came after him. He's such a professional and he understands exactly what he was needing and wanting."
As he does with all athletes at the onset, Hatfield first listened. Johnson was used to running in Nike's then-most innovative products, but unlike other sports, where athletes might request more cushioning, more support or more traction, Michael wanted less. Less of everything.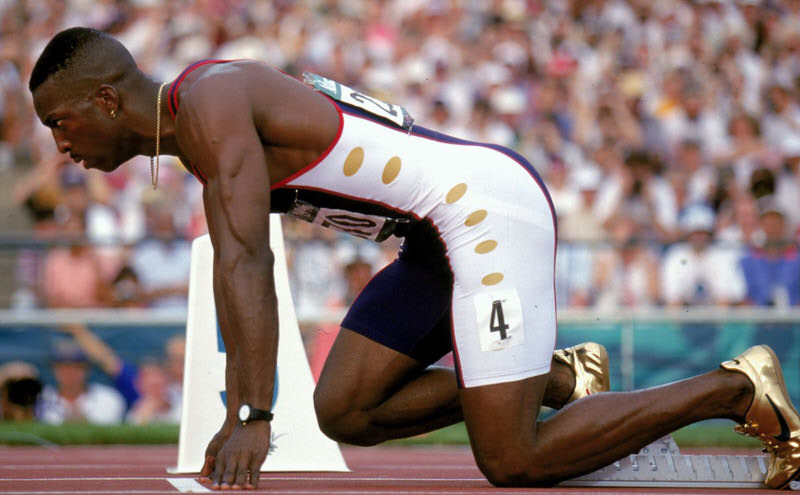 "The first thing was, 'I want every single gram out of there that's not needed.' He wanted the most minimal, and he was pushing the envelope on lightweightness, that even [Nike co-founder] Bill Bowerman would've been very proud of. I know he would've been proud," Hatfield recalls. "Bill Bowerman once said, 'The perfect track spike would be putting nails in the bottom of your feet.' [laughs] That's it, just for traction. That's pretty minimal, but painful too. [laughs]"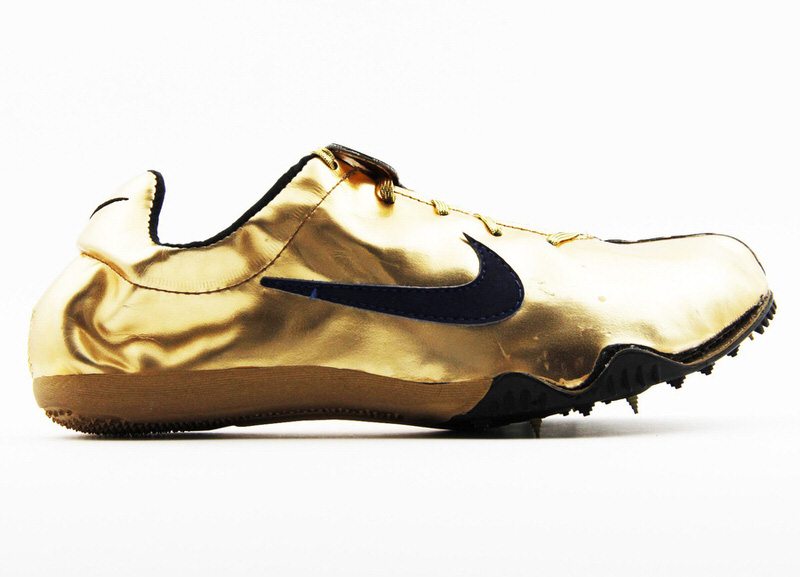 Throughout the mid-90s, Johnson and Hatfield worked away through prototypes, and the resulting shoe was dramatically simple. Two panels on each side of the upper were connected by a sliver strip of material atop the toe and a single row of stitching along the heel.
Swoosh logos were then affixed along the midfoot for marquee visibility on the global Olympic stage. After a series of fit tests, the final pair that Johnson ran in was actually made in mismatched sizes, a right size 11 and a left size 10.5.
"We worked for about a year and a half to make this shoe accomplish all of [our] objectives," says Johnson. "Then I asked Tobie Hatfield: Can you make it in gold? And he said: 'Yeah, absolutely.' I don't think they really thought I was serious. Then it kind of dawned on them: 'He's really going to wear gold shoes.'"
In the prior 1992 Olympics in Barcelona, Nike assuredly sprinkled gold as a minimal accent color on white-based basketball sneakers worn by the Dream Team, like Michael Jordan's Air Jordan VII, Charles Barkley's Air Force 180 and David Robinson's Air Ballistic Force.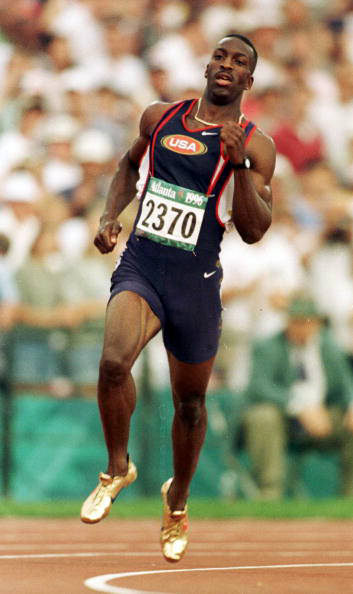 This took things to an entirely new place.
"Opting for gold shoes could have been considered downright cocky," Johnson wrote in his book, Gold Rush. "But I was confident and never doubted my ability to deliver gold medals to match my shimmering footwear.
"Could have" is putting it lightly. All these years later, some felt the gleaming gold footwear was glorified guerilla marketing that Ad Week has even said ruined Olympic marketing forever. The IOC soon after adopted a new set of guidelines for its official and unofficial marketing partners, in response to several marketing initiatives that Nike capitalized on at the '96 Games, without paying a penny towards official IOC marketing rights.
Now two decades and five Olympics later, Michael Johnson's gold spikes still stand as one of Tobie Hatfield's proudest moments with the brand.
"It was just awesome to experience that as my first high level, elite athlete project," Hatfield says graciously. "Obviously, it worked out really well with him winning the two Golds in Atlanta. It also set the bar and set the tone for everything after that. How do you top that?"
Ever since, we've seen Nike and several other brands outfit their Olympic athletes in gold footwear. The 2000 US Olympic basketball team became the first team to wear special edition sneakers when they broke out Navy and Gold kicks for their Gold Medal game in Sydney. Several sprinters have since emulated the all gold spikes with a variety of brands, but none have quite lived up to the flair and unexpectedness of Johnson's 1996 spikes.
As Hatfield, now the Senior Director of Athlete Innovation at Nike, looks back on that time, there's a sense of pride for not just how dramatic the all gold look was in the moment, but also in how the spikes carried on the early legacy of the brand's approach to performance. "Cutting my teeth on innovation with Michael, those were great days for me to feel a little bit like Bowerman and what he was trying to do in the early days of Nike," he smiles.