The untimely passing of Virgil Abloh sent shockwaves across a multitude of industries and disciplines and the lasting impact and legacy of Abloh will continue on. We've detailed the impact he's made in music, fashion, and of course sneakers below.
From popping up at Fashion Week with Don C and Ibn Jasper to showing up on set of the Yeezus Tour, the University of Wisconsin civil engineering grad with a masters in architecture from Illinois Institute of Technology has been on the scene and near the spotlight for some time now with work and travel taking him far beyond the Midwest.
Like most successes, Abloh's didn't come overnight. From behind the scenes work with DONDA to his different forays in arts of the visual, conceptual and clothing worlds, peep some of the highlights of what the new leading man at LV has been creating over the last 12 years.
2007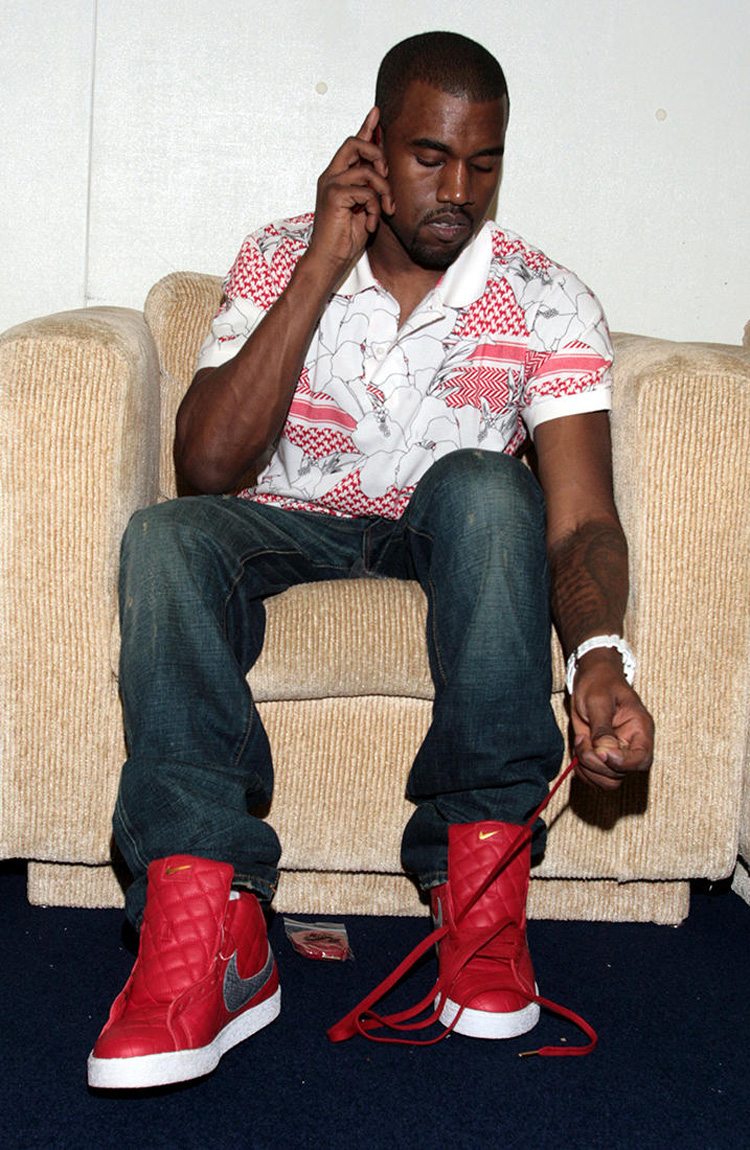 Highlights: Behind the scenes creative consulting with Kanye West, introduction to Kim Jones
The creative relationship of Kanye West and Virgil Abloh has always been one of some mystery. Linking with West at the age of 22 in 2002 as a creative consultant as Business of Fashion tells it, his work with West has ranged from everything to designing merch to album art to set designs. Though Abloh has had a hand in West's creative output since before The College Dropout, he's always been respectfully quiet regarding his work with West as well as complimentary of West himself. "His projects I leave for him to speak about," Virgil told the New York Times in 2014. "To me, he's the greatest designer that has yet to be seen." In the same piece a rep for West had Kanye describing Virgil as "one of the smartest, fastest, most innovative people I've created with." In other words? Game recognize game.
Looking back ten years to 2007, West had just released his pop pinnacle, Graduation, which we at Nice Kicks consider his breakout moment in regards to becoming the alpha dog in both sneakers and menswear. Though always one to blur genres sonically and aesthetically, his outfit choices became in a word 'artsier,' pulling pieces from different brands both high and low but still having streetwear brands like BAPE, Original Fake, LRG and even Ato Matsumoto at the heart of his ensembles.
Around that time in '07, Abloh was also introduced to Kim Jones (now at Louis Vuitton) who he sites today as "the epitome of high fashion and streetwear." As discussed on SHOWSTUDIO and published by Dazed, Abloh "slept on his couch in a front room in Maida Vale and forced him to teach me stuff, I spent a summer sitting there with him. Before the terms streetwear or luxury existed, he was bringing forth street culture ideas through the high fashion system." Whether or not this mentorship period took place in 2007 is uncertain, but the relationship started ten years back with both designers now winning awards and being tapped as top creatives for Nike.
2008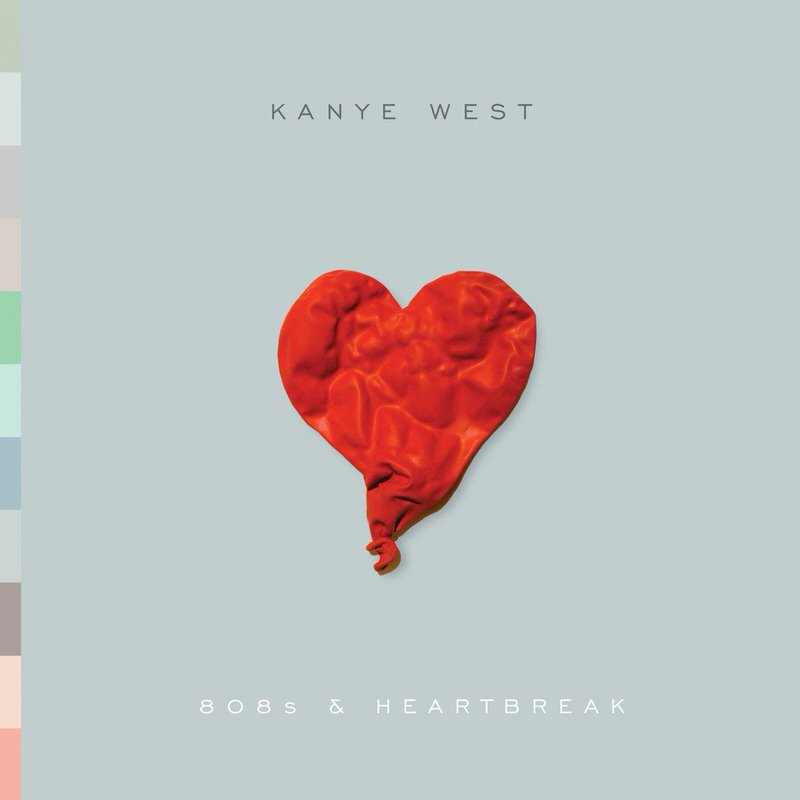 Highlights: Co-designer of Kanye West's 808s & Heartbreak cover art, Worked on Pastelle clothing line with Kanye West
While Takashi Murakami famously designed the artwork for 2007's Graduation, Virigl is credited as co-designer of its famous and genre shifting follow up, 808s & Heartbreak. Eventually getting KAWS in the fold for 808's deluxe edition artwork, Abloh would be credited and involved in album artwork for Kanye West's following three projects with creatives from the art and fashion world collaborating on covers.
With West throwing himself into music, performance and fashion following the death of his loving mother Donda and break-up with then-fiancé Alexis Phifer, Abloh is said to have worked with West on his unreleased but much talked about Pastelle line presumably around this time as West was seen wearing it.
"We had Virgil's very first collection before Off-White — Pastelle — and then Pyrex [Vision] from the beginning," Colette founder and creative director Sarah Andelman told Business of Fashion in 2016, stating that she started stocking Abloh's work 12 years prior which would equate to either West merch or unlabeled gear dating back to 2004.
Though Pastelle never released, it made waves being worn by West, Rihanna and others, described by Kanye at the time as a cross between Marc Jacobs, Ralph Lauren and American Apparel. The merging of worlds, influence of youth and means for life beyond the runway taken to new heights via celeb endorsement ring true for the modern success of Off-White.
2009
Highlights: Interned at FENDI with Kanye West, Opened RSVP Gallery, Art Director & Owner for Superfun
2009 proved a wild year for Kanye West in regards to breaking the internet when it was only in its adolescent stage compared to that of today. From a fashion standpoint, West launched footwear collaborations with both Louis Vuitton and Nike, shaking the digital space for its chase and pricing, and influencing sneaker culture on a ground level with its campouts. West was now not just attending Fashion Week but showing product in it with Marc Jacobs — then at LV. West wasn't just selling Nikes designed by Tinker or worn by Mike, he was selling and designing Nikes with his name on it.
Despite seeing a direct influence on that of the footwear market in 2009, he received a direct backlash by that of the public due to Swiftgate at that fall's MTV VMAs. Taking advice from Mos Def, Kanye left the US for somewhat of a public exile. During that time, West and Abloh interned at Fendi. This would likely be the same time Kanye (and Virgil) presented the infamous leather jogger that would later make waves in 2012.
"We were giving designs to Fendi over and over, and getting our designs knocked down!" West told Zane Lowe in 2013 as reported by Fashionista. "[We] brought the leather jogging pants six years ago to Fendi and they said no — how many mother fuckers you done seen with a leather jogging pant?!" While that math would equate to 2007 — which is possible — it's more likely an in the moment math error, likening to their time interning in 2009.
2010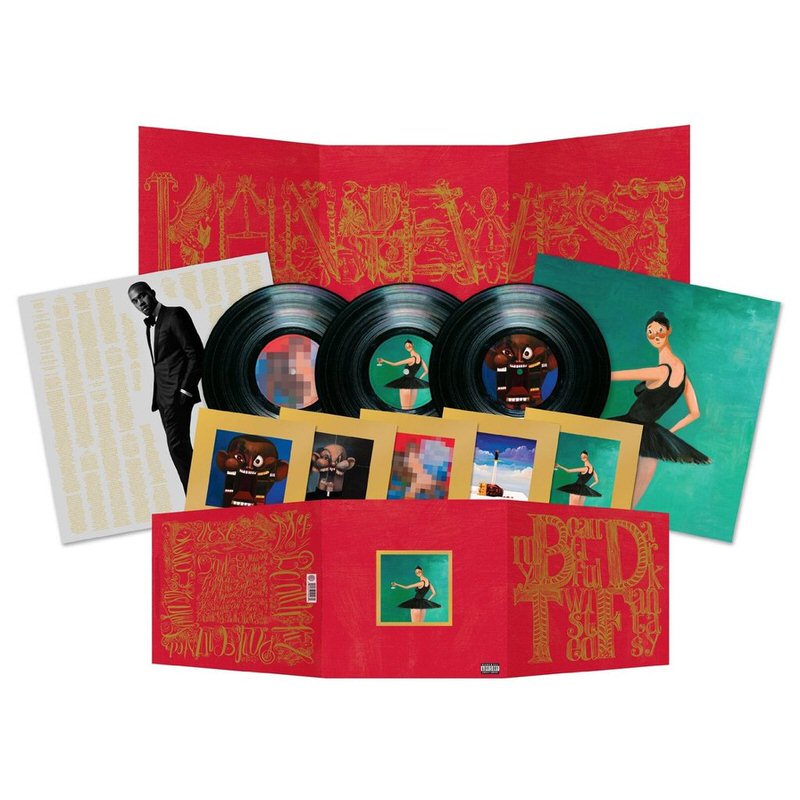 Highlights: Art direction for Kanye West's My Beautiful Dark Twisted Fantasy
Still away from the public for much of 2010, making arguably the greatest rap album of all time in Hawaii, West would complete and release My Beautiful Dark Twisted Fantasy in the fall of 2010.
The likes of Q-Tip, Pete Rock, RZA, Jay Z, Bink!, Rick Ross and countless others contributed to both the album and its GOOD Friday rollout and Abloh would make the final credits as the album's art director.
Though George Condo's paintings would score the physical release of the album, it would be Virgil's digital single work for DONDA that would change the industry. GOOD Friday track visuals rooted in minimalism underscored with models made for an era defining aesthetic that would shift the genre and prove that imitation is truly the highest form of flattery.
2011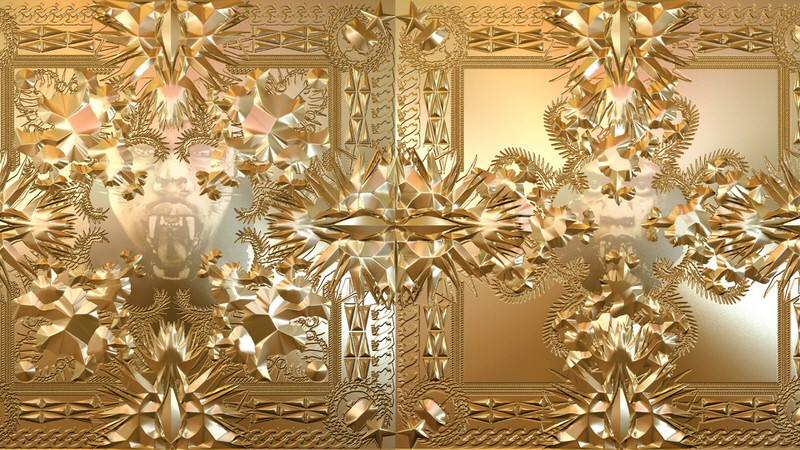 Highlights: Art direction for Watch the Throne, art direction for Big Sean's Finally Famous
Proving DONDA was as much a visual arts company as that of music, Virgil would provide direction for the visuals associated with both Kanye West and Jay Z's Watch the Throne and Big Sean's debut Finally Famous.
The opulent art and packaging of WTT (ironically enough a digital first release, even more ironically on Apple Music) would lead to a Grammy Nomination in 2012 for Best Recording Package. Directed by Virgil but designed by Givenchy's Riccardo Tisci, not only would the album art be celebrated, but the tour merch it inspired would help lay the foundation for the steezed out retail spaces that concerts have now become not only in hip-hop but other genres alike.
2012
A TEAM WITH NO SPORT. from virgil abloh on Vimeo.
Highlights: Launches Pyrex Vision, creative director for DONDA, creative director for G.O.O.D. Music's Cruel Summer, cover design for Kid Cudi & Dot da Genius's WZRD, creative director for 2 Chainz's Based on a TRU Story, BEEN TRILL collaboration with Stussy
The success of Watch the Throne in 2011 would spark the growth and visibility of Virgil as a designer in 2012. As Jay Z and Kanye toured the album around the world from October 2011 to June 2012, they would become the first models for Pyrex Vision — Abloh's official apparel debut as the public face.
The art project built off the ethos of streetwear screen printing with visual references to religious art, selling drugs and Michael Jordan proved perhaps even more controversial than it sounds on paper.
While religion was a high arching theme in 2011/12 for both music and fashion, it wasn't as much its pairing with drug making equipment that caught flack but that of the brand's name, pricing and origin of its blanks.
Controversy to its detriment or perhaps to its promotion, the brand became red hot both online and IRL, with The Throne, A$AP Rocky, Theophilus London and plenty of other fashionable artists rocking it on stage, at fashion shows and on the streets.
2013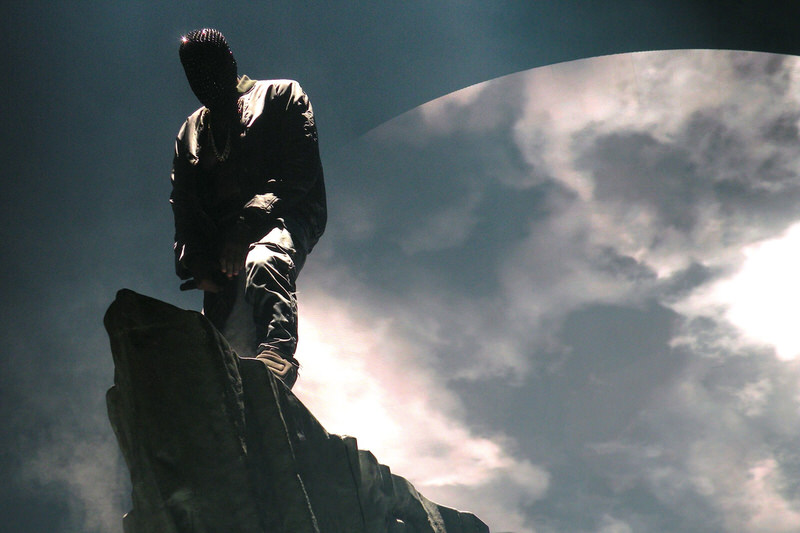 Highlights: Creative direction for A$AP Rocky's Long.Live.ASAP, creative director for Pusha-T's My Name is My Name, art direction for John Legend's Love in the Future, creative director for Lil Wayne's I Am Not a Human Being II, director for A$AP Rocky's "Fashion Killa" music video, Creative direction for Kanye West's Yeezus Tour, BEEN TRILL collaborations with 40z Van, Hood by Air, Diamond Supply & Undefeated, Beginning of Off-White Releases
By 2013, both Pyrex Vision and DONDA were the toast of their industries with Virgil being tied strongly to both. Though Pyrex Vision would gather its share of attention both good and bad, the expensive art project would provide the blueprint for young creatives to get both their ideas off and their money up off Champion blanks and Gildan tees. Like it, love it or hate it, Virgil spearheaded the movement that paved the way for VLONE, Life of Pablo merch and countless concepts playing towards the same path. It also provided the proof of talent, audience and execution (and likely capital, too) to launch what eventually became Off-White.
While Pyrex Vision may have been likened to an art project, Kanye West has called the Yeezus Tour a demo tape in regards to proving his creativity and earning potential to the likes of Disney and others. Serving as creative director for said show, Virgil Abloh was on the road with West, having a hand in the visuals and set that laid the foundation for perhaps the most artistic, aspiring and inspirational tour in recent memory.
2014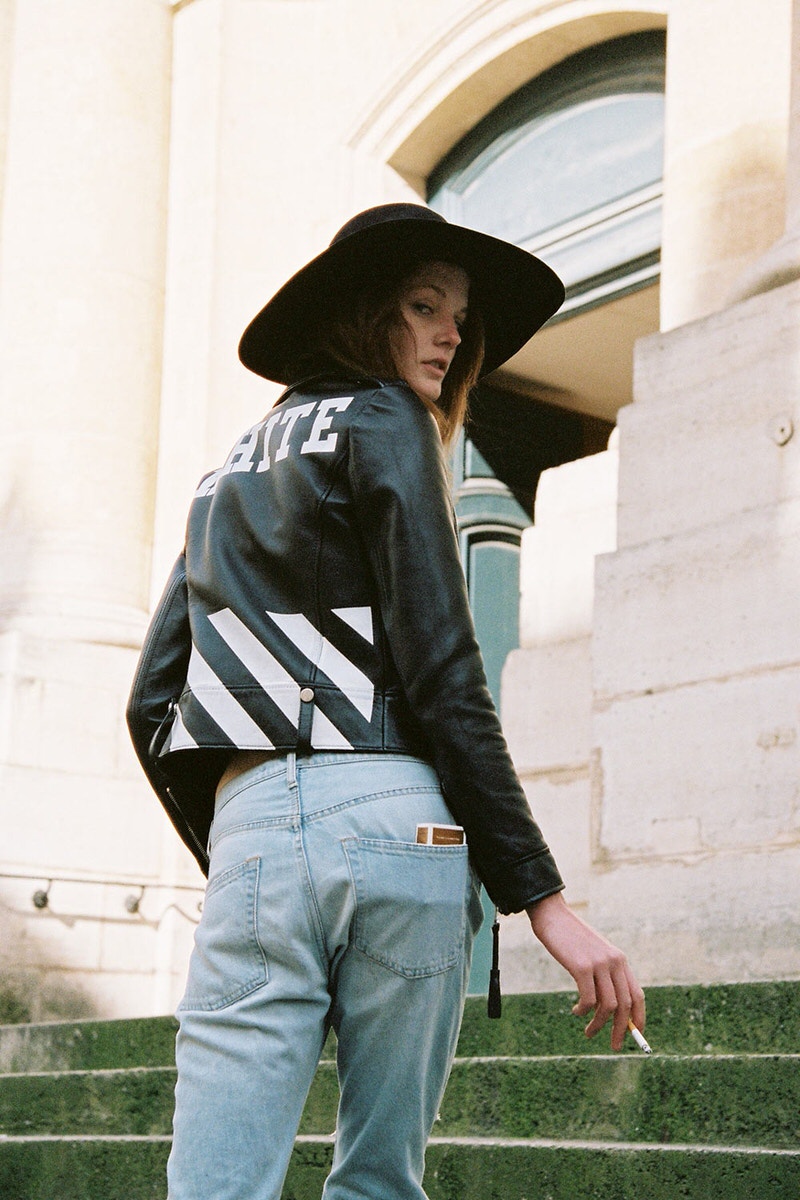 Highlights: Creative direction for Theophilus London's Vibes, Been Trill NYC retail store, Debuted Off-White women's collection
Past Pyrex and on the way to making Off-White a force in fashion, Virgil quieted a fair share of critics with his impressive women's collection dubbed, "I Only Smoke When I Drink." The tongue and cheek title would see serious praise and continue the rise of both Abloh and Off-White as the man and the brand would become fixtures in Barneys and on Hypebeast.
While irony is on the edge of Off-White, it was always at the heart of Been Trill which was birthed by his side job in DJing and just so happened to launch a PacSun clothing line and countless collabs that once fetched top dollar. In 2014, Been Trill opened its doors in NYC even if it would later become the recipient of A$AP Rocky jabs and lose its luster in the cool space. Been Trill still exists, though it is said that Abloh is no longer a partner.
Continuing to be involved in music, Abloh served as creative director for Theophilus London's Vibes which included cover art done in collaboration with Karl Lagerfeld and actual input on the album's sonics and interludes.
2015
Highlights: Creative director for Pusha-T's Darkest Before Dawn: The Prelude, creative director for Big Sean's Dark Sky Paradise, Debuted "Fade" by Kanye West, Off-White collaborations with Chrome Hearts, Babylon LA, Hiroshi Fujiwara, POOL aoyama, PORTER, BOON THE SHOP and SSENSE, Released Flat White mixtape
Making moves in music was definitely of note for Virgil in 2015. Creative direction for Big Sean's Dark Sky Paradise proved major, marking the most important release of the GOOD Music artist's young career. Solid sonics were fronted by celebrated visuals for Sean, and just the same for Pusha-T's Darkest Before Dawn: The Prelude which was also directed creatively by Abloh.
On the fashion front, Off-White continued to gain ground both in retailers and online worldwide by dropping a handful of collaborations that touched a wide array of eras, regions and product types.
2016
Highlights: Off-White inaugural fashion show, Collaborations with fragment design, VLONE, AMBUSH, Golden Goose, mastermind JAPAN, MIDNIGHT STUDIOS and Levi's, Yeezy Season 2 Launch Party, Co-Founded Chicago CRED program for at-risk youth
2016 would look a lot creatively like 2015 for Virgil, only with moves in music giving way to momentum in fashion, and well, being much busier. Perhaps a profile by W Magazine paints it the best:
"It was Friday, five days before his Off-White fall runway show at Paris Fashion Week and his iPhone was dead. The night before, he was out with Kanye West and Demna Gvasalia after attending the Balmain and Vetements shows, and he has just returned from friend Jun Takahashi's show for Undercover. When he finally resurrected his phone at around 8 p.m., he had 24,805 unread emails, 458 unread text messages, and he still had to prepare for a DJ set later that evening, not to mention participate in an interview with a reporter. This is a typical day for Abloh, a modern day jack-of-all-trades who might just be the busiest man in fashion but still manages to somehow be widely available (most of the time)."
Like the year before, Virgil would have a hand in Yeezy Season rollouts. Off-White on the other hand would reach new heights, dropping more memorable collaborations but more importantly gaining critical esteem and entering the high fashion realm officially with their inaugural fashion show.
Perhaps most impressive though would be the work that Virgil did with Arne Duncan, Don C and RSVP Gallery to give back to Chicago youth: a six-week program ran by RSVP Gallery's Lance Jackson focused on street style branding, Illustrator, Photoshop, screen printing, retail skills and fashion communication. The aim was to pass on the skills Abloh learned and used to reduce violence among Chicago youth mostly likely to be on either side of a gun crime.
"This [program] means the world [to me]," Abloh told Complex. "Not many designers come from where I come from and look like how I look. I wanted to share what I've been able to discover with more kids who come from where I come from and look like how I look. I want to show them that the world is full of tremendous opportunities."
2017
Highlights: Nike "The 10" Collection, Collaborations with Umbro, IKEA, Takashi Murakami, Kith, Kid Cudi, Levi's, Moncler, Heron Preston, Travis Scott, Dave Chappelle & John Mayer, Major Lazer, Boys Noise, Cover Art for Lil Uzi Vert's Luv is Rage 2, Tour DJ for Travis Scott's Opening Night in NYC, Directed music video for "XO Tour Li3fe" single, Opened Off-White spaces in NYC, Toronto & Hong Kong, Footwear News Sneaker of the Year, Lectures at Harvard & Columbia
Can't stop, won't stop, 2017 was Virgil's most impressive and productive year yet. Led by his collaboration with Nike, "The Ten" Collection, his Swoosh altering iterations were the toast of both fashion and sneaker culture in America and worldwide as well as online and in real life.
Off-White continued to grow in 2017 with retail spaces opening in both hemispheres and collaborations with everyone from Dave Chappelle to IKEA. Giving back and staying young, Abloh also hosted lectures at Ivy League institutions and contributed visual direction to rising young star Lil Uzi Vert.
2018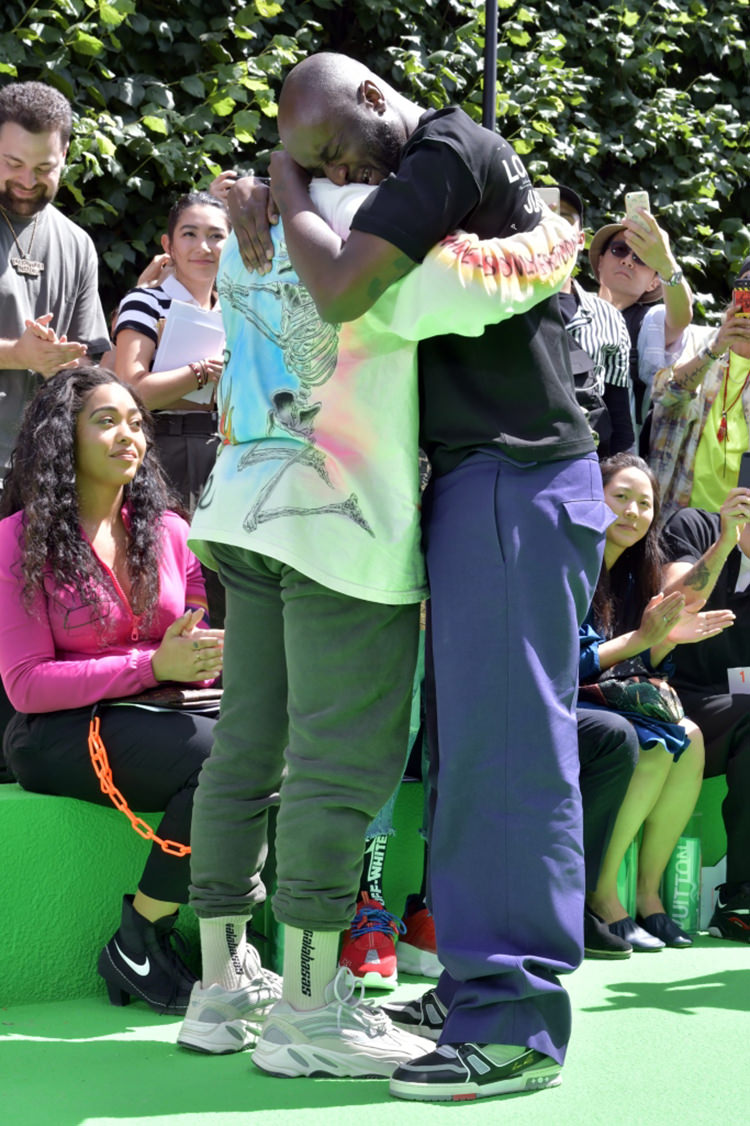 Highlights: Named Louis Vuitton Menswear Artistic Director, continued work with Nike "The 10" Collection, Designed Serena Williams' NikeCourt US Open Collection, Collaborated with Dover Street Market, Named Creative Advisor for Evian, Released Off-White suitcases with RIMOWA, Starred in Mac campaign, Designed limited ASTROWORLD merch, Launched exhibit with Takashi Murakami, Designed limited Kids See Ghosts merch, Collaborated with IKEA on rug collection, Opened Off-White location in Manila, Released Off-White x Timberland collaboration, Worked with GQ on Man/Woman of the Year cover, DJ'd sets at ASTROWORLD and Camp Flog Gnaw, Received Urban Luxe Award from British Fashion Council, Named one of TIME Magazine's Most Influential People
Just when critics could've assumed Abloh presumably peaked, 2018 proved to be another banner year for the Chicago creative.
Headlined by landing a lead position at Louis Vuitton as Menswear Artistic Director, Virgil officially shattered the glass ceiling him and his mentor West had glared at for years as reflected by their blooming influence.
While the LV hire and fashion show made headlines, Abloh continued to collaborate with everyone from Nike to IKEA. All the while, he continued to grow and steer the Off-White ship while still making time to DJ sets at ASTROWORLD and Camp Flog Gnaw.
2019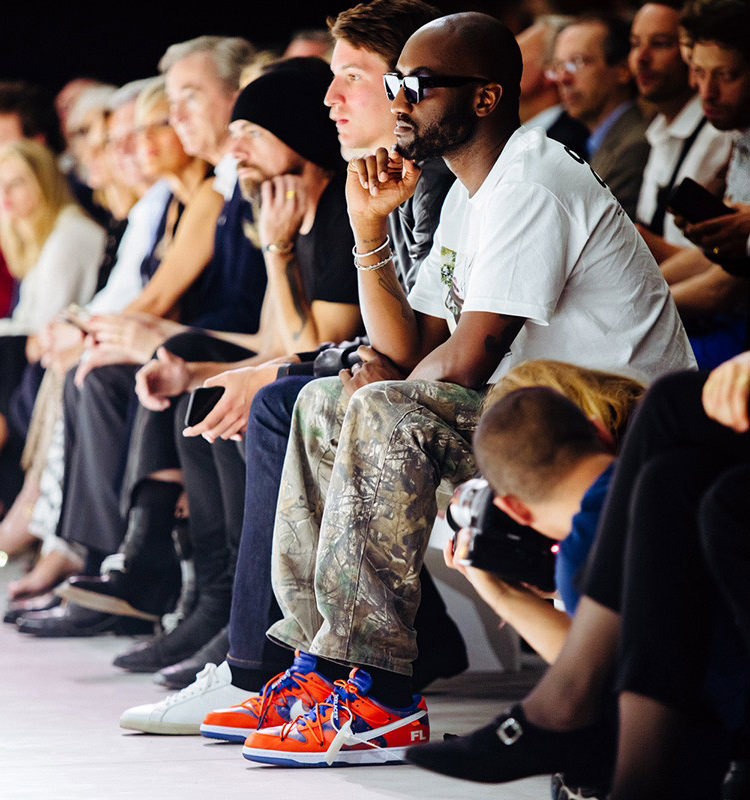 Highlights: Released Off-White x Nike collabs on the Dunk, Air Force 1, Waffle Racer, Zoom Street and Terra Kiger, Created performance footwear and apparel for the likes of golfer Brooks Koepka and tennis star Serena Williams, Released celebrated sneakers and held celebrated fashion shows for Louis Vuitton, Collaborated with Futura, IKEA, Evian, A$AP Mob, Chicago Transit Authority, The Simpsons, Apple Music and MR PORTER, Had "Figures of Speech" Exhibit at MCA Chicago, DJ'd at Coachella, Something in the Water, Ultra Europe, DJ Residency at Wynn Las Vegas, Signed with Paris-based design studio Galerie Kreo, Debuted new music from Drake, Swae Lee and A$AP Rocky, Won designboom Award for "Communication" for his work with Off-White and Louis Vuitton.
2020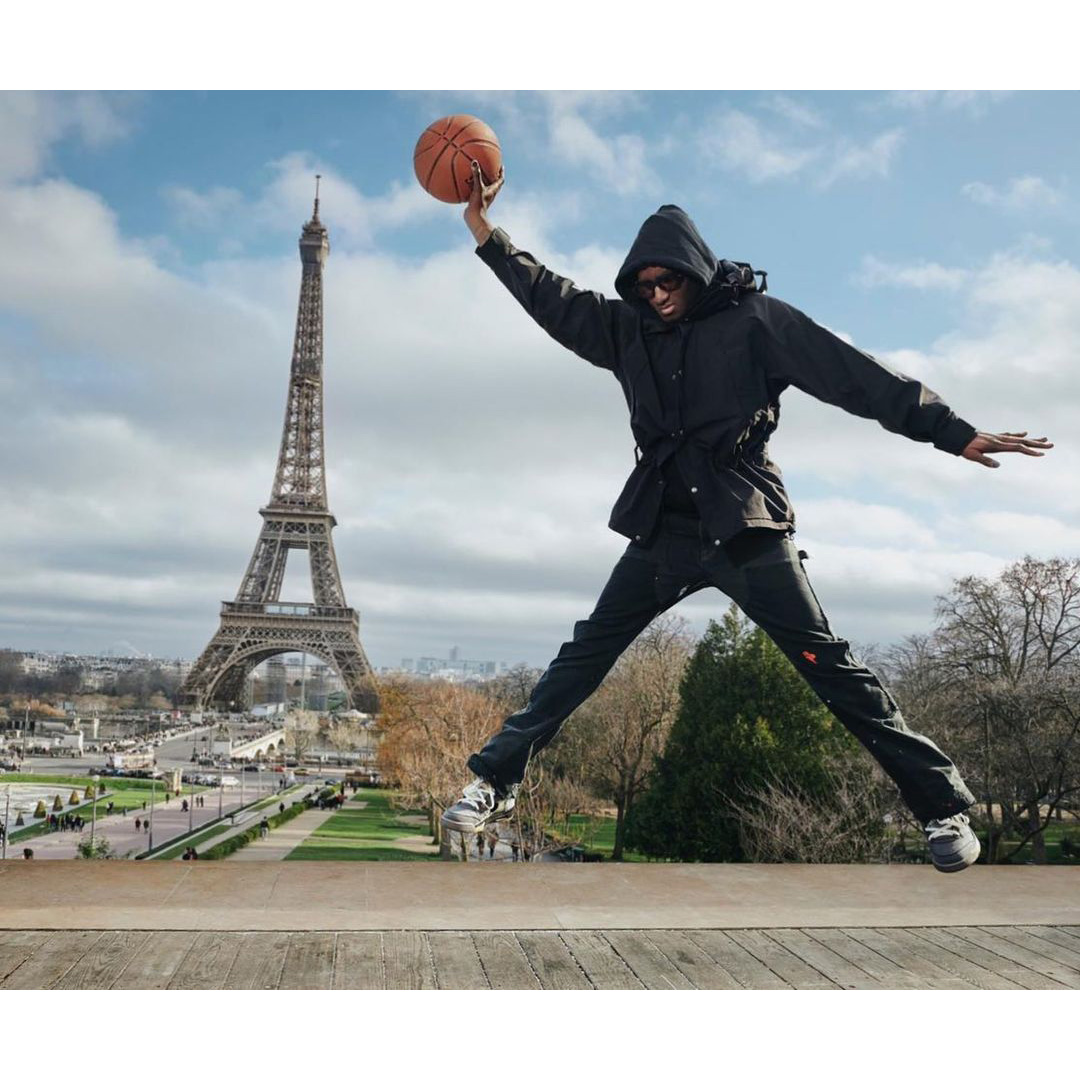 Highlights: Debuted Louis Vuitton and Off-White S/S and F/W collections respectively, released Off-White x Nike/Jordan Brand collabs on the Air Rubber Dunk in 3 colorways, Air Jordan 4 "Sail", Air Jordan 5 "Sail" and "Black", as well as an apparel capsule.
Collaborated with Nigo on a Louis Vuitton collection, Jacob & Co., Vitra, Stussy for 40th Anniversary World Tour tee, Evian, Futura, Kid Cudi for "Leader of the Delinquents" Merch, DGK skateboards, Mercedes-Benz on a G-Class redesign, and Cleveland Clinic on tees and facemasks.
Designed a Louis Vuitton skate shoe for Lucien Clarke, Westside Gunn's "Pray For Paris" album cover, LV apparel and accessories collaboration with the NBA, redesigned the basketball court at the Garfield Park Boys and Girls Club in Chicago, launched the "POST-MODERN" scholarship fund, directed Pop Smoke's "Shake the Room" video, launched and helped design the Off-White Miami Design District Store.
2020 was a rough year for most of us due to COVID-19 but Virgil continued on in his projects and collaborations, working with designers and creatives he idolized such as Nigo on their collaborative LV2 collection. Abloh always stayed true to his skateboarding and streetwear roots, elevating skate shoes and working with Stevie Williams' DGK on a collaborative skateboard deck collection, even as the artistic director of Louis Vuitton Men's.
2021
Highlights: Released "Something's Off" with Nike, Off-White x Nike Air Force 1 Low "University Gold", "The 50" Off-White x Nike Dunk Low collection, Off-White x Nike Air Zoom Tempo NEXT% in 3 colorways as well as an apparel collection for the Tokyo Olympics, and the Off-White Air Jordan 2 Low.
Brought his "Figures of Speech" Exhibition to ICA Boston and Qatar. Collaborated with Evian, Dover Street Market, Don C/Just Don, Braun, Jacob & Co., Theophilus London for Off-White, Pioneer, The MET, Mercedes-Maybach on "Project Maybach", Nigo LV2 collection, and Louis Vuitton x NBA collection.
Debuted Off-White's first full eyewear collection, as well as skincare collection with AMOREPACIFIC. Abloh was named Visiting Professor at Royal College of Art, and launched Off-White's flagship Paris location.
Shortly after his passing, Louis Vuitton announced the posthumous presentation of Abloh's S/S 2022 collection in Miami.
The influence and gravity that Virgil Abloh has seemed to be growing by the day. The much forgotten about Air Jordan 2 has a huge resurgence thanks to Abloh and he continued to build out Off-White and LV into different spheres and industries as the respective brands have collaborated with brands and companies.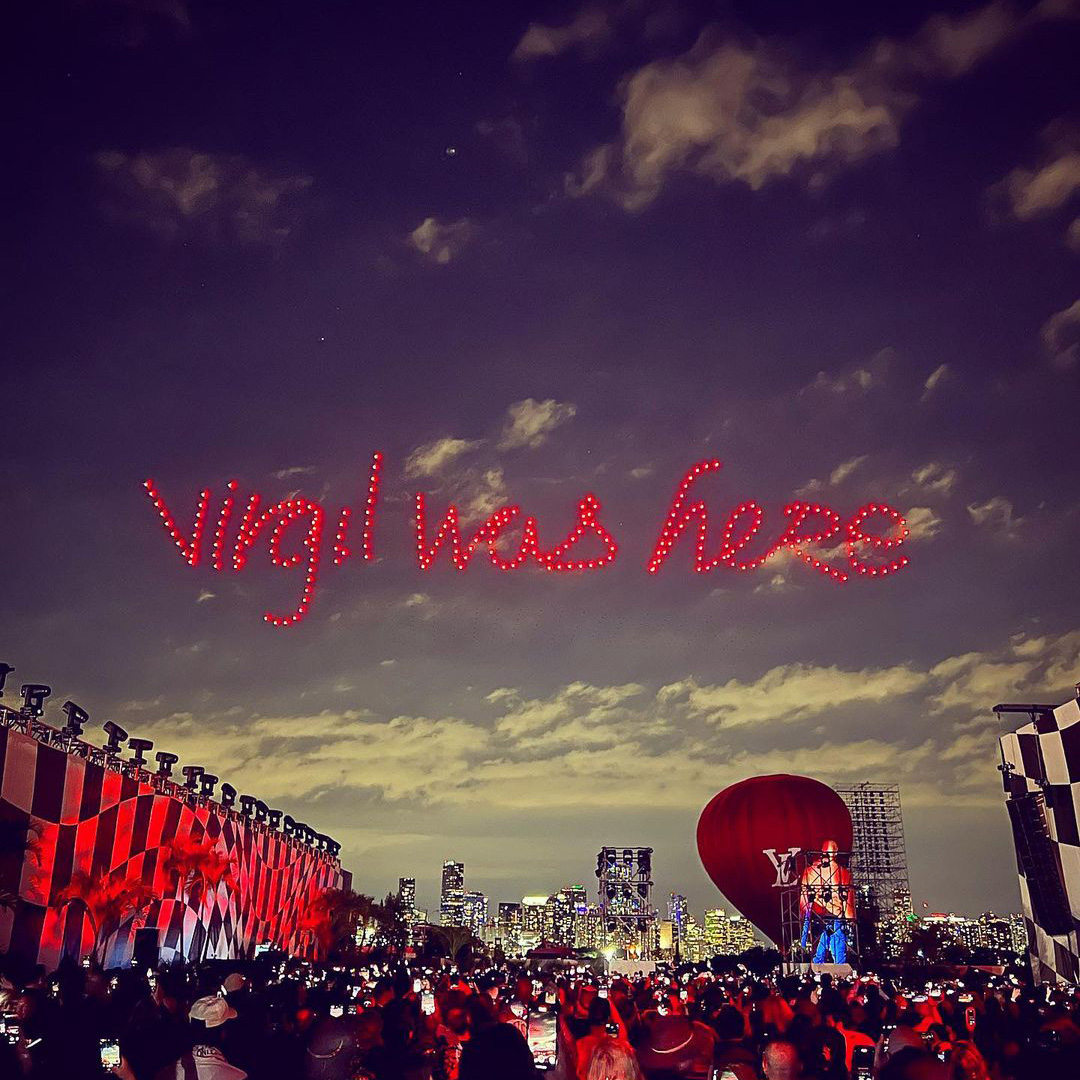 Virgil was a disruptor and a total game-changer in every industry he delved himself into was a curious designer and had a sense of fearlessness that most of us wish we had. "The Ten" collection changed the sneaker industry forever and his continuous collaborations with brands and other creatives is why collabs have moved past sneakers, but other industries as well. The legacy and DNA of Virgil Abloh will continue on through not just his collaborators, but the people he's inspired to move in a different way and think outside the box.
I know what you're thinking, is he ever gonna fall off?
"NO."
Word to the Jiggaman and Premo on "So Ghetto," The Life and Times of Virgil Abloh will live on forever.
Virgil was here.