Through the years, sneaker customization has evolved from a hobby to a way of life that permeates the kick community as a whole. If it weren't for the creative geniuses that craft these one-of-and pairs that break barriers, combine elements and push boundaries, where would the state of sneakers be?
While there were a plethora of options to choose from, these are the top 10 custom kicks we saw in the month of December. Let us know your thoughts. Which one's your favorite and why? Hit us up on IG with your top pick.
Be sure to tag your favorite customs with #NiceKicksCustoms on the 'Gram as we look into documenting the best 10 for each and every month.
Nike Air Force 1 Low "Project Bag To Shoe"
+ This tech-ed up Nike Air Force 1 is definitely eye catching with all of its different straps and additions. The customization on this really expands on the possibilities of what an AF1 is capable of
+ The hand-crafted additions provide a glimpse of what the future of sneakers and style could hold
adidas "Dragon Ball Super" Cleat
+ In case you're unaware by now, DBZ's influence within pop culture and the streets is unparalleled by any other animated show which speaks volume about the significance of these custom cleats
+ The detail on the right cleat will for sure catch any opponent on the field star struck by its execution
Air Jordan 3 "Rolls Royce"
+ This custom AJ3 goes so hard as it's inspired by a Rolls Royce. If you take a closer look, the attention to detail alongside the materials really make this pair flourish
+ Side note: if reigning Kicks On Court Champion PJ Tucker calls a pair of shoes fire, you best believe it
Air Jordan 1 "Jewel Swoosh"
+ Sometimes, minimalism is the best route as this Air Jordan 1 dons a sail colorway to make room for a jewel Swoosh
+ Austin Scotti will break a barrier on the AJ1 as he will be the first to top the silhouette with a jewel Swoosh
Air Jordan 3 "Homage to Home"
+ The split colorway is inspired by the Air Jordan 1 "Homage to Home" which fused the iconic "Chicago" and "Banned" colorways of the timeless Air Jordan 1
+ In the case of this AJ3, the "Fire Red" and "Black Cement" colorways are the combination for this custom pair
Air Jordan 1 "LV Box"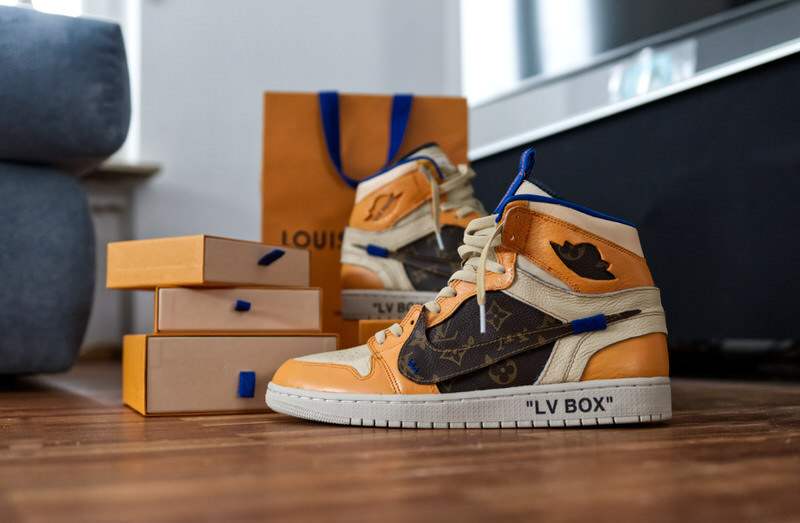 + While we've seen a plethora of customs inspired by Louis Vuitton, this one really stands out as it repurposes materials beyond the recognizable LV monogram
+ The cultural significance that customization now holds within the sneaker community has devoted itself to providing one-of-a-kind coveted pieces that you can't find anywhere else
Vans Old Skool "Kaws x Elmo"
+ The Vans Old Skool is a comfortable and accessible silohuette that invites customizers to use it as their canvas
+ This collaboration was inspired by the recent collobartion between Sesame Street and the living legend that is KAWS
Air Jordan 3 "Interchangeable Swooshes"
+ Interchangeable Swooshes are the wave as it allows the consumer to get a little more creative with a silhouette and its possibilities
+ Nonetheless, JBF Customs did a superb job in combing an array of materials as well as paying attention to the details
Off-White x Air Jordan 1 "Vachetta"
+ The vachetta colorway in general has been heavily adopted by bigger brands thanks to Ceeze and other customizers that are pushing the envelope of creativity and experimentation between style and luxury
+ The juxtaposition of the outsole and the upper of the shoe really makes this pair standout amongst the crowd
Travis Scott x Air Jordan 4 "Purple Premium" Custom
+ Not signed to Cactus Jack? It doesn't matter now as Dank Customs cooked up a premium version of his purple F&F exclusive AJ4s
+ It's all Texas love on these as La Flame is from Houston and Dank resides in San Antonio