2018 is now over halfway in the books. In an era where coveted kicks drop in rhythm every weekend, what's lasted the test of time six months into the year that currently is? We've tasked our team to list exactly that.
With Virgil Abloh coming off a banner year with Nike, Jordan Brand adding Travis Scott to their game plan and Kanye calling on Kobe for this year's Yeezy addition, who's taking the top spot so far for 2018? Perhaps one of these figureheads or another purveyor of style?
Read our picks below to find out exactly that and get at us on social with your own favorites for 2018 so far.
25. Off-White x Air Jordan 1
The stripped down silo that took top honors in 2017 as a Chicago homage kicks off the best of 2018 so far as what looks like a modern mainstay. Releasing in international fashion in the conception colorway which was White-on-White and then hitting the States in Chapel Hill hues, Abloh's deconstruction of the AJ1 is not a one-off as some may have hoped or others may have feared. As Nike often does, they take a hit and scale it. As Nice Kicks often does, we love it when we can't get our hands on it and loathe it when seemingly everyone can. Chalk it up to human nature or the laws of supply and demand.
As "The Ten" multiplies fans will remain divided as to whether or not that's a good thing. What's certain at the moment is Virgil Abloh remains the most interesting man in sneakers as his season that started with Nike in the Windy City passes into Paris with his new role at Louis Vuitton. – Ian Stonebrook
24. PUMA Thunder Spectra
Dad shoes opened the year as the biggest trend in sneaker culture and they might manage to close the year just the same. While said style has proven both chunky and funky in OG fashion like the Monarch or high-priced style like the Triple S, the PUMA Thunder Spectra occupies a space all its own.
Unarchiving and revamping a relatively recent release by the late, great Alexander McQueen, the Thunder Spectra offered something new and old at the same time, both on trend but also off-kilter. Perhaps more important than that, it gave PUMA an accessible hit untied to an artist or athlete. – Ian Stonebrook
23. Comme des Garçons x Nike Air Max 180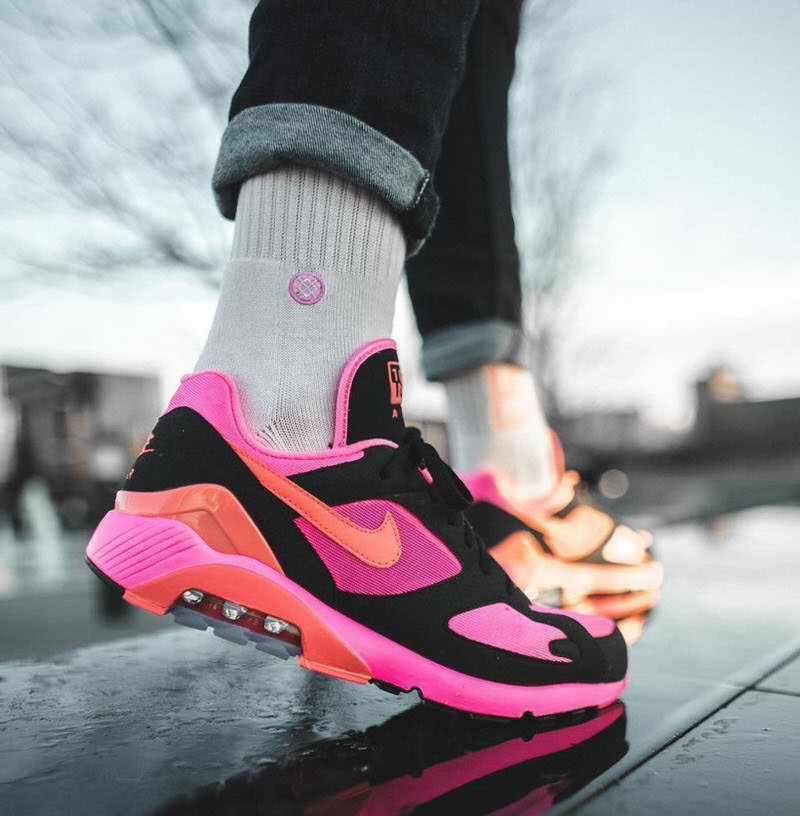 There's a great lesson to be learned from COMME des GARÇONS's Air Max 180 collection. The unisex offering is, by in large, women's focused. Yet it's a collection everyone coveted. It goes to show that while women's exclusives are needed and critical, there's unmatched value in women conceptualizing and designing sneakers for the masses. Rei Kawakubo may be an extreme case but she's certainly not the exception to the rule. We need more than just women's exclusives. That was the need decades ago. Today, we need more women designing what everyone wears. – Darren Griffin
22. Nike Air Zoom Generation "SVSM"
It was more realistic to assume that a St.Vincent-St. Mary themed Air Zoom Generation would release back in 2004. It would take an Air Zoom Generation retro 14 years later for that to take place, quickly cementing its place among the best sneaker stories of 2018.
The "SVSM" is a full circle sneaker moment if there ever was one. James was the most highly touted high school basketball player there ever was. His time at the Akron, Ohio preparatory was legendary. It earned him a Sports Illustrated cover when he was just a junior. Thus, alongside OG AZG bring-backs both this year and last, this colorway was essential. – Darren Griffin
21. Parra x Nike Air Max 1
Restoring the feeling for age-old AM collectors while catering to the new audience, the Parra x Nike Air Max 1 was both unexpected but also right on time. Proving you don't need a sneaker holiday to hype up a good shoe, the striped silo felt good and well like something that could've dropped a decade ago but still managed to matter in 2018 with both age brackets on both hemispheres. – Ian Stonebrook
20. Louis Vuitton Archlight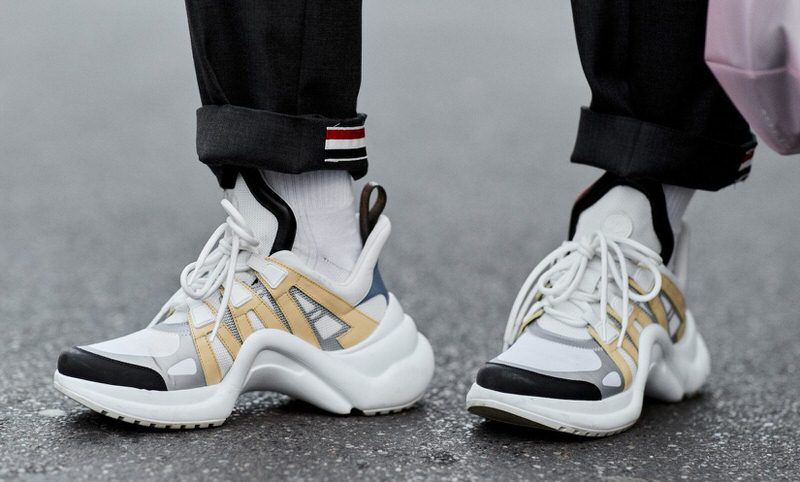 The Louis Vuitton Archlight is straight from the future and its combination of a wave-shaped outsole, higher arch, and oversized tongue are all details that are aligned with the surfacing exaggeration trend that's becoming so popular in footwear. Not only was this silhouette the icon of LV's Spring/Summer 2018 runway show, but it's signature feminine touch is also paving the way for the potential of women's sneakers.
Despite appearing with a space-age feel, the Archlight is crafted with elegant details, like the premium calf leathers on the overlays and the signature Louis Vuitton monogram that's stamped onto the heel pull tabs. The previous collections from the LVMH brand never would've offered a contemporary design with colors like this, but now with Virgil in the driver's seat, there's a good chance we can expect more experimentation for both the men's and women's footwear fronts. – Henry West
19. adidas Speedfactory AM4LA Parley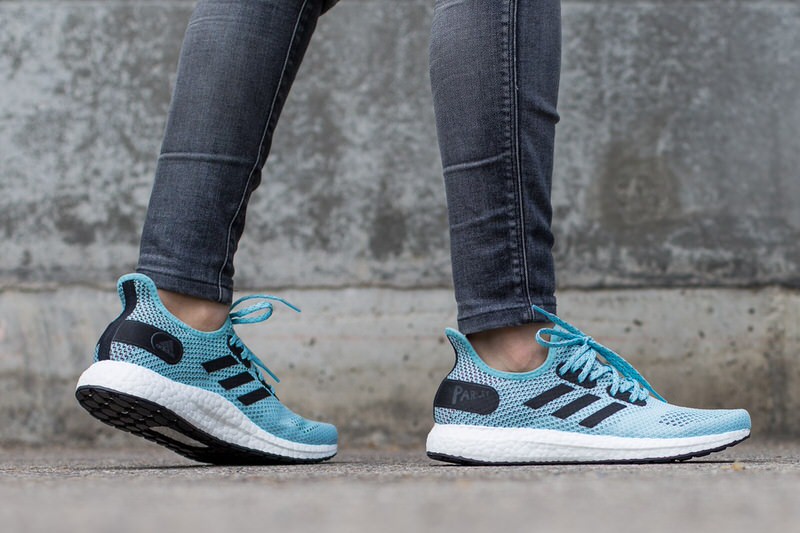 Adidas' AM4 line is my favorite currently offered by the brand. The shoes are a bit of a marvel in the footwear business not only for their performance and internal tech, but also the technology and innovation that went into the manufacturing process. The AM4 line is produced in Adidas' SpeedFactory in Germany cutting down on the long lead times and carbon footprint associated with manufacturing in Asia.
The first round of AM4 shoes (AM4LDN, AM4PAR, and AM4NYC), featured a slide in upper that had a great grip around your foot. The ride in the AM4 is unlike any other Adidas with a new formula of Adidas Boost that is much lighter and a little bouncier too. Lastly, the shoe has an incredible midfoot bar for stability that rivals some of adidas' best Torsion systems.
The AM4LA that we saw at Warehouse 747 in Los Angeles in February brought about some change for the AM4 with a new upper and taping pattern. The shoes also boast a beautifully patterned Primeknit upper that gives you extra support and material where you need it and less where you don't.
As part of Adidas' long commitment and partnership with Parley, an aqua blue AM4LA was cooked up to be part of the latest Parley series of shoes that featured arguably the strongest set to date. While there were a few great pieces in the set, the AM4LA Parley stands out as the clear winner in my book. Not only as a great performer but a head turner when worn casually. – Matt Halfhill
18. Acronym x Nike Air VaporMax Moc 2
It's almost become an annual tradition for Errolson Hugh and ACROYNM to release a Nike collaboration that seamlessly positions itself onto "best of" lists. The first half of 2018 doesn't steer opposite said trend, as their hand in introducing Nike's Air VaporMax Moc 2 proved memorable.
Thanks to a spaghetti western styled trailer and lookbook helmed by none other than Jawn Mayer, a trio of colorways led by a White/Black-Volt edition quickly became the must-have shoe for the rich and Instagram famous. Constructed in Flyknit with matte and/or translucent VaporMax tooling, Hugh again proved his brand is still among the best where sneaker collabs reign. What's more, it's not out of the question that they could do more before the curtain falls on 2018. – Darren Griffin
17. adidas Yeezy 700
Are we over the adidas Yeezy 700? It's easy to answer 'yes.' Overpriced, overhyped, overproduced, the dad shoe may have stretched its hands too far for some with the $300 price tag, resale run and follow-up release to last year's YEEZY SUPPLY sell out.
Let's not write off the 700 yet, though. Edgier than the 350 and 500 combined, the sum of the 700's success won't be fully realized until the "Dark Plum" pair pops up later this year. While the V2 won't hold a candle to the OG, is it fair to say with time we'll eventually miss this odd and expensive shoe the same we do with the 750? Over time, yes. – Ian Stonebrook
16. Nike Kobe 360 NXT
If you were to say that the Kobe AD sucked, you would not be wrong. Sure, they sold like hot cakes and received wear all over the college and pro game. However, to the Professor K reading roundball lovers that championed the line upon launch and echoed Eric Avar's advancements in performance product, the post-playing AD in both low and mid form was simply stripped of every innovation that made Kobe's signature series good on court in an effort to cut costs and latch onto a logo that once really meant something.
So yeah, you could say that.
For fans that felt the Black Mamba was done both on the court and on the foot, the Nike Kobe 360 NXT was a jump of joy for performance purists. Finding its footing in futbol much like the Kobe IV that changed both the game and the Kobe line, the minimal model saw a renewed focus on forward-thinking design and pushing play. More or less the Mayfly where weight and durability are concerned, the 360 NXT will not be the one pair that lasts you 365 days of ball like say, the Hyperdunk 2017 of current times or the original Air Jordan 12 if we're taking it way back. What it is though is a return to form for the greatest performance line ever created for the hardwood, once again referencing the sport of soccer for both style and speed. – Ian Stonebrook
15. Nike Air Max 98 "Gundam"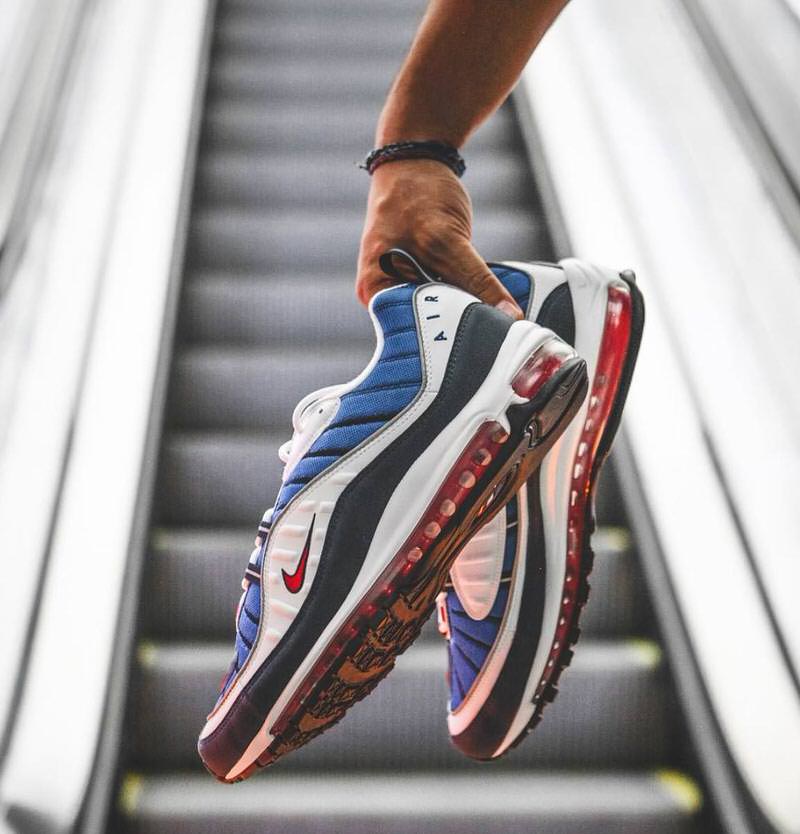 Historically seen as the Air Max that could and not necessarily the Air Max that did, when compared to its counterparts in 1995 and 1997, by commercial standards the Air Max 1998 doesn't quite measure up. Yet from a purist perspective, the Sergio Lozano designed silhouette has always been more than enough. Further, the "Gundam" colorway remains just as good, if not better, than any other Air Max colorway of its time. With far-reaching anime inspiration making for a lush juxtaposition of hue, this bring back on the shoe's 20th anniversary stands as one of the better sneaker stories of 2018. – Darren Griffin
14. Alexander Wang x adidas Bball Soccer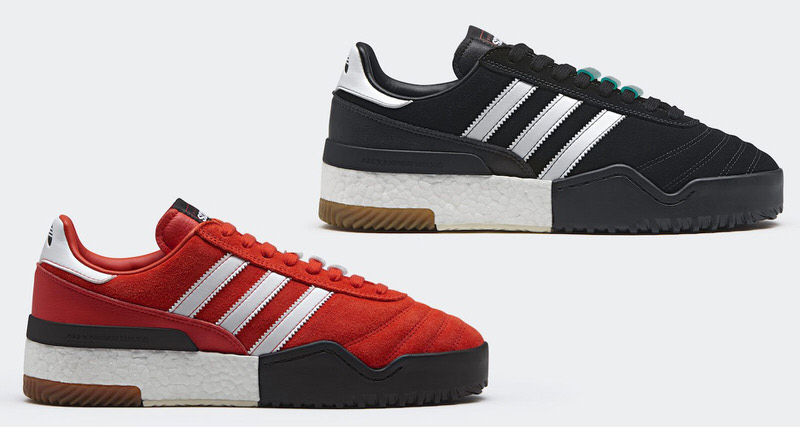 Staying power is tough in this mile a minute, flavor of the month world we live in. While Alexander Wang's 'street goth' garb of the early 2010s may not be as poppin' as it was when "Purple Swag" dropped, it proved just the popping off point for NYC's dynamite designer.
Remaining relevant through constant change and collaboration, Wang's Bball Soccer style for adidas is strikingly simple but incredibly impressive when worn in real life. With more mainstream references than previous capsules celebrating cycling and rave culture, this casual approach to what Kobe and Avar attempted a decade ago is looking right on time in 2018. – Ian Stonebrook
13. BAPE x adidas DAME 4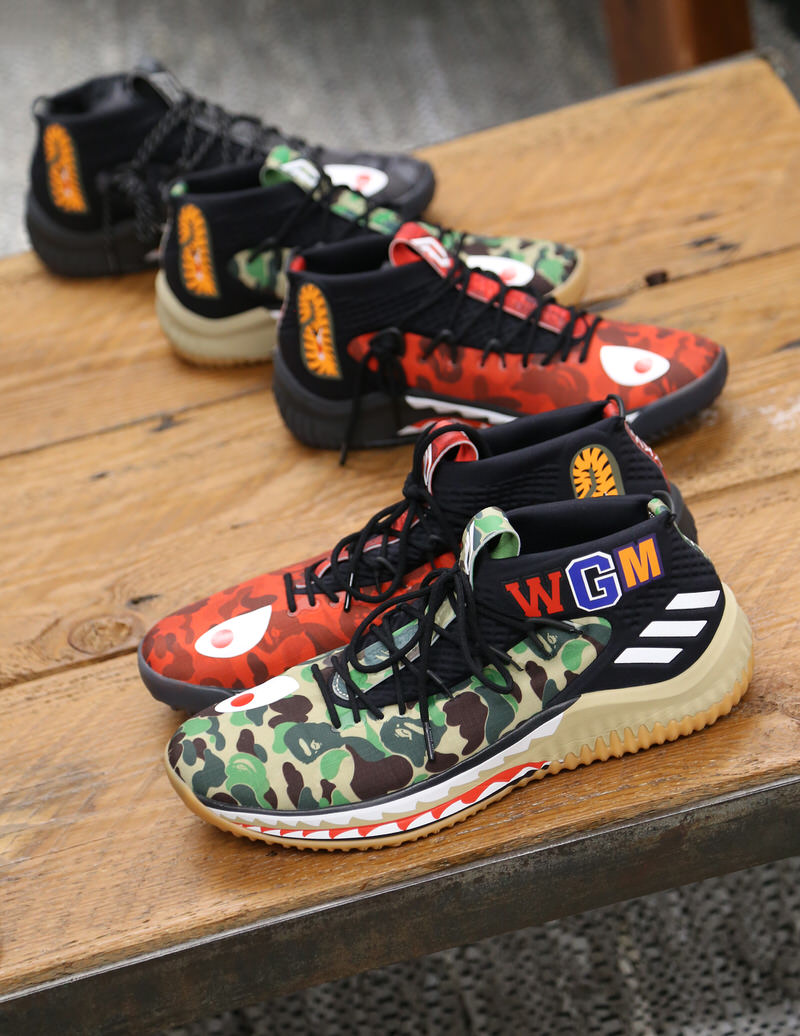 Bathing Ape collabs may be more visible now than they were, say, 10 to 15 years ago when The General ruled hip-hop fashion. Still, the really good one see camo-clad creations standing out in a sea of sought after product.
The BAPE x adidas Dame 4 is a really good one. Dame's resume as an NBA All-Star and accomplished rapper resonate as to why this happened yet still no one expected it. A 747 Warehouse drop at LA's All-Star festivities adds to the tale of not just one of the best BAPE x adidas collabs but one of the better BAPE pieces in years. – Ian Stonebrook
12. atmos x Nike Air Max Animal Pack
With very little dispute, it can be stated that the earliest partnering releases between Nike and Japanese retailer atmos shaped the very nature of the sneaker collaboration. Sure, there were Supreme Dunks around the same time that must be mentioned to tell this story. Yet atmos' very being implies greater nuance given their vast geographic distance from Beaverton in comparison to Supreme.
There was first the "Safari" Air Max 1 in 2002 followed by the Air Max 1 Supreme "Animal Pack" in 2006. Although not true to original form, the latter returned earlier this year more than a decade removed from its debut. Dressed in varying materials, shades and animal prints, this masterful juxtaposition of colors and shapes and styles represents creatively in sneakers at its highest height. – Darren Griffin
11. Bristol Studio x adidas BYW
It's hard to make any noise with muted menswear in 2018, but LA's Bristol Studio is quietly captivating fly guys and gals on both coasts by hitting notes not heard by their peers. Playing off baggy basketball aesthetic from the early 2000s, their chill approach to the iciest era in fashion is far different than riffing off rock music in an effort to bite Jerry or embroidering sportswear to jack Don.
Bristol is for sure doing it their own way and their BYW is a fluid representation to riding their own wave. Who got next? – Ian Stonebrook
10. NERD x Pharrell x adidas NMD "VA"
The Pharrell x adidas NMD Hu debuted in 2016 and the model still matters to buyers of Boost and Pharrell fans alike. The NERD "VA" pair hits home with the latter group of Hu hoarders, playing off P's punk project and their Virginia Beach upbringing.
Sporting P and Chad's high school colors and band's Brain logo, it's to wonder if the Star Trak starters ever dreamed of a day like this back at marching band practice.  – Ian Stonebrook
9. Off-White x Converse Chuck Taylor
From seeing the online response, I get the impression that the late-comer to the heavily popular 'The Ten" is a love-hate creation of Virgil's. There seems to be a split camp surrounding this silhouette.
My opinion of the shoe and why it deserves a spot in the top 25 of the year so far harkens on complimentary design and heritage. It's said that the Off-White Chuck 70 released separately to the original 'Ten' because of issues with the upper material not being durable enough. Whether true or not, the design and manufacturing of that component is one of my favourite things about this shoe. It's the piece which holds the whole shoe together and in various ways.
Firstly, the shoe has quite a frozen state and naturally remains in its strict high-top position. A characteristic I really like and compliments itself with the 'ghosting' design. Second, it's really quite an innovative material. It is extremely thin and intricate which allows air flow — important for a summer release. And lastly, it provides transparency (#sockgang) — probably the part fans love the most.
As a round-off, I feel the materials do such a great job of continuing Converse's ability to produce sneakers that enable the user to really 'go do' without feeling too precious. – Ms. Teriyaki
8. Air Jordan 1 "Bred Toe"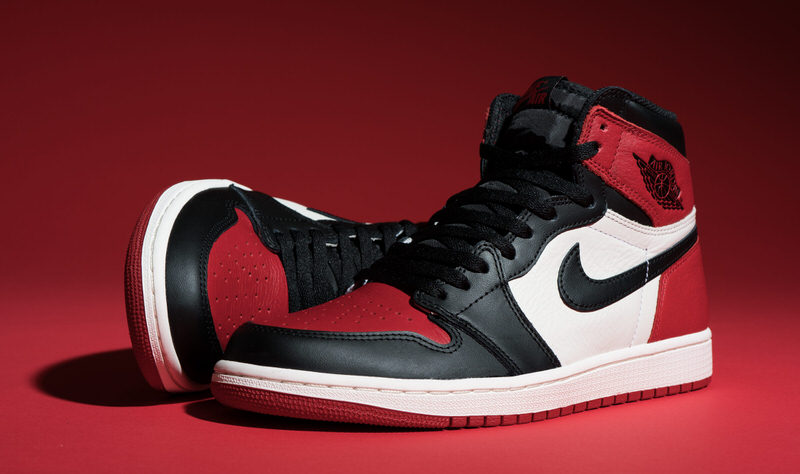 Although the "Bred Toe" won't be credited for the rise of hybrid Jordan 1s given it was predated by the "Top 3," it is indeed the first Air Jordan 1 to truly deliver said message properly. A modern-day classic measured with the same ruler we've used to gauge the "Shattered Backboard," this clever matrimony of OGs was well thought and executed even better.
Years from now "Bred Toe" 1s will fetch hefty sums on the resale market and better remembered as a great non-OG release. – Darren Griffin
7. Levi's x Air Jordan 4
If the entire idea of Virgil Abloh's "The Ten" was to inspire consumers – casual and collector alike – to create their own DIY designs then the Levi's x Air Jordan 4 releases were that concept both realized and relished.
While KG was Sharpie-ing his sneakers in '96 and skaters were pulling paint off Lance Mountain x Air Jordan 1s in 2014, the idea of collectors dying and distressing a menswear model with real resale value in 2018 seemed far-fetched to even us.
But give it up to Jordan Brand for bringing back an old idea and making it not only better but truly allowing it to be modern. Much better merched than the Levi's set from ten years back, the Flight Jacket was flawless in execution and smartly sold separately from the shoes. As tired as the term 'influencer' is, the fly guys and gals on IG with the courage to cut up, paint and dye their denim Jordans actually inspired fans that dropped $225 and change to do the same and in their own way. All the while, they were just fine as is out of the box and felt as though they were worth every penny in an era of inflation and made cheap materials.
So, while Virgil opened the list in question he appears near the end of the list in spirit as DIY customizing is not just a "THING" in 2018 but a "GOOD THING" in grand fashion. Applause due. – Ian Stonebrook
6. Nike LeBron 15 LeBron Watch PE Program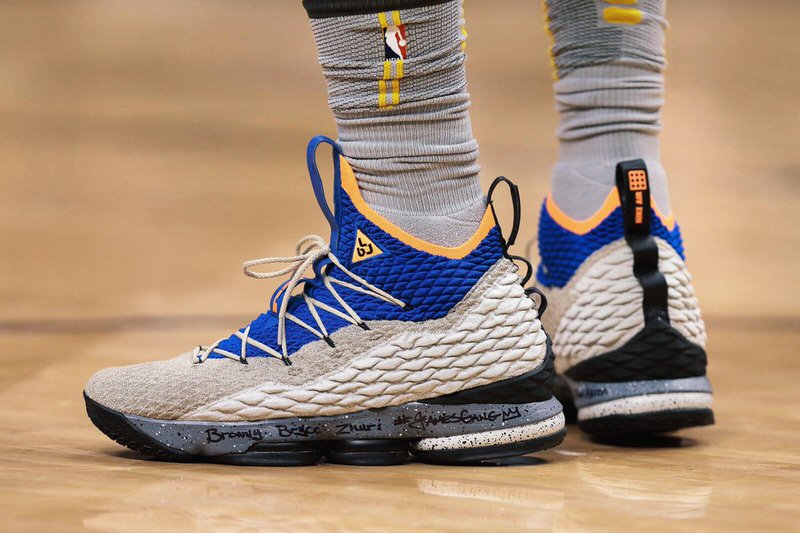 Public approval for LeBron James has been sky high since his return to Cleveland with bandwagoners and bashers not even that mad at his move to LA in recent weeks.
His sneakers sales though? Not so hot since taking his talents back from South Beach.
Less about LeBron and more about the market, the spike in colorways and casual crossover seen when King James went to Miami proved unsustainable in the long run as running shoes outpaced basketball shoes in the era of skinny jeans, joggers and the almighty IG. Just the same, clunky design language and tired themes saw LeBron's shoes not keeping up with his MVP level play in Quicken Loans Arena.
Caring less about the mall and more about making moments, the Nike LeBron 15 LeBron Watch PE Program was the most exciting thing to happen to a signature series since Kobe sold ankle insurance. Playing off nostalgia but propelled by modern tech, the BattleKnit Nikes sold on their native SNKRS App, hitting the heart of lifelong LeBron lovers, old school Ekins and keen collectors. The LeBron 15 may not have moved the masses like the LeBron 8, but the PE Program made the King's kicks fun again and that mattered much more to the core. – Ian Stonebrook
5. Air Jordan 3 Black/Cement
The Air Jordan 3 Black/Cement has released a lot in the last decade — three times to be exact. The last time they released with Nike Air on the back though? Well, before this February it was all the way back in 2001.
While "True Blue" remasters of the same orientation flopped by modern measures their Black/Cement brethren proved perfectly timed and ideally accessible. Everyone that wanted a pair – or three – was able to get them at retail or just above. It's the closest thing to the "Space Jam" drop in 2016 we've ever seen in regards to safely satisfying the market with our hopes for this holiday's "Concord" revival registering as the same. – Ian Stonebrook
4. Travis Scott x Air Jordan 4 "Cactus Jack"
La Flame may have been wearing Deadstock Jordan 6s when laying down tracks for Days Before Rodeo back in 2014, but he was definitely wearing his own "Cactus Jack" collab when bringing his carnival home to Houston.
Giving listeners something to wear during the days before Astroworld, Scott occupies a space all his own by having the kids hanging on his every move while having the backing of a major player in Jordan Brand. Joining the likes of Eminem and KAWS in the Air Jordan 4 fraternity, Scott's 2018 pledge class is full of fly guys, fly gals, flippers and most importantly fellow ragers who will wear and destroy what so many covet. – Ian Stonebrook
3. adidas Yeezy 500
Remaining wildly prolific through his ongoing adidas partnership, Kanye West has undeniably had a stellar start to the year with both the Yeezy 500 and 700, respectively. The former — now available in three colorways — has found its footing largely as a stunt worthy athletic wear. Best seen with sweats or balancing pared down classic looks, its vintage worn-in aesthetic works in tandem with much of the Yeezy Season apparel and generally what we've seen Ye in as of late.
More intimately, though, what the Yeezy 500 has done best is challenge the dullness of styling. It's not the easiest shoe to pull off (well). The off-kilter silhouette has helped frame fit, length and proportions of bottoms. Cut above the ankle, elongated over the shoe or tucked into traditional white tube socks, Ye never really stopped teaching us how to dress. – Darren Griffin
2. Nike React Element 87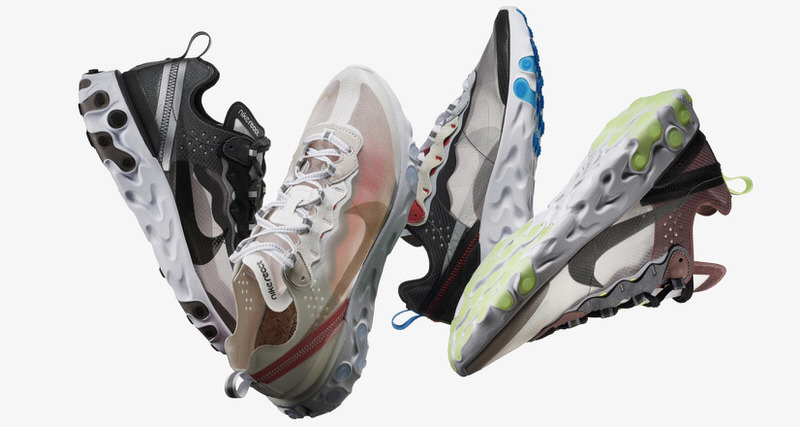 When Nike's React Element 87 first debuted on a Paris runway during the UNDERCOVER fall/winter 2018 presentation back in March, there was little doubt that the Swoosh had something special. As previews continued in the subsequent months, it became increasingly apparent that the technical lifestyle sneaker was something more.
Now, in context, with respect to what could potentially release over the next few months, it would be disrespectful to crown a sneaker of the year in July. There's still plenty of space to champion the React Element 87 among the best new Nike silhouettes in recent memory. Inventive, technically savvy and functional, there hasn't been a more anticipated Nike shoe — not attached to an existing franchise — in years. – Darren Griffin
1. Sean Wotherspoon x Nike Air Max 1/97
Following his Air Max Day Vote for the Future win, vintage veteran Sean Wotherspoon might be the hottest name in sneakers in 2018. Bringing vibrancy back to a footwear scene that had become totally tonal, the Sean Wotherspoon x Nike Air Max 97/1 proved the hyped up hit that literally everyone wanted.
Rewriting the curse against hybrids, Sean also managed to make stockers into wearers. How was that? If you love a shoe you should want to wear it all the time. The Sean Wotherspoon x Nike Air Max 97/1 provided a heavy hitter out of the box, but they also they look even better when beat thanks to the corduroy upper.
Critics have been complaining about lack of details on recent Nike releases that lean towards a sleeker stance. With that said, the Sean Wotherspoon x Nike Air Max 97/1 has enough details for all. Going against the grain and putting on for the peple, this was a win for the culture from the culture. – Yizhou Ma