Ya, ya ya ya ya, it's time to take off on this year's first (non-lookbook) collaboration. The Supreme x Nike x NBA collection was teased with the Fall Winter 2017 release of the (now NBA banned) Supreme Shooting Sleeve.
Then late last year product codes were leaked for an upcoming Nike x Supreme AF1 Mid and the hype machine had begun its takeoff sequence.
Fast forward to Monday, and this collab's hype has come full circle with JR "Swish" Smith (who donned the shooting sleeve on court) modeling this season's Nike gear.
While the Nike collaborations always garner a lot of attention, rest assured we aren't leaving out the lookbook items from this week's Bangers, Sleepers & Duds.
Let's GET IT!
Bangers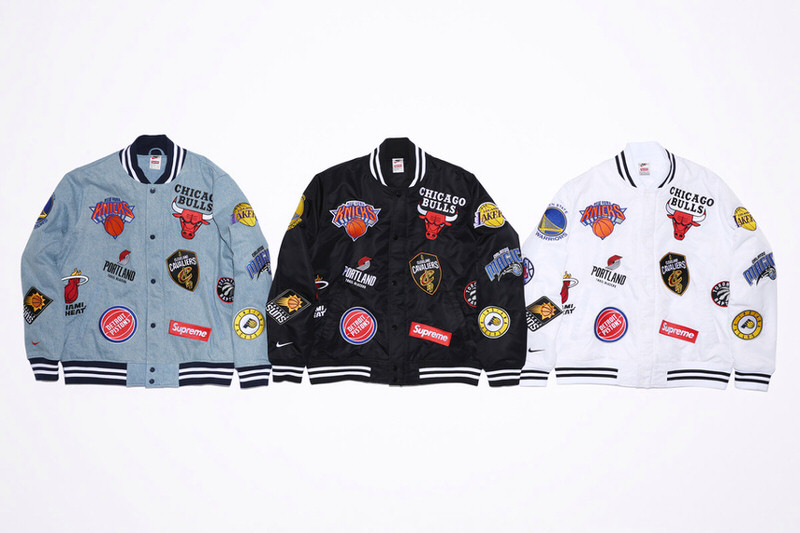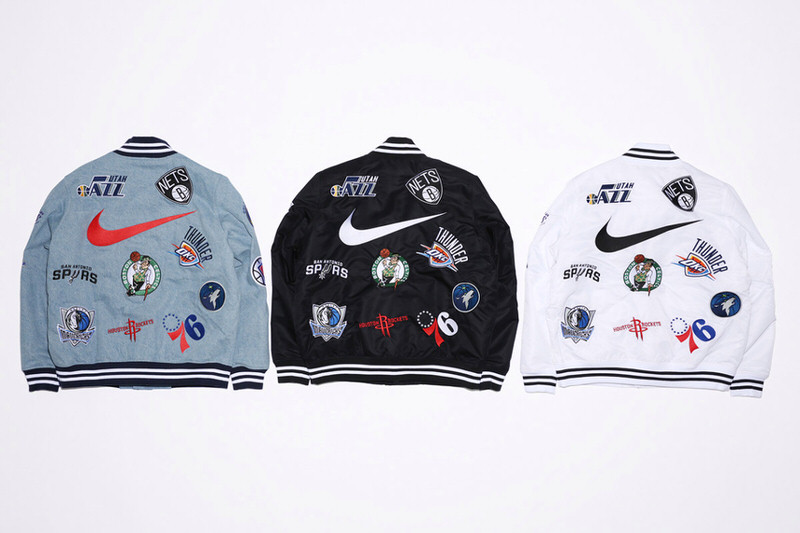 The vintage vibes are heavy on this season's Nike collaboration. The collection as a whole has become polarizing in the streetwear community with many calling the design lazy and others coveting these pieces to replace the nostalgic 2000s garments that have been lost over time, perhaps stolen at PE.
The exceptional item set to stand the test of time is the Warm-Up Jacket. Differing from the rest of the gear, the jacket has cut and sewn patches, giving the piece higher production value and durability. Hopefully the legendary jacket designer Jeff Hamilton is proud of this homage to his work.
This Warm-Up flex piece will retail for $328 then launch into atmospheric resale prices shortly afterward.

As mentioned before, Swoosh boys are stealing the spotlight this week but that doesn't mean that these fire accessories (pictured above and below) will go under the radar.
Supreme has released several liquid containers over the years, including the sports bottle from S/S 14, Kleen Kanteen from S/S 16, and the glorious flask from S/S 17. Now Supreme is releasing this beautiful Bogo (bottle logo) to hang on your book bag for a cold $36.
Supreme pens are less abundant with the Stricker Pen having been released over a year ago in F/W 16. This year's Supreme x Kaweco AL Sport Ballpoint Pen is subtle, masculine and will surely have people asking to borrow it in class or turn heads when you sign top dollar contracts at work. It will be interesting to see how this piece is packaged as the German-made Kaweco pens typically come in aluminum cases. Make big bank take little bank for an estimated $72.

Sleepers
NASCAR gang isn't going anywhere. Supreme has dropped several racing-inspired pieces but these Color Blocked Work Shirts take the cake for recent racing releases.
The NASCAR details are executed to perfection with the "94" on the left sleeve using the same font as the "24" made famous by Jeff Gordon and the colorway of the red and blue shirt flawlessly matches his car during the "DuPont" days. The only thing that could have made this piece better is a flame lining on the interior. Rock this shirt in the summer like Rick Ross on a yacht, unbuttoned and unashamed, for $128.
Ultimate sleeper this week is the Reflective Taping Cargo Track Pant. There's an abundance of track and cargo pants dropping this season, such as the Bandana Track Pant and the World Famous Taped Seam Cargo Pant. However, this week's pants are some of the more subdued and easily wearable pants to drop this whole season. These reflective water resistant nylon pants will run large so size down for a more tailored look. Shine on them haters for a vivid $128.
Duds
I've gotta come clean, there aren't many bad pieces in this drop. Thus, this week's duds are a little nitpicky.
The Striped Hooded Sweatshirt is only one detail away from perfection. The hoodie needed a white classic logo in place of that script logo and this piece would have been a certified banger (probably a sleeper in this droplist). These 49ers and throwback Bucks colored hoodies will retail at $148.
Just like the Striped Hoodie, the Washed Work Trench Coat was one detail away from a flawless victory. The contrast stitching ruined this coat. Matching stitching would have transformed these coats into glorious pieces that could be worn over a suit to business attire occasions. Fully aware that this isn't the demographic Supreme caters too, we still have to make our mommas proud sometimes. Cop this unfinished coat of an unwarranted $198.
******
The Supreme x Nike x NBA pieces are going to fly & or crash the site, so don't get hung up on the hype, move on to the next.
Good Luck and Happy Hunting.