Week 17! Time flies when you're flipping and tumbling Supreme. It seems like yesterday that we were all trying to get our hands on the Nas Photo Tee. This week, accessories take center stage in place of the high profile collaborations that we've become accustomed to this season as controversial Christmas Tees hit the market in perfect timing, box logo beenies drop to curve your salt from last week, and a slew of unrelated lookbook items find their way into the drop list like Santa's lost toys. Find out what will keep you lit and what will leave you in brick city below.
Let's Get It!!
Bangers
The moment the Supreme x Fender Stratocaster hit the Twittersphere Premeheads went mad. The Iconic guitar is constructed the same as any Stratocaster is with a maple neck, three pickups and your standard dials. However, the devil is definitely in the details on this instrument. The Axe comes equipped with a custom white strap with "Supreme" embroidered in silver from end to end, a beautiful custom case that is essentially a giant black box logo with velvet guts, and custom guitar picks that I personally hope are red with white "Sup" text on each side.
The only downside to this guitar is that the gorgeous box logo between the pickups will get destroyed by the pick, depending on how hard you shred. Let's be honest no one is going to play this Stratocaster much like no one punches the Everlast Heavy Bag as these are legendary moments in Supreme's history. Still, it would be rad to see (insert famous musician) play this guitar in MSG. This piece will be extremely limited, and due to that, you can expect retail to land well above the price tag of a normal Stratocaster ($599) at an estimated $1998.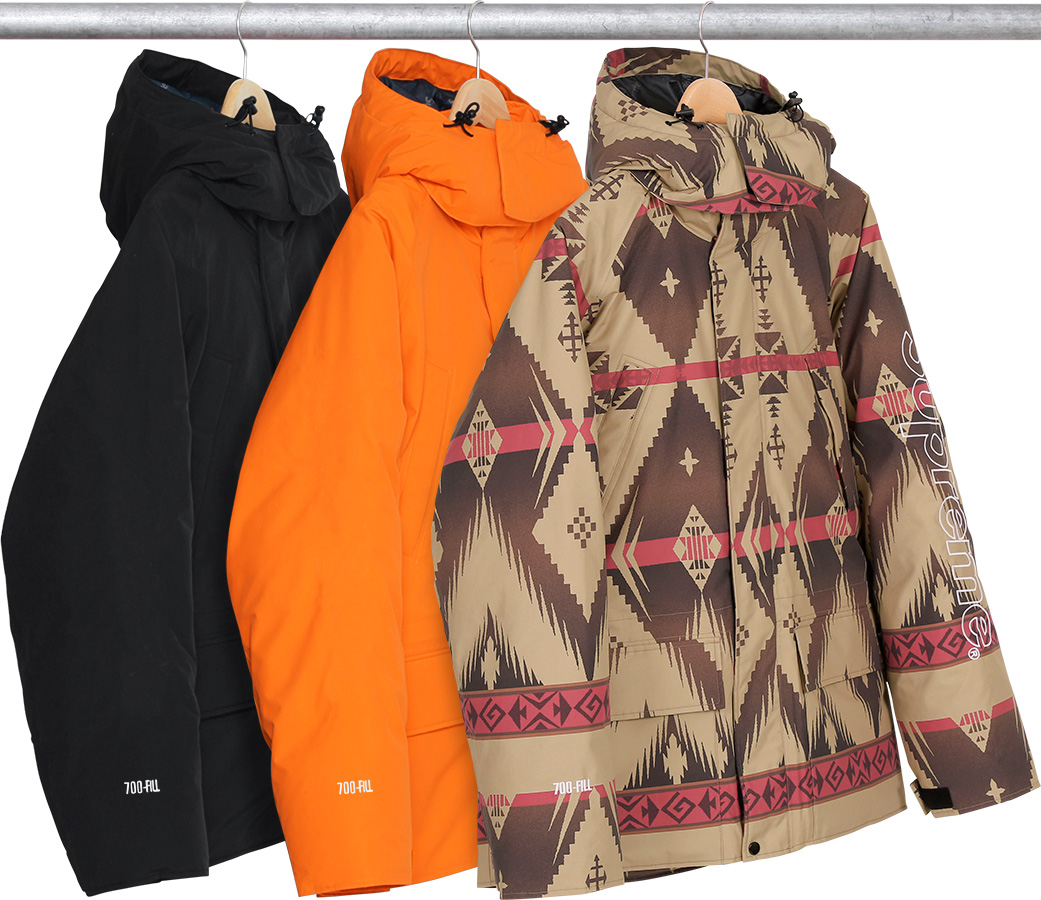 Several heavy duty winter jackets have already dropped this season but none have been as well equipped for everyday use like the 700-Fill Down Taped Seam Parka. The Parka has a waterproof and breathable nylon 3 layer shell with taped seams that will surely keep you dry in any condition. The full zip closure with velcro placket makes this jacket easy to shed at the coat check as opposed to the pullover and half zip iterations that we saw earlier in the season. Finally, from a practicality standpoint, the hood is removable for those cold but sunny days. Ordered from left to right are the most wearable to least wearable colorways of this jacket. The Navajo print (on the right) is still a jacket that you can get away with on most occasions as it combines a near 50/50 combo of tan and brown that pairs well with black pants. This styled practicality comes at a cost… estimated retail for this piece is $470.
Sleepers
As we are nearing the end of the season there are not many items that are flying under the radar. One solid piece in the drop list that doesn't have everyone's eye is the Gonz Ramm Zip Up Sweatshirt. This piece is mainly without hype because we have seen the Ramm head on everything from polos to skate decks this season, but that's not a bad thing. Mark Gonzales has been a contributor to the Supreme brand for a decade and his pieces will always be relevant in the skate and streetwear communities. This hoodie comes in a multitude of colorways and will fill the void for whatever color your winter wardrobe needs. It's worth noting that this piece is cotton cross-grain fleece and not the heavyweight cotton fleece found on the thermal zip-ups, making this sweatshirt easy to wear year-round. Estimated retail for this Ramm patch hoodie is $168.
Duds
Supreme has a history of making the uncool cool, but frankly, they strike out just as many times as they get on base. The Vertical Striped Pique Crewneck is one of those strikeouts. The quality on Supreme's crewnecks are always A1 and the Classic logo is a crowd favorite, but the color blocking on this piece is reminiscent of a dusty sweater sitting at your local Salvation Army. It's hard to justify paying an estimated $128 to be ironically uncool when you can find the same for $2 across the highway.
How to Cop
The United States and Europe will drop tomorrow Decemeber 14th
Japan will drop December 16th
Check out the plug @dropsbyj for the full week's drop list.
Good luck!