StockX begins another round of layoffs.
This year has brought about a series of unfortunate headlines for the Detroit-based resale marketplace.
Just weeks after tapping Goldman Sachs and Morgan Stanley to work on the company's IPO in early January, the company found itself embroiled in a lawsuit with sportswear juggernaut Nike taking issue with StockX's NFT offering. A few rounds of responses and new claims between Nike and StockX have been anything but helpful for the public image of the company – especially when Nike called into question the effectiveness of their authenticity verification program.
This morning Nice Kicks received messages from a handful of employees that there was a round of layoffs at StockX across several divisions within the company.
Insiders confirmed that StockX has begun a significant round of layoffs. It was confirmed to Nice Kicks that this round affected 8% of the company's workforce and that those impacted were provided severance packages and health care benefits following termination for an undisclosed period of time.
According to sources, the departments affected include editorial, marketing, customer service, operations, and engineering. This round of layoffs is the second significant round of layoffs following the 12% cut in April of 2020 at the start of the COVID-19 Pandemic.
StockX issued the following statement regarding today's layoffs, citing economic factors to the company's decision: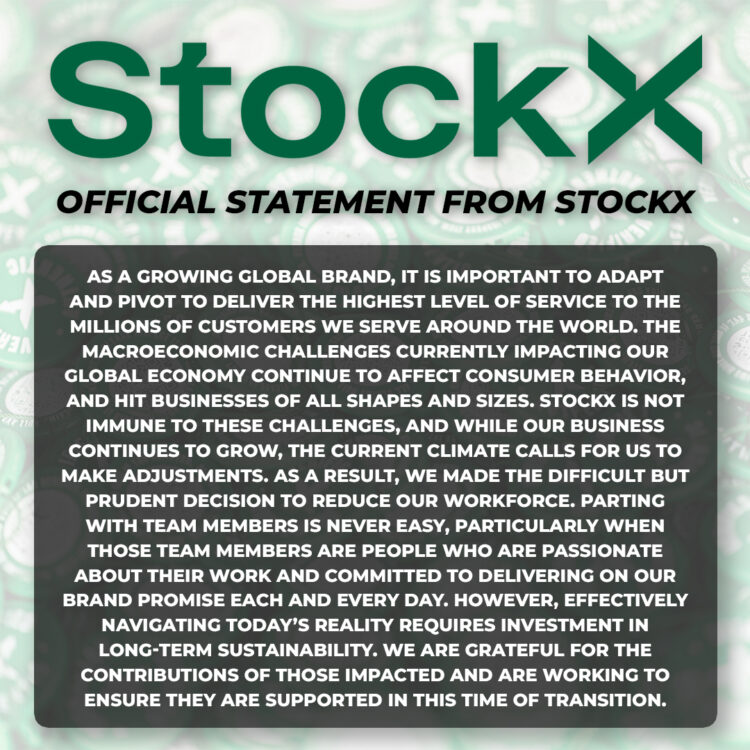 Follow @nicekicks on Twitter and Instagram as this story continues to develop.