Skateboarding made its Olympic debut during the Tokyo Summer Games and the impact of skateboarding on sneaker culture cannot be understated. We've round up the sneakers that all 16 contestants wore in the Street Final so you didn't have to. Check out the skaters and sneakers below.
Women's Street Final
Momiji Nishiya won Olympic Gold for Japan at the age of 13, wearing the adidas Matchbreak Super.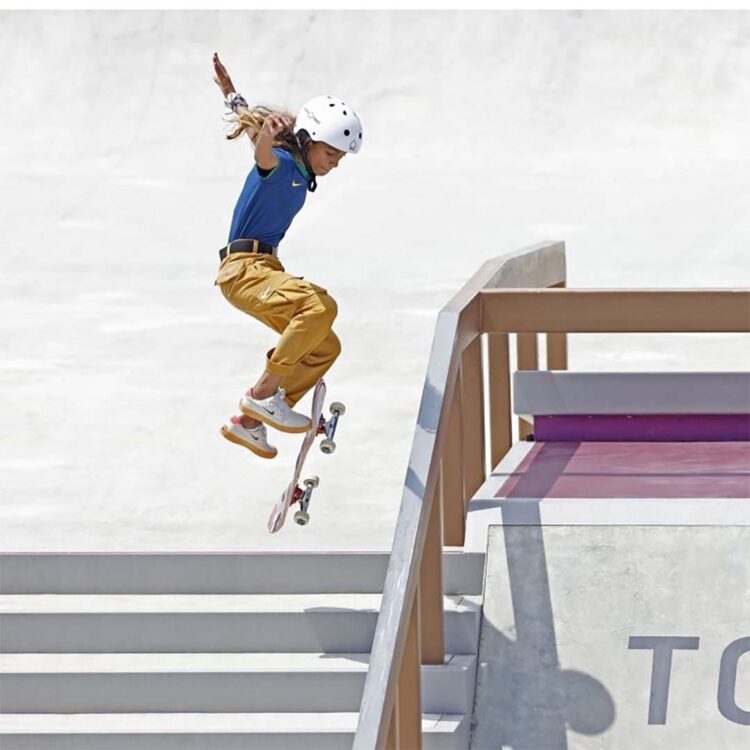 Rayssa Neal won Olympic Silver also at the age of 13, wearing Shane O'Neill's Nike SB Shane "Rawdacious".
The Nike Zoom Janoski has been a mainstay in the skateboarding community for over a decade and 16-year-old Funa Nakayama wore them to an Olympic Bronze.
Women's skateboarding legend Alexis Sablone placed 4th wearing her signature Converse CONS AS JP Pro Mid.
Roos Zwetsloot skated for Team Netherlands placing 5th wearing Nyjah Houston's Nike Free Nyjah 2 in "Sky Grey"
Wenhui Zeng placed 6th wearing an unknown Kappa Skateboarding sneaker. The Chinese Skateboarding Team partnered with Kappa as their Olympic outfitters and while we don't know much about Kappa's entry into the skateboarding industry, we'll be curious to see what the future holds for both Chinese skateboarding and Kappa.
Margielyn Didal placed 7th representing the Philippines, and as a New Balance Numeric team rider, it's fitting she's wearing the New Balance Numeric NM379.
Japan got 3 women into the Street Final, with Aori Nishimura placing 8th wearing the Nike Zoom Janoski.
Men's Street Final
Yuto Horigome grew up an hour away from the Ariake Urban Sports Park where the Street Final was taking place and won Olympic Gold for Japan for the first skateboarding event in Olympic history wearing the Nike Zoom Janoski Slip-On.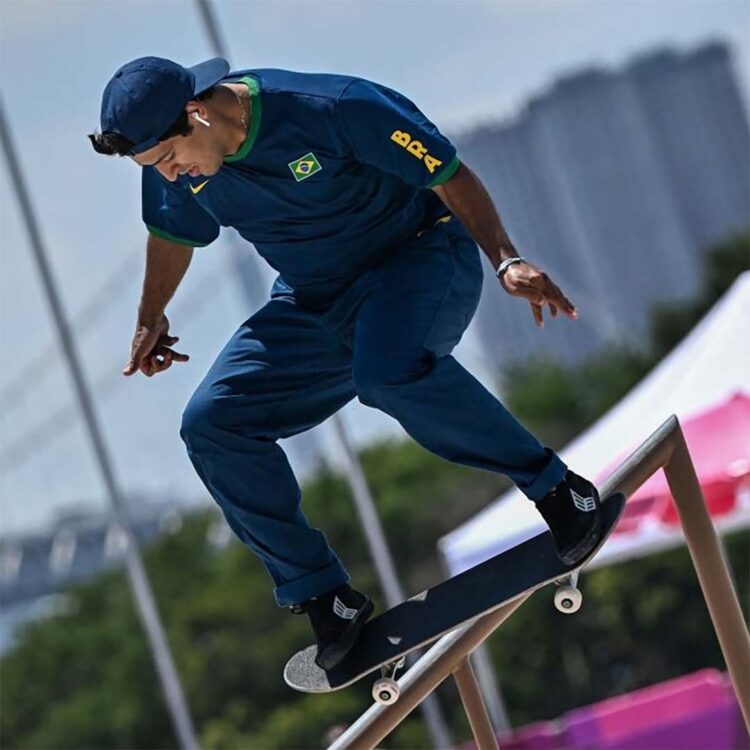 Kelvin Hoefler won Silver for Brazil in Street Skateboarding, wearing the Cariuma Catiba Pro Hi. Cariuma has been making a name for themselves in skateboarding the past few years and with the help of guys like Kelvin and Jagger Eaton, we're sure to see them do big things in the near future.
American Jagger Eaton won Bronze and like Kelvin Hoefler, wore the Cariuma Catiba Pro Hi in the process.
Globe is an OG in the skate game and French skater Vincent Milou placed 4th wearing the Globe Los Angered II.
Peruvian skater Angelo Caro Narvaez wore the adidas Matchbreak Super and placed 5th in the event.
French skater Aurélien Giraud placed 6th in style wearing the Nike SB Dunk Low "Reverse Papa Bear".
Nyjah Huston placed 7th wearing his own signature Nike Free Nyjah 2 "Rawdacious" with his own bloodstains as a design accent.
Three of the eight finalists for the Men's street skateboarding final were wearing Cariuma with Portuguese skater Gustavo Ribeiro wearing the Cariuma Catiba Pro placing 8th.