Last month Sneaker Con took over Fort Lauderdale, FL where the convention went viral for its mystery box debacle, hosted by Chase Briner, the owner of Royal One sneaker store. According to Complex, Sneaker Con has now officially banned mystery boxes following the controversy.
For $300, attendees of Sneaker Con could purchase a mystery box from Royal One which included a surprise sneaker inside. Shoppers quickly noticed that the mystery boxes were mostly duds, with majority of the surprise sneakers worth less than the MSRP value. For the $300 price tag, many felt that the mystery boxes were a scam.
Royal One store-owner Chase Briner addressed the backlash saying that the viral videos weren't showing the full story and that people weren't sharing highlights like the Air Jordan 1 "Lost and Found," the Travis Scott x Air Jordan 1 Low "Black/Phantom," and more.
Briner continued saying that the mystery box game was a "gamble," allowing you a 1-in-3 chance to hit it big.
After reviewing Sneaker Con's Code of Conduct, the Nice Kicks team noticed that the terms include a direct "NO GAMBLING" clause and that the convention has a zero tolerance policy for gambling of any kind.
Sneaker Con quickly responded to the mystery box controversy saying it would further access the situation and have a policy in place by the next Sneaker Con in February. Sneaker Con followed up on their promise and have now released a statement, in which they express the decision to ban mystery boxes.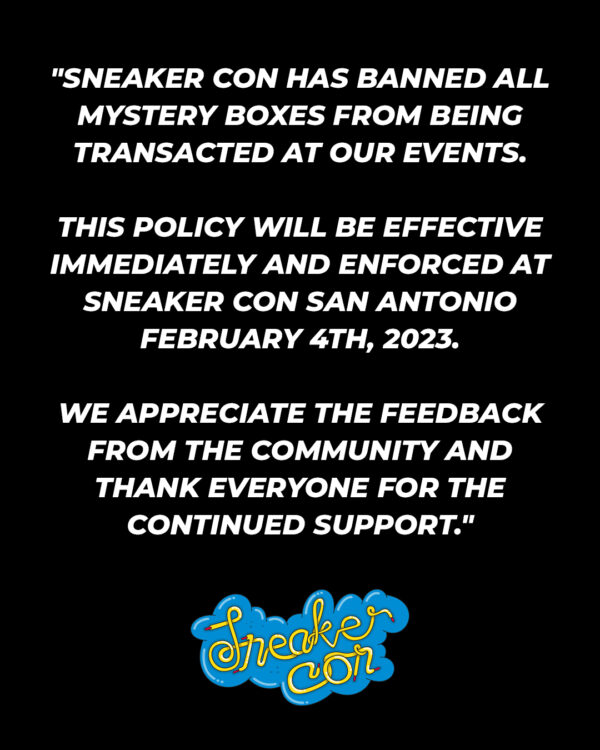 Chase Briner, the main vendor hosting the Mystery Box game, did not immediately respond to requests for comment.
Nice Kicks will continue to update this story as it develops. For more sneaker news and release dates, follow @NiceKicks on Instagram.