Bing bong. Ya hurd. F*** ya life.
Whether on YouTube, Instagram, Twitter, or in the streets of New York City, you've heard or even seen Sidetalk NYC — and you've definitely heard Nems.
The mayor of Coney Island and FYL president is one of the many faces & voices of Sidetalk, known for their man-on-the-street minute-long interviews with some of New York's most interesting and unpredictable inhabitants.
We spoke to Nems about his many artistic ventures, the importance of the Air Force 1, and his sneaker grail.
Read the interview below and be sure to keep it locked on Nice Kicks for more sneaker-related news and content.
---
Nice Kicks: What does your rotation consist of these days? What are you wearing these days?
Nems: It's the summertime. Definitely some Air Forces, low-tops obviously. I don't like the regular Forces. I wear the all-white crispy ones to go to the store with no socks. Put them on and just run real quick. I have the Supreme joints, some custom ones that I like to keep in rotation. Always some [Air Jordan] 6s or 7s. Those are my favorites.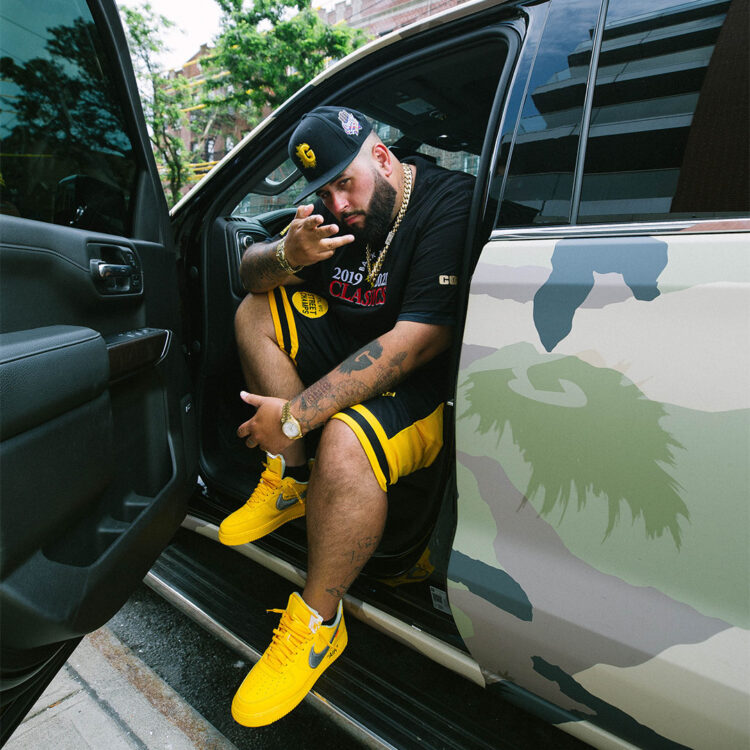 Yeezy Boost 700 "Waverunners" — those are the only ones I fuck with. The V2 and the V3 got a little weird for me. Yeezy Slides for the pool.
That's my summer rotation.
NK: How many wears do you put into your white-on-white AF1s?
Nems: Three at most. It depends. Last night, I wore one for a video. I'm never wearing them again. The first wear to go somewhere nice Friday or Saturday. The second wear is to hang out on the block. Nothing crazy, no pictures. The third wear is like if I'm going to the beach, and I'll leave them there. You know what I'm saying?
NK: If you step into a Foot Locker and you see white-on-whites, how many do you buy at a time?
Nems: I'm not going to front, maybe 2. Three if I know I have shit going on that week. Back in the day, before I really had bread, I had this fake Air Force connect; I'm not going to front. I used to buy 5 pairs for $30 each to wear one time and never wear them again. Nobody was going to check.
NK: You mentioned the Air Jordan 7, which is celebrating its 30th anniversary this year. Is there a specific colorway you like?
Nems: Bordeaux 7s, but the 2011 retro. That might be my favorite sneaker. For some reason, it kind of goes with everything even though it has the yellow and maroon on the tongue. I love the feel and the whole aesthetic.
NK: If Sidetalk were a shoe, what would it be?
Nems: A Timb. They're the vibe of New York City. Jack [Byrne] is from Long Island and Trent [Simonian] is from California. But somehow, they capture the whole vibe & feel of NYC.
NK: The Air Force 1 is celebrating its 40th anniversary this year. How important is that shoe for New York culture?
Nems: It's worldwide. Look at Dr. Dre, that's all he wears.
As far as New York, it's the classic sneaker. You can wear it trying to be fancy, going out to the club, going out with your wife, your girl. It fits all occasions.
When you live in New York, on a day-to-day basis, you go outside and you don't know what you're getting into. You could be doing some fly shit. You could be doing nothing. It works well and that's why it's the NYC sneaker.
NK: What's your sneaker grail?
Nems: The Air Jordan 7 "Miro." I could buy them. They're so old, they would probably break. The soles would rip if I were to wear them now. Those are my grails. I always wanted them back then. It's one of the most exclusive 7s.
NK: What do you like about the 7?
Nems: They look fire with shorts, with jeans. That silhouette is my favorite. I don't like doing what everybody else does with all the hype. I don't sell sneakers. I get everything for free. So of course, I get thing I don't like and everyone is like "resell them" and I don't do it because that fucked up the game. I'd rather give a pair away. I'm not into the reseller shit. I like to stand out. I don't go with what everyone says.
Back in the day, I wore the Reebok Shawn Kemps. They're weird. It's kind of like the Air Jordan 5. I like them, but that tongue just kills me. It's so doofy.
NK: Can we expect more sneaker integration into your content?
Nems: I've always loved sneakers. As I've gotten older, I have a ridiculous collection. I still have shit that I haven't worn from years ago.
I'm trying to do for sneaker stuff. I have the FYL brand. I've always wanted to do a sneaker. It's a lot of work. I've been talking to Saucony to work on a sneaker. Maybe a Timberland. I'm involved in sneaker culture, but I definitely want to do more.
Sneakers are the first thing when I put together an outfit. I want to keep sneakers involved with everything I do, whether it's the sneakers or the content. All of that.
Keep it locked on Nice Kicks for more interviews, sneaker content, and more, including the Sneaker Release Dates page.