At only 28 years old, competing in a sport with so much tradition, Rickie Fowler has broken the swag-barrier with his bright colors, flat-bill hats and impeccable sneaker rotation on the PGA Tour.
The California native who grew up riding dirt bikes never really cared about fitting in and always wanted to push boundaries without breaking rules. Just the same, he has never had a swing coach and has still made a name for himself on the golf course for more reasons than one.
In a sport heavily outfitted in Nike, Adidas and Foot Joy, we caught up with the PUMA athlete to hear what he's rocking as he heads into the British Open in the latest My 5.
PUMA Golf IGNITE Hi-Tops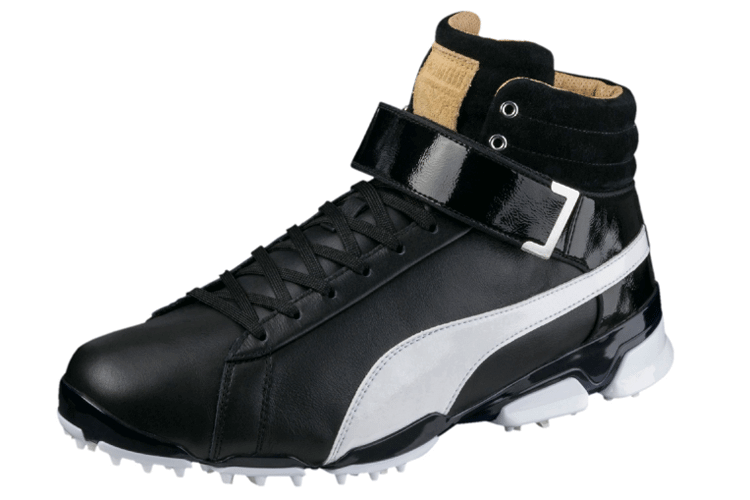 Rickie Fowler: I wear a lot of high top shoes off of the course so I wanted to bring something to the golf course that had some spice to it and represent my lifestyle. These shoes have a lot of style but I am also able to stay comfortable on the course as well.
**Rickie recently informed Nice Kicks that he will be wearing a brand new all white colorway of the IGNITE Hi-Tops at The Open Championship this weekend.**
PUMA TitanTour IGNITE Disc
Rickie Fowler: These shoes are very similar to the other Ignites that we mentioned but a different upper. I am very big on comfort. As a golfer, or any athlete for that matter, you do not want your feet to be in pain. If something hurts down there it can spread to your legs and even up into your back and you do not want to deal with any injuries. I like having my foot locked down, I do not want it moving around in my shoe I want great support. The stiffer sole helps lock my foot down and create less moving parts in my swing and be one with your shoe.
PUMA IGNITE evoKNIT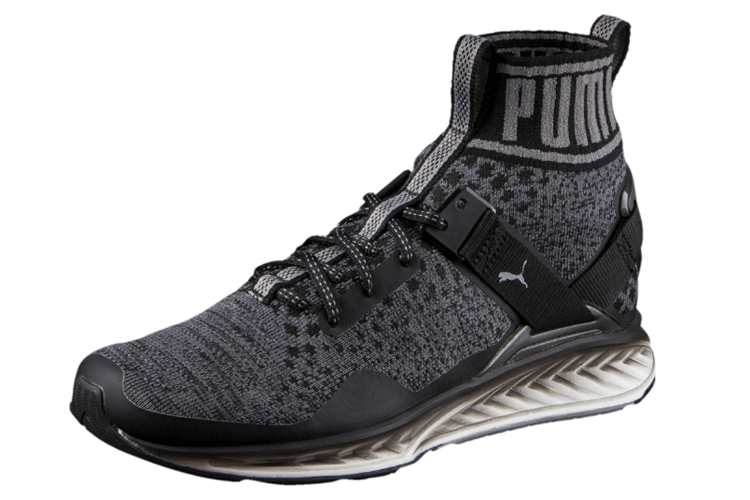 Rickie Fowler: They are a great crossover; you can do whatever with them. I usually wear these with shorts, joggers, or even a pair of jeans. I also like to work out with these. Good for any type of training in the gym, lifting weights or can throw them on just to cruise around.
PUMA IGNITE Limitless
Rickie Fowler: Limitless is the most versatile. I wear these as much off the course as I do in the gym. You can get whatever you want out of them. They come in a wide variety of colors and they are great for slipping on to walk around in or you can lace them up and get a good workout in with them.
PUMA Basket
Rickie Fowler: The Basket is probably what I wear the most off the golf course. It is super comfortable and very easy to slip on. They have a classic, distinctive look combined with a clean and simple design and that is why they are what I wear the most off the course. These are the easiest shoe to pick out when it comes to picking out an outfit. They go with basically everything. Shorts, jeans, joggers and even swimsuits, these shoes slip right on and look good too.
Bonus // Playing with and Hanging out with the Other Young Pros
Rickie Fowler: There is a great camaraderie amongst the young guys on the tour. A lot of us played junior and college golf together or against each other. I have gotten to know these guys over the past few years which has been great. We have a huge level of respect for each other but there are also big bragging rights when we get to beat one another. We keep it very friendly, Justin and I shared a house together at the US Open. You see friendships away from the course but that does not take away from the competitiveness on the golf course.
Lead image by Sam Greenwood/Getty Images via Zimbio