The connection between streetwear, sport, and fashion is at an all-time high.
Whether it be through fútbol, football, basketball, or even baseball, brands from all over are making their mark with some of the biggest teams and markets across the world.
But if there's one sport that's been receiving the cold shoulder, it's hockey. And while teams and artists have grazed the ice, the fire needs to come from within — that's where the Arizona Coyotes and Rhuigi Villaseñor come into play.
On October 6, the Coyotes announced that the RHUDE founder would become the team's creative strategist.
"Partnering with the Arizona Coyotes is an incredible opportunity for me – and a unique challenge," Villaseñor said in the press release. "I'm so excited to explore and reimagine how fans can express their love for a hockey team that plays in the desert."
If there's anyone who can bring a fashion and lifestyle approach to hockey, it's Villaseñor.
The Los Angeles-based designer from Manila, Philippines, ascended to fame in 2012 after Kendrick Lamar donned his black & white paisley bandana print shirt at the VMA Awards. Initially meant to be a one-off, the shirt captured the West Coast essence in a simple fashion and would be the genesis for RHUDE — the luxury streetwear brand.
A decade later and RHUDE's influence is as expansive as ever. From celebrities to athletes to artists and beyond, RHUDE and Rhuigi Villaseñor have captivated an entire subculture of fashion, opening other doors and vignettes.
After being named the creative director for Bally (the Swiss fashion house), Villaseñor is now entering the professional sports world with the Arizona Coyotes.
As the creative strategist for the hockey club, Villaseñor will have a wholistic collection of apparel and accessories from hats, to hoodies, and more.
Whether in the arena or in the streets, Villaseñor's design ethos and attention to detail are expected to reach a wide audience with hopes of bringing new fans to the sport while still celebrating the game and its rich culture.
"I look at life in cereal boxes," Villaseñor said. "If you can put it on a cereal box, that's how you know it's really there. That's where I felt hockey was at a moment and can be again. When you look back at the '90s and early 2000s, that shit was the time that [hockey] was hyper-prevalent."
While hockey had its moment in sport and fandom, it has never truly crossed over into pop culture and fashion.
Until now.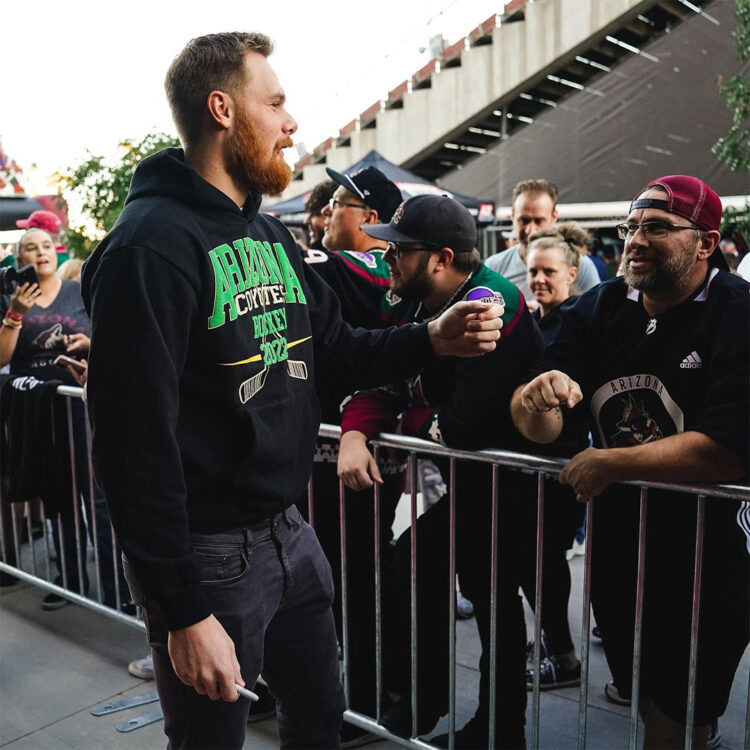 "Everything about coolness is countercultural," Villaseñor said. "Making sure that we are always going where no one else is. I don't want to be the guy to take the arrows over the hill, but I definitely want the guy to lead the charge on something new."
Fostering and sustaining hockey culture in the desert can sound like a contradiction for many. But for Villaseñor, it's the perfect embodiment of him and his creative prose.
"It's me; it's juxtaposition," he said. "Hockey in the sun? That's crazy. But with that, you can take a brand and go full day and night with lifestyle. Hockey is usually in areas that are cold, but with this sport and being in Arizona, you can really take the brand and make it lifestyle. How many hockey merchants can make shorts? In Arizona, we can make hockey shorts for outdoors."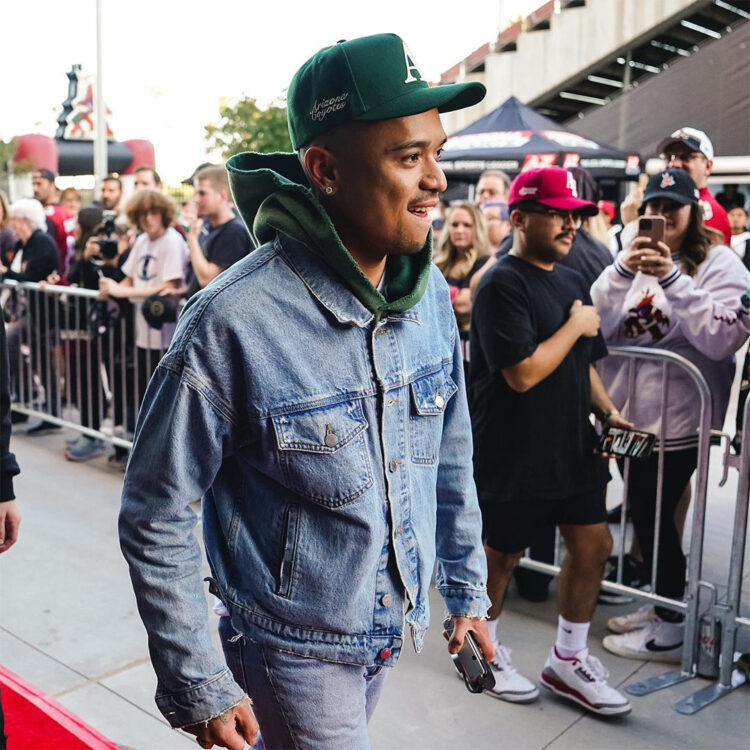 In addition to shorts, a staple piece of Villaseñor's collection with the Coyotes will include a hat with a simple "AZ" logo — continuing the tradition of two-letter icons in sports such as the Yankees' "NY" and the Dodgers' "LA" logos.
"It can easily be the hat for Arizona," Villaseñor said. "AZ is about A through Z, you know? We want to make sure we cover everything. When I'm looking at all the iconic city hats and memorabilia, I want to take the components I love for myself and put it in a hat. I dug deep into the heritage of Arizona but, selfishly, I want to make something cool as hell."
As the Arizona Coyotes kicked off their home opener on October 29 in Tempe, Arizona, as the team relocates itself to the East Valley, Villaseñor stood by his perspective, experiences, and against-the-grain path that has gotten him this far.
"I'm a walking contradiction. A walking juxtaposition," Villaseñor said. "If you look back at it, the Philippines are so far from everywhere. All we can really do is see everything from an etic perspective, look from the outside, and see things how they should be. That's where I feel like I can be the most creative," he added. "I feel like I can see things from afar and how things should be, with hockey being one of them."
As Villaseñor and the Coyotes enter a new chapter for the sport and culture, the designer recalled his humble upbringing ahead of the cold front he's co-establishing in the desert.
"We never had ice. We're so far that we don't believe in Santa Claus. We grew up like, 'that's too hot for us,'" he laughed off. "For me, I'm able to see things with a clearer vision because I'm not influenced by anything. All I have is imagination."
---
Stay tuned to Nice Kicks for the latest sneaker news, exclusive interviews, and more.