event photos by Chris Montante & Jeffrey Jason
On Monday night, James Harden made good on his promise to his mom by seeing his star solidified in the form of his first NBA MVP Award. Calling it as a kid and celebrating slightly before hand with the next generation, James pulled up at his old middle school — Audubon Middle School in LA — for the adidas Hoops #ImmaBeAStar Block Party.
Needless to say, he did it big.
Inviting local students, family and friends, the celebration of hard work and hoops saw everything from free t-shirts and airbrush tattoos to 15 refurbished basketball courts gifted by James and adidas. To cap it all off, both Famous Dex and Rick Ross performed.
While James was busy hooping with the kids and ad-libbing for Rozay, we were able to track down Rashad Williams, Senior Footwear Director at Adidas Basketball, to discuss Harden's MVP kicks, Swaggy P's crate digging and what's next for the Three Stripes on the hardwood.
Nice Kicks: We're here to celebrate James Harden and there's word he's got a big drop coming for his assumed MVP win. What can you tell us about the kicks?
Rashad Williams: The pack is basically inspired by James' journey, so in the pack you have three models. You have the Harden Vol. 2, which is his main signature shoe. Then you have another model, the BTE — Brothers Through Everything is what that stands for — which is all about his giving back and his friends he grew up with from middle school. We also have the Harden LS — Life Story — which is more of a lifestyle shoe around James.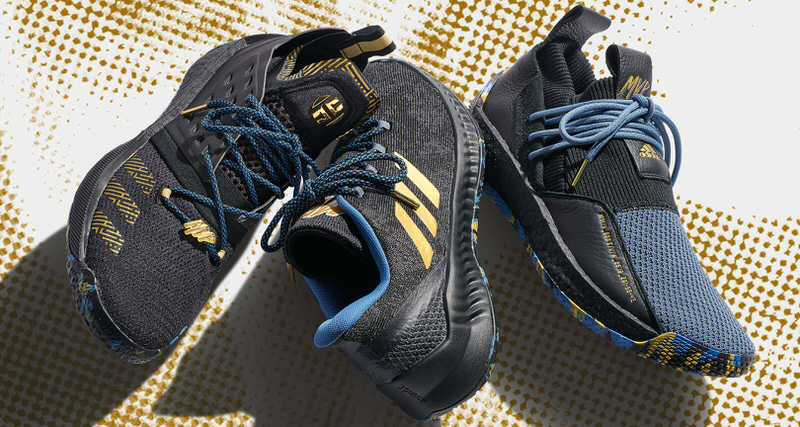 Nice Kicks: The LS pair is particularly bold. Tell us how it represents James and his style and story.
Rashad Williams: The big thing around adidas is we are all about sport culture and really combining those, and James epitomizes that. He's dope on court, still fresh off court and that's what that LS model epitomizes. It's really his life story and we tried to inspire the LS from his time at Arizona State.
We have two versions: we have the buckle version, which will not be in the pack, and then we have a laced version which is based off of Arizona State. The laced version has a lot of insignias all over the shoe and is in the pack. The pack is black and cold blue. Black Boost is featured, which is definitely a rarity from our brand, so we wanted to make it a little more special. From there, we took inspiration from LA and we took inspiration from the street signs — that's where you see tints of blue in the shoe. On the sockliner of the Volume 2 is where you'll see it's really about his life journey.
Nice Kicks: What was the inspiration behind the buckle version?
Rashad Williams: The buckle is actually inspired by his time at Artesia High School. James told us this great story of how his senior year was his battle year and it was all about winning the State Championship. So on the LS, especially the buckle version, it was all about raw materials. That's why you see the nice leathers and suedes, because we took this military inspired look to it. He was suiting up for battle, and at that point James was still raw, so he was trying to form all of his skills. There are little details and insignias resolving around his last year at Artesia.
Nice Kicks: How important was it to have his LS version still feature the same full-length Boost setup? 
Rashad Williams: The big thing about that is we know that the Volume 2 has roughly 15% more Boost than any adidas basketball shoe today. We incorporated that because we know that shoe lends itself more to James' off-court identity, and we wanted to make sure that full-length Boost was there. They feel great man!
I think that's a component that's been missing — not necessarily missing, but not done well. Other brands have tried making a lifestyle version of a signature shoe, and it seems like it's always scaled-down tech, or virtually no tech at all. It's not very comfortable to wear, and I'm excited to see the new line of Boosts for us.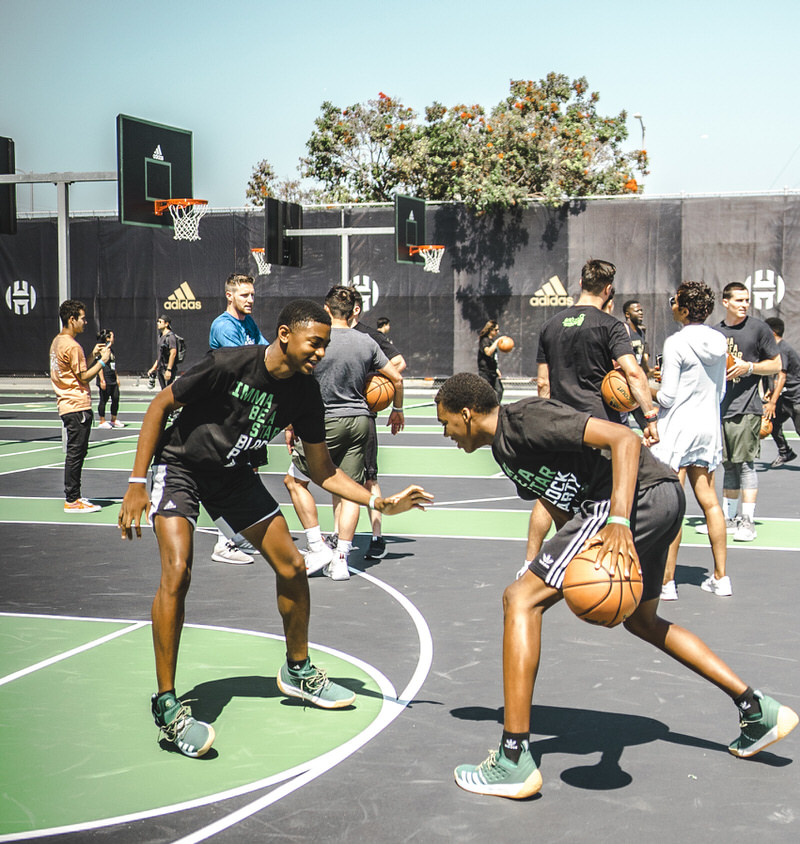 Nice Kicks: What's next for Boost and Basketball at adidas?
Rashad Williams: Boost will still be around. We know Boost is as I like to say, in my opinion, the best cushioning around. Boost still has a role in adidas Basketball and we're gonna use it in premium propositions. We still plan on using Boost and staying true to the brand because that's what we stand for.
Nice Kicks: Is there anything we can expect from the Rose line?
Rashad Williams: D-Rose is still an important part of the brand, so you will continue to see Rose products coming out.
Nice Kicks: You guys just announced Lonnie Walker IV and Trae Young, what will we see from them coming down the line?
Rashad Williams: We are happy to have those guys fit the brand, I can say that. We all think they are mixed talents and we think Lonnie and Trae will be a great addition to basketball.
Nice Kicks: At Nice Kicks we are big fans of Nick Young. What can we expect in the future from Nick with adidas?
Rashad Williams: You can expect more of Nick showing the breadth of the brand. Nick is a great asset and he's a strong advocate of the brand, so you can look for us to continue to make some more special makeups and PEs.
I'm really excited about some of the new product we have coming out. Our Spring/Summer 2019 collection will be kind of a reset for us. The Brooklyn Farm will be designing our SS-19 collection and a few seasons forward. I'm excited and we are gonna use all of our guys — we have a lot of great assets and Nick is one of them.