Yesterday was a historic day for Vans as the iconic sneaker company launched the "The Lizzie," a new signature skate shoe created by none other than Lizzie Armanto.
At only 29-years-old, Lizzie Armanto has changed the future of skateboarding. The Santa Monica native has a growing list of impressive firsts that include competing at the first ever Olympic skateboarding event, being the first woman to land the cover of TransWorld SKATEboarding magazine, and even being the first woman to clear Tony Hawk's insane 360-loop. Now, Armanto becomes the first woman to design a signature skate shoe for Vans in over 20 years.
As her namesake sneaker, "The Lizzie" features intricate design elements that are inspired by the skater. The sneaker itself has a humble appearance, much like Armanto's spirit, that focuses on the simple pleasures. The shoe shines with its focus on functionality and sustainability features that include organic cotton, natural rubber and biobased foam. The debut of the sneaker offers three different colorways in shades of "Marshmallow," "Black," and "Rosette."
To celebrate the launch, Vans presents "Somewhere Else Entirely," an immersive wonderland skate park designed by Armanto herself. Half skate jam, half art installation – the experience is available this weekend in Los Angeles, Calif., with the RSVP open now.
We caught up with Lizzie Armanto on opening night of the launch to talk to her about the design process of "The Lizzie," the inspiration behind "Somewhere Else Entirely," and what she's working on next.
Nice Kicks: What was it like growing up in Santa Monica? How did it influence your skating?
Lizzie: "Growing up skating in Santa Monica is really special because there's so much skateboard history there. The park that I started skating is mostly transition. So that's why I gravitated towards that. It was one of the few parks on the west side, so people from all over would drive there to skate. Then shortly after, like a couple of summers later, they got lights so people could skate there even more. It was a really popular park. A lot of the people that went there were locals, but also people that had been skating for a long time, like legends. I grew up skating there thinking that was normal. It was definitely not, but I was influenced by that and also inspired. When I first started, it was just my brother and I. He's the one that wanted to try skateboarding and then I just ended up tagging along to the park. We're really competitive, so it was just us trying to one-up each other. I knew that skating was really fun, and I pretty much had to babysit my brother growing up. He's younger than me and being at the skatepark, you don't feel like you're babysitting. We could skate together or just do our own thing. So that was really nice."
How does your brother feel now that you're Pro?
"He's so proud. I hear it when he talks to me. We're not super emphatic, but I can hear in the way he talks about me. And I know from what other people say when he talks about me, which is really sweet."
Besides LA, what are some of your favorite cities to skate?
"In California, I really like skating my ramp in my backyard. I like skating Potrero in SF. I really like the City Heights bowl. In the world, I like Copenhagen. That's a really fun city to skate because you can bike everywhere. Culturally, I really like Japan. I wish there was more skate stuff there. I mean there's a ton that I haven't seen, but I wish the skate scene was more available."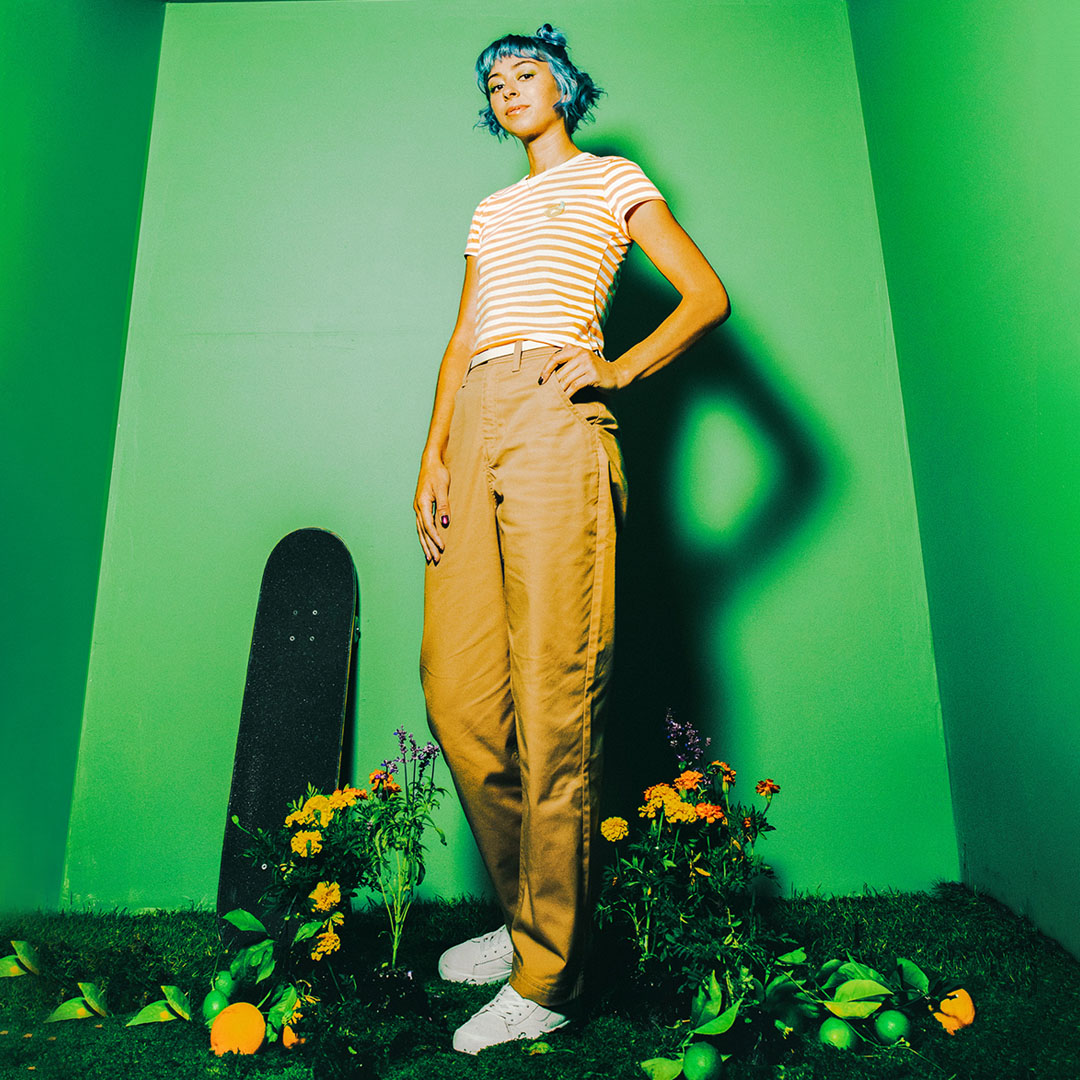 What was your favorite moment from the 2021 Tokyo Olympics?
"That's a tough question. Probably afterwards because of all the pressure and the lead up to it. I could process everything that had just happened. It was crazy."
What was your main feeling afterwards?
"Relief, because it was finally over. At first you're like, 'Okay, I'm going to do this big thing,' and it's like, not a thing yet. Then everyone wants to have a say in what you're doing or whatever. And then because of the pandemic, we were on the rocks of doing it or not. But it was like if it doesn't happen now, it's not going to happen. Then all that hustle and bustle to go to all these events that were really challenging in different ways that you would not expect."
Do you hope to compete at the Olympics again?
"I haven't made a decision on it right now. I'm just focusing on the present and just soaking up this moment of my shoe release."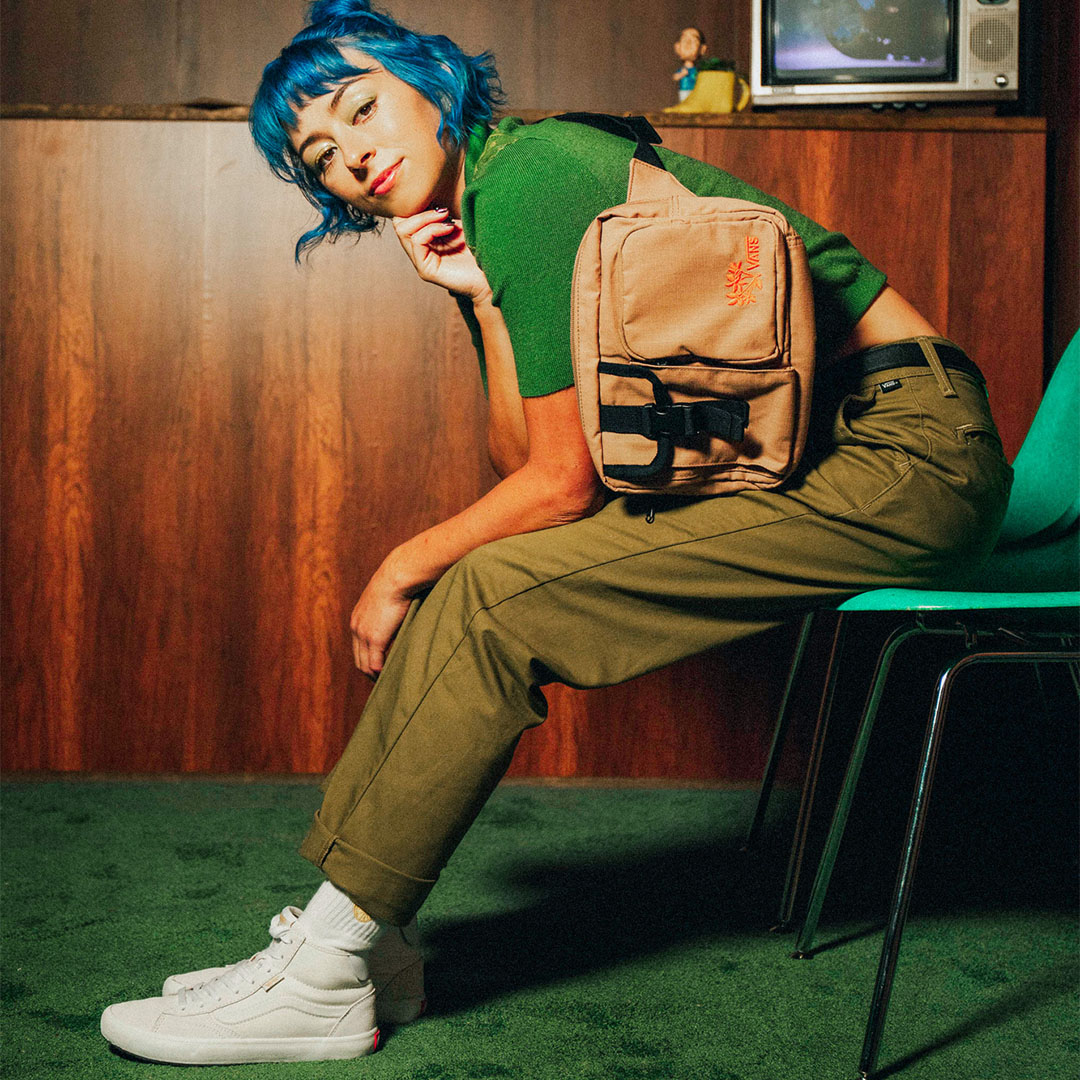 What was your reaction when Vans approached you to create your own signature shoe? Were you overwhelmed with the possibilities, or did you already have an idea in mind?
"When Vans told me that they were giving me a shoe, it was in the middle of the pandemic. So it was kind of bleak. The world was kind of down. There was a lot of heavy things going on, but it was really cool to hear I was getting a shoe. It was over a Zoom chat. It was kind of hilarious because all the people that work at Vans were like, 'You're getting a shoe!' And I was just at my house like, 'Oh my god, this is great.' It was nothing crazy, but it was really exciting because I knew I wanted to make a high-top. Obviously it had to be good to skate, for my standards, and to look simple, and also to be made with sustainable materials."
What do you look for in a skate shoe and how did you incorporate that into "The Lizzie?"
"Board feels really important to me and I really don't care for breaking-in new shoes. I just want to get to the good part where we're able to go skate. You don't want to think about your shoes or not feeling comfortable in them. You just want to think about skating itself."
What was the most challenging part of the shoe design process?
"Doing the whole thing through video chat. The design team only came over once to scan my foot. But I think also with the pandemic, you couldn't do anything else so, so much energy went into this shoe. I feel like Vans really stepped up with listening to what I wanted and doing something that they haven't done before, which for a big company is rare, because usually people just want to do what sells. It takes courage to step out of the box."
To celebrate the launch of "The Lizzie," Vans is hosting the "Something Else Entirely" pop-up in Los Angeles throughout the weekend. Were you able to get creative and design the experience?
"Yes, in the sense that it was basically like an extension of the campaign. I had a lot of say in what I wanted with that. Seeing it here in-person, I could not have imagined it to be this crazy."
What was the inspiration? What were you hoping to bring to life with the "Something Else Entirely" experience?
"The main thing is the shoe, but I also really enjoy plants and gardening. The shoe is made with sustainable materials, so it's a nod to that. I just wanted it to be fun and kind of weird, and not what you would expect. It's very like weirdo, artist, funky, creative. It's super exciting because my close friends and family are all going to be here tonight. This is a huge milestone for me personally, and also for skateboarding."
What else do you have planned for the near future?
"I'm working on a video part, which is really exciting because my last video part was in 2017. I'm working with Chris Gregson and he's such an awesome, fun person to be around. He films really sick."
Finish the sentence: In the wise words of Lizzie Armanto…
"Everyone has to start somewhere."
—
All photos provided by Vans