Want a forecast of what's going to be cool in two years? A good bet is to take a look at what Pusha T is wearing right now, because odds are it'll take that long for both his rap and fashion peers to catch up. For the last 14 years such a cycle has proved true, dating back to his throwback sporting Lord Willin' days all the way up to his luxury sportswear look as a solo star and now president of G.O.O.D. Music.
While at Pusha's Play Cloths booth at Agenda Las Vegas, we caught up with P for a conversation that retraced the most stylish steps of his still growing legacy. Hear what King Push had to say about his various peaks in the interview below.
"Grindin'" Music Video // 2002
Nice Kicks: What do you remember most about prepping for that video?
Pusha T: I just remember feverishly hustling to get fresh Iceberg and debating with my brother over who was going to wear the Virginia Squires jersey. I probably just got to it first, but we were just so hype about the video it couldn't have been that much of a debate.
Nice Kicks: You famously mentioned the 'Gucci Chuck Taylors with the dragon on the side.' I have to ask, did you actually have a pair?
Pusha T: Yeah! I actually had a pair. What's funny is my friend CurT@in$ just bought me the collection again for my birthday so I got them again.
"Like I Love You" Music Video & VMA Performance // 2002
Nice Kicks: Was wearing the 'I'm Your Pusha' shirt a conscious effort to juxtapose your biggest pop look at that time with something distinctly street?
Pusha T: That's what it was. It was insurance to make sure people understood and knew exactly who The Clipse were regardless of who we were next to and basically telling our core at the same time that we weren't losing no edge or nothing.
"Mr. Me Too" Music Video // 2006
Nice Kicks: Was that song as much about people biting your style in regard to content as it was your fashion aesthetic?
Pusha T: It was about all of that. I felt like as far as the style went, man, I was just watching everybody take clips of it. When it came to the coke rap, this is something people just really weren't doing. It was so obvious because people had been in their careers much longer than I was — success and everything — then when we came in, now you start dope dealing? So it was sort of weird.
Nice Kicks: The Hell Hath No Fury era was also when you guys started really doing the high designer stuff from the sunglasses to the cardigans to the big pony Polos.
Pusha T: The Louis Vuittion Millionaire sunglasses, all the lens and that. You know, high designer sh*t has always been part of the dope boy aesthetic. I'm thinking back to Slick Rick and all that. So for us to do it was just something natural. It's like a right of passage to show that your achieving and that you're making it. It was also that competitive spirit of coming back to the block like, "Yo, you ain't got this!"
Launch of Play Cloths // 2008
Nice Kicks: You always talk about how special Play Cloths is to you because it's your own. What do you recall about the start?
Pusha T: Launching Play Cloths was like a project to me. We had access to a fashion house out in Virginia and we had some passionate kids who would stay after work everyday. They were creating Azzure and sh*t like that. They'd get off at six and we'd keep them from like six til midnight. It'd be like me bringing clothes from my closet, it'd be me archiving the Lo Lifes, it'd be me archiving videos, and so on and so forth. At the end of the day, it turned into that Jack logo that I'm so very proud of.
"Runaway" Performance at MTV VMAs // 2011
Nice Kicks: Did you have to keep that under wraps for a long time before it happened?
Pusha T: [Laughs] I didn't tell nobody about that. I didn't tell not one soul about "Runaway," I didn't tell nobody about anything. I didn't tell my girlfriend I was performing.
Nice Kicks: What was the process of picking out the salmon suit and coming on during the whole Rosewood movement?
Pusha T: I had the editor of Italian Vogue, Rushka Bergman, style me for that. She's a super intense woman on the fashion tip, so I just put all my trust in her hands. It was just a certain aesthetic Kanye was going for and we just rocked out. Being tailored and being fresh, I don't think that's ever a phase. I told somebody the other day that I'm not gonna feel like a man 'til I've got 20 tailored suits! [Laughs] I don't think that ever goes out of style, I think that just is what it is.
"Trouble on My Mind" Music Video // 2011
Nice Kicks: Who was more comfortable in the other person's clothes: you or Tyler?
Pusha T: Tyler was more conmfortable in my sh*t. [Laughs] It was funny being in Tyler's sh*t sometimes, but we had a good time doing that. It was basically just trying to show how the two worlds can collide, how the two worlds do match, how we can make a great record together and how the different eras still connect. I respect Tyler so much, I just respect his hustle, his grind, he's a peer. Him looking up to me? I forget about things like that because he's so great at what he does and great at carving out his lane.
"Numbers on the Board" Music Video // 2013
Nice Kicks: This was your first major video as a solo star. What do you remember about it?
Pusha T: I love that record so much and the video was something that was done by Kanye personally. He like edited that video for a day or so himself.
Nice Kicks: Having Chief Keef and Kanye in the video is crazy too because you're the only guy that can sonically and aesthetically bridge those two.
Pusha T: It's easy when you're working with greatness.
Agenda Las Vegas Performance at Hypebeast Live // 2016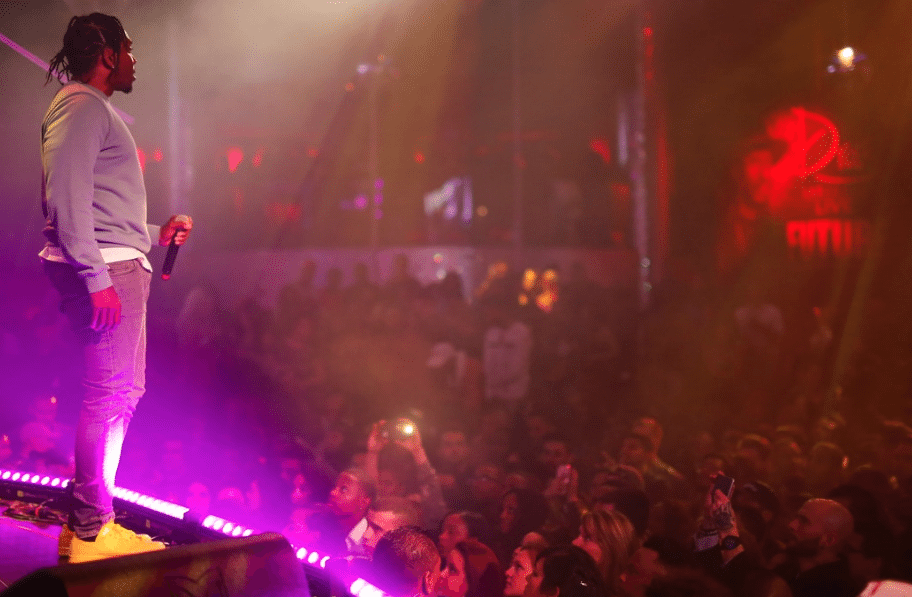 Nice Kicks: You always perform in front of stylish crowds, but this is another level as it's a fashion trade show and a Hypbeast-backed event. What are you going to wear?
Pusha T: I think I'm gonna wear some Raf Simons. I've got a fresh Raf sweatshirt, some Saint Laurent, and just you know, go out on stage, do my thing and get back to the party. It's about the party for me.
Nice Kicks: Stylistically is there any competition between you and Travi$ Scott who's also performing?
Pusha T: On stage? Cmon man! That's my little brother, he's doing his thing. I'm gonna tell you one thing that Travi$ Scott is gonna do that I won't do, I ain't jumping in no crowd touching nobody!
Special thanks to Agenda & Play Cloths. Click here to shop the latest from Play Cloths.
lead image assets via Gorilla vs. Bear & Frame My TV