Fresh out of Fresno, Aaron Judge wowed baseball fans on the game's biggest stage last year in his Yankees debut. The accolades were aplenty as he took home AL Rookie of the Year honors, finished second in AL MVP voting and earned his largest major endorsement deal: a partnership with adidas.
A three-sport athlete as an amateur, the newly crowned King of New York is a perfect fit for the Three Stripes in the world's largest market. Standing at 6'7, the huge but humble hero has a larger than life game that's a perfect fit for the Big Apple. Just the same, he has an athletic pedigree that spawns crossover interest in different categories important to the adidas Family.
Catching up with Judge just days after Opening Day and fresh off his new footwear deal, we discussed the cleats he'll be wearing in the Bronx, his journey from Fresno State to the Big Leauges and the photo shoot for his legendary Costacos poster.
Nice Kicks: Making a name for yourself at Fresno State, you've seen some great baseball including the 2008 Bulldog team winning the College World Series just before you arrived. What was it like playing there?
Aaron Judge: I just missed playing on that team — I was a couple years after that run — but I got the chance to play with a couple guys on that team. It was amazing how they banded together as a team that was picked not to be there. The only way they made it into the tournament was winning their region at the very end and they were the underdogs. They proved a lot of people wrong with the heart they had on the field and how they played the game.
Nice Kicks: In addition to playing baseball as a kid, you also played football and excelled at hoops. Was there ever talk about you playing basketball at Fresno State?
Aaron Judge: I played basketball in high school and being 6'7 I was mostly stuck in the paint playing center. But being 6'7 in college or the NBA, I've gotta be a guard or a forward! Because of that, I knew I wasn't going to play past high school but it would've been fun and I would've enjoyed the challenge. I think I picked the right sport though, a little less running then basketball. [Laughs]
Nice Kicks: You and Paul George on the court at the same time would've been a heck of a photo opp.
Speaking of that, the NCAA held a poll asking which school had the best professional trio of baseball, basketball and football alum and you, PG and Derek Carr won representing Fresno State. What was it like going to school with them and now seeing you all have such professional success?
Aaron Judge: Having all three of us coming from Fresno State and having a chance to go to school with those guys and to see what they've done now in their respective sports is incredible. Seeing what Derek Carr has done in Oakland and what PG did in Indiana and now OKC is incredible to watch. The fact that I know those guys, know how hard they work and how humble they make it even greater. I think Paul checked out a game when he was in New York which is pretty cool.
Nice Kicks: I wanted to ask about the poster. Who were some of the athletes you looked up to growing up that could've been on your wall as a kid?
Aaron Judge: Growing up in central California, I was a big San Francisco Giants fan so I loved Barry Bonds, but I was also a fan of Ken Griffey Jr. and Albert Pujols. I was a big fan of Griffey and how he changed the game — the personality he had on the field, the flair and his swing was just so fun to watch. I just idolized these guys on how much fun they had playing the game and how easy they made the game look.
Nice Kicks: What was the shoot like for your Costacos poster?
Aaron Judge: It was a lot of fun. We did a lot of different poses and he had a lot of creative ideas. That was probably the coolest thing, just how many ideas he had. He had me do a lot of poses but he was very particular about how he wanted it to look. It was really fun. The whole adidas team was there and they made the whole thing enjoyable. I was happy to see how it turned out.
Nice Kicks: Keeping with the nostalgia, were you a video game fan growing up? If so, which game stands out as your favorite?
Aaron Judge: I loved All-Star Baseball from 2003 with Derek Jeter on the cover. That was one of my favorite games. All my buddies would come over and we'd play that and it was just one of my favorite games to play.
Nice Kicks: That's wild with the Yankees connection. Looking back to when you were called up to play in the Big Leagues, what memories or feelings arise?
Aaron Judge: It was a whirlwind of emotions. My family was with me when I was told I was getting called up to the Major Leagues. My manager had called me telling me I was going to play right field in New York and I thought he meant for the minor league team, not the Yankees. I was in Triple-A playing in Rochester, NY and instead of flying we decided to drive through the night after the game that night. We got to the city at about 6 AM and I slept maybe two hours and it was absolutely amazing.
Me and Tyler Austin both got called up the same day, we took the field together for the first time and just took it all in. It was a surreal experience. Especially with Tyler hitting in front of me and hitting a home run his first at-bat? I was sitting on deck just thinking about everything he'd been through in the Minor League. It was just an amazing experience to be a part of.
Nice Kicks: Much is made of the adidas Family and how it extends past the barriers of leagues and even the arts. Who stands out as some of your favorite adidas ambassadors and why?
Aaron Judge: I think about basketball and James Harden and Damian Lillard are the two that come to mind. Thinking about Harden in Houston, his MVP run and the flair he plays the game with is so fun and exciting. I hope to meet him down the road to pick his brain about how he plays the game, what he thinks about — that's a once in a lifetime athlete right there.
Nice Kicks: As a member of the adidas Family you've been playing in the Boost Icon. What's that been like so far and what are your expectations for the rest of the season?
Aaron Judge: I'm enjoying them! They're comfortable, but probably the coolest part is the customization options. The team at adidas has come to me and asked me if I wanna add anything to them or customize them in any way specific to me. To have the freedom to be creative like that is probably the coolest part for me. I've never had the ability to before and it's been a awesome partnership so far.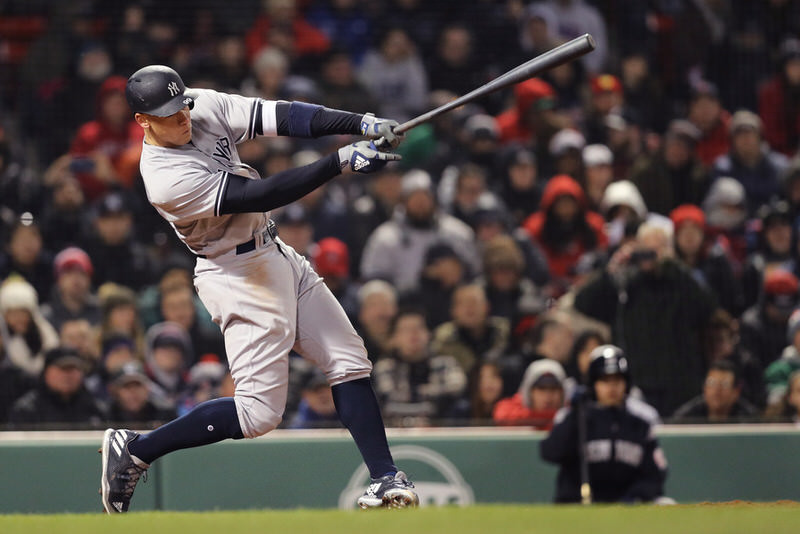 Special thanks to adidas Baseball. Select game shots via Zimbio.