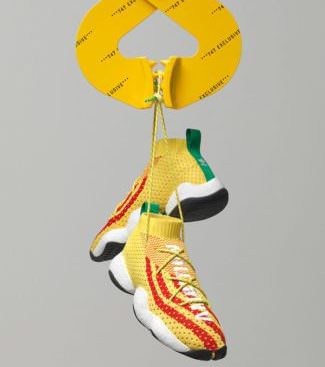 Pharrell Williams introduces the Adidas Crazy BYW PW as the 'beta phase' of his basketball journey.
Pharrell steps into the basketball world on the biggest weekend for the sport as it takes place in LA.
Pharrell continues his exploration of changing lives through sport, lending his design aesthetic to the adidas Originals basketball silhouette including the text 'AMBITION' embroidered on the vamp of each shoe in bold white letters.
The Crazy BYW PW not only brings in late '90s adidas basketball DNA to the shoe through the Feet You Wear inspired Boost You Wear outsole, but also design language from the Adidas Real Deal on the updated knitted upper.
The upper features a blend of soft breathable knit fabrics in a striking bright yellow and red inspired by the city of Los Angeles and its famous fruit stands – both the packaging and the fruit itself.
The Adidas Crazy BYW PW is a limited edition style exclusively available to a small group of people chosen by the artist himself and will not be available for purchase.
"The best things in life take time and are rarely perfect first time around. There is something beautiful about that process, from the intangible to the tangible. Today I begin my basketball journey with adidas. The first step. The beta phase."
Attendees who visit the 747 warehouse – the two-day festival of creativity bringing the best of adidas to Los Angeles – will be eligible to win this limited edition silhouette.  More information about the 747 Warehouse space is available on adidas' microsite for the project.