Performance reviews are one of the reasons why I fell in love with sneakers. Reading up on Kicksology.net for reviews on performance basketball sneakers since middle school and keeping up with the latest technology is something I still care about, even as the sneaker industry has changed throughout the years.
I'm also a newbie to golf. Like a lot of people, I gravitated towards the game during COVID lockdown as it was one of the few things that I can participate in while social distancing. My natural curiosity for performance footwear has brought me to golf shoes, and what goes into and makes a good golf shoe from the ground up.
I was fortunate to review and test out the FootJoy Packard from their Premiere Series and talked to Chris Tobias, the VP of Global Footwear at FootJoy on the process of how they make the #1 shoe in golf.
The first thing that jumped out at me was the quality of the upper. Leather on sneakers today is getting thinner and more plastic-like and the Packard uses a full-grain calfskin leather throughout the upper that's also waterproof. The traditional saddle golf shoe is something I've never had in my rotation as I typically lean towards sneakers with a golf soleplate on them, but the first time putting them on, it felt like a glove. Like in all sports, how a shoe fits is extremely important to performance. Heel slippage and a sloppy fit will not just hinder performance but leads to blisters which in turn will lead to thinking about your shoes and that's the last thing you want on your mind as you're playing 18.
Although I'm no Tiger Woods, I understand why he's been wearing FootJoy for the two majors he's appeared in so far this season. Tiger has stated he needs more stability in his shoe due to his limited mobility after the car accident and since the Packard strips away bulkiness by double lasting the upper to the midsole, it provides a more responsive and stable fit. I can't use the ground the way professional golfers can, but I do feel more responsive and more stable in my swing, especially in wet and muddy conditions.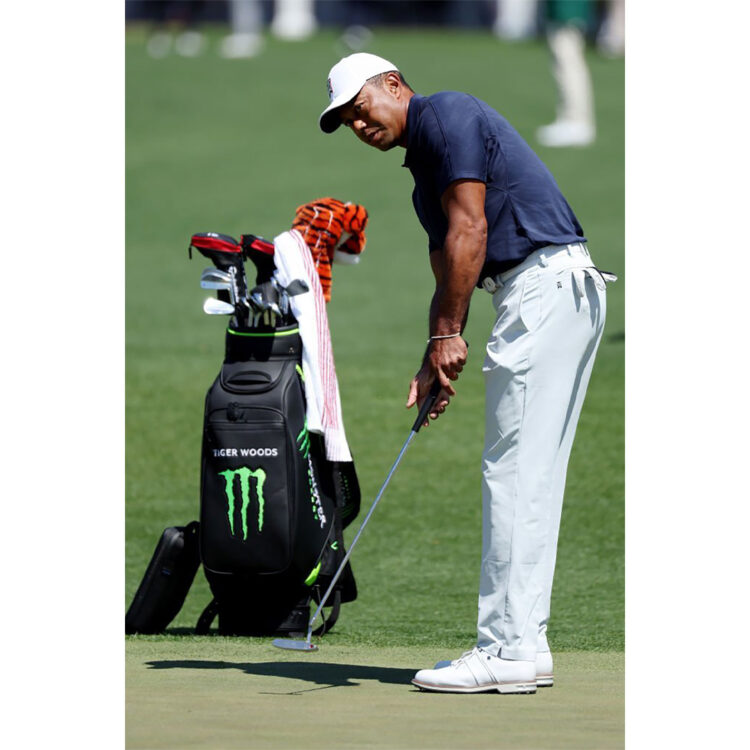 It all starts and ends with traction and FootJoy works with 3 universities in the US and Canada alongside their Advanced Concepts team to understand traction points and the shape of the spike itself. They track information and data that informs their design team to build out the most stable golf shoe on the market.
"Everything we do starts with the consumer in mind, start to end," Chris Tobias, the VP of Global Footwear at FootJoy said. "All of our technologies and everything we pursue
through our our innovation team, our advanced concepts team has to start off with golf
being the one performance common denominator."
FootJoy's VersaTrax+ outsole features rubber teeth to really hunker down your feet in the golf swing and uses multiple durometers of TPU on the circular spikes, with harder TPU used for the soft ground and softer TPU for traction on harder surfaces such as in the pine straw or cart path.
As far as cushioning, FootJoy uses an OrthoLite EcoPlush Fit-Bed foam for all-day comfort. Although the foam is very comfortable, like most foams I am worried about the cushioning bottoming out down the road and an insole is most likely needed to extend the life of the shoe.
Speaking with Chris, FootJoy has a rigorous wear-testing process that includes PGA and LPGA golfers to give feedback that trickles down into the Korn Ferry tour and amateur golfers in the Boston area where the FJ headquarters is located. FootJoy does one thing, and that's making the best golf shoe they can, from the ground up.
There's something timeless about a saddle golf shoe that has withstood the test of time. As technology keeps advancing with new materials used on uppers, there's nothing like a good leather upper that eventually molds and contours to your feet. It's why certain soccer boots from over 40 years ago are still in production today and why FootJoy continues to make the #1 shoe in golf. The FootJoy Packard is a shoe I'll always keep in my rotation and in the trunk of my car as it makes me feel more assertive and confident in my golf swing. The FootJoy Packard is available on FootJoy.com and at select golf retailers for $199.99.