If you were born before 1990 you're well aware of the history and importance of the Clarks Wallabee in hip-hop fashion.
If you're reading this and were born after, well, it's not too late.
Proving exactly that, the OVO x Clarks Originals Wallabee Collection sees Oliver, 40 and Aubrey reviving the second most important non-sneaker in rap culture in a big and beautiful way. [Editor's Note: The first is the Timberland 6″ Boot, and yup, they did a pair of those, too.]
Made famous by the Wu-Tang Clan during their mid-'90s rise from the depths of Shaolin and then remade shortly after in Wu Wear fashion, the Clarks Originals Wallabee was forever immortalized when it appeared in two-tone, custom dyed fashion on the cover of Ghostface Killah's solo debut, Ironman.
In true Wu fashion, Ghostface, Cappadonna and Raekwon were doing the most hip-hop shit ever by flipping modern luxury and making it their own. The result? Ghost and Co. were crowned living legends in regards to flavor, standing out in an era that was getting dominated by designer garb much like today.
I mean, can you imagine Rich the Kid, Lil Pump or Future making custom Gucci gear the focal point of their album art? For sure, that's not too far off base.
Know label led records like "RAF," "Gucci Gang" or "Thought it Was A Drought?" Well, that was the Ghostface and Raekwon on the intro to "Glaciers of Ice" back on Only Built 4 Cuban Linx.
Wu-Tang and Wallabees paved the way for the fashion frontier we live in today, having the guts to position the shoe as their staple on two certified classic albums.
As alluded to, the bet proved good money as Wallys were synonymous with the Wu like Rocky and Raf. Wu Wear would be a big deal upon its birth, making their own take on the Clarks classic when at that time only pop stars like Michael Jackson and MC Hammer had their own shoes.
Still, the original Clarks pair registered as the real deal then and have placed their stamp on hip-hop history that's still seen now.
Rocked in high regard by everyone from Kanye West to the late, great A$AP Yams, the shoes strike a cord with those connected to the pulse of the genre. Showing his respect for Tony Stark, Macklemore even got OG Wallabee customizer Sycamore to paint a two-tone pair in homage to Ghostface and a nod to his hometown Mariners.
This Friday, we'll see Drake and the OVO family pay respects and get paid just the same with their own official collaboration.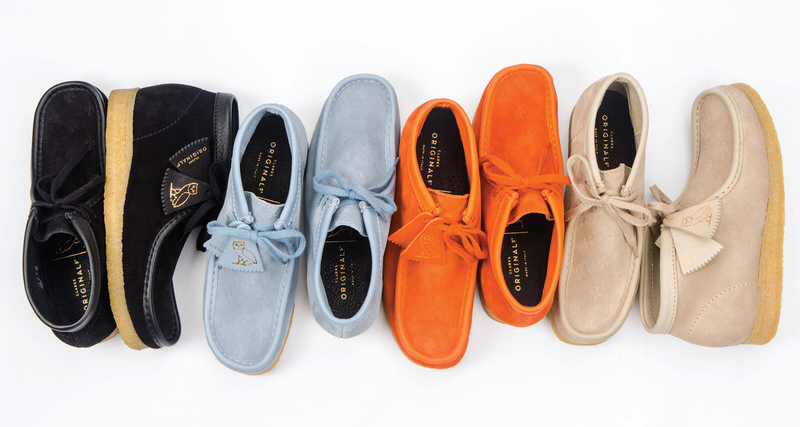 Made in Italy and running a steep $300 a pair, this premium product is slated to drop this Friday at all OVO stores, online at OVO's online store and at the Clarks Originals store in London.
Preview the pack below.