The University of Oregon is at the top of the charts when it comes to sneakers with a rich heritage in brand history, a long list of athletic accomplishments and numerous famed footwear alums in the both the business and media worlds.
So, could you be the next Duck to make it big in the sneaker industry?
Thanks to the school's Sports Product Management Online Master's Degree Program you sure could.
Teaming up with the University of Oregon, we were able to get our hands on a pair of shoes created from scratch within the program itself. Designed, refined and manufactured in only 18 months, students from all backgrounds ranging from a former D1 athlete to those working in the fields of engineering, accounting and marketing joined forces to create the Exhale 1.
The Exhale 1 was created to be the go-to sneaker you wear right after a workout, training session or any athletic activity while also sporting a lifestyle look that's actually wearable without looking like you just came from the gym.
Letting your feet breathe was the mantra in making this, evidenced by the perforated toe box.
From there, the team elected a mesh, yet stretchy upper for a snug and supportive fit, plastic heel counter for stability, all atop a sleek-looking sole, as the lifestyle angle is pushed via the inclusion of nubuck throughout the model.
Now that you've seen what the most recent batch of students cooked up, how could you play a part in designing your own shoe with the University of Oregon?
The 2-year program previwed above is primarily from your own home with about 95% of the work done online and remote, allowing those who already have full-time jobs a chance to participate from anywhere.
The other 5% of the program is pretty amazing, too. Students will fly to Portland, Oregon to meet with professors, attend workshops and network with people in the industry. Even better, students will fly to Asia for seven days to connect everything you've learned with the manufacturing sector.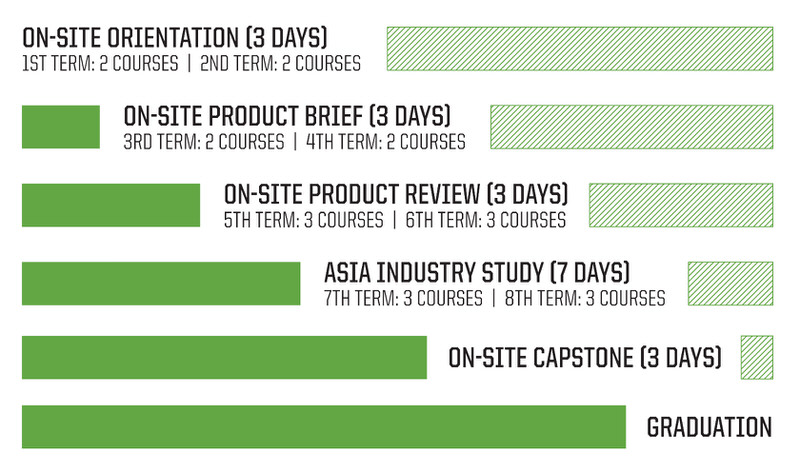 So, if you like sneakers, but already have a full-time job or even can't draw, there's still a place for you within this world and the creation of a sneaker through this special online master's degree program.
To sign up for the program, click here.