photos // @airjordank
words & interview // Ian Stonebrook
Nine years ago, Nike took basketball, Beijing and the internet by storm with the launch of the Hyperdunk. Worn in the Gold Medal game by Team USA as well as by their rivals on the way, the introduction to both Flywire and Lunar technology on a global scale shook up the hardwood with its design and play. Just the same, it broke the internet with a string of car jumping and snake scaling clips starring Kobe Bryant who would later drive a DeLorean to the model's "McFly" makeup launch at UNDFTD. The OG Hyperdunk was truly something of the future.
In the last few weeks, the 2017 installment made the rounds in slightly more traditional fashion — leaking on the internet ahead of launch and getting a surprise debut in the NBA Finals by Draymond Green. Shifting shapes each season but still focused on play that is both pinnacle and accessible, the Nike REACT Hyperdunk 2017 Flyknit ditches the sharp lines and blunt branding of its predecessors for a more minimal look kept in motion with wavy styling and new tech. At the shoe's official launch event, we spoke with Nike Basketball Senior Innovation Designer Ross Klein about the new Nike REACT Hyperdunk 2017 Flyknit and what it has in store this season.
Nice Kicks: Last year the Hyperdunk 2016 Elite was unveiled as the signature shoe of Nike Basketball, what space does the REACT Hyperdunk hold in 2017?
Ross Klein: It's the same space. The Hyperdunk to us is our most premium and elite product. It is our pinnacle statement for Nike Basketball.
Nice Kicks: What made Draymond Green the ideal player to debut the new Hyperdunk?
Ross Klein: Draymond is a very unique athlete. When we talk about the highest level performers out there and the way Draymond goes offensively and defensively, there's not another athlete that quite does what he does. He plays amazingly hard. So in terms of the inspiration and feedback that we're able to get from an athlete like that, it really allows us to unlock potential in a shoe and keep growing Hyperdunk into a new space.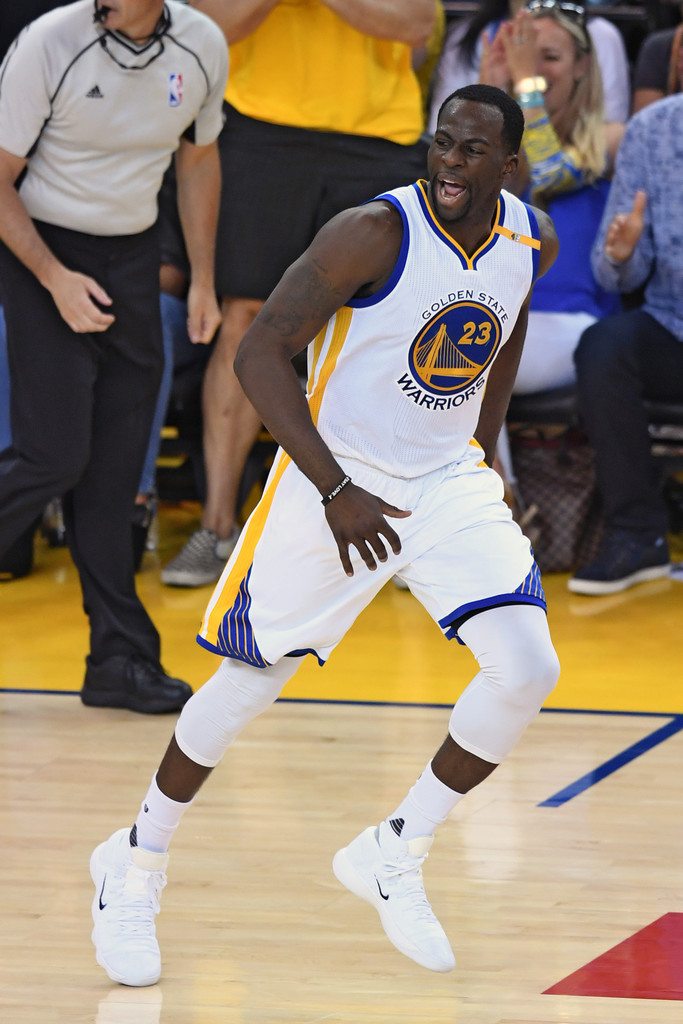 Nice Kicks: The original Hyperdunk was unveiled with Flywire support and Lunar cushioning. What makes Flyknit construction and REACT cushioning ideal for the franchise nine years later?
Ross Klein: REACT is a cushioning that's helping us substantiate everybody from the kids that play in the park for fun all the way to the highest level which is Draymond. It services a crazy range of athletes. What we want to do is make sure the cushioning system caters to all those types of athletes.
For the Flyknit, we went through an amazing amount of testing with different materials to get to this solution. You can see how free it is and how mobile it is, but it's as durable as any material we've ever used in the past that really meets our standards.
Nice Kicks: How does the Flyknit technology differ on this model from that of other Nike Basketball shoes?
Ross Klein: When we get to the midfoot and talk about when somebody really wants to wrench on a shoe and get that one-to-one fit, we're able to tune different types of yarns in different ratios. From the nylon yarn to the one in between it, one's about stability and control, the other one is about the adaptiveness and conformity. When we micro-tune and really think about the performance level of Flyknit, we're able to get into materials like the heel and maintain the sense of freedom and the feel of it being with you and not against you.
Nice Kicks: The Hyperdunk franchise was led by Kobe Bryant in '08 and even backed by LeBron in 2012. In recent years, we've seen more 4s and 5s lacing the series. Was there an ideal player in mind when designing the 2017?
Ross Klein: I think that's what's key is that we're able to get insight from all types of athletes. But what this Hyperdunk stands for is this soft, plush shoe that also allows you to go as long and as hard as you want. That player style kind of exists within everyone. Everyone wants to go harder, everyone wants to go longer and everyone wants to feel fresher. We're looking at the Hyperdunk as this model that allows everyone to be able to stay on court at their maximum amount of effort longer.
Nice Kicks: It seems design direction in Nike Basketball lately has been more minimal. Does that come more from sport or market insight?
Ross Klein: I would say both. As a designer myself, I love simplicity. I love focus. I love a direct conversation which allows you to pay focus to the direct areas that are very performance oriented.
But performance goes hand in hand with style. The shoe plays amazing on court, it gives you everything that you put in, but it's also extremely wearable off-court. The silhouette is very clean but it also houses all this innovation in it. To me, that's the challenge of a designer. To make sure you get to those very small points and really detailed layers and the goals you're trying to attract.
Nice Kicks: Can we expect to see low adaptations later in the season?
Ross Klein: Absolutely. We have the Flyknit, a mid and a low.
Nice Kicks: Will REACT technology appear in signature franchises in the Nike Basketball camp?
Ross Klein: All I can say is wait and see what we're able to do and unlock with an innovation like this.
The Nike REACT Hyperdunk 2017 Flyknit releases on August 3rd at Nike.