Nike Basketball and Ja Morant are building for the future with the all-new Nike Ja 1.
As Ja Morant becomes Nike's first Gen-Z signature athlete, the brand and the Memphis Grizzlies guard are tapping into Ja's dynamic nature with next-level storytelling.
"The future is bright with Ja and the Ja 1," said Scott Munson, Global, Vice President of Men's Basketball. "This is probably one of the richest numbers of drops that we've done for a launch of a shoe. His story is deep & soulful, and we hope you guys feel that when you hear about the stories."
The Nike Ja 1 marks a new chapter for the brand with its already prolific roster of signature athletes. For Ja and his story, his signature shoe is just more proof of his dedication to the game from prior to Murray State to his embracement of Memphis.
"First seeing them, I got a little emotional. It's a day I've been waiting for for a long time," Ja Morant said. "Even in our meetings, I sat with the shoes on."
Filled with details, the Nike Ja 1 points to different aspects of Ja's story from details to colorways and more. But if there's one that hits him for Morant, it's the inclusion of his daughter's name — Kaari.
"She's my motivation and the reason I get up and do what I do each and every day," Morant said. "To have her on my shoe is big time for me. Everybody sees our relationship; that's my baby girl — that's definitely my favorite part."
In addition to the details, the design of the Nike Ja 1 is about excelling the best in not only Ja's game but that of every athlete who puts on the shoe. From its supportive landing to its dynamic lockdown and its responsive cushioning, the Nike Ja 1 will take the game to new heights.
"As a Nike Basketball family, we're super excited to have Ja join our portfolio, our family," said Ben Nethongkome, Senior Designer, Footwear Performance Basketball. "We've been around a lot of signature athletes, but this one is so special. What's to come with Ja is super exciting."
Take a detailed look at the upcoming Nike Ja 1 colorways below.
---
The "Scratch" color turns the clock back to Vancouver Grizzlies' days with its turquoise base with black and red accents. The claw scratch graphic on the upper nods to Ja's daily mentality of attacking every time he steps on the court and his aggressive style of play.
Inspired by Ja approaching each day like it's day one of basketball while also celebrating those that have been there since day one. Details include a handwritten note from Ja to those that have supported him since day one.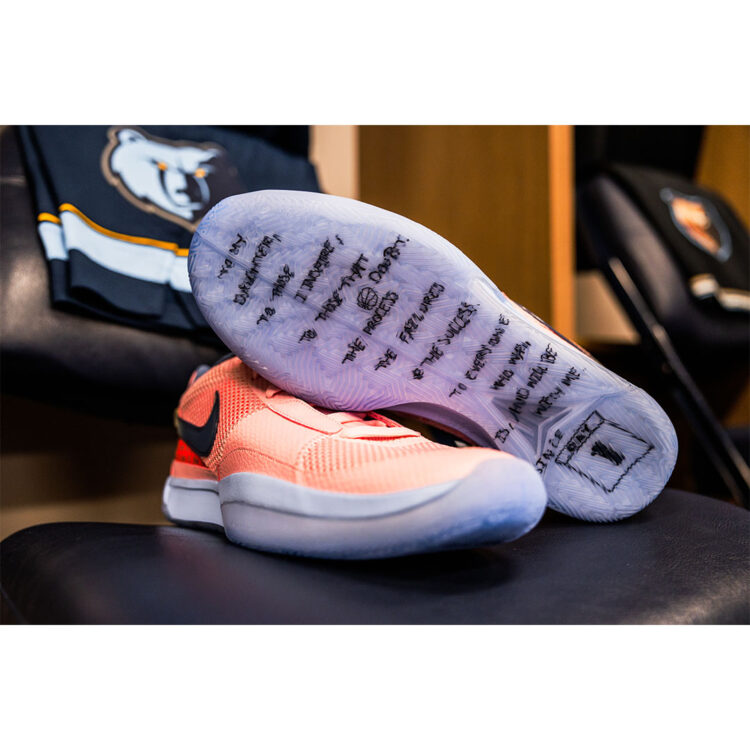 Additionally, this colorway features Ja's very own shade of blue. In collaboration with Ja, the designers created a signature color just for him — a light blue that speaks to the hardworking, blue-collar mentality that fuels Ja in everything he does.
Unveiled on Christmas Day, Nike Ja 1 "Chimney" is inspired by Ja's quote, "We climb up the chimney, we ain't ducking no smoke." On the heel, Ja's quote appears in his handwriting above a chimney graphic. The forefoot mudguard and rand are adorned with smoke-inspired print.
Nike Ja 1 "Trivia" PE
The Nike Ja 1 "Trivia PE" honors a favorite Morant family pastime, game night. The design features Ja-related trivia questions, which will put his fans to the test to see how much they know about him.
The Nike Ja 1 colorways will be available in spring for $110 at Nike.com and select retailers. Keep it locked on Nice Kicks on Instagram and the sneaker release dates page to stay on top of the latest releases.