On the surface, multi-directional threats like Saquon Barkley and Russell Wilson don't have much in common besides occupation. While sports writers and pundits will cite differences in salaries, stats, accolades, and of course, positions, Nike Football and their Ivy League innovation team see things differently as you might expect.
They see similarities.
Focusing on footwork, impact and attributes of the height and weight realm, the brand in Beaverton has developed the Nike Alpha Menace Elite 2: a fully Flyknit football cleat catered to carrying All-Pro talent playing positions ranging from running back to quarterback to middle linebacker.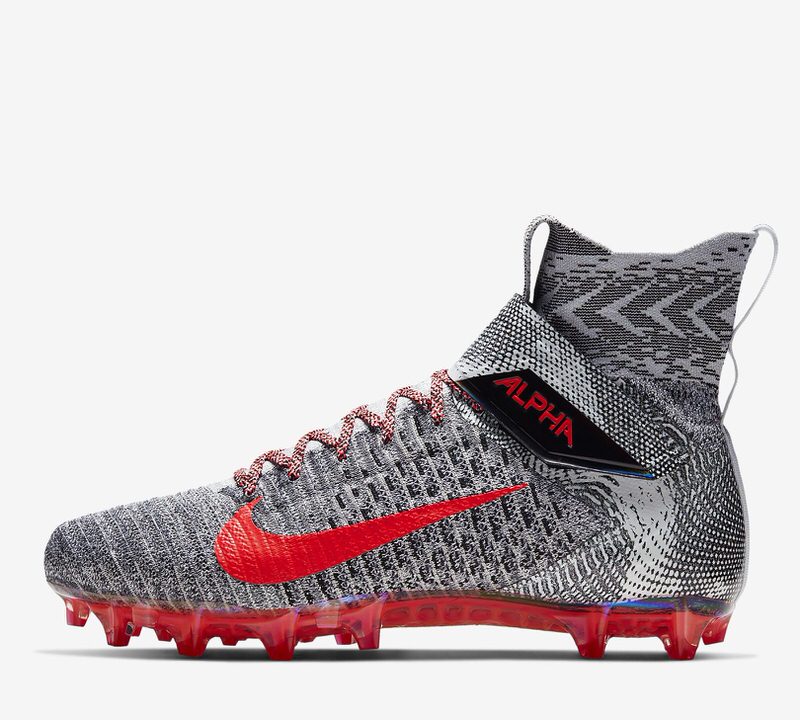 Speaking with Tyler Luckey, Product Line Manager for Nike cleated footwear who recently schooled us on the LeBron James-inspired Nike Force Savage Elite 2 cleat for Khalil Mack, we got the details behind the brand's latest tech-heavy hit that's made for movement while staying strong.
Check out the journey behind Nike's new fully Flyknit football cleats below.
The Alpha Menace 2 Elite is Made for Multiple Positions But Based in Shared Needs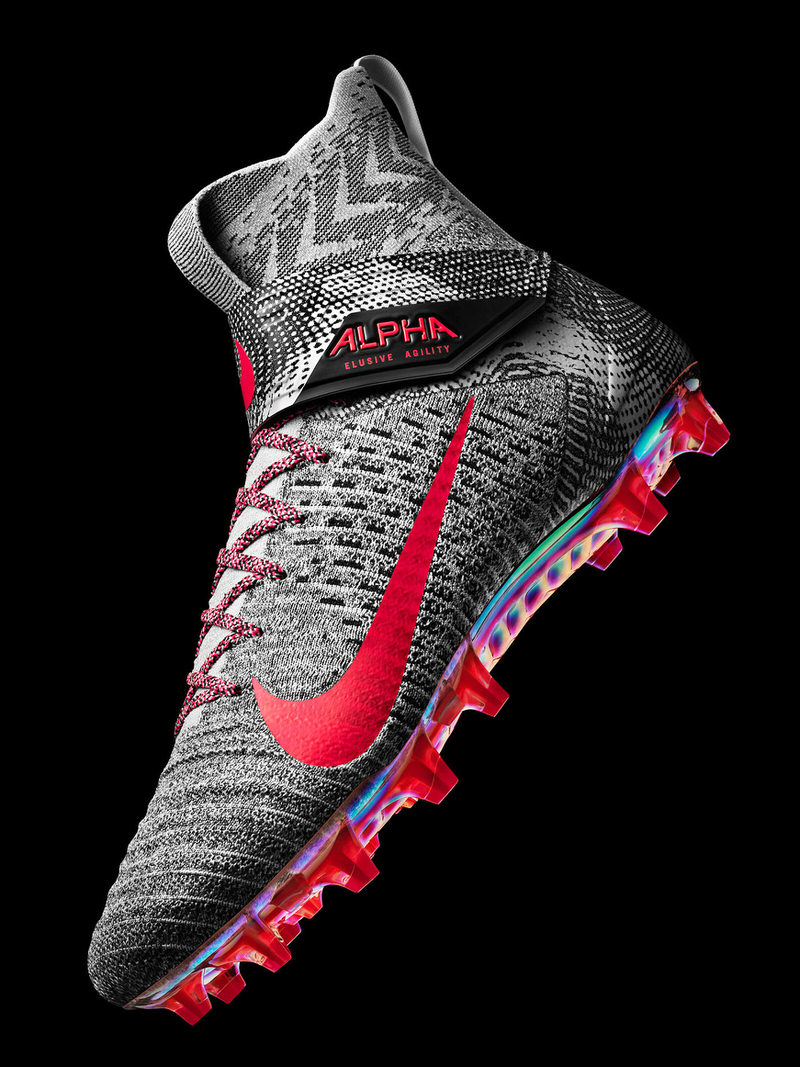 Tyler Luckey: The Alpha line is for the guys that are arguably just as fast as the skill positions but are bigger and more powerful. We're talking linebackers, tight ends, running backs and certain quarterbacks like Russell Wilson and Deshaun Watson. The Alpha is specific to them. It's for guys that are jumping and changing direction at any moment.
All the positions are fundamentally very different in the Alpha category, but as we map out movements on the field you can see that many of these positions track the same from a body mechanic standpoint. Then when you look at their physical attributes like height and weight, they lineup very similarly, too. So operationally they are different but physically they're very similar. This cleat is for the unpredictable, reactive mover. It's a challenge but we've boiled it down to the similarities.
The Alpha Menace Elite 2 is Fully Flyknit
Tyler Luckey: The Alpha Elite is fully Flyknit. It's a re-engineered version of the prior year's model as it's center-seamed. You can see how the Flyknit goes under the plate and is stitched together under the plate. It's a first and it gives you a better, 360 degree fit for the best lockdown.
Flyknit is constantly evolving at Nike because we're constantly learning. This pair has new yarns from Nike's Innovation Team that give you stretch, support and protection where you need it. We have TPU yarns on the forefoot for impact protection. On the quarter-panel, we have TPU yarn and high-tenacity yarn like the Vapor Elite that's super lightweight and super strong for light lockdown. Then on the cuff, it's super stretchy yarn so you can get it on easy but still have that support.
Performance Innovation Comes From the Ground Up
Tyler Luckey: Our designers, developers and sports research analysts all dig into the force players put into the ground. From there, we go into the pure performance elements of the cleat from comfort to traction to lockdown. We don't want them to think about their cleats at all when playing.
The Strap Isn't Cosmetic, It's Science
Tyler Luckey: The strap is the final piece that went into the Alpha Menace. There's a lot of science that went into where it was placed so that the foot is locked into the bed. We've engineered it so that when you take a step in any direction you don't lose any energy at all. Every step you take you get maximum power return when you transfer weight throughout a play.
Nike Football is Working Five Years Into the Future
Tyler Luckey: We take athlete information and pair that with Nike innovation. We're constantly trying to come up with plate and upper technology that fits their needs and insights. As we go forward we're constantly testing with athletes.
Essentially, we marry up the athlete insights with product innovation from Nike and make prototypes. We get feedback, finesse, tweak and fine-tune the prototypes so we have the best product possible. We're always trying to get better and better and we do that through the two-year process of having athletes test and give insights.
When we design and develop a cleat it takes two years, but we also have an innovation team at Nike Football with guys from MIT that think five years in advance on product that won't come out for a while. By the time the product does come out, the athletes are familiar with it and know they have a performance edge over the competition.
The Nike Alpha Menace Elite 2 is available now on nike.com.