Nike's legal team was busy last week with two lawsuits filed against footwear customizers. The Beaverton-based brand filed a complaint in Federal Court on Monday against Customs By Ilene, Inc., or Drip Creationz stating that Drip Creationz has been selling sneakers that are a "knockoff Air Force 1-style shoe" which Drip Creationz calls the D1, and also the poor craftmanship on their custom Air Force 1s having "crooked proportions, messy stitching, cheap details, and [are] taller than the real Air Force 1 shoes." Also filed on Monday was another lawsuit by Nike against another customizer who was once an employee of Nike.
Nike named Jeffrey Waskowiak and KickRich LLC in a similar but unrelated suit, accusing them of trademark infringement in connection with their alleged practice of "reselling Nike and Converse products that have been materially altered in ways that the brands have never approved or authorized." Nike alleged that KickRich's custom Nike and Converses are robbing Nike and Converse of the ability to "carefully manage which brands to collaborate with and thoughtfully select where, when, and how often their marks are used to guide the public perception for their iconic brands."
According to Jeffrey Waskowiak's LinkedIn profile, he has been operating KickRich since December of 2019 where he handmakes custom "made to order" footwear in Portland, OR. Waskowiak attended the Pensole Academy in 2012 before his employment at Nike that lasted just short of five years.
According to the complaint that they filed in a federal court in Oregon on Monday, Nike and Converse claim that Waskowiak and his company KickRich LLC are liable for damages for making custom shoes that "combine purportedly genuine Nike shoe soles with uppers fabricated entirely by the defendants," and that include "reproductions of Nike's famous Swoosh design and other protected trade dress," and then selling them for "hundreds or up to several thousand dollars each."
Nike and Converse allege that the defendants acquire genuine Nike and Converse footwear, such the Air Jordan 1 and Air Force 1, as well as Converse's Chuck Taylor All Star, and then, "without authorization, alter them in such a manner that constitute new, unauthorized products" over which Nike and Converse "have no control" even though their trademarks "remain intact" on the "custom" shoes. While these allegedly "customized" shoes "may use pieces of genuine Nike and Converse shoes," the plaintiff argues that the genuine parts are "so altered and combined with non-genuine parts or other brands' logos that they can no longer be meaningfully considered Nike or Converse shoes."
Nike argues that despite the initially authentic footwear is reworked into a materially different product than the original (which removes the defendant's ability to use the First Sale Doctrine as a defense), the defendant's custom footwear "falsely affiliates Nike with other brands." Nike points to shoes that the defendants promote as the "Custom Prime Nike Air Jordan 1," which it claims "falsely affiliates Nike with Amazon" by combining an authentic Air Jordan 1 shoe, adding a "custom leather-lined tongue made from Amazon Prime bubble mailer packaging" and new metal eyelets, and then "applying Amazon Prime branding in multiple locations on the upper right next to the signature Nike Swoosh design."
KickRich displays other custom and commissioned projects that utilize Nike shoes combined with companies that include UPS, Packer Freight, 15 Seconds of Fame, Google, USPS, and MyPlates.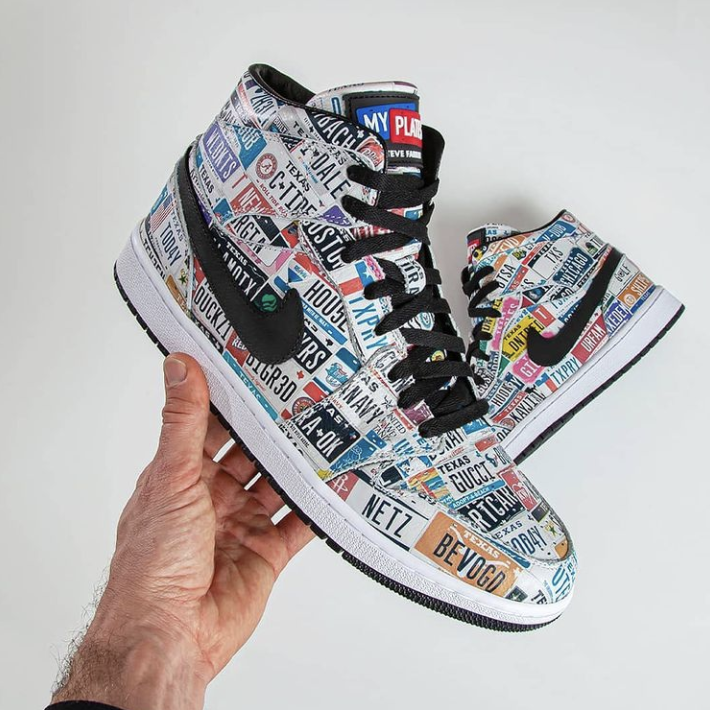 Nike and Converse claim that the "infringement and dilution does not end there." Nike is also taking issue with the fact that KickRich "make[s] and sell[s] laser cut and digital download 'shoe patterns' that allow others to make fakes for several of Nike's iconic and trade-dress protected footwear styles, including the Air Force 1, the Dunk, and the Air Jordan 1." Nike and Converse allege that the defendants "represent that these patterns include 'all necessary shapes for each upper piece, the lining, reinforcements, foams, and heel counter,'" or in other words, "the defendants' customers purchase these patterns to make their own fake Nike uppers bearing the famous Swoosh design and other protected trade dress."
We reached out to both Nike and Waskowiak for comment but did not receive a response at the time of publication.
The entire complaint filed by Nike has been posted by TheFashionLaw who also first broke the story of the lawsuit.