The Latino community is heavily embedded within sneakers. From designers to collaborators, Latinos from all over the world are integral to the success and growth of the culture.
Nike CEO John Donahoe spoke about the Latino community's impact at L'Attitude, a business-centered conference that also focuses on culture, in San Diego, California, on September 23, 2022, during a fireside chat with one of its founders, Sol Trujillo.
"The Latino community is deeply ingrained in sneaker culture," John Donahoe said. "They've been a core part of Nike from the beginning."
Donahoe went on to say how impactful Latinos are for the Swoosh, especially within sneaker culture as its popularity continues to rise on a global scale.
"We listen to sneaker culture, we listen to those who authenticate sneaker culture, create culture, the tastemakers," he said. "This is not a community that's just a customer segment for us, this is not a community that we just do a marketing campaign for."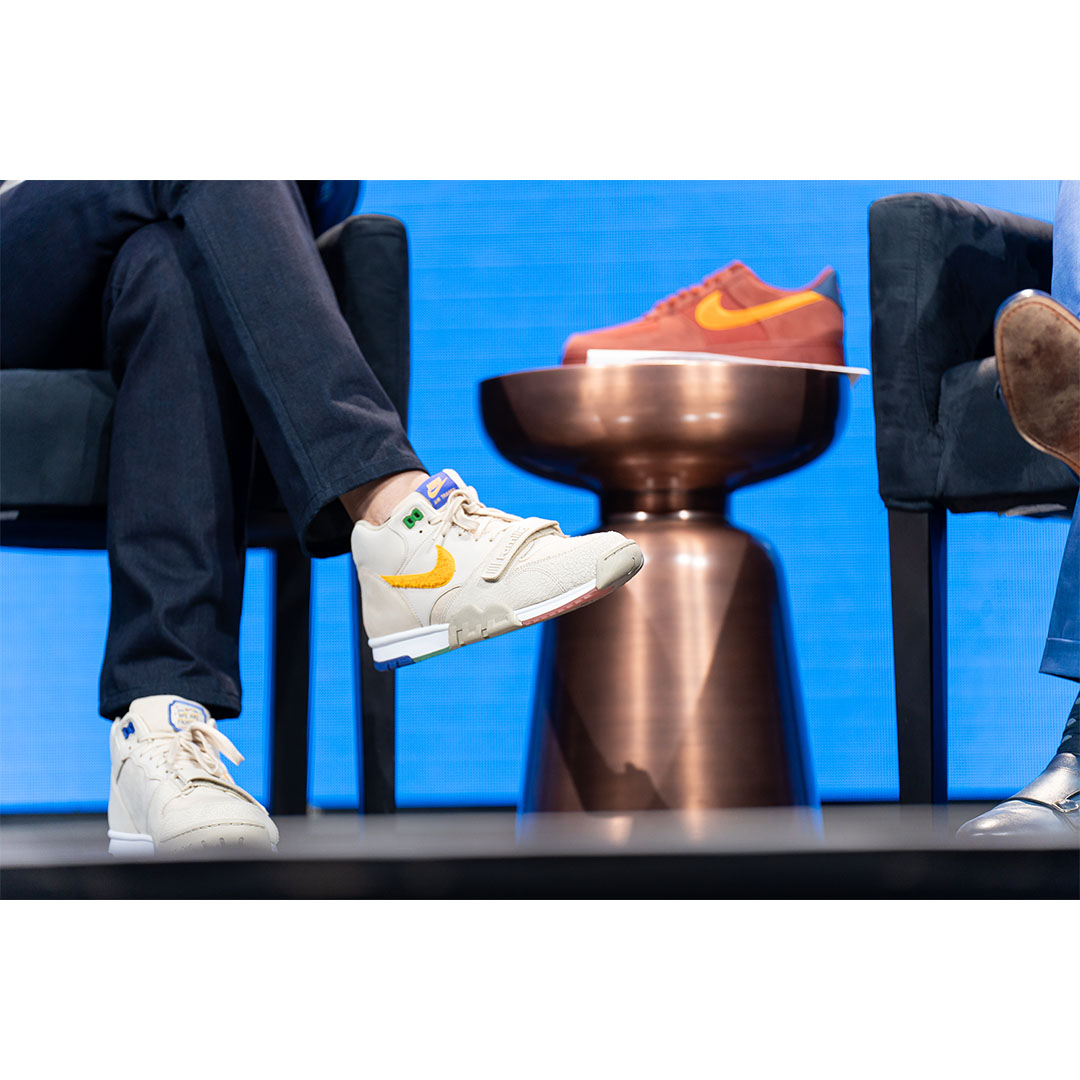 Additionally, Donahoe previewed Nike's upcoming "We Are Familia" collection — the latest installment of the brand's annual capsule dedicated to the Latino community with design, details, and overall messaging.
This year's collection includes a Nike Air Trainer 1 and a Nike Air Force 1, both of which are celebrating their milestone years and have been a point of emphasis for the brand. The Trainer 1, released 35 years ago, and the Air Force 1, released 40 years ago, are designed with an array of colors, materials, and messaging symbolizing the diversity within the Latino community, but more so the Latino family.
"This year's theme is celebrating the diversity of personality within family," he said. "The shoes got a lot of dimensions that typically don't go together, but that's what a family is. It's celebrating unique parts of Latino culture."
Chenille swooshes, suede, leather, mesh and "We Are familia" branding accompany both models.
On top of previewing the collection slated for October, Donahoe discussed the importance of the recently released J Balvin x Air Jordan 2 collection.
"It's not only a shoe, apparel, a slide, and a basketball, it's dedicated to raising the visibility of mental health within Black and brown communities," he said.
As Hispanic Heritage Month is well underway, Nike will continue its efforts for the Latino community through innovation and sport. Not just this month or year, but for the years to come.
"This is a community that we have to be with 365 days a year, we have to have a 360-degree view of design, athletes, and consumers."