If the Air Jordan 1 "Banned" isn't the most famous sneaker ever it's for sure the most infamous.
The controversial kicks marketed by Michael Jordan as 'banned' by the NBA helped birth the signature sneaker in the basketball place as we know it with the absolutely genius commercial concept adding the sizzle to Mike's substance.
However, as many know, there's a wrinkle or rather embellishment in the whole "Banned" Air Jordan 1 story.
It wasn't the Black/Red Air Jordan 1 that was banned but rather the Black/Red Nike Air Ship that was.
As the commercial states, the Air Jordan 1 was created by Nike on September 15th. Created? Facts. Worn or released? Not so facts.
As the commercial expresses, the league banned the shoes on October 18th. Well sure, just not the Air Jordan 1s exactly. Seen above, MJ was rocking the Black/Red Nike Air Ship on October 18th in Madison Square Garden of all places. Pretty close to the league offices…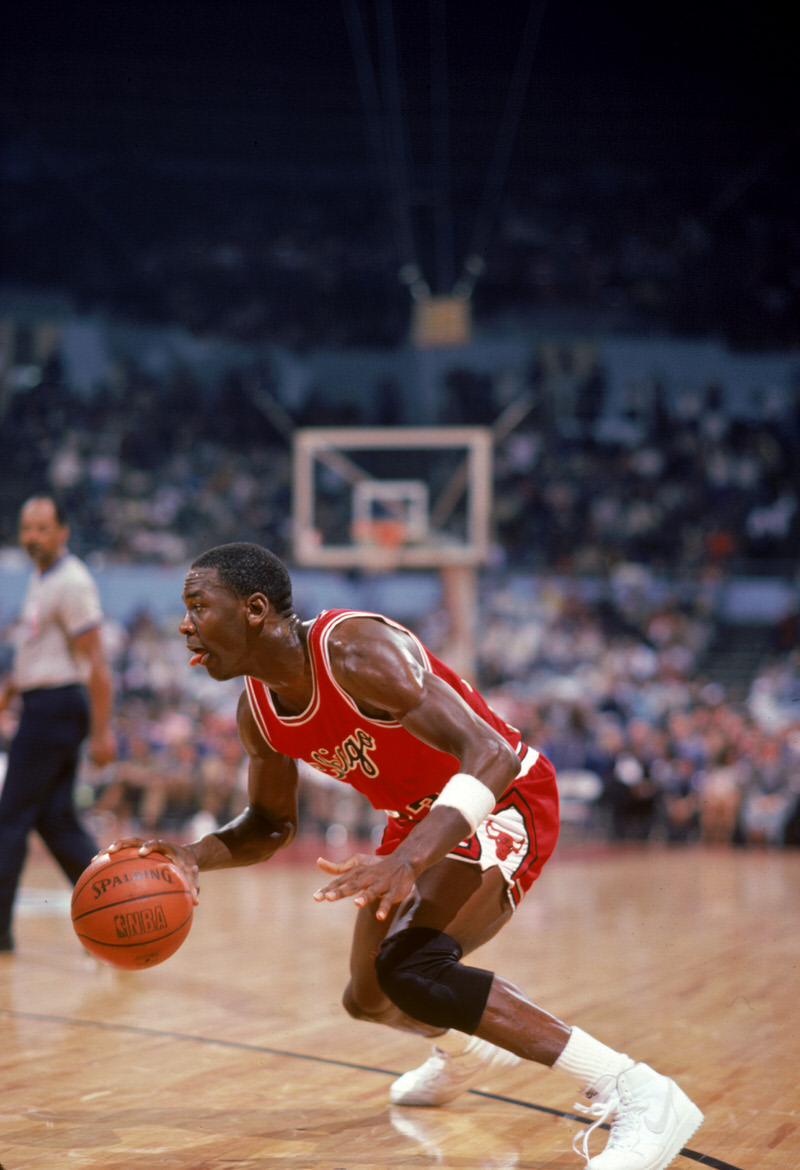 In many ways, Nike and Mike would abide by the league laws as the Air Ship would see on court endorsement from MJ in White/Red and White/Grey schemes that were in line with what the rest of the Bulls were wearing and thus in code with the league rules.
The Black/Red Ships would be harder to find on court on Mike.
Seen above is a PE pair of the Nike Air Ship in Black/Red with 'Air Jordan' branding on the heel. Come All-Star Weekend 1985, Michael Jordan and Nike would make the most of the big stage by lacing the rookie in Black/Red Air Jordan 1s with matching Nike apparel in the Slam Dunk Contest and "Chicago" Air Jordan 1s for the game.
As House of Heat reports, the original banned shoe – the Black/Red Nike Air Ship – will be returning this fall.
Celebrating the 35th anniversary of the shoe's banning, two things remain uncertain:
Will the shoe release on the exact date – October 18th – as the shoe was banned?
Is the "Banned" 1 OG re-release not actually happening but rather mistaken for these?
What was thought to be a leak of the Black/Red Nike Air Ship 2019 retro surfaced above. However, we've come to find that this is rather a custom though could serve as an idea of what the retro could look like as the shoe is so rarely seen even in photo.
Keep it locked to Nice Kicks for updates on the "Banned" Nike Air Ship release. For the time being, see all the "Banned" Air Jordan 1 releases and updates by clicking here.