words // Nick DePaula:
For the last two years, Ben Simmons was tabbed by many to be the next on a short list of incoming NBA rookies to land a monster shoe endorsement deal upon entering the league.
After a lone season at LSU that featured periods of indifference, a reluctance to actually shoot the ball and a shockingly terrible GPA that actually took him out of consideration for the annual Wooden Award, Simmons likely cost himself tens of millions on his shoe deal.
I outlined all of the factors going into Ben Simmons' shoe deal options over on The Vertical, in a lengthy and in-depth piece chronicling the highs and lows of the process. Here are some of the key highlights to be aware of as Simmons looks to land a major shoe deal this spring: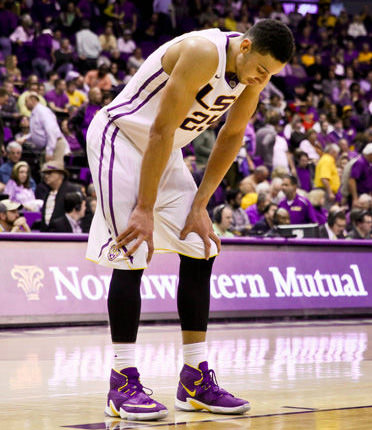 – There Won't Be A $100 Million Offer On The Table
Despite some initial (headline seeking) reports, there simply won't be an offer anywhere near the triple digits for Ben Simmons. Or half of that. Current industry sources have maintained that Simmons can look to expect a shoe deal offer closer to the range that fellow top picks like Andrew Wiggins (5 years / $11 Million with adidas) and John Wall (5 years / $25 Million with Reebok) have received. One longtime agent thinks Simmons will ultimately sign a deal in the neighborhood of 5 years and $15 Million. A multi-million dollar deal out the gates is still an incredibly strong offer, but it's a far cry from a $100 Million shoe deal, and likely won't include a signature shoe.
– Simmons Hired LeBron's Agent For Representation
After Ben attended LeBron's Nike Skills Camp in the summer of 2014, Simmons' half sister Emily Bush was miraculously hired for a marketing role with Klutch Sports, the sports agency founded in 2012 by none other than LeBron James and his agent Rich Paul. When Simmons officially turned pro a few weeks ago after his obvious one-and-done season at LSU, he hired Rich Paul as his agent for all on-and-off court marketing. Bush remains heavily involved in all of his business matters.
– 10 Of Rich Paul's 12 Clients Have A Nike Deal
Because of his close ties to both LeBron James and Nike Sports Marketing exec Lynn Merritt, practically all of Rich Paul's pro clients have a shoe deal with Nike. One of his newest clients, Washington Wizards point guard John Wall, can't sign a new sneaker endorsement deal until this summer, but is expected to sign with Nike Inc. The only Nike holdout from the Klutch roster is Ben McLemore, who's initial agent negotiated an adidas shoe deal for the former Kansas star before his rookie year.
– Simmons Is Looking To Sign A Shoe Deal Before The Draft
Rather than wait until the June 23rd NBA Draft, or even the May 17th Draft Lottery order selection event, Simmons would prefer to sign his shoe deal as soon as possible, so that his eventual team's market size won't impact his deal. If Philadelphia and Milwaukee land the top two picks, for example, and he doesn't end up on the Lakers, brands might try to offer him even less money.
– Two Brands At The Table: Nike & Adidas
With Under Armour not looking to enter negotiations and Simmons not looking for a deal with a China-based shoe brand, that leaves two brands to negotiate with: Nike and adidas. After letting their NBA apparel outfitter contract expire, the Three Stripes is now looking to heavily invest in signing players instead. There's an overwhelming sense within the brand that agent Rich Paul won't actually send Simmons to adidas. Conversely, the Swoosh feels the same way, and is holding back a major offer because of it. "If Nike doesn't think he'd actually go to adidas, they won't budge [on their offer]," warns one source.
– Could Simmons Be The First Official Team LeBron Player?
As LeBron's career begins to enter its latter stage, he's already looking to his post-playing career and the future of the LeBron brand. He's got a new lifetime deal with Nike already in place. Just before retiring for a second time in 1998, Michael Jordan hand-picked a stable of emerging shooting guards for his initial Brand Jordan roster that included Eddie Jones, Derek Anderson, Ray Allen and others. Several sources insist that James has the same vision for Ben Simmons to join the LeBron roster. All year long at LSU, Simmons had a varied batch of custom LeBron 13s to play in, and many could see him fitting in as the first official member of Team LeBron.
Stay tuned for more developments on Ben Simmon's shoe deal as the negotiations continue through this spring, as we'll be sure to keep you updated on all of his latest options throughout.