Running is at the heart and sole soul of nearly every major footwear brand.
Though some brands have strayed away and pivoted to lifestyle, New Balance continues to stay true to running as the Boston-based brand is relentless in innovating & redefining performance.
From FreshFoam to FuelCell and everything in between, New Balance's offerings meet consumers and their needs — day in and day out. Its latest, however, ups the tempo as the all-new New Balance FuelCell SuperComp Trainer is not only pushing the boundaries of performance running but pushing the pace while doing so.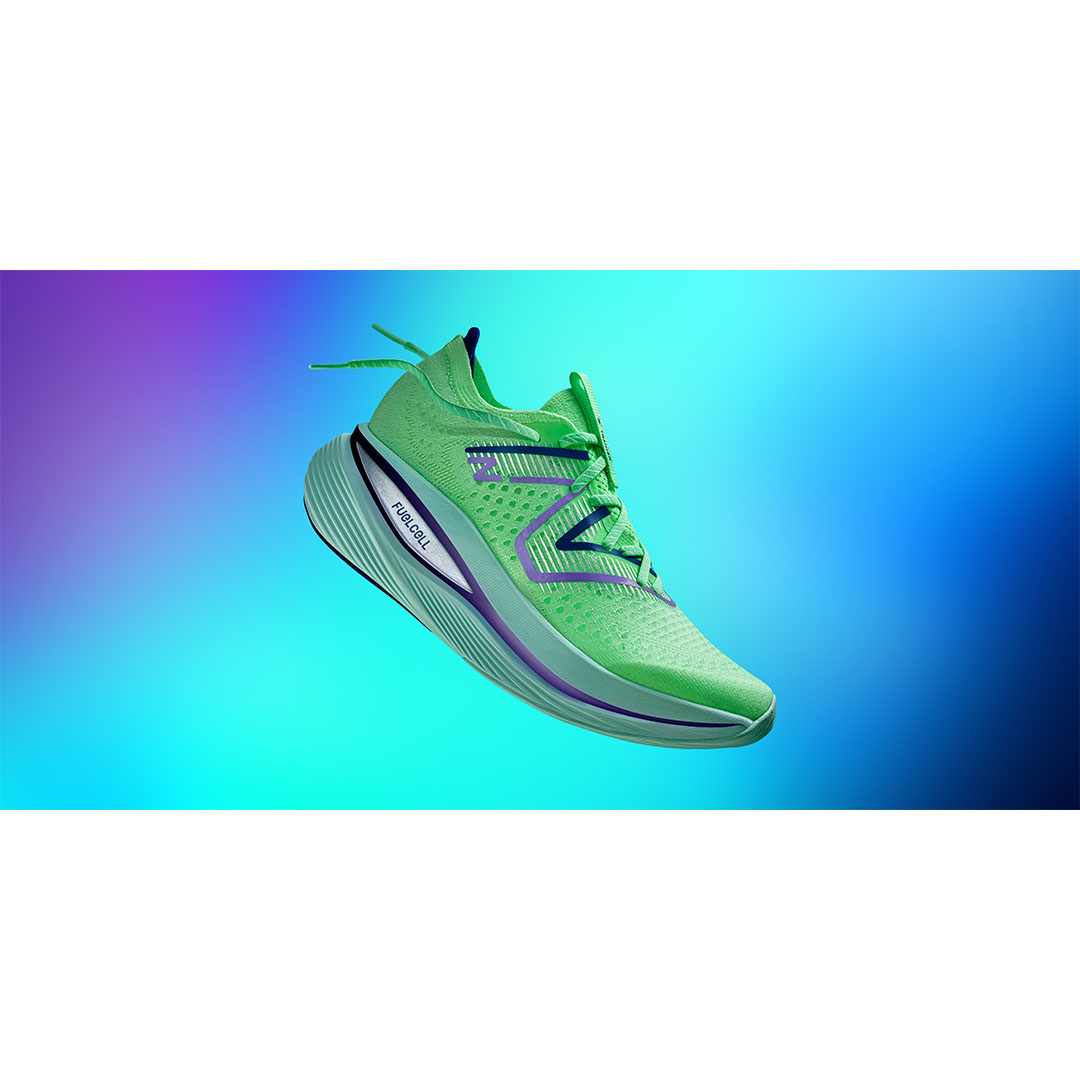 In 2019, FuelCell technology made its debut with the FuelCell 5280 trainer. And in three short years, the FuelCell line has evolved into its own line that delivers high-performance benefits as the running industry continues to grow.
"This is a super competitive area," said Danny Orr, General Manager at New Balance and one of the key figures within the brand's running department. "A lot of brands are accused of following the market leader. That called us to make a unique New Balance proposition to maximize energy storage & return."
The result? The New Balance FuelCell SuperComp Trainer.
"We did a lot of work looking at heights, plate shapes, and midsole void shapes to get us to ultimately have a system of providing additional energy storage & return that's due to the shape of the plate, the void that sits in the midsole, the compound traces that we make and try to maximize that system to work together" he said. "It isn't just one thing — we looked at the engineering and three very unique areas to provide the ultimate benefit."
In addition to the signature FuelCell tech, the SuperComp Trainer is paired with Energy Arc, the brand's sport-specific carbon fiber plate geometry with strategic midsole voids, designed to deliver a higher amount of total energy return.
In essence, running faster without working harder.
"We're focused on bringing the new technology to market and thinking about a product that we can really get at the whitespace for the consumer in maximizing energy return and finding unique solutions in the training space that didn't exist already," Orr added.
But that's not all the FuelCell SuperComp Trainer holds.
The trainer is designed with a no-sew construction, offering a secure & supportive fit. Coming in at 11.3 ounces, the 47mm midsole height and breathable upper give the shoe core benefits that allow the FuelCell SuperComp Trainer to make every training run feel like you're coming through the finish line on top.
"We did a ton of research working with our Sports Research Lab, looking at different midsole compounds, and different midsole heights: all to try to understand where the maximum benefit in a training environment would come from in a training model like this," Orr explained.
Not only is New Balance providing new solutions with new ideas but it's also pushing itself to pursue the next innovation.
As the heart of marathon season approaches as three of the six majors (Chicago, New York, and Boston) take off within a matter of months, the brand is already looking to its next starting line.
"We're building towards future seasons. We're thinking about cycles. We have big plans for our FreshFoam platform as it hits 10 years in 2024, which is a huge milestone for us," Orr said. "Innovation happens around big events."
In tandem with the shoe's groundbreaking design, New Balance made it a priority to make the trainer accessible as running continues to garner a following, whether through streetwear or the sport's crescendo in popularity.
"We're looking at accessibility in multiple ways. How can we broaden the consumer appeal for a shoe like this when looking at some of the technology benefits? How can we create a running experience that can work in multiple areas? How do we hit a price point that doesn't feel on top of what the market can afford? It's about trying to combine those three things together when it comes to a shoe like this," Orr said.
"This is, without a doubt, the most unique and fun time that I've had in product creation for someone who has done it for a long time," he said. "We've got athletes excelling, not only on the track but in multiple different areas of our business. It's been fantastic to see how many people are focused on health & wellness coming out of the pandemic for many different reasons."
With more runners, regardless of the level or experience, the brand has more challenges. And ultimately, more room for growth.
"It allows us to get new consumer insights and look at all these different people who are coming to the brand seeking new solutions. In many ways, we're in the land of opportunity right now to deal with these new consumers coming into our space. New Balance, with our athletes, our product messaging, we're positioned to capitalize on a lot of it," Orr said.
---
The New Balance FuelCell SuperComp Trainer is available now for $180 on NewBalance.com and select retailers.
Keep it locked at Nice Kicks and the Sneaker Release Dates page for the latest news on the hottest releases, including New Balance release dates.