Try this. Close your eyes, think of an industry and photoshop Jeff Staple's "Pigeon" logo in that mental picture. Why? Because that's how it seems the aforementioned creator chooses his scattered, yet selective array of collaborative projects.
Fresh off of not his first, but second, hockey-themed collab (this time with the New York Rangers), the streetwear senator Staple pressed pause on his regular-scheduled activities (a beachfront evening stroll) for a virtual sit-down with Nice Kicks to talk about ice, reminisce on his impact on sneaker culture, the ones that got away, his slept-on projects, his proudest endeavors and what's to come from Jeff Staple's aptly-named Staple brand.
Check out this week's installment of My5, featuring Jeff Staple, and keep it locked to Nice Kicks for more.
What sparked your affinity for sneakers and the culture?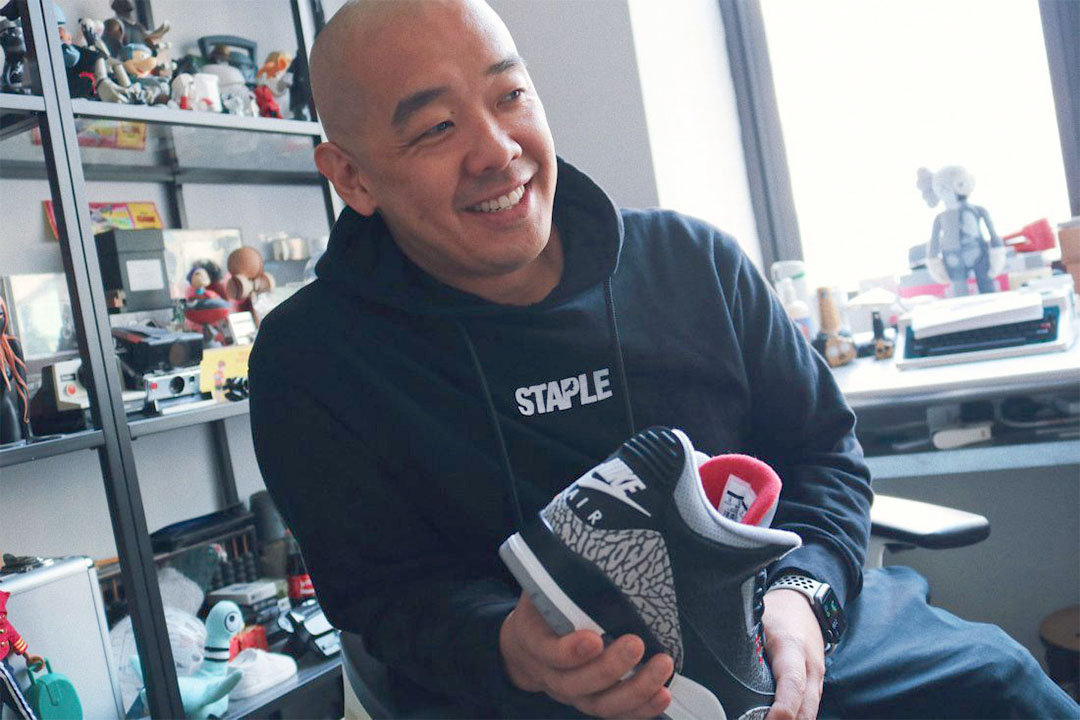 Jeff Staple: The shoe that really did it for me was the Air Jordan 3. That was probably the first shoe that I bought, and the design language really came through in that shoe. You look at that shoe and you're like, this doesn't look like a Dunk or an Air Force 1 or a Chuck Taylor. It really changed the design language to be something else, and it started to make me wonder who's behind this who created this thing, and it happened to be a guy named Tinker Hatfield, right? So you go down this rabbit hole of why did he make it like this, and why was it inspired by aircraft fighters and jets and stuff, and that was the first time where I really remember taking care of my shoes like even the Air Jordan 1s & 2s, I wore them to play ball, but the 3s, I found myself just naturally cleaning the outsole after I wore them and then taking a toothbrush to them and then if the paint chipped on the back heel I would replace the paint and I was like "why am I doing this to this shoe?" It really became a work of art for me, so I think that's the difference. To me it was the Air Jordan 3 that was pre-sneakers-as-a-performance-performance-object and then post-sneakers-as-an-art-object.
What are your go-to travel kicks?
Jeff Staple: So, I try to travel and pack really light. I never check in bags. So, right now on this one week jaunt, I've got three pairs of shoes with me. It's funny because it depends on when you ask me and who I'm meeting with, right? This week, I happen to be meeting with what I would call sneaker illuminati, but when you meet with sneakerheads, I'm still old school and I still want to make necks snap. You got to. The worst thing to me that can happen is if you walk into a room and you're rocking the same kicks, same colorway as somebody else. I will literally walk out of that room and go home. We gotta regroup. We got to readjust. I f-cked up, I messed up. So you know I always try to bring some obscurity when I'm in meetings like this. So actually this week, I packed three pairs of shoes with me. I packed a pair of Staple x All Birds that I just did, that's always a great conversation piece because people are like "whoa! You f-ck with All Birds?!" Then talk about the environment and it's a great icebreaker. Second, I'm trying to get my health game on, so I brought a pair of my actual running shoes that I would run outside in, and a lot of people don't know this, but my go-to running shoe of choice is Brooks. The third shoe that I brought with me, because where I am is sort of in LA by the beach, is a pair of upcoming Staple x Crocs. The idea of a limited-edition hype sneaker now is actually not that interesting if you're in a room full of people and everyone has on some limited-edition hype shoe and you're one of them. You're kind of like sheep. It's almost like, in that room, you might be more interesting if you just wore a pair of Chuck Taylors.
What would you say is your most cherished personal sneaker project?
Jeff Staple: It's gotta be the "Pigeon" Dunk quartet. What's obviously really important to me, part of my DNA, part of my brand, and part of what everyone knows me for, is the four Nike Dunks that bear the "Pigeon" logo. It's pretty incredible. You got the OG gray "Pigeon" Dunks. You've got the "What the Dunk." You've got the "Black Pigeon" Dunk. You've got the "Panda Pigeon" Dunk. I also like to call out the fifth off-the-bench "Purple Pigeon" Dunk, the unofficial one which I love. Even when I didn't put a pigeon on it, the culture made that a "Pigeon." Just that group, it's always gonna hold a special place in my heart because just putting my stamp on those sneakers is just the most gratifying feeling for a sneakerhead.
What's your most cherished personal non-sneaker project?
Jeff Staple: To be honest, it's the formation of the company (Reed Art Department). We just talked about Jay and how he makes moves. Between the clothing line, the creative agency, the podcast talks, the metaverse, all of that stuff, there's damn near 50 people that report up to me. I started this brand and this company and this vision by breaking into art school and silk screening 12 t-shirts, and to now have 50 people that support their families and their livelihoods and put food on the table and pay rent because of that same vision for the last 25 years. That's my most proud project, if you will, is the actual company, because there's a lot of talented people out there, super talented that make amazing stuff but they didn't create the system and the processes to allow other people to eat off of that and that's really one of my most proud moments.
What are the kicks that got away and you haven't been to track down?
Jeff Staple: The story is I was going to move to Tokyo, Japan, and I had about 500 kicks at that time. Already had the apartment lined up. The apartment in Japan was literally the size of a shoe box so I could take five pairs of shoes., and this is back when there was no StockX, no GOAT or anything like that. So, I just took them to the Goodwill and Salvation Army. It was heat, heaters were going there. So, I went to Japan for a couple months and then decided I didn't want to live there permanently, so I came back to New York, and then of course made some stupid effort to try to get shoes back and of course nothing was available. I lost everything. The one shoe I've been really reminiscing on is called the Nike Air Revolution. It was white, black and royal blue. It was one of the first shoes that had a visible air bubble on it, ankle strap across the top. I don't foresee Nike ever retro'ing the shoe, but I've just been reminiscing on it recently, but who knows maybe me putting it out in the universe will make it come back.
What was your most slept-on project?
Jeff Staple: I think it's probably Nike Considered. I already see the Little Jupiterr's and Hidden NY's of the world resurrecting those models now here and there. So, Nike Considered was Nike's first foray into completely environmental, carbon-negative shoes, and I worked heavily on that project with the Nike team. It's one of those things that's a sleeper. Nobody really knows about it. I named Nike Considered, I came up with the name, came up with the manifesto, the packaging. We launched it at Reed Space. It's one of those things that I'm super proud of, because on the one hand a company like Nike, who was embarking on this new thing would ask me to help. I can understand like "Yo! Make some hype sh-t! Make kids wait in line! We need that sneaker riot moment!" But this was a whole different sort of thing that I'm really honored that Nike was like "can you help us with this?"
How do you make this Staple x New York Rangers hockey collab happen?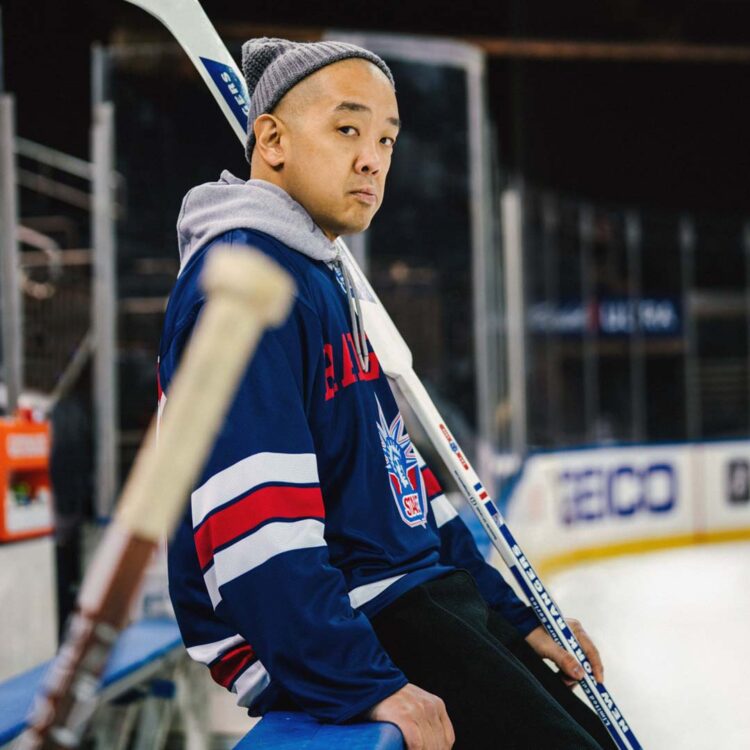 Jeff Staple: It actually came really naturally, and I think this is another lesson for people. I didn't have the intention of working with the Rangers. I didn't hard pitch them or anything like that. So, we had done a collection with the New York Major League Soccer team called NYC FC, and we did a collaboration with them and they ended up winning the championship the year that we did the collab, and then we followed that up with the Sherwood hockey thing, so all of a sudden Staple started to look like a good luck charm for teams, because like when we collaborate with them, they won the championship. So, we did the Sherwood hockey thing, which was great, and then so what happened was the Rangers just organically reposted the Sherwood collaboration. It was no paid nothing, they just loved it and posted it, and then so we started a DM conversation, the New York Rangers and me, which is crazy, DM'ing with a sports team.
The Staple x New York Rangers was available and sold at Madison Square Garden during the New York Rangers vs. Penguins game on March 25, 2022.