words, interview & images // Nick DePaula:
With the NBA season getting underway this week, there's a new 82-game campaign on deck for the league's biggest stars to showcase their skills and reach a new audience of fans across the globe.
For our world, a new season also means a new batch of marquee sneakers launching, new campaigns for each of the key signature athletes and new on-court moments to look forward to as the season progresses.
At each of the major footwear companies, countless people, like adidas Basketball's JR Duperrier, are working behind the scenes to promote the emerging brands of their top athletes. After studying Sports Management at St. John's University and working as the Red Storm's hoops team manager, he landed a role in Portland with The Three Stripes, where he's worked for the past nine years.
As one of the members of the adidas Basketball Sports Marketing team, Duperrier works with several of their biggest endorsers, like James Harden, Damian Lillard, Andrew Wiggins and many others, to make sure they're taken care of, both on and off the court. He's also had a chance to have his share of commercial cameos too.
To hear more about his role at adidas Basketball, and to also get a recap of his "My 5" sneaker rotation of late, I recently caught up with JR in Portland.
Nick DePaula: A lot of people hear the term "Sports Marketing," but don't really have an understanding of what that means exactly. What's your job entail?
JR Duperrier: It's all about relationships. It starts from the grassroots level, and it goes all the way to the pros. It's about building relationships with the players themselves in High School and college, and then at the pro level, also working with agents, people from the NBA and people from the teams.
Part of my job is to work with our design and marketing teams to educate the guys on what adidas has to offer on and off the court, as well as how we can help them with marketing, tours and other events.
Once a player decides to go pro and joins the brand, my job is to take care of them, get them psyched up about adidas, be their line of communication and make sure they have everything that they need.
NDP: What are some of the things you'll do to educate them about the brand?
JR: For the last four years, we've done a Rookie Orientation here in Portland to bring guys to our campus and have them meet with our designers, social media teams, athlete services and all of the people from the brand that will be helping them. We'll make sure that we introduce them to everyone in our departments.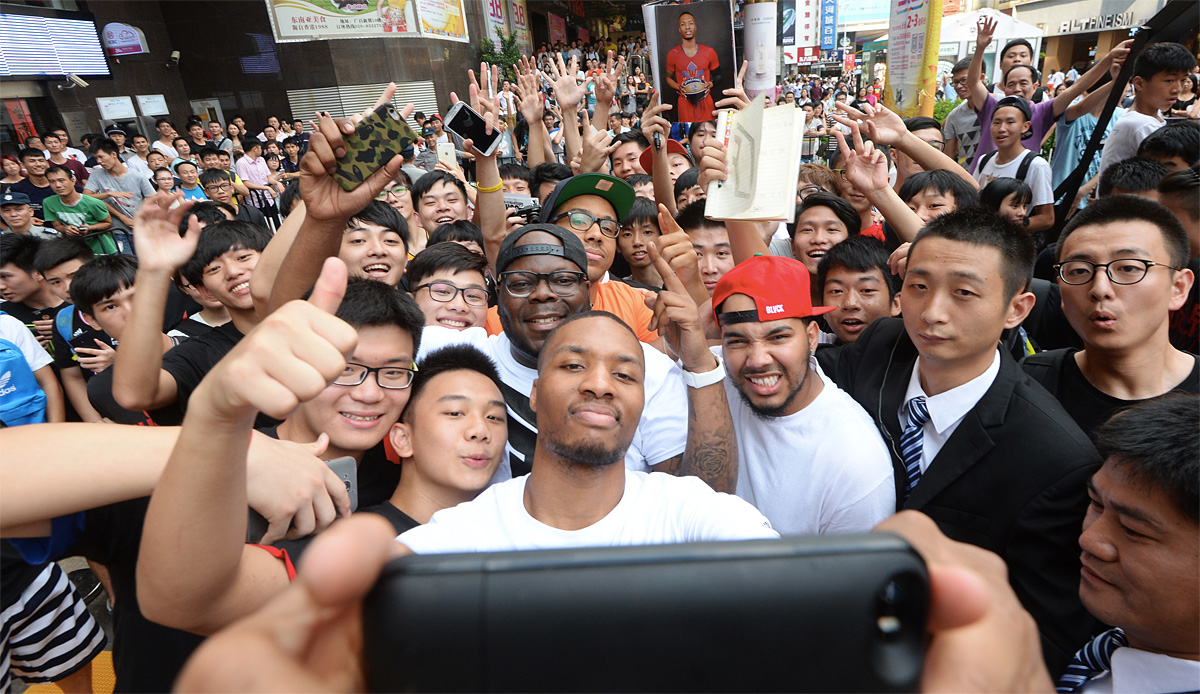 Depending on who the player is, we also work on activations for our guys. We'll take them on tours, do fan events and make sure they have everything that they need from a product standpoint to represent the brand. A cool example would be this summer, when we took Dame [Lillard] on his first tour.
We went to Tokyo, China and Paris, and it was crazy! The fact that I knew this kid before he even blew up to where he is now, it's amazing. He was in Tokyo or parts of China, and hundreds of people were waiting for him to arrive and screaming his name.
NDP: The huge news for the brand most recently is adding James Harden. What was his excitement like on October 1st once everything was finally official?
JR: With James, it was crazy. There was the fact that the media made such a big deal about him wearing Jordans, when people didn't really know the full story that he was still under contract there and honoring that. We took advantage of that and did a nice activation to make sure we gave him as many shoes as possible. He was just so happy to join the family, and he was ready to create and work with us.
NDP: What was it like being on the set and in the spot?
JR: Honestly, it was really relaxed. We waited for him to come from practice, and he was just real eager to be there. As soon as he walked in, he was ready to go. He saw all of the shoes and he was just amazed at everything that he had.
He was talking all about how he was going to rock this, and how he was going to rock that, and it was cool to be there. I don't think we've ever had that type of Day 1 anticipation for an athlete that we've signed.
NDP: Of course, and it's rare that you can get a guy of that level in his prime, like with James. Alright, now lets get into your recent rotation…
Continue ahead for a look at JR Duperrier's "My 5":