Lead image by Malcolm McNeil
Repping Space City since it was Clutch City, Chase B has been putting on for the H since Moochie had the fro and Franchise was going vertical in X Beams. Traveling the world with his main man Travis Scott and also getting a bi-weekly residency in Vegas, the decorated DJ now rests his feet in NYC, but make no mistake, home is still home and his shoe game is All-Star status. James Harden with the range, the Houston native has a rotation that dates all the way back to '99 with a premium pair he just made rounding out his lineup. So, what's Chase rocking when he's breaking records on his Soundcloud or .wav Radio on iTunes? Find out below in the latest My 5.
Air Jordan 1s
Chase B: "That's the most aesthetically fashionable shoe and I wear pretty much all the colors. I wear the Shattered Backboards a lot — I got them as soon as they came out — and I wear the Fragments a lot — I actually traded a pair of Doernbecher 4s straight up. Then I also rock the Breds and the Shadows a lot. Pretty much all of those I've been wearing frequently. When I was younger, Jordans were a bit wilder. Back in high school I was into 12s, 10s and stuff like that. The 1s weren't really super popular until the fashion stuff popped and how the actual sneaker looks with your jeans mattered more. I've been really into 1s for about five or six years. I always debate on buying the New Love 1s. They look dope to me but they fit a little weirder than OG 1s. I wouldn't mind having those."
OG atmos x Nike Air Max 1 "Safari"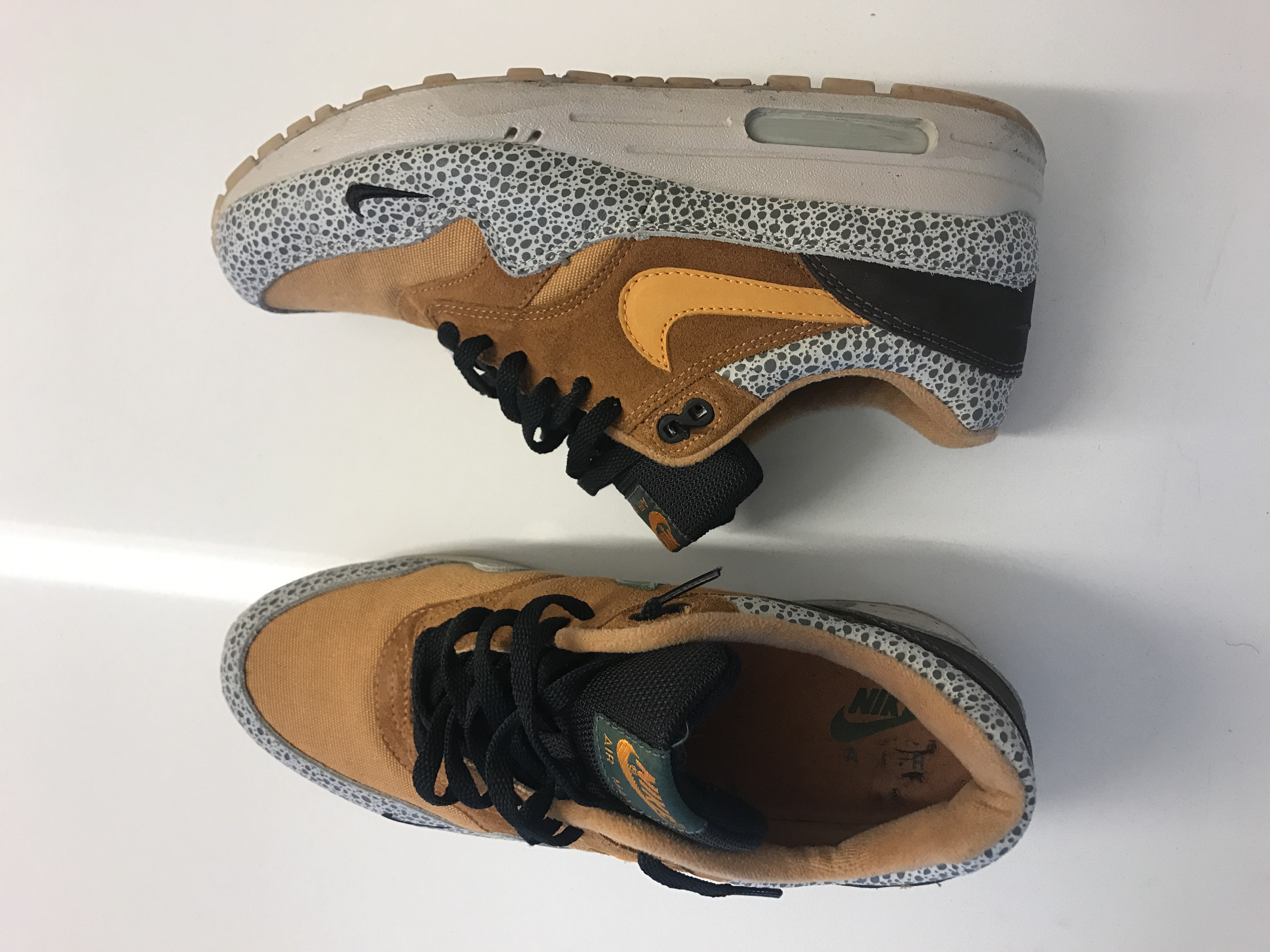 Chase B: "I wear those almost every other day. I was looking for those for a minute and then my homie Adrian from Sneaker Summit and Active Athlete reached out and found a pair. They're not cracking or anything even though they're from 2002. They came back with the ice blue bottom and the different fabric on the toe box, but I like the OGs better. I was going to get the new release, but I was actually inspired by this dude Tan at 21 Mercer to get the old ones."
Sole Swapped Air Jordan 4 Black/Red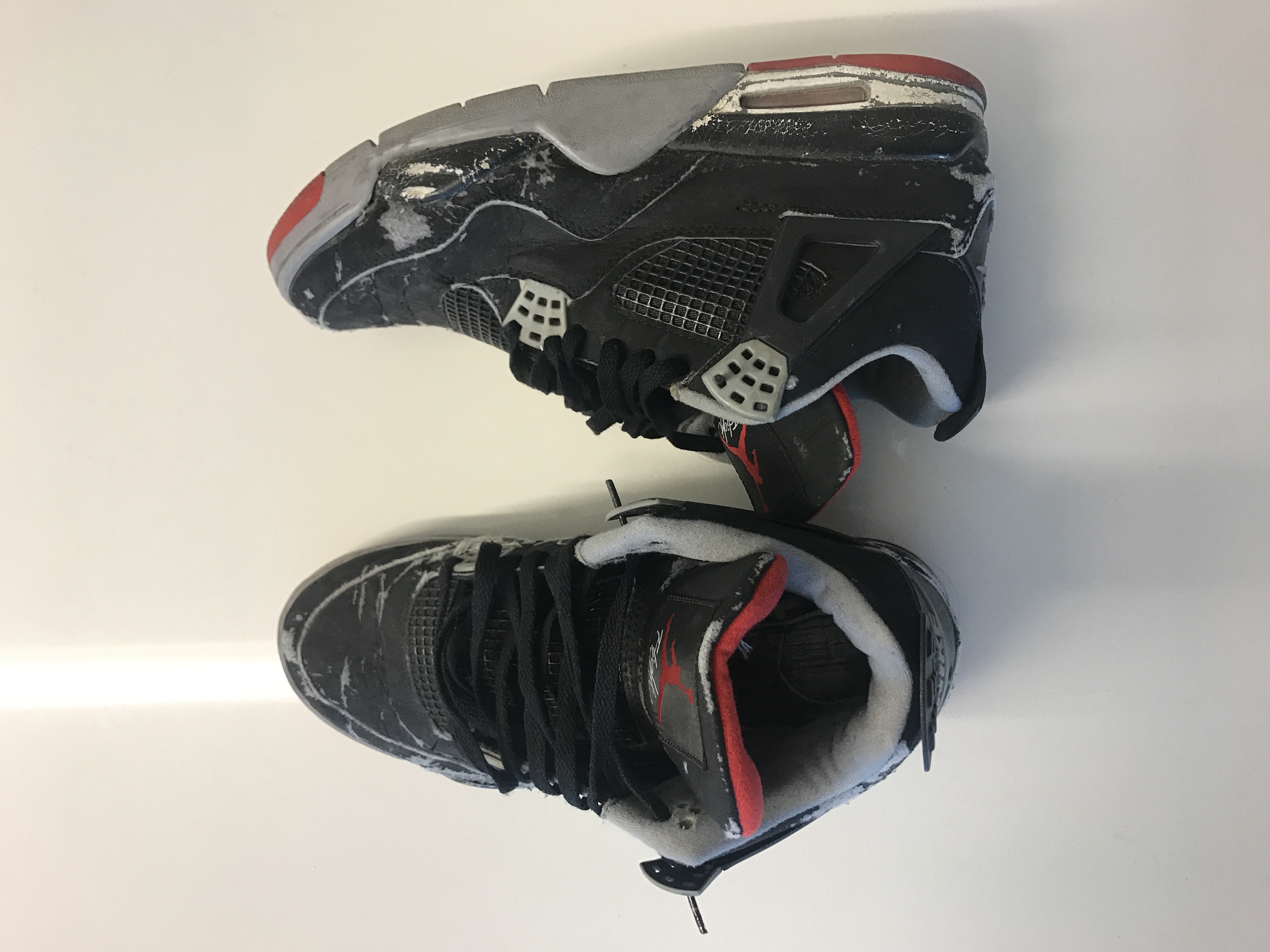 Chase B: "I actually have the CDP pair from '08 and also my beaters which are the '99 release. I got those from Mr. Throwback and he had the sole replaced with the 2012 sole. They're super beat but I like them like that. They're cracking but they'll never break, I even wear them in the snow. I think I got them for like $250 or $300 and I wear those a lot. I literally wore those every show on the Rodeo Tour with Travis, Thug and Metro. I pretty much only wear Saint Laurent jeans but I've also been wearing Stone Island cargo pants with those. The 4s have the perfect drop for stacking."
Bodega x New Balance CM577 "Hypercat"
Chase B: "They Hypercats are colorful but they go with a lot. They're conformable and I like when beiges get mixed in with brighter colors. When you wear them it's a respectable shoe because people know you're up on it. I always wanted them and got them about four years ago. New Balance are dope. I wear a lot of grey so I throw those on with some jeans and a grey hoody, just a subtle flex. I went to school in DC so New Balance was a huge deal. I still like the Benjamin pair UBIQ did. I think New Balance and Nike SB have the best conceptual collabs."
1-of-1 Bespoke Nike Air Force 1s
Chase B: "When it comes to DJs and AF1s, I still love DJ Clark Kent's 112 Bespokes and Bobbito Garcia's Air Force 1s. Those are the two that stick out to me. Recently, I made my own Bespoke AF1s and I'm in love with those things, I love how they came out. Tan from 21 Mercer is the one that told me to come through and do a Bespoke. I went in there and Bespoke is like super intimidating. There's like a million fabrics and all these rules and you're trying to digest it all. It probably took my like 2 and a half hours to come up with the design. I pulled from the covers on my Soundcloud mixes and ended up using a greyscale with grey suede and mamba fabric on the check. I thought purple would be great on the inside because it reminds me of pictures of lightning and then there's glow-in-the-dark on the insole to represent a thunderstorm. I haven't worn them yet because the weather's not too good in New York, but next time I sit courtside at a Rockets game I'm gonna wear them."
Keep up with Chase B on IG, Twitter, .wav Radio on iTunes and Soundcloud.