With two years in the WNBA under her belt, Breanna Stewart has the league in the palm of her hands. The UCONN product and former #1 overall draft pick in 2016 is set for a monumental season. Raking right around 22 points and grabbing 8 rebounds per game, Stewart is a certified bucket by putting in the work night in and night out.
We caught up with the Seattle Storm forward about her favorite kicks on and off the court. Take a look at Stewart's heat-filled rotation below in the latest installment of My 5.
Nike KD 11 PE
Breanna Stewart: Honestly, I love the new KD 11s. I think they're my favorite KD by far. Just the fact that my foot feels really compact and it's a comfortable shoe is great. It's not bigger than I need it to be.
Off-White x Air Jordan 1 "Chicago"
Breanna Stewart: The Off-White x Nike collab is stylish. Anytime you can wear them, it's a nice fit. It's great. The Air Jordan 1 is my favorite shoe. If I could wear any shoe, it'd be the 1s. The fact that I had the Off-White Air Jordan 1s and hadn't worn them yet, the All-Star Game red carpet was the perfect time to bring them out.
Nike KD 11 "EYBL"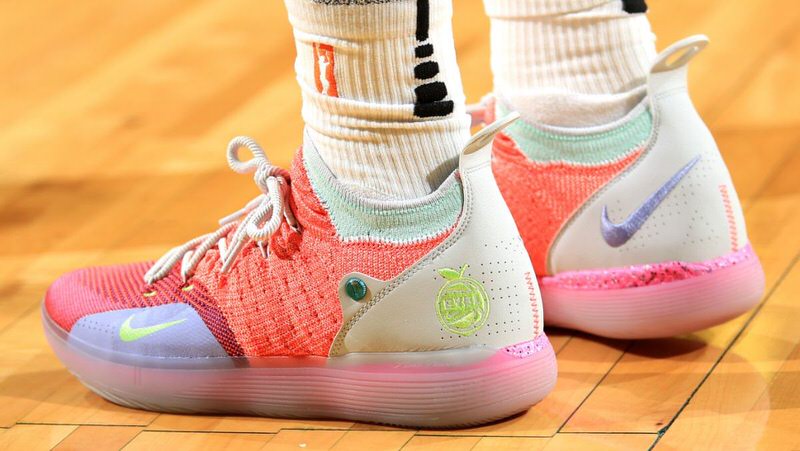 Breanna Stewart: I just talked to our Nike rep and asked if I could have them. I just got them and I like them. I like the colors a lot. They're fire.
Nike KD 7 "Aunt Pearl"
Breanna Stewart: I've had them for a while. I was waiting to pull them out. I have a lot of shoes that I keep in my boxes in my house. This year, especially, I've been trying to really change it up with shoes and show people what's in my closet.
Air Jordan 1 "Top Three"
Breanna Stewart: I love my Air Jordan 1 "Top Three." I like the Air Jordan 1 a lot because if I'm rocking sweats, I can wear them. If I'm wearing jeans, it can go with that. It's able to go with a lot of the outfits I have.
Be sure to follow Breanna Stewart on Instagram and Twitter as her and the Seattle Storm continue to wreak havoc in the WNBA.
Big shout out to Kimberly Veale of the Seattle Storm for making this happen.