Made in the Midwest and coming up in Cali, Tennessee Titans DB/USC product Adoree' Jackson is about his footwear on and off the field. Falling in love with hoops as a kid thanks to a certain Michael Jordan movie, the young athlete found his footing on the fields of East Saint Louis before becoming a major pigskin prospect out West.
While the first round pick is looking to secure a Pro Bowl bid in only his second season he still had time between training to talk kicks. Hear what he's rocking on the regular in the latest My 5.
Air Jordan 1s
Adoree' Jackson: Those are the go-to. Right now I'm all about the "Breds" and the Black/Gold "Carmelo" pair — those are my favorite actually. I wear the "Chicago" 1s a lot, too. I grew up on the Bulls and Mike, my favorite movie was Space Jam and that's what got me into sports as a kid. The first pair of Jordans I ever had was a pair of 11s because of the movie. As for 1s, I'm still looking for the Off-White 1s. Still, my all-time favorite Jordans are actually the Countdown Pack 10s. I had those back in the day and I hooped in them and they ripped so I need a new pair.
Nike Air Force 1s
Adoree' Jackson: I'm from East Saint Louis. You hear Nelly and "give me two pair" and that was pretty much our anthem. Everybody looked up to Nelly where I'm from and that was our state shoe. I can tell you right now that I have eight pairs of white-on-whites in my closet right now. Those were always the pair of shoes for back to school, a staple shoe and you can't go wrong. I used to wear those the first day of school with shorts and quarter socks. They'd get dirty because as a kid you wanted to play all the time so you'd switch it up to the black pair.
Air Jordan 11 Cleats
Adoree' Jackson: I actually got them playing in the CC Sabathia Charity Game in New York. I kept them and wore them in practice. I'm with Nike on Sundays though and I've got some customs I'm going to break out. I'll do some custom Vapor cleats on Sundays…I've got a McDonald's pair getting made and a St. Louis pair.
Air Jordan 11s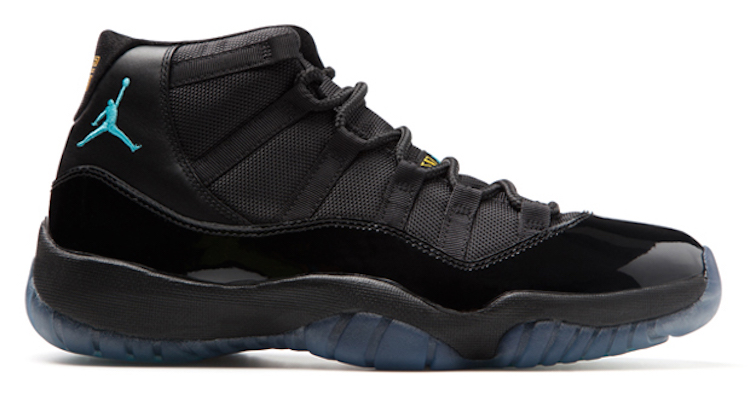 Adoree' Jackson: I still play basketball when I work out. Basketball is my heart, it's the first sport I fell in love with and I'll always play. I still play in my Jordans, too. I'll play in any pair of Jordans but usually my 11s. I play in "Gamma Blues" and the "Win Like 96" pair. 11s don't crease as much so they don't look as bad after you play in them. I've also played in the 2s, the 4s and the 7s. Growing up I tried to play like Allen Iverson and I'm still a huge fan of Derrick Rose — that's my favorite basketball player and somebody I patterned my game after. But being from Illinois, the hometown hero himself is Dee Brown. I enjoyed watching him the most. Going out there with the braids and holding it down for the Illini. He was the truth.
Nike Vapor Series
Adoree' Jackson: My first pair of football cleats were actually the Vicks. I played in the Landsharks, too. I didn't really know much about cleats back in the day because I was all about basketball. When I moved out to Calfornia, kids at my high school said I couldn't look like no scrub out there so I got the Vapor Talons. I might have to bring them back out just for fun though, bust out the Landsharks in practice. I've got the old Vapor Talons from 2012 that I'm gonna break out, too.
Keep up with Adoree' Jackson on IG