Fifteen years back when hybrids first started hitting the sneaker market in a major way, opinions were mixed, to say the least.
Combining classics could sometimes register as contemporary but more often than not were loathed by purists.
Fast forward to 2019 and it seems the weirder the better when it comes to kicks, clothes or just culture in general.
Honing an appreciation for the past with an eye for the future, graphic designer/artist Vicente Martinez Selles might be making better hybrid concepts on Photoshop than any of the brands are putting on shelves.
Blurring the lines of eras, clashing categories and mixing labels, Vincente's work is A+ in regards to creativity and presentation.
Raised in Spain and growing up on shoes and computers just like the rest of us, hear in his own words the story of how he got into kicks and how he started making hybrid concepts that turn heads.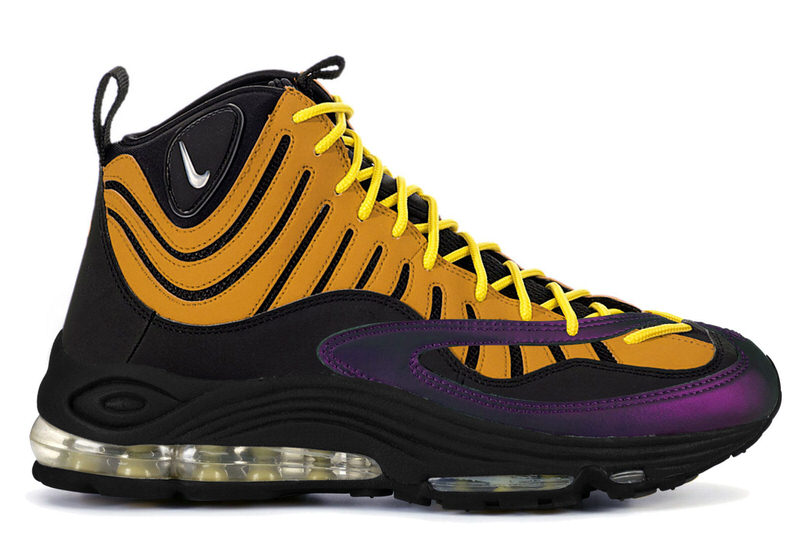 "With sneakers, I started at a very young age. I was like 6 or 7 years old when I started playing basketball for the municipal sports school with my friends, and I could say that basketball shoes caught my attention at the first moment.
I guess it was because they looked very different compared with other shoes — basketball shoes were high, some had Air units in the soles and they were very colorful and shiny because patent leather was very common back in the day. Also, when you're a little kid you really believed that sneakers with Air inside are going to make you jump so high that you will be able to dunk and that is more than enough for a kid.
Furthermore, I remember that my mother used to buy us sneakers and sports clothes at the flea market, and if she saw some things at a good price she could buy various pairs because if they didn't fit any of my brothers, they would fit me as I grew up."
"One day cleaning the house I saw that in a wardrobe there were two pairs of sneakers hidden (I guess that they were a birthday or Christmas present) and when I saw them I flipped out. Both were so nice, but one pair could be inflated by pressing a button on the tongue and that thing fascinated me — they were the Reebok Pump Vertical 2, which I still have. Now I can say that my mom had quite good taste with sneakers because she says that she only took the ones she found to be nice.
I liked the Reebok Pumps so much that I wore them every day for everything, and also my friends asked me all the time, "Can I pump them?!" They even wanted to deflate them because they sounded like a fart. [Laughs]
After that, I remember when my father brought home our first computer, and obviously, I loved it. But what I liked the most was to just search things in Google, and when I saw that if you searched "basketball," "NBA" or "basketball shoes" infinite sites appeared, so that amazed me to the point that I could be on the internet for hours and hours."
"I searched the internet for all the sneakers that I could, and I kept informed about what shoes the stores had because in Spain there was not a sneaker culture like the one that is starting nowadays. Almost every store had the same sneakers and they were quite basic compared to the ones that I could see in the American or Asian sites on the internet.
So looked every day for new sneakers, and as I was also playing basketball, I could say that I watched sneakers, talked about sneakers, breathed sneakers and almost ate sneakers 24 hours a day.
As time went by, without realizing it you are walking in the street looking to what people wear on their feet and unconsciously you make a mental sneaker catalog where you know the image of the shoe, the colors, materials, model, designer, the story behind the design, etc… that keeps growing."
"As for the hybrid visuals, I guess the origins are when I was little and I tried to modify the Reebok Kamikazes when they were beaten out with holes in the sole, and I painted them with markers making them look like a color blocking sneaker and glued another outsole so I could keep playing basketball in them. However, it was a total failure.
When I discovered the Microsoft Paint on the computer I was like, "WOW, I can make sneakers in the computer!"
In that time, I had just learned what Photoshop was for and it always amazed me how realistic the results you could obtain with that.
However, it was when I got into the Industrial Design degree program that they introduced us to 3D and 2D programs and I quickly realized that you can do anything you want with a computer. It was very natural that the first thing that came to my mind were sneakers."
"From that point until today I have been trying all the sneaker ideas I have and saving them in the computer, modifying sneakers so I can make them more for my liking or mixing different elements of footwear that I think can be interesting.
In some cases, they don't have to be sneakers that I would necessarily wear myself or I think people will like, but I found them interesting as a concept because of the materials used, the aesthetic, the story they have behind, or the context in which the sneakers are.
As for my creative process, usually, I don't do sketches. I have a "personal archive" on the computer where I keep all the images, photos, internet posts or anything that I find interesting for some reason. It is completely open as there is not a general topic, I have things from sports (basketball, soccer, f1, ski, tennis, climbing…), architecture, music, movies, advertising, art, industry, clothes…
The process starts when I see or read something that catches my attention and I see some relation with sneakers. Then I go to the computer, I see if I have something in the same line in the archive, and then I go with the Photoshop trying things until I have the one I like."
Keep up with Vicente on his IG, @chenchicharo.