If you've seen Marty Baller live you know he lives in the moment, but make no mistake he has big plans. "I can't wait to go to Paris on October 6th, my birthday. I'm gonna shop 'til I drop out there," the Harlem native says excitedly. Energetic and fashionable, the A$AP affiliate has been staying busy making his own moves and his own music with an international tour booked and visions of turn-up already imaged. "Off the new tape I would love to play 'First Quarter' live. I need the whole big stage, the lights, the band. It's gonna be a movie and I need everybody out there interacting."
Catching up with Marty prior to his tour and on the heels of the release of his Baller Nation mixtape, we found out which kicks of his are getting the most burn these days for the latest My 5.
Upcoming Traplord x adidas Skateboarding Collab
Marty Baller: They ain't come out yet and I've been wearing those everyday. They come out next month and those are my #1s because nobody got those on the streets right now. Ferg has a Black/Red and White/Red pair and I've been wearing the white ones. Probably only five people have them right now — me, TJ Mizell, T Ferg, Ferg and Meechie. They're dropping with a set of sweats, baseball jerseys and a whole new line that's very creative. Ferg is an artist himself and he's been creative before we were doing this rapping stuff. We both went to art and design high school and he's been designing clothes as long as I've known him. When it comes to design, I let him create and know it's gonna be fire.
Vans Sk8-Hi
Marty Baller: Vans are that all-around sneaker and I just throw those on like slippers. I'm a high top Sk8-Hi guy. They're not the most comfortable, but the new skater version with the insoles is better. I like customizing them and I'm trying to get a collaboration with them. Vans sent me a coupon where I could customize them and I wear them when I'm performing. I did Sk8-His for two months straight when I was touring in Australia. Anything goes when you're wearing Vans. If it was my Supreme Jordans I can't crease them up, but Vans you can get crazy and I like having them filthy.
Supreme x Air Jordan 5 "White"
Marty Baller: I got the "White" pair as a birthday gift from Ferg. We were in LA and he gifted them to me. I keep 'em in the shoe box but bring 'em out from time to time. I didn't really know how much they were worth and all that until I did my research. I bought him a pair of Uptowns for his birthday, sneakers are just a good gift to give somebody. Shoutout to Supreme as being a street brand that got all the trendy kids rocking it now. I'm not a big Supreme fan, but it's in the street heavy now so shoutout to Supreme.
Nike Air Force 1 Black/Black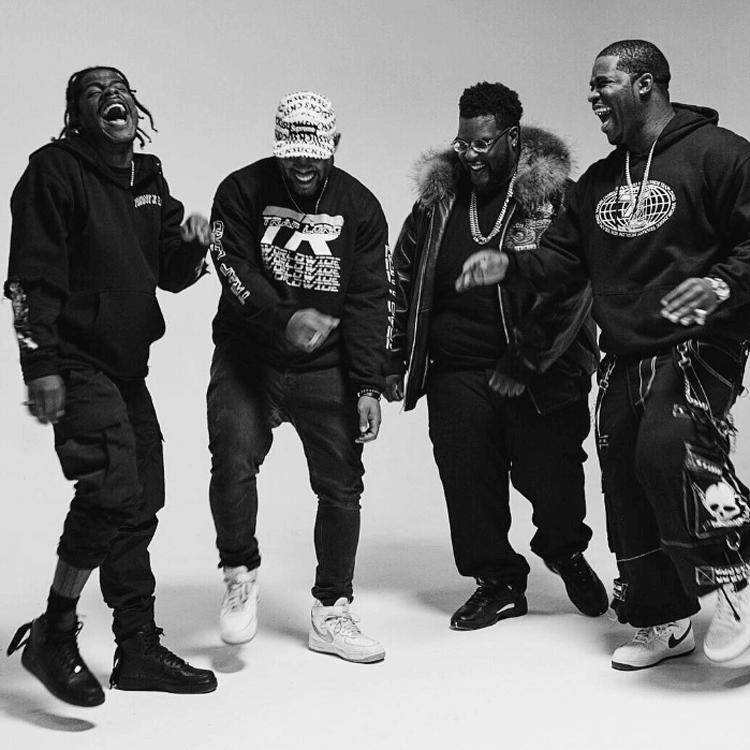 Marty Baller: Gotta have a pair of Black Uptowns. I'm from Harlem so you have to. If it's winter I'm a high top, when it's summer I'm rocking low tops. The black ones don't get dirty as fast. I've probably gone through more than 100 pairs in my lifetime. That was my go-to hustler shoe. One summer I probably copped ten pairs. That's just the go-to shoe, Uptowns and Timberlands are gonna be around forever, those are the go-to Harlem shoes.
Air Jordan 4 "Alternate '89"
Marty Baller: I rock those a lot. I got the song that says 'I'm ballin' like I'm Jordan' on the tape so I'm on my Jordan wave heavy. I was never able to get Jordans when I was younger so I love rocking them now. As for red and white, that's where I come from. That's like the color for my hood so I always wear that. I switch it up outfit wise, I just like dressing comfortably so it's usually like a sweatsuit with those. Casual, laid back, jump-on-the-plane type outfit.
Listen to Baller Nation now at DatPiff and keep up with Marty on IG. Special thanks to Postal Music Entertainment.
Lead image by Cindy Ord/Getty Images via Zimbio