Safe bet we see King James Nike retros for the remainder of human existence. With that said we found it important to provide everyone with the definitive, living guide to LeBron James retro sneakers.
Over the last two years, we've seen LBJ retros trickle in after a sixteen-year hiatus (in regards to the Air Zoom Generation aka LeBron 1) with basketball fans and general consumers alike welcoming the throwbacks with open arms.
Some will say it's too early for LeBron's kicks to receive the retro treatment, but remember this – Nike started retro-ing MJ's sneakers only nine years into his professional career (the Air Jordan 1 retro'ed for the first time in 1994). Countless guides exist detailing Jordan's retro catalog, so it's only fitting we start one for King James.
Peep the retros in chronological order below, enjoy!
Nike Air Zoom Generation "First Game" Championship Pack
Air Zoom Generation Retro 'Cavs Championship Court-Nike LeBron SPO'
Release Date: January 13, 2017
History was made on November 5, 2003, when LeBron took the court for his first NBA game. Nike commemorated the event with a Cavs friendly edition of the Air Zoom Generation dubbed the First Games.
Back in '03, the shoes were crazy limited and Nike kept that same energy when they decided to retro these beauties in 2017. Business as usual with the First Games in terms of construction, but there was a subtle nod to LeBron's first game on the inner ankle – 11.5.03.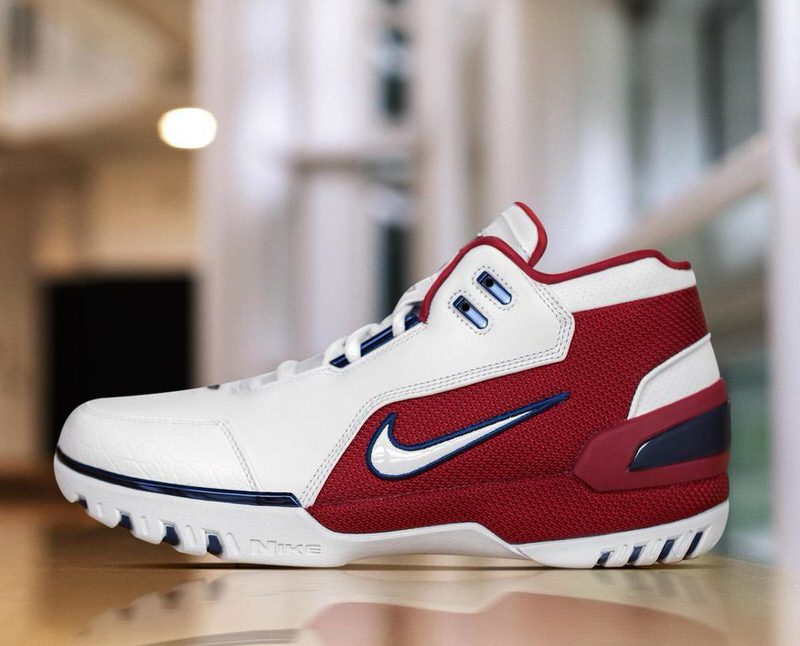 Not so subtly, the Cavs Championship Court-Nike LeBron SPO included a pair of limited edition Nike AZGs, a Cavs championship ring, and other goodies. The commemorative box for these First Games was crafted from hardwood taken directly the Quicken Loans Area court in celebration of their '16 championship season. Big ballin'.
Released via StockX in extremely limited quantities, the Cavs Championship Court-Nike LeBron SPO packs fetched top dollar – highest bid was $11,300 for a single pack!
Nike Air Zoom Generation "First Game"
Air Zoom Generation Retro 'First Game'
Release Date: January 25, 2017
Same First Games as before sans the commemorative packaging – still dope none the less. Don't let the lack of nifty packaging fool you, these First Games were still an insta-sellout on SNKRS.
Nike Air Zoom Generation "Vachetta Tan"
Air Zoom Generation Retro 'Vachetta Tan'
Release Date: February 2017
Next up for LeBron's retro line was a new take on the Air Zoom Generation for NBA All-Star '17, the Vachetta Tans.
Luxury construction was the hallmark of this rendition of the AZG – branding was toned down and embellishments were removed for a cleaner, streamlined, look. Thankfully Nike didn't touch the AZG's iconic metallic heel clip.
Nike Air Zoom Generation "Wheat"
Air Zoom Generation Retro 'Wheat'
Release Date: February 2018
LeBron James didn't make the Eastern Conference All-Star squad for unknown reasons in '04 (Kenyon Martin was selected over LBJ ???) but Nike kept the young king laced in the Wheat AZGs just in case.
The inspiration came from wheat Timberlands, which LeBron dreamt of playing an NBA game in. Since Nike obviously wouldn't let that happen they created these Wheat joints. Sadly we only got to see these on-court during the Rookie v. Sophomore Game, but we were ecstatic to see the iconic shoes return during NBA All-Star '18.
Nike Air Zoom Generation "Home"
Is the 'Home' AZG the most recognizable Air Zoom Generation? Probably. White, black and crimson never looked better than on these LeBron retros.
Released as faithful renditions of the OGs, the Home AZGs could re-release annually and we'd happily buy them every time.
Nike Air Zoom Generation "King's Rook"
Air Zoom Generation Retro 'Kings Rook'
Release Date: December 2017
Call these the Away AZGs or the King's Rook AZGs – the shoes still hit different. If wearability is big to you then these are the LeBron retros for you because they look great on and off the court.
Great retro choice, Nike.
Nike Air Zoom Generation "SVSM"
Air Zoom Generation Retro 'SVSM'
Release Date: May 21, 2018
Man, when these were announced the sneaker world erupted. SVSMs aka Saint Vincent-St. Mary's editions of LeBron kicks have historically been available to SVSM athletes and sample collectors only, but Nike decided to let everyone else in on the fun in 2019.
White, green and gold have a very specific meaning in 'LeBron Land' so when these dropped the masses knew they were something special. We'll happily take an SVSM edition of every LeBron retro on the go-forward.
Nike Zoom Soldier 1 "25 Straight"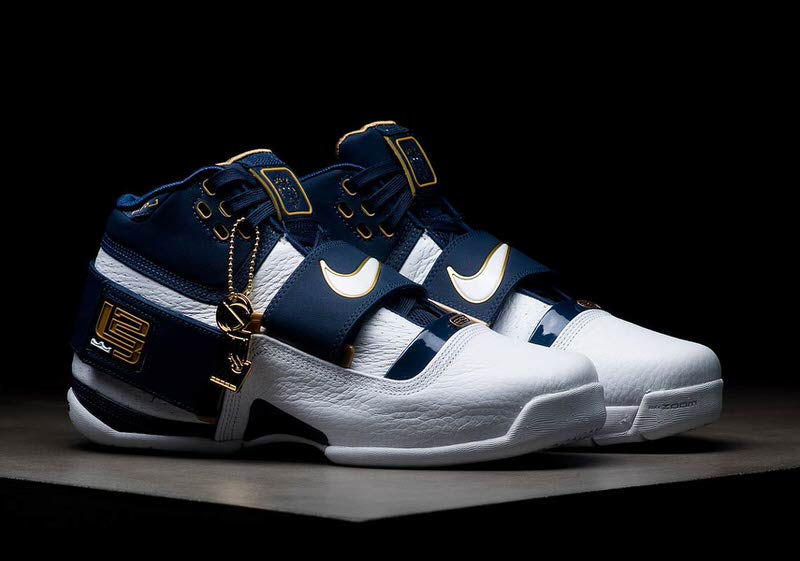 Soldier 1 Retro '25 Straight'
Release Date: May 31, 2018
Seemingly out of nowhere, Nike retro'ed the Solider 1 as a part of their "Art Of A Champion" set which commemorated various championship moments throughout NBA history.
LeBron famously rocked these white/navy Soldier 1s during his 2007 NBA Eastern Conference Finals dismantlement of the Detroit Pistons. King James piled on 25 straight points to close out the double-overtime matchup with Detroit; his heroic performance earned the Cavs their first NBA Finals appearance.
Nike faithfully recreated LeBron's iconic Solider 1s but with some added championship branding on the insole and accompanying hangtag.
Nike Zoom LeBron 3 "Christ the King"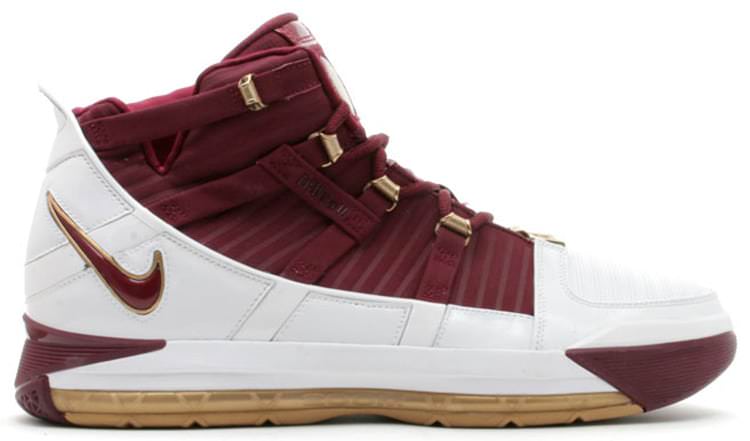 LeBron 3 Retro 'Christ The King'
Release Date: September 4, 2018 (SNKRS Stash); September 6, 2018 (Retailer Release)
Cut from the same cloth as the SVSMs, the Christ The King LeBron 3 retros were another high school program PE made available to the public in 2018-19. Trying to cop a pair of these badboys was not easy; they released via SNKRS Stash (a geographical release system by Nike allowing anyone with a 30 mile radius to purchase) around the school itself in Queens, NY.
Smaller drops at KicksUSA and in select, in-store, Footlocker locations happened also, but the masses still weren't touching these. Which was a shame, because the regal mix of gold and wine red stands as one of the best colorways to grace the LeBron line. Peep the Christ the King initials on the medial toe, too fire.
Nike Zoom LeBron 3 Black/Gold
Release Date: December 2018
Little introduction is needed for these LeBron 3 retros – they're black and gold!
Perfectly accenting gold eyelets, LeBron Lion logos and Zoom Air (technically the Pebax shell is gold) contrast the shoe's black leather and nubuck. A clean retro that still slaps to this day.
Nike Zoom LeBron 3 "Navy"
LeBron 3 Retro 'Navy'
Release Date: February 2019
Can we please get a retro of the navy blue Cavs jerseys that matched these LeBron 3 retros?
Clean color blocking and alternative team tones define these retros.
Nike Zoom LeBron 3 "SuperBron"
LeBron 3 Retro 'SuperBron'
Release Date: February 2019
Superman holds every power imaginable in the comic-book world and LeBron's abilities on the basketball court are limitless too, so this unofficial collab made total sense.
Like the SVSM colorways covered above, the SuperBrons were yet another sample that became available to the public via retro.
Nike Zoom LeBron 3 Home"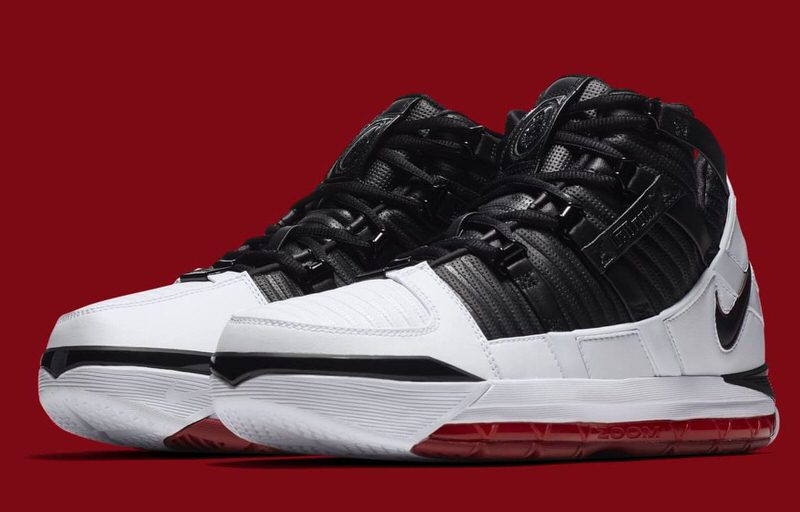 LeBron 3 Retro 'Home'
Release Date: March 2019
By the time LeBron reached his third NBA season, and signature shoe, he was a certified bucket capable of imposing his will from anywhere on the court. For some reason, the black/white/red LeBron 3 embodied the strength and toughness of James.
There's something inherently tough about them; maybe it's the textured synthetic leather looking like low-key Spartan base armor (Kanye shrug). Call us crazy but these are the most wearable LeBron 3 retro to date.
Nike Zoom LeBron 3 "SVSM"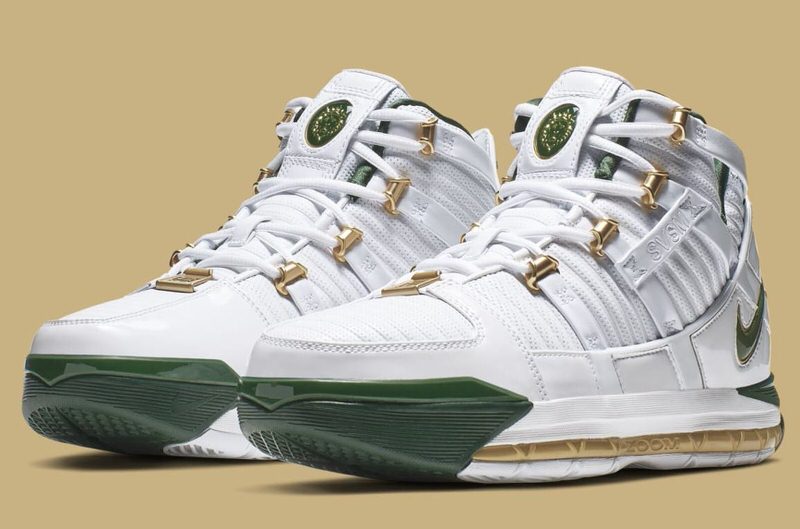 LeBron 3 Retro 'SVSM'
Release Date: May 2019
Anotha' one… There's nothing better than when dreams (samples) become reality.
You don't have to be down with the King's Akron high school either as Notre Dame fans — and even Celtics supporters — of the world can vibe with these LeBron 3 retros, too.
Nike Zoom LeBron 3 "Oilers"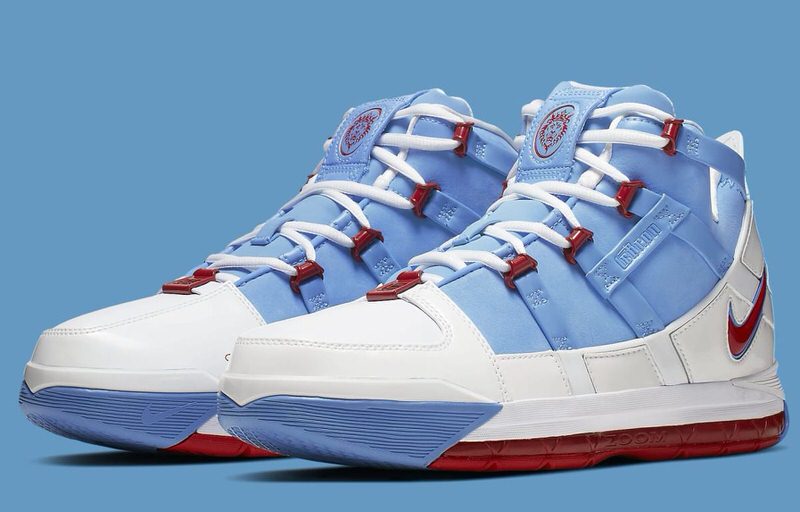 LeBron 3 Retro 'Oilers'
Release Date: June 2019
Here we have another sample to release on the first retro go-around. The Oilers LeBron 3 pays homage to the Houston Oilers with its baby blue and red color scheme. Nubuck returned yet again and the material played off of the white patent leather very nicely.
No one asked for the Oiler LeBron 3s to drop, but sometimes unexpected retros are the best surprises. It's doubtful anyone could've predicted their return.
Nike Air Max LeBron 7 "Red Carpet"
Air Max LeBron 7 Retro 'Red Carpet'
Release Date: October 29, 2019
Weird flex, Nike, for skipping the LeBron 2, 4-6 and going straight to the LeBron 7, but okay. Serving as easily one of the most sought-after LeBron GRs (general releases), the Air Max LeBron 7 Red Carpet had 'it' in spades.
Woven upper, check. The perfect colorway, check. High-quality lacing options, check. Look for the Red Carpet LeBron 7s to draw a huge crowd.