The Black Mamba's on-court and sneaker success is etched into the lives of these three fans. 
As a basketball player, Kobe Bryant is synonymous with Los Angeles and the L.A. Lakers. As a pop culture icon and innovator, Kobe's global reach not only rings in the hearts of hoopers playing on outdoor courts in the Philippines but also in the soles of the shoes sold at shops in New Jersey.
These three Kobe fans and sneaker collectors have different memories of what it feels like to step into the shoes of the Black Mamba's superhero-like status. Whether it was watching Kobe ball out in Manila during an Adidas tour or being packed like sardines in a car for a week just for the chance to buy a pair of his signature sneakers, each shared what made them devotees to the legend and his products.
Here, we talked to Mark (@hyperdunks24), Darryl (@brotha_d) and Jamaal (@maallymall) to learn about building their collections, the rarest pairs they own, and what ultimately drew them to being Kobe fans. 
When did the Kobe fandom start for you?
Mark: I grew up in the Philippines and just moved here to the US for college. So in 1998, while I was waiting for my papers to come in, Kobe actually went to the Philippines for an Adidas tour. I was always a Lakers fan, but more of an Eddie Jones kind of guy. And then I see this kid doing the fadeaways and stuff on the court. Kobe was really nice to the [local team], which was really awesome. So that's kind of how it started. 
Darryl: My dad was a Laker fan. He loved Magic [Johnson]. He loved Kareem [Abdul-Jabbar]. He loved before Elgin Baylor and Jerry West. I grew up in South New Jersey, [in] a city called Pleasantville, which is very close to Philadelphia, so all my friends were Iverson fans, everybody loved Iverson. I was the only Kobe fan. I remember we lost the first game [of the 2001 NBA Finals against the Philadelphia 76ers] in overtime and I'm thinking, "Mom, I can't go to school. There's no way I can go to school." I remember being hesitant to get on the bus and when I got on everybody started joking. I always sat in the back of the bus, so imagine that journey from the steps and walking down each aisle to the back of the bus. It was from 9 a.m. of the following day after the loss until the next day after Game 2. The Lakers never lost another game after [Game 1]. 
Jamaal: I was a Kobe fan before I was a Laker fan. He was essentially a pop star, pop icon right off the rip in taking Brandy to the prom. Sneaker-wise, it wasn't really until he transitioned to Nike with all the controversy and people started shying away from him. It made me gravitate to him. His relentlessness, his toughness, nearly took it on the chin every night.
How did you get into his shoes?
Mark: The very first Nike Kobes. I actually had the Huarache 2K varieties, the blue ones that he wore for the All-Star game. Those are my first actual Kobe-branded shoes. 
I'm a big fan of the Adidas Feet You Wear stuff too, but not the boxy Audi-looking ones until recently. Before, I could not wear that because it just made me look even shorter than I already was. So it started from there. 
Darryl: The first memory I have was the Adidas Kobe 1 (Adidas Krazy 1). I remember wanting it really badly, but a lot of stores near me didn't have it.
But the most vivid after that, in terms of me purchasing the product, was the black and white Nike Zoom Kobe 1 at Center City Sports. They had a discount sale table and they had that pair and the "All-Star" pair, and I remember grabbing both pairs in one fell swoop. And then I went back the next week and they still had the Huarache 2K5.
Jamaal: I was probably a little bit of a late bloomer especially if you think of the Kobe 4s and on because they were low top. I wanted a mid or a high-top when I played ball. It wasn't really until the Kobe 7 that I really got serious with it. And from there, it just took off. I went for new releases of the 7s and doubled back for old stuff. 
What's the most cherished pair that you have in your collection?
Mark: I was able to get this pair of one of the "81 Point" 1s that was made for Kobe back in '06 in a size 14. It's actually one of my grails. Once in a while, when everybody's asleep at home, I bring it down and look at it on the table and think, "I can't believe I have one of these." You know, an actual pair that was made for him back in the day. I would say that would be the pinnacle–my favorite of my collection.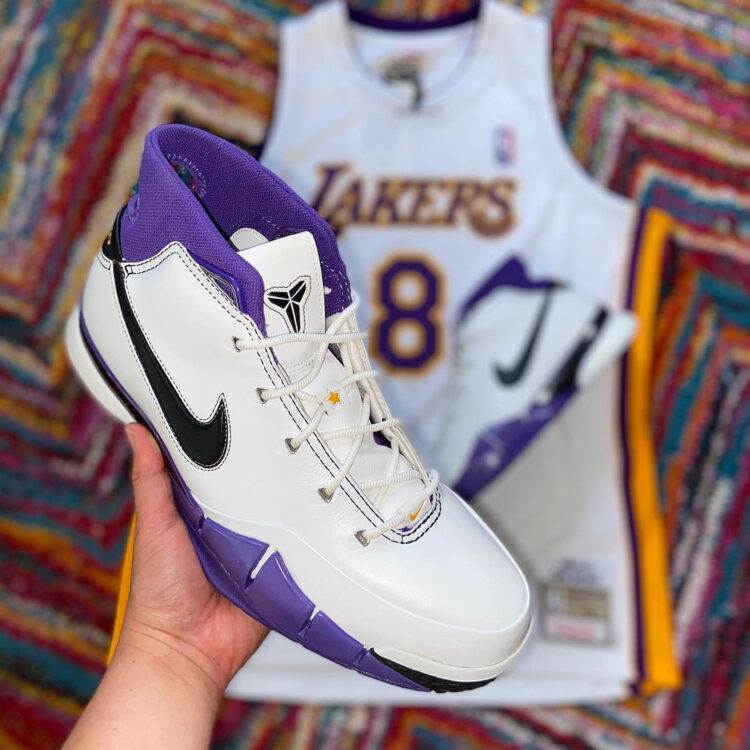 Darryl: I camped out for seven days for the Nike Kobe 7 "Galaxy" and the "Galaxy" Foamposites in 2012.  I wasn't in Orlando; I was in New Jersey. We lived in a roach motel for one or two days tops. So five days we were sleeping in the car and washing up in the mall bathroom. It's not like I could put my seat back. There were four maybe five [of us] in the car so can't nobody lay comfortably.
Jamaal: My mom passed away on April 13, 2018. So on that morning, they dropped the "Mamba Day" Nike Zoom Kobe Protro 1, so I wasn't able to get those on release day. I did find someone locally that I was able to get them from, so that pair is special because it's the actual anniversary of the day she passed.
Now that the Nike Kobe line is going to keep continuing every year, what would you like to see?
Mark: One thing I really like is they actually made kids' shoes again. Maybe more clothing offerings would be nice as well. The only way I think would make a lot of people happy would be more pairs. But, I can see why Nike wouldn't do that. It doesn't make any sense business-wise for them to do that. It'd be interesting to see them revisit more non-popular models like Kobe 3, for example.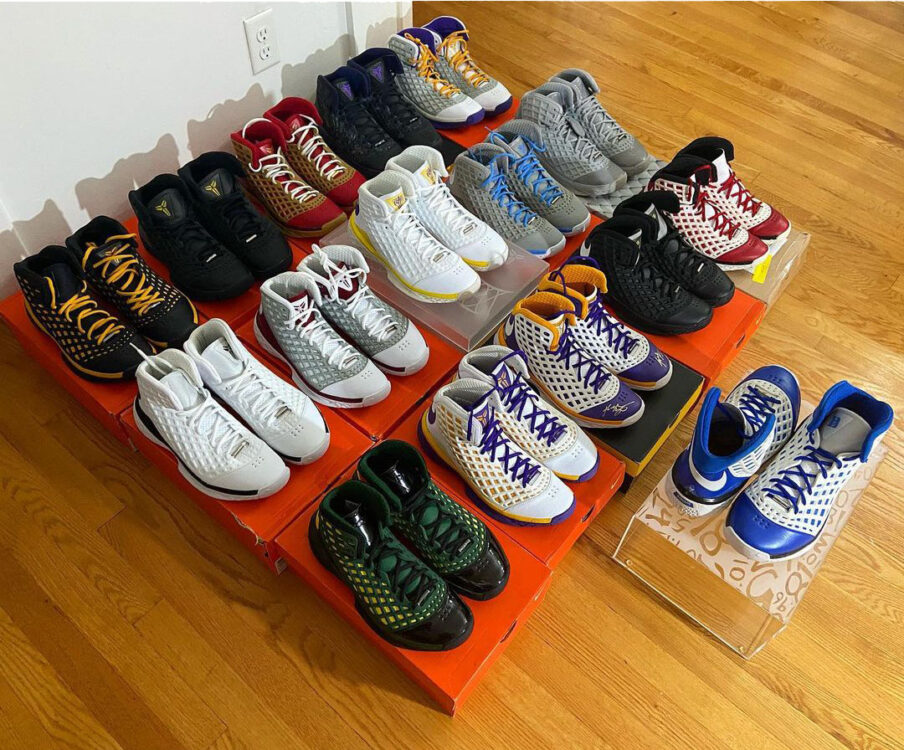 Darryl: I would love a "Dark Knight" Kobe 5. I would love a "Sparks" Kobe 8. I would love in-line Kobe 4s. The one thing I think a lot of people would love is to put it on Nike By You. You can put it up for eight hours, you can put it up for 24 hours, you can put it up for eight days. You can manipulate the 8 and the 24.
Jamaal: I liked seeing the link up with Kentucky, so I think seeing the college colorways drop would be fantastic. I want to see new and exciting colorways. Obviously, the classics are great, but if they could find meaningful colorways moving forward or release sample colorways would be amazing for a collector.