words & interview // Nick DePaula:
Throughout league history, players have endorsed an endless array of brands on the court, offering up visibility and validation for the industry's most iconic basketball silhouettes.
Washington Wizards forward Kelly Oubre Jr. is leading a new era in the sport, representing a modern shift towards the growing attention paid to players' pre-game style during their arena entries, and their heightened influence over fashion. His ever-evolving rockstar style not only landed Oubre Jr. on our list of the 20 Freshest Players of the Last 20 Years, it also landed him with a new Converse shoe deal, where he'll be partnering with the century-old basketball heritage company on everything from brand campaigns to product input in a unique first-of-its-kind deal.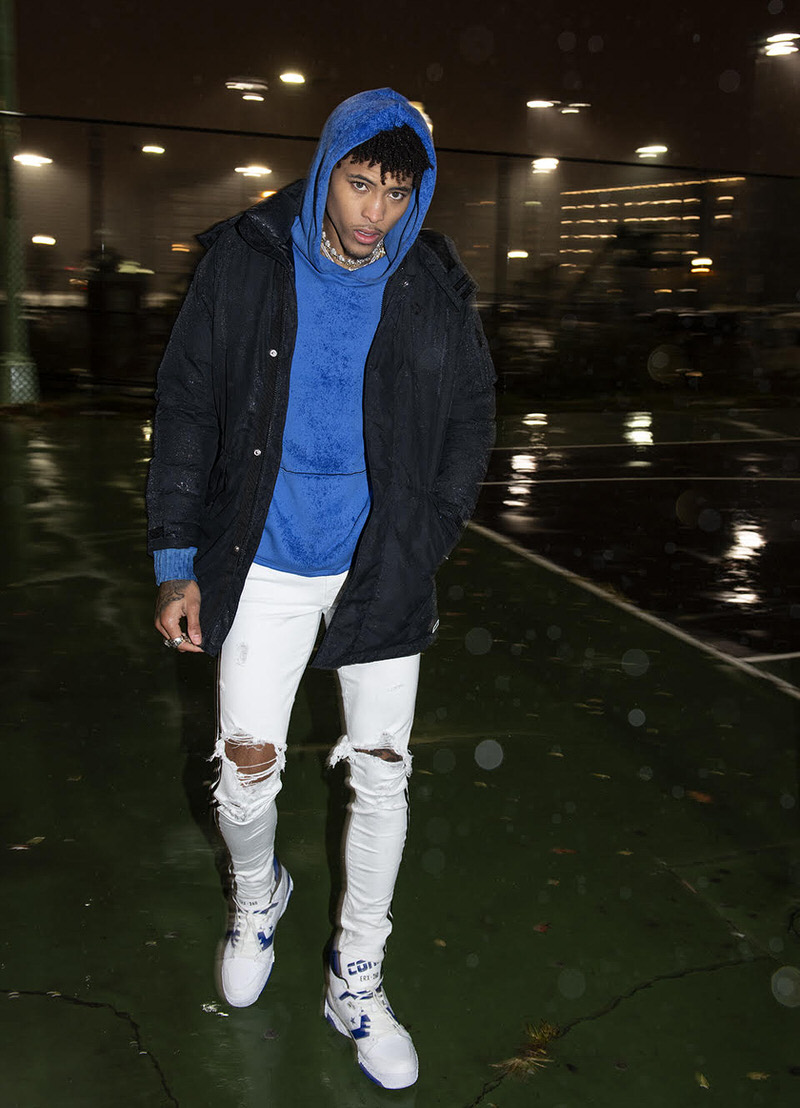 "Style is what's driving the conversation right now," frames Sophie Bambuck, Converse's Chief Marketing Officer. "That's exactly why it's the right time for us to come back into the conversation."
After heading to and from a series of photoshoots at iconic basketball locations in the Washington DC area, like the Banneker Rec Center outdoor court and the Twelfth Street YMCA, the nation's first African American chapter of the YMCA, I caught up with Oubre Jr. to hear all about his excitement around his new Converse deal and his approach to style.
Read ahead to hear from Kelly as he discusses being the only current NBA player signed to Converse, how he looks to partner with the brand ahead, and how he snuck in a side conversation with former Converse headliner Dwyane Wade during a recent Wizards / Heat game.
Nick DePaula: What was it like heading into the summer, knowing you were going to be a sneaker free agent?
Kelly Oubre Jr.: It was really dope. It was the first time, other than signing my rookie deal, that I was able to experience this process. Now, getting to see the growth that I've come upon, I had a lot of interest. Finally coming to a partnership with the people that had a mutual feeling that I did, it's the best feeling ever.
NDP: What was it about Converse in particular that stuck out to you as you were deciding between offers?
KO: It's a different vibration when it comes to someone who is trying to reinvent themselves in something that they started. It's not necessarily someone trying to come in and disrupt the game, or someone trying to step onto the scene as newcomers again. We started this, and it's cool to be a part of something with the exclusivity to work with this company, start a partnership and a foundation.
NDP: How much thought have you given to the uniqueness of the deal? You're the only player in the league with a deal like this.
KO: It's a blessing. I like to create my own waves. For me to be apart of the Converse family, I'm moving in the right direction. I'm sticking to who I am and who I want to be in the future. Converse is a great brand to partner and do that with.
"I'm just happy to be the freshest person in the NBA."
NDP: A big thing the last couple years that's taken off is this whole idea of the arena entry. How have you seen that change things for you guys, and what was your approach once you saw the attention the arrivals were getting?
KO: Honestly, I've been drippin' for a minute. [laughs] Every game since my rookie year, I kind of came in and just always wanted to look nice and always wanted to outdo myself. [Style is] not about anybody else, it's about how you feel in what you're wearing. That's kind of been my mantra coming into the league, just wanting to always look my best. Now that it's taken off, I'm just happy to be the freshest person in the NBA.
NDP: Are there any fits where you look back and go, "Ah, that was a little too much."
KO: The F-U coat, for sure, mighta been a little way too much. [laughs] I can't even make any excuses over it. I wore it, it was fresh, but at the end of the day, it didn't really represent who I am as an individual.
NDP: Some guys are different. Some guys really dress up on the road and they want to have a different mentality. Then they take it easy at home and keep it lowkey. How do you approach road vs home?
KO: Man, I'm fresh every day. [laughs] Earlier, when I said being the best dressed, I was obviously just making jokes, and I'm sure some people who actually really care about being the best dressed will take that and feel some type of way about it. I look at every day, and I try to look my best whenever I step out the crib. It's just something that's a passion for me. I think I'm in a league of my own.
NDP: At the photoshoot tonight, you were styling your own looks and coming up with your own outfits. What are some things with Converse that you're looking forward to doing together?
KO: Just continuing to build on what they've already started. Guys like Tyler, Vince and I've seen some Miley Cyrus things that they're doing – it's all dope artwork. They have dope canvases that a lot of people can make a dope creation on, and I just want to continue to create that legacy and that wave to make the brand look good.
NDP: Another Converse partner is Don C. What do you think his impact on basketball culture has been the past few years?
KO: His impact on the culture in general, whether it's basketball or hip hop, has been very dope to see. When he came onto the scene, I was just starting to grow my hair out, so I didn't really wear the hats with the snakeskin – but I always wanted one. Guys started rapping about them in songs and I started to see a lot in social media, and I just feel like he's really doing a dope thing. When it comes to being from Chicago and creating a wave for him, Virgil and a lot of the other creators [from there], they're really doing something special.
NDP: The one thing that's unique about the deal too, is you can wear Nike on court. You've been wearing Kobes so far — what are you looking forward to wearing throughout the rest of the year?
KO: It's definitely a blessing that I have the versatility to be a Converse athlete and still wear Nikes on the court, since they're in the same family. Before I committed to Kansas, I was at Findlay Prep and I would wear nothing but Kobes. I wear those strictly because of the mentality that he brought to the game.
The mentality as far as injuries, when it came to playing the game and when it came to facing adversity, those are all three things that I tried to keep in the back of my mind at all times when I'm playing basketball. I like wearing KDs too, because I just rock with KD as a human being. Whenever I can find some dope colorways, I'll definitely try to bring those out.
NDP: This year, it's been pretty crazy without the color restrictions of course. How much on a night-to-night basis are you looking to be clashing and wearing something crazy?
KO: It's being expressive. I feel like the new rule change is a blessing in disguise for creatives that want to express themselves and want to be different. I definitely want to continue to be doing what I'm doing, and also just wear something that I can inspire somebody else to be creative as well.
NDP: You were the first to wear the Supreme sleeve, but in general, how would you describe your style on the court?
KO: My style on the court is me. I wouldn't even try to say that it's anything else other than me. I can't even put an adjective in front of it, because I'm a different individual. I also pride myself on being the best that I can be. No matter if I'm not playing as well as I want to, at least I know that I look good. It all ties in together.
NDP: We've seen guys like PJ Tucker of course, and a bunch of other players who have tracked down old shoes. Are you going to be on the hunt now for some old Converse Rodman, Master P or DWade shoes?
KO: Of course. I actually played against DWade and the Heat [last weekend], and he was telling me about all of the things that he has still, that I could potentially get one day. It's a blessing to be in a pipeline and lineage of guys that have worn Converse.
NDP: If you were to have your own capsule or collection similar to what guys like Tyler have had with the brand, have you thought about what kinds of materials or things you'd want to incorporate?
KO: I definitely think about that every day. When that time comes, we'll sit down and there's a broad lookbook of things that I could choose from. For me, my thing is "Love til Infinity," so I would definitely do some hearts and checker flags. That's the simplest way I can put it. When you get to create, it's just endless opportunities and possibilities that you can come up with.