words // Nick DePaula
images // Kicks Vision & Sole Collector China
Ever since he entered the league as a manchild unlike anything the Association had ever before seen, LeBron James has also required a blend of performance in his sneakers from Nike unlike any other signature series.
"He's a very unique problem to have out there. He's very fast and very powerful," says Jason Petrie, designer of the series since the LeBron VII. "When we're building a LeBron, we know all of that going in."
On his latest signature model, the Nike LeBron 15, the team enjoyed a bit of a reset. By moving away from the more layered Foamposite-based designs of recent years, along with the hexagonal Zoom Air underfoot cushioning platform, the LeBron 15 takes a new approach more in line with other modern signature lines.
With a fully knitted upper — dubbed "Flyknit Battle" — the shoe also sits atop a massive full-length Zoom Max cushioning unit that aims to blend both the responsiveness, court feel and flexibility that LeBron is looking for on the hardwood.
For insights into the entire design process of creating the LeBron 15 over the last year and a half, Nice Kicks heard from both Nike Basketball's senior designer Jason Petrie and Kevin Dodson, Nike VP of Basketball Footwear.
The Athlete Insight
In looking to reimagine the series for the 15th model, the design team was tasked with introducing both an entirely new upper, along with an entirely new cushioning setup. While Kevin Durant's 9th shoe introduced Flyknit and a full-length Zoom Air unit, the LeBron 15 features more protective and beefed up executions of both. The knit pattern is thicker, and the heel bag is a hybrid of Zoom fibers and Max pillars, in order to support LeBron's hulking frame.
Jason Petrie: "With LeBron, we're always looking for, 'What's that new thing?' He kind of leads in style on and off the court, so we're trying to do something new whenever we can. What's great about this shoe is that we have two innovations that kind of grew together and came together at the same time.
That was kind of purposefully, as 15 is a big number for the line. No one has ever reached number 15 before LeBron [all while playing continuously], so it's a big deal and we want to make a celebration of technology, style and of LeBron's game. We have so much coming, and it's going to be a really incredible year for LeBron.
First and foremost, he requires that it be hot. He wants to be able to wear it on and off the court. He wants to be the best in the game, and that's where a lot of that pressure comes from. You're looking at a guy who's at the pinnacle of style and performance, and you're adding a big piece to his wardrobe with the footwear. Keeping up with the high end fashion houses is not easy, but it's a great challenge to have. He's very open about things like the top line, and wanting it to fit like a sock. He was very directive about logo, and wanting to see if we could do some different expressions of the logo. It was awesome to have that kind of feedback along the way."
Kevin Dodson: "We started out with the upper and the construction that you see today, more or less. We refined, improved and tuned it based on feedback. It was blank, and we looked at branding it. We went back, and said, 'Well how do we put the Swoosh on?' It's an important piece, and obviously we're proud of it and want it on the product. When we started to place it, nothing felt quite right, and we just thought, 'Hey, lets let the innovation speak for itself.' We can let the beauty of the design innovation live on its own. We used the back counter to be the space for the branding. I will say, it may not be the only place that it pops up. You might see it change as we go, and we're going to have some fun with that. We might move it around a bit."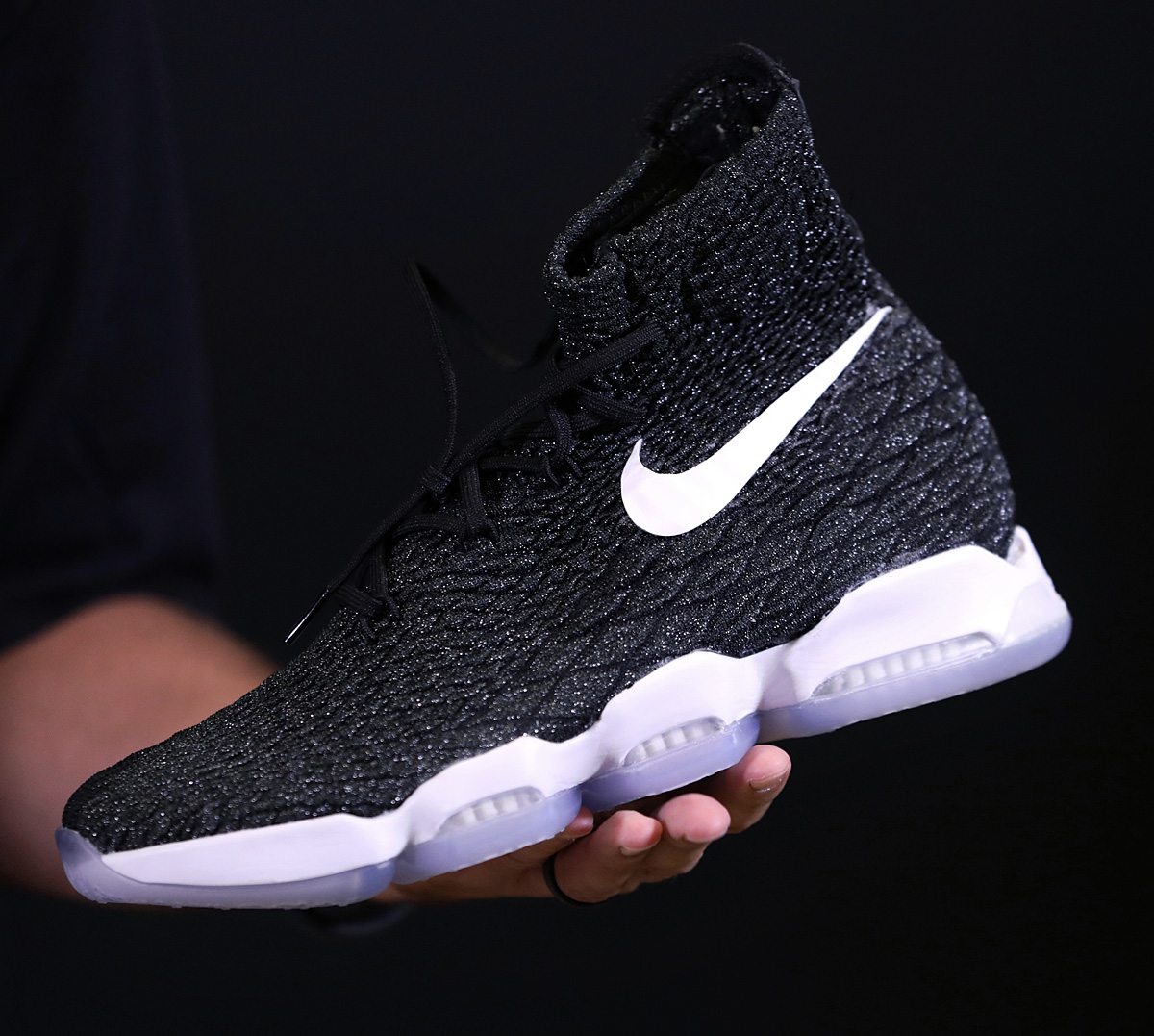 The Design Concept
Charged with a toolbox incorporating Nike's new Flyknit Battle and a full-length, articulated Zoom bag, Jason Petrie was then tasked with creating a look and language for LeBron's latest sneaker.
Jason Petrie: "I'm an 80s baby and a 90s guy, so I love that era of design. You can probably see throughout some of my designs, but I like having bigger, bumpy midsoles and loud, loud designs. I do feel like, maybe it's time for a simpler aesthetic. With the way things are going, it's a more simpler expression of that – still being expressive.
Not boring, but simpler and more refined is really where things are trending. I believe this reflects that. It's a very simple construction, but when you get closer, there's a lot of detail and a lot of functional aspects that come to life.
We've been trying and wanting to find a Flyknit package that works for LeBron. He's tested things, and you've probably seen pictures of him in Kobes. He tried out the Flyknit Hyperdunk last summer, gave us a lot of feedback and really liked them. All along the way, we were thinking of what we could do to build the shoe.
Then, we had a breakthrough with the BattleKnit innovation. We knew what we needed, but we just couldn't create it in a way that we felt was light enough. Once the innovation team could solve that issue, it really opened up our ability to try a knit shoe.
There's a very dynamic stretch fabric in the collar that lets you get that 1-to-1 fit, all without any seams or disruptions in the pattern. The feel and functionality of knit, our knit team did an amazing job of bringing that to life, with LeBron in mind. The new Flyknit is lighter, less layers, less stitching and less waste. It's better than traditionally stitched layers and constructions. Those all combine for an unbeatable fit, where it feels soft and like a sock, but it also contains you and keeps you locked in on the footbed."
Kevin Dodson: "I remember after the Finals, we sat down with LeBron and were talking about the Soldier. When he came out and wore the Soldier X in the weartest colorway, he was just saying, 'When I looked down at my foot, it looked lighter and it looked sleeker.' That was what opened up the possibilities of getting something sleeker and more minimal.
For us, part of the reason that worked, was we had a great lockdown system in that shoe, but we were able to do it in a sleek package. That's 100% influenced how the game shoe can get lighter and sleeker. That led us down the mission of getting the toe to be even more tapered."
The Tech
While the knitted upper represented a first for the LeBron series, the cushioning platform is a bit of a combination of his greatest hits. The series had relied on hexagonal Zoom Air pods for the last three shoes, with a drastic shift in store for this fall.
Jason Petrie:  "It comes from working with LeBron and what he asks us for. He loved the LeBron X, which had the full-length Zoom bag, with an Air Max feel to it. We felt that bag didn't have the right flexibility to it though. For LeBron 11, 12, 13 and even 14, we were experimenting with flexibility and getting lower to the ground.
All of that has led to this bag, taking the learnings from Hex Zoom and now bringing the benefits of Max Air, but with the fibers of Zoom. All of that gives you great resiliency and flexibility.
We'd been trying different Air bag solutions for a while now, and this is our final execution that works best for him. On the X and some of our other full-length shoes, the bottom was stable, but not as flexible as you'd maybe want. Here, this gives you a smooth transition, but it also combines the best of all of those shoes and Air bags."
Kevin Dodson: "We're blessed, because we have a lineage of so much great product. We looked back and said, 'What's been the best ride so far?' Most people would say the LeBron X is in the mix. LeBron 2 is also incredible, and my guy Kenzo did that shoe. We looked at how do we give all that benefit, all that snap, that pop and that ride, but do it in a contemporary way where you get more transition on the court and more flexibility.
That was actually an insight from LeBron too. He said, 'The one thing about the podular Zoom setups that's been great is I've gotten lower. I feel confident in that, and I feel like the flexibility is better. But nothing is better than a bag, so give me both.' That was a great starting point. The other thing that's been great, is when I've worn it around, I love the collar fit.
It's the ability to slip it on easy, but then have that nice collar fit and comfort, without being restrictive. You can't love a shoe if you can't get it on. We really wanted to make sure we got the collar fit right here, so you can just slip it on easy."
Evolving The Line Ahead + Alternate Versions
In recent years, the LeBron line has experimented often with alternate versions throughout a season. There were three versions of the 8, an Elite edition for the 9 through 13, and slight alternations along the way for others. This year, the 15 will undergo at least three versions. As the line evolves and his needs change, different editions may also take on more of an off-court approach. There's a zippered look designed in conjunction with New York boutique Kith, along with a multi-strapped silhouette inspired in part by his Soldier series.
Jason Petrie: "They have grown and moved along with LeBron's game. He was a different player when I took over. He's gotten better, and I think the shoes have gotten better, certainly functionally. We've gotten incredible innovation along the way, and I think the 15 is the best innovation now to date. This is the latest limb on the tree, and it's built after everything before it."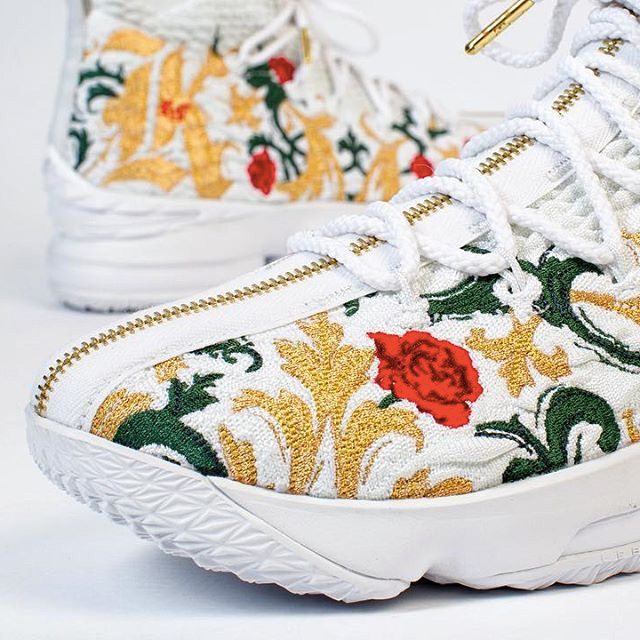 Kevin Dodson: "The Kith process began a little over a year ago. Early on. We started talking to LeBron about working with Kith, and we got a chance to sit down with Ronnie and his team. We started discussing the possibilities, and to be honest, we wanted to make sure it was the right product and the right shoe.
I don't know if in the past, the shoe would've taken on the aspect of what Kith product usually has. It was pretty early on, and we gave them an early look at the 15, and they said, 'That's the one. That's the one we want to work on.' They came out to Beaverton to the campus a couple times, and we flew out to New York a couple times. It was a great working process, and they come at it from a different lens than we do. There's a lot of shared crossover. It was fun, creative and a lot of dreaming between the design guys that they have, our guys and Jason [Petrie].
The zipper piece was the ability to just take the existing performance chassis and just twist it with something that'd be able to open up and expose some of what's inside the shoe. It gives it a different styling. Originally, the zipper just went down to the end of the laces, but we thought that wasn't quite it. We worked hard with the team and then just took it all the way down.
When you get a chance to hold it in person, there's great detailing and some amazing leather that gets exposed in there. It's really well thought out. There's a second version that has a strap system. It's a twisted version of this shoe, where we're taking the Flyknit, simplifying it and then using some really modular strapping systems."
The Biggest Challenge?
Throughout his career, LeBron's footwear has needed to perform for his unique frame and power, while also working for mere consumers that don't require as much support and protection. It's been a tricky balance for the brand, that's worked better for some models than others. With the 15, there's still that same challenge and responsibility felt by the team all these years later.
Jason Petrie: "Keeping up with LeBron [is the biggest challenge]. He continues to be successful. He leads the way, and if we continue to listen to him and follow his lead, then the sky is the limit. Actually, the moon is the limit, and outerspace is the limit. He uses the rocket emoji a lot, because he really means that we can keep reaching and go as high up as we want. We want to keep taking that and build on that strategy with every shoe that we make.
The pressure comes from LeBron. At the end of the day, when we put the shoe in front of him, even though he's seen it all along the way, there's still that special moment when you put the final shoe in front of him. It's like a kid opening up a present for the first time – you can see that smile when he really loves it."
Kevin Dodson: "I think more than anything, when you get to the number 15, you start to realize the responsibility that you have to carry on a tradition of great product. The Brand Jordan guys have that same feeling. We have that with our athletes with all of our franchises. For LeBron specifically, we felt like we could be better. That's just the flat out truth. We felt like we could do a better job – more innovative, newer and more iconic simple designs that people wanted to wear, more than just on the court. That's our responsibility. That was really the rallying cry, and we're always proud of what we do, but we knew that we could be better."