Lead image by Allan Pimenta (@acpfts)
Growing up and being from Chicago, making it in Chicago, and then making things in Chicago.
Joe "Freshgoods" Robinson's ethos is easily captured by his roots. The west side of Chicago is more than just a place of birth but rather the foundation of his brand from his bootlegging days to his newfound stardom that isn't letting up anytime soon.
Joe Freshgoods, the Don't Be Mad creator and head honcho for the Fat Tiger collective, has been on an unparalleled run this year. Despite the hurdles that the last few months have presented, JFG continues to shine.
But his support is grassroots in nature, and that makes all the difference.
"I let the streets speak for me. Being from Chicago, I don't have that NY or LA attention that most brands get," Freshgoods said.
New Horizons
The trajectory of Freshgood's prominence in the footwear space changed during ComplexCon Chicago back in 2019. JFG sustained a line for two days at his booth thanks to bootlegged Chucks and other signature DBM merchandise.
"Once you came to Chicago, you knew whose city it was. 'Oh, that's Joe Freshgoods.' When you see likes and Instagram stuff, you don't know if that translates to real-life love. To have a booth and a line for two days, people started to realize, 'this Joe dude is real.'"
The booth in 2019 was the final piece of the puzzle for JFG to get the attention of Converse but better yet the general public. Since around 2016, bootlegging was Freshgood's bread and butter thanks to his relationships throughout the Windy City.
"I went to Saint Alfred, I went to Notre Shop and said, 'can I get some shoes from y'all?' I bought all the 70s they had and asked if they could reach out to the rep and get 200-300 more. I was just resourcing to get what I could find," Freshgoods said.
Fastforward to 2020 and Joe is back with Converse. This time, as an official collaborator.
Unlike his first couple of bootleg batches, the upcoming Joe Freshgoods x Converse collection will be widely available in the coming weeks.
"The streets made that happen. If I didn't get much love from the community, it wasn't going to happen. You can't hide actual love. ComplexCon showed the industry people what I'm about," he said.
Dunking from the Free-Throw Line
But that's not all ComplexCon teed up. New Balance also signed the Chicagoan to work his magic for the 2020 All-Star Weekend that would take place in Freshgood's backyard.
JFG would take the reigns for NB as a part of its lifestyle and performance crossover for the festivities. Freshgoods would set things off for the New Balance 992 and simultaneously create a collection for Kawhi Leonard.
Freshgoods knew what was lined up for the 992 and wanted to make his mark his own way.
"New Balance trusted me. It was dope. Kawhi even thought I made 'Don't Be Mad' for him even though it's my brand. I knew what was about to happen with the 992 for the rest of the year. I wanted to be the first to collab," Freshgoods said.
The Don't Be Mad x New Balance collection created a frenzy like no other. Release details were held off until the night before things kicked off in Chicago for the All-Star Weekend's return to Chicago — the first time since Michael Jordan dunked from the free-throw line in 1988.
With home-court advantage and creative liberty, JFG was set on making a statement for New Balance and himself.
"I wanted to do something different. New Balance wasn't really at the top of the sneaker conversation in Chicago, especially around an All-Star Weekend. Again, 'heads wear New Balance. New Balance put me on a different spot to stand out in my hometown for All-Star Weekend with those big drops: Yeezy on Milwaukee Ave. with tanks, Virgil, and Don C," Freshgoods added.
The commotion for JFG and his collaboration with New Balance was far from over as Chance The Rapper, a dear friend of Joe and longtime supporter of DBM, wore the 992 onstage while the Chicagoan performed during the All-Star Game halftime show.
"Moment after movement that weekend. All organic moments," Freshgoods said.
Humble as he may be, JFG isn't afraid to make sure his work gets the appropriate recognition.
"It's one of those things where if you know you know. If you don't, I still appreciate you," he said. "In my opinion, I killed All-Star Weekend. I gave the brand some light. I have a shit ton of new people (wearing New Balance). I stuck my middle finger to the New Balance snobs. You want to bring new people on board. That's how the game works," JFG added.
Coronavirus Response
While everything was on an up for Joe, things quickly changed as COVID-19 and the shutdowns in response started to take place.
Initially, Joe felt that it was a good time to let the foot off the gas to recoup. After a month or two, confusion on what was next for JFG and DBM settled in. Known best for being in touch with his community and customers with his pop-up style releases, Freshgoods knew something had to be done.
"If I can have kids lined up for sneakers in the cold, let me use this impact to help people out," Freshgoods reminded himself.
And that's exactly what he did.
JFG launched Community Goods and created a handful of pieces to fund resources for Chicago Public School students.
JFG also unearthed his unreleased collaborative pieces with adidas. Rather than letting the unreleased pieces stay stagnant in a warehouse to then be burned, JFG, the city of Chicago, and the Chicago Blackhawks organization teamed up for a drive-thru fundraiser. Every $300 dollar donation covered one students' remote learning school supplies. At the end of the fundraiser, a total of around $90,000 was raised.
"I was able to take things that weren't going to see the light off day and then make money off of it to help kids out," Freshgoods said.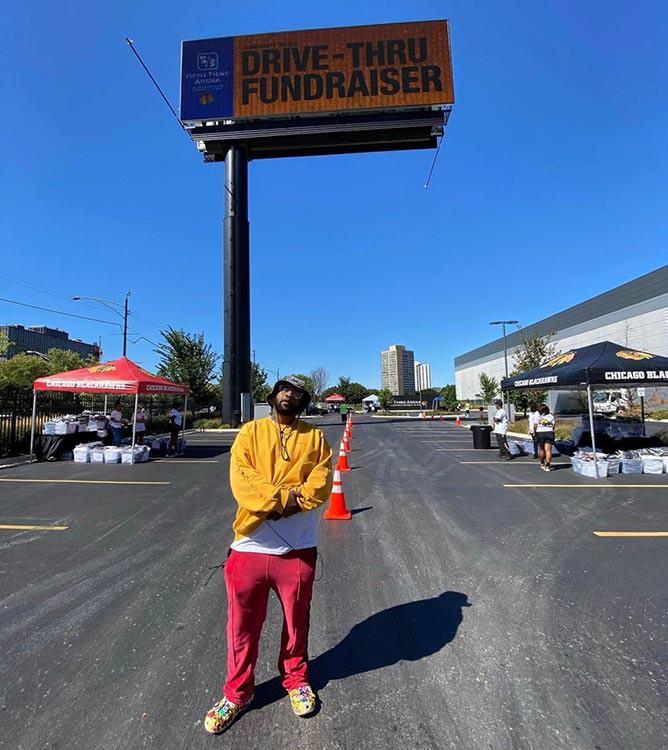 Performative vs. Productive
At the end of the day, it's all about giving back for Joe Freshgoods. His community-driven nature was even more present this summer.
Following the protests that took place in raising advocacy and demanding action for the deaths of Ahmaud Arbery, Breonna Taylor, George Floyd, and others, sneaker brands stepped up to the plate and gave back to the Black community.
Freshgoods, however, advised caution.
"There is a lot of performative 'let's give Black people dollars' going around right now in the community. While I'm happy that we're getting our just due, I don't want people to take these 'shut up black people' checks," JFG said. "I don't want to be tapdancing over bread. I've been challenging every brand partner I've worked with. We're going to see a lot of real partnerships beyond sneaker collabs in the next 2-3 years."
It's deeper than the actual sneaker collabortions. It's about legacy. It's about family. It's about the community.
Listen to the Youth!
JFG reminisces on drawing sneakers in the his grad school days instead of doing math.
"It's important for kids to know to keep that kid in you is taken care of. I always want that art to be at the forefront of what I do," he said.
Luckily, a lot of his art is guided by his daughter. Whether choosing the colors or having subtle input in the pairs, his daughter is embedded in every project.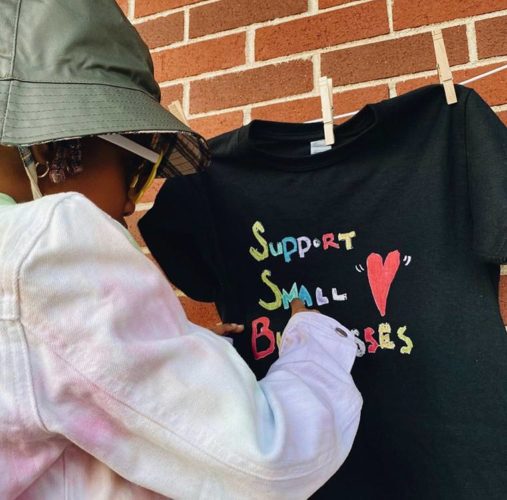 "It's a part of my creative process. I want her to know that her art and visions are in all the stuff I do subtly. It's big for me. It's attractive when people find ways to put their family in their art," Freshgoods said.
Shakespeare with a Sneaker Deal
English was Freshgood's favorite subject. After learning how much little journalism paid, he took his passion for words and decided to translate it to his art.
"I love writing," he says as he proudly claims the throne of being the king of writing love letters to girls in his younger days. "Storytelling and being able to tweet and write captions go hand in hand. I sneak certain releases and make people feel a part of the journey," Freshgoods said.
As more Joe Freshgoods collaborations are on the way, more poetic work is on the way as well.
"I'm changing my bio to 'Poet that just drops merch.' I'm doing work for my spoken word brand. I'm speaking for a certain person. I do certain things for my Black people to understand. There's a lot of boring people in this industry. I'm too real to be quiet. I'm still a real person. I just happen to drop clothes and follow my dreams."
Unrestricted Free-Agent
Joe Freshgoods is reaching a Thanos-level of achievements. Every sneaker brand being picked up like an Infinity Stone. Tough? Certainly. Inevitable? Without a doubt.
In just one year, JFG has released racked up three giants with more on the way.
"I'm not trying to brag, but I don't know anybody, especially as a Black man, to drop with Converse, New Balance and adidas in one year," Freshgoods said.
The beauty, and secret, of it all is the luxury of the one-year deal. Killing the project. Raising the bar (and price). And doing it all over again.
"I'm dropping 40 points a game and signing a bunch of one-year deals to ball out. I don't want to be locked down."
Keep it locked on Nice Kicks for more on JFG projects including the Joe Freshgoods x New Balance releasing in 2021 and the upcoming Joe Freshgoods x Converse.